Wee Beastie Oak Aged Scotch Ale
| Howe Sound Inn & Brewing Company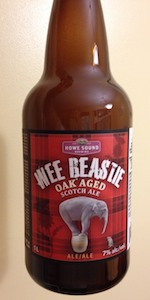 BEER INFO
Brewed by:
Howe Sound Inn & Brewing Company
British Columbia
,
Canada
howesound.com
Style:
Scotch Ale / Wee Heavy
Alcohol by volume (ABV):
7.00%
Availability:
Winter
Notes / Commercial Description:
No notes at this time.
Added by canucklehead on 01-23-2013
Reviews: 11 | Ratings: 32

4.43
/5
rDev
+14.8%
look: 4.25 | smell: 4.25 | taste: 4.5 | feel: 4.5 | overall: 4.5
This is a great Wee heavy with the oak notes adding to the malty goodness that extends from the nose to the finish. The mouthfeel is full and rich and the slight vanilla notes combine with the treacly flavours that arise as the beer warms up. Howe Sound has once again proved to be the king of big seasonals.
308 characters

4.25
/5
rDev
+10.1%
look: 4.25 | smell: 4.25 | taste: 4.25 | feel: 4.25 | overall: 4.25
Greatly improved over the years...
Original review = 3.69
A: Deep mahogany with a light tan head, bit of retention.
S: Peaty scotch, cider, caramel & toffee.
T: Lots of oak, more of a medicinal peat than smoke, cider, caramel, roasted nut, toffee, good bitterness, slight alcohol warmth.
m: Light residual sweetness with a slightly drying finish.
O: There's a slight harshness here that reduces the drinkability. I finished the 1L swing top, but I would've been content with a pint by the fireplace.
505 characters
4.1
/5
rDev
+6.2%
look: 3.5 | smell: 4 | taste: 4.25 | feel: 4.25 | overall: 4
Poured from a 1L bottle. Pours a deep reddish brown colour, almost chestnut. Aromas of peaty smoke offer a good indication of what Wee Beastie has to offer. However, the taste is much more complex than that. This is a really nicely made Scotch ale which has a great mingling of fruity, smokey flavours and just a enough bitterness on the finish to cut the sweetness. The mouthfeel is creamy and this is just a very drinkable big brew.
434 characters

3.93
/5
rDev
+1.8%
look: 3.75 | smell: 3.75 | taste: 4 | feel: 4 | overall: 4
Howe Sound continues to impress with their great beer and great value. This is one of the better Wee Heavy beers I've had. The usual smokey/peaty notes were noticeably absent in this one. The caramel flavour is creamy and smooth. An excellent beer.
248 characters

3.87
/5
rDev
+0.3%
look: 4 | smell: 3.75 | taste: 4 | feel: 3.75 | overall: 3.75
Howe Sound's 'Wee Beastie Oaked Aged Scotch Ale' @ 7.0% , served from a 1L pot-stopper bottle purchased for $10
A-pour is a clear dark amber with a medium size off white head that remains thru out consumption leaving a fine lace film along the stein
S-oak aged , hints of peat malt
T-the peat malt provide's a certain smkyness
MF-low carbonation , medium bodied
Ov-ok/good beer , I'm liking the barrel aged Scotch Ales more than non-barrel aged ,
simply their better on the palate , smoother
sampled alongside 4 other BC Scotch Ale's & Orkney 'Skull Splitter'
prost LampertLand
587 characters
3.82
/5
rDev
-1%
look: 4 | smell: 3.75 | taste: 3.75 | feel: 3.75 | overall: 4
1L swing-top bottle, part of the current Carton of Coal seasonal gift pack here in Alberta (I like the new 'grey' touque!). No specification as to how the oak was applied herein.
This beer pours a clear (I think), dark mahogany brown colour, with two fingers of puffy, and mostly just pervasively bubbly beige head, which leaves some exploding cannonball splash lace around the glass as it quickly blows off.
It smells of roasted, and slightly meaty caramel malt, toasted toffee confectionery, earthy, and sort of medicinal peat, a tame soused barrel woodiness, indistinct black orchard fruit, and a pleasant dash of leafy, weedy, and spicy hop bitters. The taste is bready, somewhat doughy caramel malt, a weirdly isolated wet char thing, more damp and dank peat moss, ethereal vanilla, spirit, and wooden stave barrel notes, fading and muddled bruised apples and pears, and a still subtle earthy, leafy, and faintly spicy hoppiness.
The carbonation is quite low and unencumbered in its gentile frothiness, the body a decent medium weight, and generally smooth, with a wee (sorry) attendant creaminess, especially as things warm up a bit. It finishes well off-dry, but not really falling into the morass of an overly sweet situation - smoke, hop, and wood all seeing to that.
Overall, a nicely oak-kissed version of the style, as the woody esters obscure the 14-proof booze as well as anything could. The base beer seems up for anything, and I mean that in a robust drinking experience manner, without the dumb-ass double entendre of recent BMC marketing fail. Good stuff, but too bad I didn't save this until late January - oh well.
1,643 characters
3.78
/5
rDev
-2.1%
look: 4.25 | smell: 3.75 | taste: 3.75 | feel: 3.75 | overall: 3.75
Appearance. Pours a deep amber-brown in the glass with some redish-gold at the edges and 2 fingers of khaki head that has great retention.
Smell. Caramel, peaty, and smokey malts and oaky vanilla with maybe just a little dark fruit and spicy hops.
Taste. Smokey sweet malts and a little caramel. Some burnt wood and earthy hops in the finish.
Mouthfeel. Medium+ body, a little sticky, medium carbonation.
Overall. A nice, easy drinking and smokey wee heavy. I won't have much trouble dealing with this big bottle tonight.
528 characters
3.78
/5
rDev
-2.1%
look: 3.75 | smell: 3.75 | taste: 3.75 | feel: 4 | overall: 3.75
Half pint on tap
Dark appearance minimal head minimal lacing as a result
Nice malty aroma a eleny of barrel aging
Taste driven by malt with appealing bitterness. Very few citrus notes. You can taste the barrel aging in the finish with a nice oak appearance.
All in all a good not great scotch ale enhanced with the barrel again
Biggest complaint is the flavor is a bit muddy as opposed to crisp and distinctive
425 characters
3.71
/5
rDev
-3.9%
look: 4 | smell: 3.5 | taste: 3.75 | feel: 3.75 | overall: 3.75
Pours a dark brown with a thick beige head that quickly dissipates leaving a thin layer. The nose leads with roasted nuts, sweet malts, dark toffee and bread. The taste leads with much of the same with the malt coming to the forefront, along with a woodiness. There is a bit of bitterness in the finish that is balanced with a medium carbonation and mouthfeel.
363 characters
3.55
/5
rDev
-8%
look: 3.25 | smell: 3.75 | taste: 3.5 | feel: 3.5 | overall: 3.5
One litre bottle
A: deep brown, almost opaque,
S: nice swirling malt, toast, wine, marmite (?), sweet oak,
T: opens quietly, smoky, rich and builds nicely but then finishes thick and sticky without much of anything except alcohol. Not as noticeable with food. Actually it goes really well with my huevos rancheros -- dinner, not breakfast!
M: big, rich, full-bodied.
O: best enjoyed with a big rich meal.
406 characters

3.53
/5
rDev
-8.5%
look: 3.75 | smell: 3.25 | taste: 3.75 | feel: 3.25 | overall: 3.5
Pours a chesnut brown with a minimal slight off white head atop.Aromas are very fruity almost juicy in nature,a bit of caramel and brown sugar as well,not much oak to be found.A little thin in the feel though not quite watery I think it's lighter for the style.Fruity with a fair amount of brown sugar on the palate with a tough of drying toasted oak in the finish.I was hoping for something more from this beer because I have really liked alot of the Howe Sound stuff I have had to date but it didn't overly impress.Great name pretty average beer.
548 characters
Wee Beastie Oak Aged Scotch Ale from Howe Sound Inn & Brewing Company
3.86
out of
5
based on
32
ratings.