Big Bourbon Series Smokestack Porter
| Shoreline Brewery And Restaurant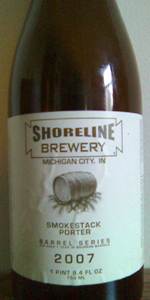 BEER INFO
Brewed by:
Shoreline Brewery And Restaurant
Indiana
,
United States
shorelinebrewery.com
Style:
American Porter
Alcohol by volume (ABV):
6.20%
Availability:
Limited (brewed once)
Notes / Commercial Description:
No notes at this time.
Added by Spica66 on 05-22-2010
This beer is retired; no longer brewed.
Ratings: 7 | Reviews: 6
Reviews by Spica66:

3.9
/5
rDev
+20.4%
look: 4 | smell: 4 | taste: 4 | feel: 3 | overall: 4
Brewery Description:
This smooth dark Porter has a touch of smoked malt is then aged for a year in the barrel that contained 15 year old Elijia Craig Kentucky Straight Bourbon Whiskey. On sale for limited time in 750ml bottles at the brewery and sealed with an black wax.
Poured from bottle into pint
A: Very dark brown color, hardly any carbonation.
S: It is easy to tell that this was in a bourbon barrel. Booze and oak and maybe a hint of vanilla aroma are right up front.
T: Bourbon on top of slightly smoky malt, the chocolate and vanilla are either still in my nose or I am getting them on the tongue- hard to tell.
M: It seems a little thin, but I am so used to BA stouts, that I have to remember this is only a porter.
D: This is a "bigger" tasting beer than average, so I would say one bottle would do two people for a sitting.
Overall, very nice and it is fun to drink something that has been properly aged for so long.
936 characters
More User Reviews:

2.98
/5
rDev
-8%
look: 3.5 | smell: 3 | taste: 3 | feel: 2.5 | overall: 3
750ml shared by womencantsail. Thanks!
Dark ruddy brown in the glass. A thin crust forms on top, settling to a collar.
The nose has a musty barrel character, oxidation, chocolate, anise, barely perceptible booze. It's mild, perhaps a bit too musty.
There's a lot of soy sauce on the palate, chocolate, light bourbon overtones. The body is a bit thin, semi-dry. It finishes roasty with a hint of smoke. Booziness is apparent even with a few years of age.
456 characters

3.52
/5
rDev
+8.6%
look: 3.5 | smell: 4 | taste: 3.5 | feel: 2.5 | overall: 3.5
Poured into a snifter. 2007 vintage. Big thanks to johnbjaeger for this.
3.5 A: Black color. Aggressive pour yielded less than one finger of head in mostly large beige bubbles. Some creaminess in there and a good bit of lacing given the original head size.
4.0 S: Bourbon is dominant in this and it smells great. Leathery and woody with a good bit of oak and vanilla. Light fig and currant fruitiness with a touch of char. The problem with this is that there isn't much of the beer itself (which isn't going to be a problem for many of you). Very, very little booziness. There's a decent chocolate component, but the smoke and the roastiness I was expecting are sparce. Still, as a bourbon delivery vehicle, it succeeds.
3.5 T: Taste is like the nose - bourbon with chocolate. Bourbon again is leathery and woody with a light peat and dark fruitiness. Aside from the chocolate, the porter doesn't even show up. This isn't surprising given how light the body is. Regardless, it's still a tasty drink, just not one that focusses on the beer itself.
2.5 M: Light body. A bit undercarbonated (it's not that old either). Smooth, but lacking creaminess.
3.5 D: This reminds me a lot of the 50/50 Eclipse I had. Excellent barrel aging, but the beer itself has too light of a body and fails to impress on the taste front. Whatever the case, it isn't a bad drink, particularly if you like bourbon.
1,395 characters

3.05
/5
rDev
-5.9%
look: 3.5 | smell: 3.5 | taste: 3 | feel: 2 | overall: 3
Thanks to Mark for hooking me up with another of the Shoreline beers! Shared during the Black Tuesday Eve tickfest.
A: The pour is nearly flat and dark brown in color with a thin layer of scattered foam forming.
S: The smell is chocolate and bourbon with a mild amount of the alcohol coming through. The roast is present, but not all that intense. Certainly some oxidation to this beer as well.
T: Surprisingly heavy on the alcohol for a beer that is three years old now. Some mild chocolate and vanilla character, undertones of roast, and some slight oak and smokiness.
M: The body is disappointingly thin and watery. The carbonation is incredibly low as well.
D: I had high hopes after -bal Discombobulation and -bal Lost Sailor, but this one was not anywhere near as good, unfortunately.
795 characters

3.92
/5
rDev
+21%
look: 3.5 | smell: 4 | taste: 4 | feel: 3.5 | overall: 4
Pours dark murky brown in the glass with a small collection of big bubbles along the top that recedes quickly to nothing and leaves only some legs on the sides.
The aroma is definitely dominated by the bourbon with lots of vanilla and oak. Some dark roasted malts and maybe a hint of smoke but not much.
The taste is more of the same with the bourbon taking the lead role with the smoked dark malts, chocolate and vanilla. Again, I'm not getting much smoke.
The mouthfeel is a tad watery but it's to be expected given the relative strength of the underlying beer. It's got a very low carbonation and a seriously boozy and oaky.
This is a really solid BA beer and I'm a little surprised the bourbon isn't completely overpowering given the underlying beer. As it is, it's pretty drinkable...especially if you're a bourbon fan.
828 characters
3.2
/5
rDev
-1.2%
look: 3 | smell: 3 | taste: 3.5 | feel: 3 | overall: 3
Thanks to N8dietz for picking this one up for me at the Brewery only!
2007 Vintage
Color is black with super dark brownie highlights and no head. Can't see through the beer, but I see no bubbles popping on the top.
Make sure you let this beer warm up to almost room temp before reviewing. There are way to many off flavors that wouldn't do this beer justice. That being said, this beer has some roasted malts that give off a little coffee and chocolate aromas. There is only a little Bourbon and oak aroma. Then theres a little bit of a musky booze sniff to it.
The taste starts with a roasted malt of coffee, and the oaken bourbon barrel aging seems to add a mocha creamy vanila flavor to the middle.
While the finish is a boozey, oakey, and bourbony. But only a little warmth seems to linger.
The palate is oily and then thins out thanks to the boozey help of the bourbon flavors. This beer is a sipper, but seems to add depth and character. This is a pretty one dimensional beer in my opinion.
1,002 characters
Big Bourbon Series Smokestack Porter from Shoreline Brewery And Restaurant
3.24
out of
5
based on
7
ratings.