Seven Red On Red Rye Ale Aged In French Oak Shiraz Barrels
| Shoreline Brewery And Restaurant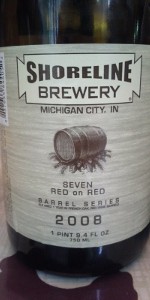 BEER INFO
Brewed by:
Shoreline Brewery And Restaurant
Indiana
,
United States
shorelinebrewery.com
Style:
Rye Beer
Alcohol by volume (ABV):
not listed
Availability:
Limited (brewed once)
Notes / Commercial Description:
2008 Barrel Aged Series, Shiraz French Oak aged 1 year, 750ml bottle is red waxed sealed: The Seven Red Rye Ale made from seven distinct malts including 4 different types of Rye. Healthy amounts of Centennial and Perle Hops intermingled through an abundant amount of malt with a beautiful red hue from a healthy dose of crystal red.
Added by aasher on 01-21-2011
This beer is retired; no longer brewed.
Ratings: 12 | Reviews: 6
Reviews by jmarsh123:

3.32
/5
rDev
-14%
look: 3.5 | smell: 4 | taste: 3 | feel: 2.5 | overall: 3.5
Pours a murky reddish brown with a thin head and little lacing.
Pretty aggressive aroma. Some cherry and lots of oaky red wine notes along with a heavy sweet toffee presence and little rye.
Similar flavors to the aroma. Starts off with cherry and other fruits with a big vinous quality through. A little bit of hop bitterness hits mid-palate with a little bit of spicy rye and an earthy bitterness lingers on the tongue. A ton of oak in this well creates a very aggressively bitter flavor.
Mouthfeel is a touch thin for my liking. Medium to low carbonation.
Lots of interesting flavors in this one, but not so sure they are well integrated. The oak is a little too dominant and while I usually love red wine notes, they seemed to clash with some of the other flavors going on here. Not bad, but the oak made it hard to drink much and the mouthfeel is what's lacking most. A little creamier and this may be something great.
926 characters
More User Reviews:
3.8
/5
rDev
-1.6%
look: 4 | smell: 4 | taste: 3.5 | feel: 4 | overall: 4
Big thanks goes out to my boy aasher for bringing this with him to the Down South Beer Tasting to share with the group! Many thanks Al! Served from bottle into a Mikkeller taster flute. Poured red with a minimal off-white head. Maintained nice lacing throughout the glass. The aroma was comprised of sweet malt, caramel, toffee, wood, and rye. The flavor was of sweet malt, caramel, rye, and wood. It had a medium feel on the palate with mild carbonation. Overall this was a pretty decent brew. Nothing on this one really jumped out at me that would put it on another level, but the brew was solid for what they were going for. I would have loved to have seen the toffee aspect I got in the nose carry over into this one to give it some more depth which I think could have helped this one out quite a bit. A definite must try for any Rye Beer fan out there.
857 characters
4.26
/5
rDev
+10.4%
look: 4.5 | smell: 3.5 | taste: 4.5 | feel: 4.5 | overall: 4.5
working on the 6th beer of my tasting with aasher. We've been highly anticipating this beer but are opening it earlier than expected due to the fact that i'm fading. I'm pouring this into a new belgium snifter. The color on this beer is gorgeous with a light cream foam head.
Smells extremely malty and sweet exactly like a barleywine. I will disreguard this because i know the taste has to be at least slightly different. Reminds me of a quality winter fruitcake. If you don't like fruitcake you truly haven't lived.
The aging of this beer in shiraz barrels is totally obvious. Begins sweet like a a typical irish red but immediately follows with a raisin-esque slightly tart taste.
Beer definitely reminds me of a leggy red wine that happens to be chewy.
Really glad i had the opportunity to try this. A real treat without question. If i were better with my observations i might be able to steer people towards this beer, but you should definitely try it because it's quality and unlike anything you'll ever have
1,018 characters

3.5
/5
rDev
-9.3%
look: 3.5 | smell: 3.5 | taste: 3.5 | feel: 3.5 | overall: 3.5

4.2
/5
rDev
+8.8%
look: 4 | smell: 4 | taste: 4.5 | feel: 3 | overall: 4.5
This bottle was shared with zep9865 during a mini tasting before DLD. It poured a dark brown/amber with a light and frothy head that laced the entire top of the brew before lacing only the edge of the glass. The aromas are very fruity and barleywine esque. You get some cherries, some figs, and grapes. The flavors are superb right off the bat. You get a lot of sweet fruits, especially grapes and a good amount of wood, oak, and initially some bourbon (which was strange, and this later disappeared as it warmed). You can definitely tell that this beer was aged in a wine barrel. The grapes are all over. The grapes are very prevalent and mesh well with the barleywine style flavors that're predominant. This beer is very flavorful and well rounded and ultimately complex. I may have to break this out at a few tastings. It is very drinkable but a little light in body. This beer surprised me and in a good way. I didn't really know what to expect but this one impressed me. It's a fine beer from Shoreline. And if I had to guess an alcohol content, I'd guess in between 8-10%. You don't get ANY alcohol from this other than the initial nose. It is definitely worth your while.
Edit: I had another bottle of this in September and it wasn't nearly as stellar. The oak was overpowering and the shiraz barrel characteristics weren't as prevalent.
1,345 characters

3.7
/5
rDev
-4.1%
look: 4 | smell: 4 | taste: 3.5 | feel: 3 | overall: 4
Bottle courtesy of Mark. Thanks!
A: The beer pours amber in color with a soapy off-white head.
S: Smells moderately hoppy. The hop notes come in the form of citrus and pine. There's lots of oak and red wine to the beer and a mild tartness and fruitiness.
T: Unlike the nose, the flavor is very heavy on the oak. As a result, it's somewhat tannic and charred. Certainly plenty of red wine and red fruits. A mild citrus flavor and bitterness and perhaps a touch watery.
M: Light to medium in body with low to medium in carbonation.
O: Perhaps I should have waited a bit longer for this to develop in the bottle. As it stands, it was good but not great.
655 characters
3.85
/5
rDev
-0.3%
look: 4 | smell: 4 | taste: 3.75 | feel: 4 | overall: 3.75

3.86
/5
rDev 0%
look: 2.5 | smell: 4 | taste: 4 | feel: 3.5 | overall: 4
750mL bottle, wax over cork, purchased at Kahn's in Indy for something like $22. A rye beer aged in shiraz barrels, should be interesting.
This pours a dark reddish brown color, murky, with a kind of weak looking head (large celled bubbles, thin). On smelling I'm immediately certain it's a barleywine, or a strong rye IPA that's been aged to the point of malt take-over. Nice barrel notes, plummy and oaky.
This tastes just like it smells, barleywiney. Honestly it's a bit aggressive a flavor profile for my tastes, at least in a 750mL bottle, wish I'd opened it in the presence of a friend or two who appreciate the style. As it was it was me and my wife, and she didn't have too much... Liquor-soaked fruits, sweet malts, very light rye spiciness, definitely a lot to savor here.
This was satisfying enough but I sort of wish it was a little stronger in rye and had a little less malt. But that's just me, I'm sure this would satisfy many barleywine lovers.
964 characters

3
/5
rDev
-22.3%
look: 3 | smell: 3 | taste: 3 | feel: 3 | overall: 3
Seven Red On Red Rye Ale Aged In French Oak Shiraz Barrels from Shoreline Brewery And Restaurant
3.86
out of
5
based on
12
ratings.