Founders Bad Habit Belgian Quad
| Founders Brewing Company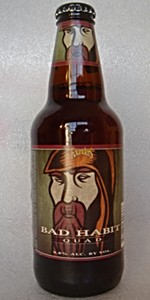 BEER INFO
Brewed by:
Founders Brewing Company
Michigan
,
United States
foundersbrewing.com
Style:
Quadrupel (Quad)
Alcohol by volume (ABV):
9.80%
Availability:
Rotating
Notes / Commercial Description:
No notes at this time.
Added by CRJMellor on 02-22-2004
This beer is retired; no longer brewed.
Ratings: 114 | Reviews: 102
2.2
/5
rDev
-39.6%
look: 3 | smell: 3 | taste: 2 | feel: 3 | overall: 1
*I hated it and will never taste it again.. thankgoodness*
app: looks normal and ok, sept this dont look like no quad at all.
smell: belgian candy smell, but a bad one. very lite and fruity.. a touch of a medicine nose.
taste: OH NO!! this is not good at all. the booze taste like cough syrup flavoring.. it all tastes very fake and off.. fake candy belgian sweetness, fake booze flavoring.. I would not be shocked if it were all artificaly flavored. way to sweet, not depth or complexity. upset.
mf: why do i bother. this feels like bad beer.
drinkable?: NO!! I can not even fake it!
599 characters

4.25
/5
rDev
+16.8%
look: 4 | smell: 4 | taste: 4.5 | feel: 3.5 | overall: 4.5
This beer poured very smoothly into my snifter...
Great color and head. The head disapated nicely.
Good aroma. Very sweet. Tastes of bubble gum.
A bit too much yeast for my liking. One of the bottles in my 4 pack had clumps of yeast:(
Overall a very unique Quad and well worth tring if you see it.
306 characters

2.68
/5
rDev
-26.4%
look: 2 | smell: 4 | taste: 2.5 | feel: 2 | overall: 2
12 oz bottle poured into Chimay goblet.
Pours a very flat hazy cloudy baby poop brown color. Decent amount of floating matter in the glass, and the tiny bubbles around the edge of the glass don't add much appeal.
The smell is very interesting after 6 or so years in the bottle. At first it smells like a cognac with nutty notes and cherry booziness. Then I get whiffs of pure apple cider. There is also a definite cardboard mustiness, but nothing really overtakes the surprising fruity booziness. Lots of apple, cherry, banana, and alcohol ester.
Taste is downright abrasive and not in a good way. Rotten banana, booze, rancid cider, and wet cardboard. Age has not been kind to this one. This is the last bottle from the cellar and that is probably a good thing. I remember this one being boozy when fresh, but I am shocked at how boozy it still is. Booze and off flavors is all that is left here.
The mouth is flat and oily...definitely well past its prime. If Founders decides to make a quad again, I will most certainly try it, but this beer is happily retired.
1,069 characters
2.53
/5
rDev
-30.5%
look: 4 | smell: 3.5 | taste: 2 | feel: 2.5 | overall: 2
I am more than a bit disapointed with this beer, it may just be a case of a brewery trying to take a good thing too far. The alcohol was overpowering, almost like the beer was too green. I enjoy a high gravity brews but the alcohol was almost burning with this one. Very spicy, hints of bananas. Not super drinkable. Founders stouts are much better.
349 characters
4.37
/5
rDev
+20.1%
look: 4 | smell: 4.5 | taste: 4.5 | feel: 4.5 | overall: 4
Belgian brews can sometimes be real sugar bombs, but I noted that Founders kept the sugar from leaping over the top of the brew. Bad Habit poured a lovely, rust-like color with a fair head. Scent opened up quickly into sweet and mildly spicy and with a bit of alcohol.
Flavor was candy-like and fruity, but the touch of spice I smelled at the pour carried into the flavor profile, somewhat balancing everything out. I also noted a zing from the hops in the background and in the very long finish.
This limited-edition beer is certainly worth a try.
550 characters
3.71
/5
rDev
+1.9%
look: 4.5 | smell: 3.5 | taste: 3.5 | feel: 4 | overall: 4
Saw this 12 oz single while picking up the weekend beer selection, thought I'd give it a try. Founder's has been reliable thus far. Screw cap?
Poured into goblet, semi-cloudy caramel color which appears on the flat side with no foam/lacing. Smells of apple-cider vinegar and has a good belgian ale type note. Has tastes of sweet and sour, not sure if I picked up a bad bottle or this is the desired flavor. Mouthfeel is o.k., good weight and slight stinging on the tongue is nice. Wondering if the small bottle hinders this beer to develop properly. Drinkability increases as the tongue gets accustomed to sharp edges.
Visiting family near Grand Rapids around the holidays. I may give it a try of the tap, but will not purchase bottle again. As far as quads go, La Trappe (Koningshoeven) still ranks better.
813 characters
4.92
/5
rDev
+35.2%
look: 4.5 | smell: 5 | taste: 5 | feel: 4.5 | overall: 5
This is just one fantastic beer. Especially when you consider it pours from a 12oz bottle but tastes like it should come from a corked 750mL. I drank this from a 22oz snifter. Corlor was a bourbon like reddish brown in terms of color and overall appearance.
Smell is strongly of alchohol as you would expect from an almost 10% quad. There is a sweetness in the background with an earthy fruity aroma.
Taste is exceptional. Hints of caramel and raisins. Not overly alchoholic tasting compared to the aroma.
When you take a sip of this, you should expect a slight 'burn' on the way down, similar to wine almost. Medium body and somewhat clinging to the tongue. The flavor stays with you for a while.
I could sit and sip this stuff all night long. The idea of this in a nice snifter in front of fire with some friends is a dream that really needs to happen. If you enjoy a good Belgian style ale, don't pass up the opportunity to give this a try.
956 characters

3.64
/5
rDev 0%
look: 3.5 | smell: 4.5 | taste: 3 | feel: 3.5 | overall: 4
Cloudy amber pour with almost non-existent head retention, presumably due to alcohol.
Strong berry, licorice, vanilla, maybe cinnamon and bit of pepper. Yeast smells fresh but potent.
Sharp berries and cinnamon up front but fades quickly into stale flatness. Honestly I think the finish on this one keeps it out of the ~4.5 overall range. Suprisingly vapid, like a Paris Hilton song with a great guitar solo.
414 characters
3.46
/5
rDev
-4.9%
look: 3.5 | smell: 2.5 | taste: 4 | feel: 4.5 | overall: 3
Wow, quite and experience. The alcohol is quite evident in the odor along with a strong smell of browning banana. The first taste was quite a shock, very sweet and syrupy, a bit much for me at first. However, as the beer warms the flavor improves. The beer cascades down the tongue with a sparkle and a coating sensation. The flavor brings a scotch ale to mind but with out the sophistication. Sweet malty, and banana like, could maybe use more hops?? The beer is quite warming however, and not a bad choice for a cold winter day.
530 characters
3.8
/5
rDev
+4.4%
look: 4 | smell: 4 | taste: 3.5 | feel: 4 | overall: 4
Pours (in to a tulip glass) dark brown that leaves a thick light brown head. The aroma is prunes (very prominent), figs, raisons & brown sugar, the taste is initially good with caramel, banana & spices are faint enough to be noticed, and although its not as big as it's quad counter parts with all of the sugary tastes, I believe that it's not ready yet. I save one for a year from now just to make sure.
406 characters
3.27
/5
rDev
-10.2%
look: 3.5 | smell: 4 | taste: 3 | feel: 3 | overall: 3
Poured a hazy medium copper color with a very thin off-white head. the head disappeard quickly leaving a thin lacing for the remainder of the glass. Smelled of bananas, bubblegum, maybe even a little apple. Medium body with a good amount of carbonation. The taste again was strongly of bananas, sweet with a light sour citrus kick. They hid the alcohol well, i mean you know it's there, but it's full strength doesn't let itself be known until after finishing off the bottle. Obviously this limits it drinkability to a lightweight like myself. Not bad, but it just doesn't suit my tastes.
588 characters

Founders Bad Habit Belgian Quad from Founders Brewing Company
3.64
out of
5
based on
114
ratings.