Founders Furniture City Stock Ale
| Founders Brewing Company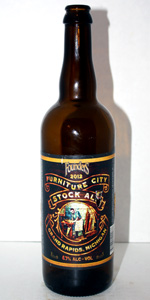 BEER INFO
Brewed by:
Founders Brewing Company
Michigan
,
United States
foundersbrewing.com
Style:
English Brown Ale
Alcohol by volume (ABV):
6.70%
Availability:
Limited (brewed once)
Notes / Commercial Description:
No notes at this time.
Added by GRPunk on 10-14-2012
This beer is retired; no longer brewed.
Reviews: 15 | Ratings: 104

3.19
/5
rDev
-16.9%
look: 5 | smell: 3.5 | taste: 3 | feel: 2.5 | overall: 3
Reviewing the Furniture City Stock Ale from Founders Brewing Company out of Grand Rapids, Michigan. This beer was brewed in celebration of the Grand Rapids Public Museum's historic beer exhibit in the fall of 2012.
Score: 75
Fall 2011 vintage bottle served in a Kate The Great snifter and enjoyed on 12/14/12. Big thanks to Shawn for the hook up!
Appearance: Pours a dark, clean amber color with a finger of off-white head that settles to a thin layer atop the glass. Awesome lacing and retention. 5/5
Smell: Stale hops, lots of malt and nutty caramel malt. Toasted barley grain and cocoa. Faint brown sugar too. 3.5/5
Taste: Very malty, though that is to be expected based on what Founders was going for. Carmel malt, and barley grain. Some nuttiness too. Faint roastiness. Where's the cocoa from the nose? 3/5
Mouthfeel: Medium-plus bodied, minimal carbonation. Despite the viscosity, this beer feels watery on the palate. Malty, but not really sweet. 2.5/5
Overall: Drinkable, but not good. Not bad, but nothing special.
Recommendation: It was nice to tick this beer, but it was not worth hunting down.
Pairings: Hershey's chocolate bar.
Cost: $6.99 for a 750 ml bottle.
1,182 characters
3.25
/5
rDev
-15.4%
look: 3.75 | smell: 3 | taste: 3.25 | feel: 3.5 | overall: 3.25
750 ml bottle served in a Founders snifter. Thank to kevanb for the share.
A: Pours a clear brown color with light tan head forming on the pour. It recedes quickly leaving behind some spots of lace.
S: Light chocolate with a little nuttiness to it. Mild roast with a light, earthy hop backing.
T: Minimal chocolate with some earthy green hops. Roasted malts with a little nuttiness. Slightly watery with a sweet malt palate.
M: Medium to light bodied with a medium carbonation and a smooth, sweet finish.
O: Decent across the board, but lacking complexity. Slightly watery.
579 characters

3.55
/5
rDev
-7.6%
look: 3.75 | smell: 3.75 | taste: 3.5 | feel: 3.25 | overall: 3.5
Just a quick review for this one. I've had this in my cellar for over a year just because I couldn't really find a good opportunity to drink it. Well, I didn't feel like making another run to the store, so I just cracked it open.
The age really destroyed this beer (I emphasize that I wasn't cellaring it to enhance/change the flavor). It poured well enough -- very little head on the forced pour, dark browns. The smell was almost nonexistent, even in my snifter, and the taste was just big malt with very little flavor beneath it. Excessively carbonated too, leaving my mouth feeling dry at the end.
I assume this beer was pretty good in its heyday, since during certain sips I was reminded of FMB (which I like).
717 characters

3.77
/5
rDev
-1.8%
look: 4 | smell: 4.5 | taste: 3.5 | feel: 3.5 | overall: 3.5
I was excited to try this because of my love of old and stock ales.
A: ruddy dark garnet. The clearish beer is nice looking in the glass.
S: caramel, a bit of roast, the smell is the best part of this beer.
T: lacked that it, the flavors of the aroma are there but seemed less than full in the glass.
M: appropriate for the style.
O: I wanted to be wowed by this, but it's a have and forget beer. Founders is a great brewery and fans of the style might like it more than I did.
482 characters

3.91
/5
rDev
+1.8%
look: 4.25 | smell: 3.75 | taste: 4 | feel: 3.5 | overall: 4
2012 750ml bottle into NB snifter. Thanks jbck109!
A: Pours a very dark ruby red with two fingers of short lived light brown head that faded into a bubbly collar leaving sheets of lace.
S: Caramel, toffee, woody, roasted grains, and faint leafy hops. Lightly nutty, not sweet smelling but I get hints of molasses too.
T: More roasted and a little sweeter than the nose. Not much caramel either. Nutty, biscuit, toasted malts, mild earthy bitter hop finish, sweet, fruity berry-like aftertaste. Nutty and earthy overall, tobacco as it warms. More bitter than most.
M: Frothy carbonation, medium body, chewy mouthfeel.
O: Solid and enjoyable. Went perfectly with homemade chili. Thanks again Jay.
697 characters

3.93
/5
rDev
+2.3%
look: 4 | smell: 4 | taste: 4 | feel: 3.75 | overall: 3.75
a clean yet deep brown pour with 2 fingers of off white head giving off great amounts of lacing. smells of bourbon barrels, vanilla, chocolate, coffee, brown sugar. a subtle bourbon barrel flavor throughout, nice sweet malty profile with a slight charred bitterness. a really enjoyable "light" barrel aged beer. lighter medium body with low carbonation.. slight creamy feel but also watery.
a really nice light feeling, and subtle bourbon barrel flavored ale. very nice and enjoyable. not what i'm used to from founders.
521 characters

3.95
/5
rDev
+2.9%
look: 4.25 | smell: 3.5 | taste: 4 | feel: 4.5 | overall: 4
Bottle from Siciliano's, 750ml into a tulip.
Dark brown with some ruby highlights. Tan head with moderate lace and webbed retention. Nose has nuts, dark fruity notes, bready with some chocolate as well. Taste has chocolate, nuts and roast on the back end. Toasty malt character and subtle dark fruit character on the palate, a fair bit of complexity all around. Medium feel, medium low carbonation - almost a silky feel. A quality English brown.
446 characters

3.96
/5
rDev
+3.1%
look: 4.5 | smell: 3.5 | taste: 4 | feel: 4.5 | overall: 4
Saw this one at Oades in Lansing, figured what the hell. Can't really pass up a cheap ($7.49 for a bomber) founder's beer that I've never tried before. Although I usually find browns kinda a boor maybe this one might change my mind.
A&S: lots of maltyness coming off this one and some dark sweetness maybe molasses, pretty basic but solid. Dark caramel brown colored beer, head hangs around well as a nice creamy texture and tan coloration.
T&M: Mild toffee sweetness upfront. Pretty bitter thought except for the finish. The finish is very pleasant, mild to little bitterness involved with lots of roasty and malty qualities. the smoothness is pretty much the best I've had for the style, nothing on a good quality porter but pretty darn perfect.
overall: Nothing mind blowing, but I didn't expect it to be. If your one of those people who wants almost anything founders puts out, I would say snag it up especially since they normally price these specialities way higher. Availability might be rough, on founders website they said they only brewed 80 barrels and don't plan to do anymore, so get it while you can. If your not interested in trying everything founders produces, I wouldn't rush out to get it, its nothing amazing.
1,234 characters
3.97
/5
rDev
+3.4%
look: 3.5 | smell: 4 | taste: 4 | feel: 4 | overall: 4
At only 6.7%, I wondered how this old ale would taste, worried that it would be too light for the style. I should have had more faith in Founders. It is light for style, but they manage to keep it very drinkable and flavorful. The color is a deep, dark brown (almost like a porter), and the aroma has sweet malt notes of caramelized sugar, tobacco, and a bit of berry fruit. Flavor follows aroma with the same attributes and is a pleasure to drink. It is probably the lightest old ale I've had, but it's not thin on flavor.
527 characters
4
/5
rDev
+4.2%
look: 4 | smell: 4 | taste: 4 | feel: 4 | overall: 4
True to English brewing heritage, Founders chooses a new world beer with old world charm as the means to help a charitable cause. Though called a "stock" ale, the beer proclaims brown ale roots from start to finish.
Blightly clear and sparkling with a redish tint, the otherwise brown-hued ale looks sophisticated and humble. An off-white head separates from the beer and caps the rim with a heavy creamy froth that easily outlasts the session and laces with foamy rings with each sip. It's the quintessential English ale look!
Nuts, chocolate, and light toffee lead the way as deeper aromatics of coffee gounds, toasted fruit, and toasted bread pronounce through the nutty, chocolaty scent. Starchy malts are the mild biscuit component that pulls all the robust notes together.
Rich to taste, but effortless on the palate- the masculine flavors begin with toasted grain and starchy malt flavor. As the flavors build and saturate the taste buds, richer chocolate, Nutella, and mildly seared fruit offer up a multitude of complexity for such an easy drinking ale. Steering away from aged notes, the stock ale adheres to the brown ale recipe, right down to the light earthy hop bitterness and light floral spice.
Medium bodied from nose to finish, the beer remains lightly creamy until a snappy hop dryness cleanses the finish and allows for high levels of refreshment. Light woodish hops shys away from asgringency and favors a light minty spice note to close the beer. It's short lived aftertaste is a memory of its nutty start up.
It's a clean, simple and pure brown ale that prefers a simplified and dignified palate. I would like to see a more complex "matured" element or more pronounced ester profile for added depth and excitement.
1,742 characters

4
/5
rDev
+4.2%
look: 4 | smell: 4 | taste: 4 | feel: 4 | overall: 4
Thanks to Todd for sharing this one? Or was it Tom? Served in a mini pint glass.
A - A finger of tan foam settles to a thin cap, thicker collar, and spotty lacework. Transparent nut brown color with some visible bubble streams.
S - Smells like a brown ale alright, with nuts, chocolate, toasted grains, and some fruity English ale yeast. There's a bit of earthy and floral hopping, but it's largely about the malt here.
T - The taste is a bit less sweet than the aroma suggests, with more dry roasted nuts, as well as fruity berries, milk chocolate, and a bit of sweet tobacco leaf. A bit of herbal bitterness in the finish.
M - Smooth, medium body, slightly grainy texture, medium-low carbonation, and no discernible alcohol.
D - A well done stock ale. If you're into old school brown ales, this is worth checking out. Perhaps disappointing if you were expecting something akin to Founders' other 750ml offerings, but I could easily and happily drink the entire bottle on my own.
985 characters
4.01
/5
rDev
+4.4%
look: 4 | smell: 3.5 | taste: 4.25 | feel: 4.25 | overall: 4
We crack the top on a bottle of the 2012 stock, pouring a brew of rich reddish cola coloring, with deeper mahogany hues around the edges into our Great Lakes pints. It holds a two finger head of creamy eggshell colored bubbles, showing decent retention, and leaving soapy patterns of lacing all down the glass. No haze or sediment is appreciated, and carbonation appears to be on the mild side. The aroma is surprisingly hoppy, with big florals and perfume, and some light herbals with warmth. To meet is a grain bill comprised of chalky brown malts, cereal grain, dried corn, sweet caramel depth, and metallics. Balancing through the rest of the nose are notes of hibiscus, light booziness, phenolic plastics, white vinegar sourness, and green banana fruitiness. Our first impression is that the grain bill steals the show, but with undeniable hoppiness to balance for the style. As we sip, the taste begins with rich caramel malt sugariness, yeasty grit, floral hoppiness, soft citric rind bitterness, watered hazelnut coffee, and soft lactic acidity. The middle peaks with sweetness from a mix of continued raw grainy caramels, fusel booziness, green plantiness, herbal clove bite, pumpernickel breadiness, and continued floral hoppiness that brings us to the finish. Here the hops enhance, giving surprising grassiness and perfume qualities to balance out the finish maltiness of molasses blackness, sea salt, musk, light banana esters, toffee richness, and light honey sweetness. The aftertaste breathes of drying dust, chalked yeast, light vinegar, root vegetal bite, green tree hops, peppery spice, mineral, and continued echoes of distant caramel and rice graininess. The body is medium, and the carbonation is medium. The mouth is coated with dripping wetness, to be eventually dried with more astringency than roast down the tongue. Each sip gives nice slurp, sip, froth, pop, glug, and cream. The abv is appropriate, and the beer drinks easily.
Overall, what we enjoyed most about this beer was its flavoring. This was an interesting take on the style, with much more hoppiness than expected through both the flavoring and the nose. This made is seem like an "Americanized" English Brown Ale, appealing to both our incessant hop craving and our desire for something different. This idea blended well with the dry roasted bitterness of the feel, helping to settle the flavoring into authenticity. This actually seemed like a step outside the box for Founders, and we hope to see equally as thought out efforts in future releases.
2,544 characters
4.08
/5
rDev
+6.3%
look: 4.5 | smell: 4 | taste: 4 | feel: 4.5 | overall: 4
750 ml bottle, poured into a Duvel Tulip
A- A normal pour created a 1-1/2 finger, tan head that sustained at a thin film and left great sticky spots on the glass. The body was a deep brown-red, like a dark garnet.
S- Kind sweet at first. Brown sugar with a nutty component. A spicy kick that's a little hard to place at first. After a while it comes across as anise. Caramel aromas mix with leather and tobacco to create some real richness. I either get transfixed by licorice or it really heightens with warmth.
T- really nice at first sip, and it really is a sipper. Complex. Tobacco component creates a barley-wine sort of flavor. A little anise, that grows with warmth. Light chocolate. Leafy hops, caramel. Dryish finish.
M- Very full bodied. Medium carbonation. Light hop bite that cleans and dries finish.
O- It's a nice sipper. Maybe even better on a colder, fall day. While it isn't harsh, it drinks bigger than the 6.7%abv. While I'm not big fan of black licorice, the anise-like flavor doesn't overwhelm. It seems to fit descriptions I've read of historical brews. Well done, Founders. I applaud the effort and charitable contribution that accompanies this tasty brew.
1,194 characters
4.19
/5
rDev
+9.1%
look: 4.25 | smell: 4 | taste: 4.25 | feel: 4.25 | overall: 4.25
picked this beer up the last time I was in grand rapids picking up some Boltcutter.
poured into pint glass.
Appearance: Light to medium brown bodied beer with a red hue. 2 fingers of an offwhite almost tan colored head. The head is big creamy and frothy with great staying power.
Smell: nutty, malty, light toffee, and a hint of roast and brown sugar.
Taste: Great malt profile on this brown! Nutty and slightly sweet malts. Toasted grains that almost gets to a roasty note. A touch of light brown sugar and toffee. And then the perfect balance of earthy hops in the finish that add no bitterness just that nice earthy note! This beer is effortlessly good and textbook for the flavor profile of this beer style.
Mouthfeel: low end of a medium bodied beer with moderate carbonation. The beer drinks like its 5%! Its creamy and smooth. Very well carbonated!
Overall: This was a wonderful brown ale! cant remember the last brown ale that impressed me this much. Textbook english brown ale in all aspects of the beer. Wish I would have picked up more!
1,054 characters
4.39
/5
rDev
+14.3%
look: 4 | smell: 4.25 | taste: 4.5 | feel: 4.25 | overall: 4.5
Brown ale or Stock ale? I'm not sure, and I'm not sure I care. I may be in the minorty. If I'm wrong, though, I'd rather not be right because this beer is flat-out delicious.
It's a red-tinted brown color, deep and dark but with a certain transparency. It forms a finger of tan head that fades slowly, never completely, and a good amount of mostly patchy lacing with some light webbing clings to the glass.
My mind is blown that no reviews I've seen mention wood (at least as a major component). Sure, there's a lot going on, but is anything more prominent than the woody note? Not that I can detect. It's warm, sweet and lightly boozy, a malty base resting some caramel, vanilla, toffee and nut with balancing bittersweetness of cocoa and a bit of leaf and earth. It's all under the wood and the sweeter notes, though. This is just delicious stuff. There's something gently raw underneath, and the hops are earthy. The fresh wood note lies overhead the whole way, adding a dryness to counter the sweetness. I have to wonder if this beer was intended to have a direct correlation in the flavor to the "furniture" theme.
The body works for this beer, and it's not thinned out , nor is it made too syrupy or thick. It finds the balance, lying in the medium range with the appropriate heft and carbonation. Crispness is light but carries through, just lively enough, and it's very smooth.
1,387 characters
Founders Furniture City Stock Ale from Founders Brewing Company
3.84
out of
5
based on
104
ratings.