Founders Inspired Artist Black IPA
| Founders Brewing Company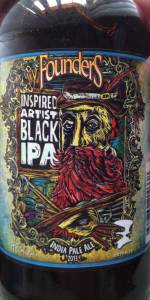 BEER INFO
Brewed by:
Founders Brewing Company
Michigan
,
United States
foundersbrewing.com
Style:
American Black Ale
Alcohol by volume (ABV):
7.50%
Availability:
Limited (brewed once)
Notes / Commercial Description:
No notes at this time.
Added by pb9613 on 08-27-2013
This beer is retired; no longer brewed.
Reviews: 35 | Ratings: 209
3.42
/5
rDev
-16.8%
look: 3.75 | smell: 3.5 | taste: 3.25 | feel: 3.5 | overall: 3.5
Appearance: a deep brown. looks black through middle but brown along edges. almost opaque but not quite. finger of a foamy head that leaves a bit of a lacing
Smell: hops, citrus and pine. roasty malts.
Taste: opens up with a lighter pine hop, this gives way to a blended taste of citrus and roasted malts, chocolate takes up the back end
Mouthfeel: kinda light. some bitterness and roastiness left behind
Overall: A pretty decent beer. I thought about liking it for a few sips but i just can't stand the flavor combo
520 characters
4.42
/5
rDev
+7.5%
look: 4.75 | smell: 4.5 | taste: 4.25 | feel: 4.5 | overall: 4.5
$7.99 for a 6-pack at Meijer. How cool is that? 88 ibu's, 7.5% ABV. Brewed with midnight wheat.
Pours out to a very dark brown, near black, forming a tall poofy and creamy head with superior retention and beautiful solid lacing. Moderate carbonation, ~2.5 carbs or so. The nose is an awesome combination of pungent skunkweed hops and roasted malts, with touches of pine , a little peppery alcohol, and grapefruit. The mouthfeel is slick, smooth and medium-dense bodied. Just floats on the the tongue. The taste is as I would expect given the nose...pungent hops, roast malt, grapefruit, a touch of alcohol. No off flavors or aromas. Beautifully balanced bitterness. The 88 ibu's does not overwhelm. The finish is roasty and dry, and the aftertaste is all hop pungency.
This is one heck of a beautiful beer. It reminds me exactly of the black IPA I had from founders years and years ago. Expertly crafted. I already bought 2 6'ers, but I think I'm gonna go pick up a case at this price. Highly recommended. Seek it out. Probably the best black IPA I've ever had.
1,063 characters

4.44
/5
rDev
+8%
look: 4.5 | smell: 4.25 | taste: 4.5 | feel: 4.5 | overall: 4.5
Poured into GI pint
Given to me by steimie
Pour: Pours a shade of dark brown with some dark ruby highlights along the edges of the glass. Head was big, light tan brown and lingered what seemed like forever.
Smell: Nice initial hop with grapefruit dominant. Quickly flows into the other aspects of this beer. Coffee, chocolate, cocoa, dark malts, brown sugar.
Taste: A two tiered beer with the IPA presenting first. Grapefruit, pineapple and some citrus that is fleeting as the coffee, roast, malts and bittersweet chocolate take over. Then there is a perfect bitterness that takes hold to the finish. Very good.
Mouthfeel: Medium feel and a decent amount of carbonation creating a crispness. Bitterness lingers but not overly so. Again very well done.
Overall: I like the black IPA as a style and this beer hits on all cylinders. It says 88 IBU's but I'm hard pressed to find that in this beer. Everything is done in harmony with no one aspect detracting from another. In other words I find this beer to be in perfect balance. Really liked this beer from Founders
Thanks Brian!
1,083 characters
4.31
/5
rDev
+4.9%
look: 4.25 | smell: 4.5 | taste: 4.25 | feel: 4.25 | overall: 4.25
I have never had a black IPA before. What a unique beer! I filled my growler at Founder's yesterday. I drank half of the growler last night (on the same day of purchase) and I am in the process of finishing it off tonight. I almost feel like I should process two different reviews as I have two different experiences drinking this beer on two different days.
Appearance - nice thick head on the first day. Deep black color with a tannish head on the first day. There was absolutely no head whatsoever on the second day.
Smell - the nose on the first day had typical IPA notes - grapefruit and grass with the grapefruit the far dominant smell. The second day? No grapefruit whatsoever. All I get is roasted coffee stout with small hints of dark chocolate. Very peculiar. Did the head provide the grapefruit note I smelled on the first day and take it away with its disappearance on the second day???
Taste - the first day - Wow! The grapefruit on the nose gave way to roasted coffee stout when it first entered my mouth. It quickly and smoothly changed to the grapefruit IPA flavor as it moved to the back of my mouth and down my throat. The second day? The roasted coffee stout flavor is slightly bolder than the first day. Unlike the first day, the grapefruit IPA notes try but fail to takeover as the beer moves to the back of the mouth. Only when the beer is swallowed is the grapefruit note detected. Even then, the grapefruit notes are not as distinct as they were the first day but they are definitely there. There is a stout presence on the finish the second day that wasn't there the first day.
Mouthfeel - heavy but smooth. Nice carbonation on first day but 100% disappeared on the second day as could be expected.
As most already know, this beer will be sold only in Michigan during the late summer, early fall of this year. I will be sure to bunker some of this beer due to its complexity, 7.5% abv, outstanding price (suggested $9.99 for a six pack but on sale at Meijer today for $7.99!) and limited production.
2,029 characters

4.47
/5
rDev
+8.8%
look: 4.5 | smell: 4.25 | taste: 4.5 | feel: 4.75 | overall: 4.5
Purchased from the Store in Mount Pleasant. Honestly thought I was going to have to drive to GR to get this so it was a pleasant surprise!
A: Very dark with an off-tan head. About 3 fingers of head. Man, this beer slowly laces down the glass. It is a thing of beauty! Some of the best retention I have seen.
S: Great hop profile. Don't know what hops they used but it seems like a nice mix between some citra and cascade. Not overly tropical, but a great mix of grapefruit, citrus and pineapple. Then to balance it out you have a nice malty/coffee undertone.
T: Wow. First time in a while a beer makes you rethink what is possible with the style. Initially get great coffee taste that smoothly transitions to a balanced ipa. Follows the nose in regards to the hops. Then just the right amount of bitterness to make you want to take another sip. All the flavors play a symphony together. Nothing is out of place. For being an 88 ibu beer it sure is balanced nicely.
M: Probably my favorite part of the beer. Such great carbonation mixed with a thicker mouthfeel that is rarely seen in a ipa. Feels substantial, but not overly heavy.
O: Maybe if we constantly nag Founders they will make this a yearly-release! The saddest part is that we might not see this beer again. Fantastic beer from one of the great breweries in the World.
1,333 characters

4.1
/5
rDev
-0.2%
look: 4 | smell: 4 | taste: 4.25 | feel: 4 | overall: 4
A - Black / brown with a nice 1 inch cap of off white brownish head. Exceptional lacing and stick.
S - Big grapefruit hop notes, floral, malts, chocolate, brown sugar.
T - Huge burst of hops / grapefruit, centennial hops (?), nice balance of malt flavor, clean bitter finish.
O - This is one of the first black IPAs that I drank and said I NEED to have this again. This is solid as they come - easy to drink. I'm not sure if this is a one time brew for Art Prize, but this is special and Founders needs to keep this in the rotation.
537 characters
4.18
/5
rDev
+1.7%
look: 4.5 | smell: 4.5 | taste: 4 | feel: 3.75 | overall: 4.25
We crack a pair, pouring a brew of the deepest black raspberry coloring. It holds two and a half finger tall head of creamy, cakey, and soapy café au lait colored bubbles, showing great retention. This leaves spots and ridges of lacing caked around the glasses as it slowly goes. No haze or sediment is noted, and carbonation appears to be moderately active. The aroma is explosive (!!), with "fresh-squeezed" hops offered in the form of citrics, fruity nectars, and dirty earth tones. These clash with the grain bill, which is chocolate and roasty, with soured brown malt inclusions, and a powdery but silky oat smoothness. Otherwise the nose fills with passion fruit and lemon flesh, booze, cooling vanilla, dill weed, phenolic plastics, green onion fusels, brushes of honey, and light smokiness. Our first impression is that it is very hop forward, as expected, with a showcasing of juicy fruity varietals right as it hits your lips, and an unfolding through the sip to give great bittering char on the end and thereafter. As we sip, the taste opens with sweet grapefruity hop, nectarine, kiwi, and mango fruitiness, powdered oat, black and brown malty roast, lactic sourness, vanilla icing sugars, soft rubbers, mineral, fresh thyme, and light medicinals. The middle peaks with black pepper and booze, apple skins, spicy citric and earthy hop bitterness, continued tropical fruitiness, sticky Thai basil, and the beginning of more of a bittered char and light leathery smokiness from the malt cellars. Washing through the finish is a mix of chocolate malts, metallic yeastiness, sprinkles of table salt, chalk, alcohol, black peppercorn, distant smoke, bittered field greens, carrot tops, syrupy chocolates and chocolate malts, light butters, and final sweetness of honeysuckle, floral nectars, and blood orange sweetness. The aftertaste breathes of smoke and charred chocolate and black malts, bittered lemon peel, green grassiness, copper metallics, yeasty bite, plastic phenol burn, fusel booze, juicy grapefruity and herbal hops, dill, gravel, and cocoa nib chalkiness. The body is fully medium, and the carbonation is medium. Each sip gives soft slurp, smack, cream, froth, pop, and glug, with a silky smooth, but heartily foamy coating to the mouth. This satiates, but does dry between the booze and the hops into a mild pucker, with lightly chalked astringency streaking across the back of the palate. The abv is appropriate, and the beer sips quite easily.
Overall, what we enjoyed most about this beer was its beautiful appearance, and its gloriously robust aroma. From the start, the nose was in wonderful harmony, with brightly sweet and freshly organic hop offerings, and the warming, dark, roasty smoothness that was the malt bill. With further sugariness given from other origins based in fruit, the final balance was excellent, and set a big stage for the flavor. Here, too, we were not disappointed. The blend was rich, sweet, and bitter, showing an evolution of sorts from the beginning to the end. The hops started things off nicely, dissolving into a background of bitterness, booze, grain, and char. As the beer warmed, the bittered and charred notes became accentuated, acting to meet and somewhat overshadow, the sweet stickiness of the hops. That said, this was a true and loyal beer, to both the style, and to the fans of Founders alike.
3,372 characters

4.38
/5
rDev
+6.6%
look: 4 | smell: 4 | taste: 4.5 | feel: 4.75 | overall: 4.5
A: Pours a dark brown almost reddish color with a slight brown head that lingers around the edges of the glass.
S: Strong grapefruit bomb right away mixed with a slight roasty smell of possible chocolate and bread.
T: Roasted malts upfront mixed with the grapefruit. Ends with a strong hop bitterness and dark chocolate. Delightful and very very smooth.
M.F: Smooth, medium body, minimal carbonation which is perfect for this style.
O: As it says on the description, it really makes you think about what a black beer should be.
Founders does it again. Cheers!
567 characters
4.83
/5
rDev
+17.5%
look: 4.25 | smell: 5 | taste: 5 | feel: 4.25 | overall: 4.75
Outstanding grapefruit flavor with lots of tang. Hop bitterness in aftertaste. Red highlights in almost black color. Medium head and body. A superior brew that needs to be full time! 7.5% ABV is less than most top ranked beers in this style---and is appreciated. The best black IPA that I have tried!
300 characters
5
/5
rDev
+21.7%
look: 5 | smell: 5 | taste: 5 | feel: 5 | overall: 5
Appearance – This beer pours a dark black with a large tan head that is maintained throughout the drinking experience. If you hold it up to an extremely bright light, you can see a slight mahogany tint.
Smell – This beer has a heavy pine and citrus smell with a back ground of coffee, chocolate and caramel.
Taste – This beer is interesting with a roasted malt flavor that is perfectly balanced by the pine and citrus of the hops that hit you right after the roasted malt and finishes with a caramel/bitter balance that lingers.
Mouthfeel – A light roasted malt hit that is balance with the citrus/pine perfect hops. It is then finished with a caramel malt balance with the bitter hops.
Overall – This limited release for Artprize is a huge hit. I have never had a better balanced black IPA. Most seem to go overboard on the roasted malt or the hops. This one has a great balance. Get it before it is gone. Actually it should take first place at Artprize!!!!
980 characters
Founders Inspired Artist Black IPA from Founders Brewing Company
4.11
out of
5
based on
209
ratings.