Mac's Speed Shop - Southend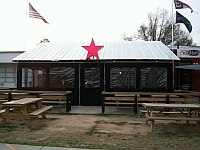 PLACE INFO
Type:
Bar, Eatery
2511 South Blvd
Charlotte
,
North Carolina
, 28203-5011
United States
(704) 522-6227 |
map
macspeedshop.com
Notes:
No notes at this time.
Added by BeerAdvocate on 08-10-2005
Reviews: 25 | Ratings: 40
4.18
/5
rDev
+8.9%
vibe: 4 | quality: 4 | service: 4 | selection: 4.5 | food: 4.5
Visited this place on a Wednesday night thinking it wouldn't be too crowded. I was wrong. It was absolutely packed, but luckily we didn't have to wait long for seating. The bottled beer selection is nice with well over 100 bottled brews. Thankfully, the macro selection is small. The vast majority of the bottled stuff is craft. There were only 5 draft beers but they were solid choices. I believe they had Chimay white, Blue Moon, Highland Gailic and Sierra Nevada PA on tap. The food was absolutely incredible, easily one of the best spots in town for BBQ. I had a pork sandwich and macaroni+cheese as a side that were excellent. Service was very good. I will definitely come back here again and am pissed off at myself for not coming sooner.
744 characters
3.78
/5
rDev
-1.6%
vibe: 4 | quality: 3.5 | service: 3.5 | selection: 4 | food: 4.5
Building looks like it might have been a garage at one time. Well lit and roomy. The place just had a comfortable feel. Interesting mix for customers...Bikers, Frat boys, Yuppies, Thirty somethings, locals, yep all kinds 'O' people jes hav'n a good time.
I did have the same bottle/glass problem as BA gabe (I suspect it might be because most regulars don't ask). But the waitress was cheerful and quick to get me what I wanted. She even went as far as to go into the kitchen and ask a question for me.
Very limited draft selection, but they did have a local beer (Highland Gaelic Ale) on tap. The bottle selection was very good and a little suprising for this type of establishment.
The food was Great. The Hushpuppies, the chili, the brunswick stew and especially the Pulled pork.
I am definitely going to try to get bak here before I leave.
848 characters
3.7
/5
rDev
-3.6%
vibe: 4 | quality: 3.5 | service: 3.5 | selection: 4
Visited Mac's after reading some reviews from this site and hearing good things from some friends. Stopped by late one Friday evening. This place is trying to give off a "biker bar" feel but it is far from it. Nothing scary here. Most of the patrons were of the young hip type. Mac's is a fun, lively place with lots of TV's which I assume are for sporting events. I've heard the food, and especially the bar-b-que, are delicious but I didn't get a chance to try any of that yet. I will adjust rewiew once I do.
As for the beer selection, it is actually pretty good considering what most places like this would have. A small number of beers are on tap, but nothing special there. The goodies are on the bottled beer list. Lots of tasty beers can be found here for whatever taste you have at the moment. Beer menu is organized nicely and it is by far the cheapest bar in town for good beers. Some of the high gravity brews were being sold for what you would buy them for in the store. You won't find any brews here that will wow your socks off, but for a decent selection with unbeatable prices this is the place to go. My only real bone to pick was with the waitress/service. Now it was late on a Friday so I can accept that the service may be spotty, but when the waitress brought back the Piraat I ordered she just brought it in the bottle. When i asked for a glass she brought me a pint glass (guess I should have been more specific for the glassware). Eventually she was getting off work and we had to go to the bar for service from that point. The bartender was very beer knowledgeable and served beers in the appropriate glassware. Should have started here in the first place.
I will definately be revisiting Mac's soon! Lots of fun times to be had here. A good spot for bringing those freinds that aren't into beer as much as you are, yet you can all still have a good time and find something you like on the menu.
1,927 characters
4
/5
rDev
+4.2%
vibe: 4 | quality: 4 | service: 3.5 | selection: 4.5 | food: 4
I first heard of Mac's in 2005 when it was named Creative Loafing Magazine's Best Beer Selection in Charlotte. We were all like, what and where is this place? Well, I finally found out and definitely was pleased.
It may not have as good of a selection as Flying Saucer, but I have yet to find another place to compete. Like the others said, lots of bottle selections at a very reasonable price.
The places makes itself out to be a bike bar, but on a Saturday night, this place had about a dozen fresh out of college students and maybe two motorcycles outside. The jukebox played Red Hot Chili Peppers "Stadium Arcadia" album the whole time we were there. Lots of anti-hippie motif, which was amusing. Not an intimidating place in the least -- lots of light and sports on the five tv's.
Food looked really good, but I just went with a spicy Mexican salad, which was giant and tasty. Will definitely come back just for the menu selection of BBQ and sides. The service staff didn't seem to care to much about beer and neither did most of the clientele, but someone there but have a certain fondness.
All Charlotte area BA's need to check this place out.
1,163 characters
3.95
/5
rDev
+2.9%
vibe: 3.5 | quality: 4.5 | service: 2.5 | selection: 4.5 | food: 5
Atmosphere: Part biker bar, part bar-b-que joint, part beer part, part sports bar. More biker bar than anything, but fanastic que, great beer, and several plasma TV.
Quality: While only six drafts, they have well over 150 bottles to choose from. They have pint glasses if you ask, and I saw a guy drinking from a Maredsous glass, so they may even have some of the appropriate glassware. Huge selection of some great beers. They could have more NC beers, but no other complaints.
Service: Hit or miss, have to ask for a glass. Waitress brought the wrong style of the right brand several times. Also very busy, and not to interested in waiting on us.
Selection: Everything from Bud to Barley Wines. Lots of Belgians and tons of Micros and imports. Quite a wide variety from the 150 bottles to choose from.
Food: Fantastic. Their wings are slow roasted like the que, with great sauce. The Chicken quesadillas are amazing, we ordered at least 3 orders of them with the group of guys I was with.
Beer prices ranged from $2.50 to $4 for a Piraat and Goulden Drakk. Hard to beat.
1,087 characters
Mac's Speed Shop - Southend in Charlotte, NC
3.84
out of
5
based on
40
ratings.