The Woolwich Arrow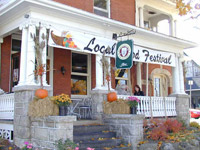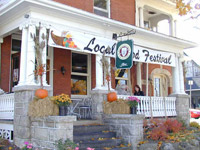 PLACE INFO
Type:
Bar, Eatery
176 Woolwich St
Guelph
,
Ontario
, N1H 3V5
Canada
(519) 836-2875 |
map
woolwicharrow.ca
Notes:
No notes at this time.
Added by BeerAdvocate
Ratings: 10 | Reviews: 10
Reviews by kwjd:
3.98
/5
rDev
-0.5%
vibe: 4 | quality: 4.5 | service: 4.5 | selection: 3 | food: 3.5
Picked up some beer at the Wellington brewery and decided to drive further into Guelph to have a couple beers. A friend and I sat at the bar and got amazing service. Bar staff liked talking about the beer, even if they weren't the most knowledgeable people in the world (though they could tell you about any beer they did have on tap). They were quick to give a sample to my friend when he asked about one of the beers. They had 3 casks on and seemed to be kept in great condition. Several other taps mostly of local Ontario micros as well as a couple Quebec and a couple macros. Food was good for pub food, but nothing special. I'd certainly go here again next time I'm in Guelph.
681 characters
More User Reviews:

3.96
/5
rDev
-1%
vibe: 4.25 | quality: 4 | service: 4 | selection: 3.75 | food: 4
Old converted house in Downtown Guelph, my local. Approx 20 taps, mostly pouring Ontario craft, 4 rotating lines always pouring something different . Only place in town with 4 beer engines. Friendly, knowledgeable staff that know the names of their regulars and treat anyone who comes in well. I have found the beer selection has been improving over the last year with many hard to find outside of Toronto one offs making their way through. Beverage Manager knows his beer and always enjoys talking about it. Wooly is a Guelph institution and one of the first places in Ontario to focus on the craft and local movements. Food menu is local focused, changing with season. Always check out the daily specials.
707 characters
4.18
/5
rDev
+4.5%
vibe: 4 | quality: 4 | service: 4.5 | selection: 4 | food: 4.5
A very decent pub. It gets far too busy on friday and saturday nights, but during the week and during the day it's quiet, relaxed and the staff will have time to chat. There are two outdoor areas, and lots of small rooms inside, as it's a converted house, which gives it a warm cozy feeling. The selection of beer is better by far than anything you'll find around the area. The food is really great and features lots of local farmer's good and organic produce. Definitely the best spot in the area.
498 characters
3.5
/5
rDev
-12.5%
vibe: 3.5 | quality: 3.5 | service: 3.5 | selection: 3.5 | food: 3.5
I've been here several times since I first found the place.Good pub located in an old and eclectic victorian style house. Service was fast, and staff knew their stuff when I was there. On tap were about half dozen ontario micros, wellington and F & M to name some. Sleeman too. Also on tap were three beers from McAuslan, and two taps from Unibroue. I Had a cask pint of Macleans Pale Ale which was nice and fresh. Good UK style ambiance. I'll be returning for more pints when I am in the area for sure.
503 characters
3.95
/5
rDev
-1.3%
vibe: 4 | quality: 4 | service: 4 | selection: 4 | food: 3.5
This has that smaller city friendly relaxed feel to it. Mostly uiniversity types, plus us, plus several already intoxicated types walking in. Bargirls were efficient and yet friendly enough. Some knowledge on the beers. Food is same quality and price as in the Toronto metro region. I think 14 taps, at good carbonation, plus 3 consatnt casks. Pints were comaprable to Toronto metro. Everything fresh.Easy to get parking. Good local selection and a seasonal. I was impressed overall. I would come here again.
508 characters
4.14
/5
rDev
+3.5%
vibe: 4 | quality: 4 | service: 4 | selection: 4.5
I had a quick stop in Guelph one evening last month and based on the BF reviews I thought it would be in my best interests to check this Pub out. Unfortunately I only had about an hour to kill becuase I certainly would have loved to stay longer. I mostly went to quaff a few Iron Dukes since they're unavailable here in Manitoba.
A cozy pub in a converted house that was nearly full the evening I came by. I felt a little awkward being as I was by far the youngest person in the room, everybody was at least twice my age or more, with perhaps the exception of the Bartender who was maybe 30. No matter, that's my own problem and not a problem with the bar itself. It has a lovely atmosphere and I didn't really explore it much, but I was told that there was a bunch more space in the back including a outdoor drinking area. There was a great tap selection including three hand-pumps, and the service was very good. I'd love to have a quiet local like that to enjoy nearer to home.
984 characters
4.45
/5
rDev
+11.3%
vibe: 4.5 | quality: 4.5 | service: 4.5 | selection: 4.5 | food: 4
Guelph is a significant beer-producing town with Sleemans, F&M and Wellington all taking advantage of the versatile, soft local water, and with all this brewing going on in town, it would figure that the local beer bar would have some very discriminating customers. The Woolwich Arms is a satisfying local that offers more than a dozen taps, three beer engines, and a diverse menu in a setting that evokes a traditional English pub.
Located in a converted house a block north of downtown, the small bar area seats about 15 people with a small square bar situated in a corner. The building also has a few small dining rooms and an outside eating area. Beer offerings consisted mostly of locally produced beverages, and the handpump beers were excellently cellared and served. Food offerings ran from traditional pub fare to contemporary British fusion cuisine, and our two lunches were tasty and went well with the beer.
The atmosphere of the pub was of great fun-- a group of brewery folks were watching the World Cup on TV, and in between goals, they gave us lots of advice and gossip on the local beer scene. The friendly and efficient staff provided generous samples, and described their beers with accuracy and detail. Can't wait to go back.
1,251 characters
4.13
/5
rDev
+3.3%
vibe: 4.5 | quality: 4 | service: 4.5 | selection: 4 | food: 3.5
I really really really liked this pub. A very very British pub. Several smallish rooms, a very small bar and bar-room, maybe 14x14 feet. A very nice porch out front and very VERY nice patio in back that could seat maybe 20 folks? The patio seemed very natural to me, not forced, but also well done and functionally and aesthetically appealing. It was also a really nice day when I sat out there, so that might have something to with it. One small complaint, and really it's not a complaint, more of a very strange compliment on sort of ascetic grounds: no air conditioning. It was really hot the first day we were there and we sat inside in a fairly small room. There were fans, but they were doing much. I mean, they were in the middle of a heat wave and it probably rarely stays that hot at night, and probably not the humid (?), but it was uncomfortable. I mean, all three of us were visible sweating on our forheads and temples. But it was kind of cool. I definately had two pints of the ridiculously drikable Orkell handpulled bitter that I might not have had if it was cooler, and it felt traditional in some sort of way. All the handpulled beer, old building, no air, could have been 1850 if it weren't for the two TVs.
Anyway, they definately don't have a great selection. They were running a promotion on Moosehead when I was there, unfortunately, and I don't think they had much in the way of bottles, but I could be wrong. What I was really impressed with though, was the three, count 'em three real ales. They had three hand pumps on the bar, each one dispensing truly wonderful ale. The three beers, if I remember correctly, were all brewed in Canada, I think two were from the Guelph region itself. I tried all three and the Arkell Best Bitter from Wellington Brewery was my favorite. It was a very smooth and light bodied brew that showed a substantial hop flavor and bitterness and some light but distinct English yeast character. The beer was in great condition. Fresh and cool with a simple one or two jets of carbonation emerging from the the beer every couple seconds as it warmed. The body was very very light, just perfect for drinking all night.
They also had Wellington's County Ale on the hand pull. This is a much darker brew, quite brown really, with a substantial mouthfeel and caramel flavor. It's 5%abv. Definately not a heavy beer, the County Ale does have a lot more flavor than their Best Bitter. It was also in slightly better condition with a hair more carbonation and a peristant whisp of a head that left some nice lacing. Very good.
Wellington also makes another beer in this lineup, the Iron Duke, that is a wonderful British style Strong Ale at 6.5%abv. Really a great beer. I bought a sixer of it when I was there. Not sure they had it at the pub.
The last cask conditioned beer that was on when I visited Guelph was a bitter as well, but I can't seem to remember the brewer or the name of the beer. But I seem to recall it was around 4%abv as well. This beer was a bit darker than the Arkell and was in better condition with just slightly more carbonation than the County Ale. I mean, most folks would call all three of these beer 'flat', but there was variation in the amount of carbonation among these three beers and I liked the slightly more carbonated brew the best in terms of its condition, with Arkell still best over all.
This last brew had massive English yeast character. It reminded me of the Burton strain fermented warm. Lots of ripe fruit. I got strawberry most up front, really a great thing in my opinion. Definately also a bit more malt flavor. But still very light body and quite drinkable.
The service was great. People in Canada are so fucking nice it's almost annoying some times.
The food was just above average I'd say. The chicken and grilled pepper wrap I had the first night was really pretty decent, but smallish. The fries were kind of strange, not much flavor, I don't know what kind of grease they use. And they were little both times I got them, like maybe and inch or 1.5 inches on average.
The burger I got the next time was pretty small and over cooked. They didn't ask me how I wanted it cooked. The caesar salad Melinda got looked pretty good though. And big.
It was kind of expensive. Cost me about 25$ canadian for the burger and 2 beers. That's 21$ US. I mean, the dollar is not good right now, so I guess that's it. The beer is worth the price, but the food is not.
I absolutely fucking loved this place. It makes me want to open a brewery that is very traditionally English. For real. Yo.
I never know what the general 'quality' category is supposed to refer to. I just gave a 4 because I think this place would be higher than average with pretty much everything.
4,794 characters

3.55
/5
rDev
-11.3%
vibe: 3.5 | quality: 3.5 | service: 4 | selection: 3 | food: 4
Nice little bistro posing as a pub....old house converted...old trappings...great food but not a lot of beers on tap...had a fast Wellington iron duke and a Quesadilla then hustled out to the bike to roar off in search for a more comfortable watering hole...too many upscale trendoid folks there who are unintrested in good beer or good conversation....just like to be seen there I guess. The little pub around the corner has more taps ...will review that soon if I can get the thing listed on this site.
504 characters
4.18
/5
rDev
+4.5%
vibe: 3.5 | quality: 4.5 | service: 4 | selection: 4.5 | food: 3.5
"The Woolly" is located in a converted house in downtown Guelph, ON, and has been a favourite of the locals for many years. And I can see why. When you walk in there are several rooms to choose from. One side has the bar with taps and some dinner seating while the other side has two small dining rooms. The rooms are bright and clean, with many windows letting in natural light. Generous tables and comfortable seating allow for many of your friends to congregate together for an afternoon/evening of high-quality beer. There is also an outdoor patio in the back, but we didn't venture outside on our visit.
And the quality of the draft selection is very commendable. Approximately a dozen taps and three beer engines serve up a variety of beers produced by Ontario microbreweries. The emphasis here seems to be on ales, with real ales from Wellington and F&M Breweries regularly available. On my latest visit I had the Wellington County Ale and F&M MacLean's Pale Ale from the cask, and they were served at proper cellar temperature and were obviously fresh. And the staff stays on top of what's happening with the beer. When I requested a specific beer from their draft list, my server was kind enough to inform me that it wasn't pouring well that day and that I might want to try something else for now. It's that kind of service that I really appreciate.
The menu is standard pub fare with a wide variety of burgers. Beef, veggie, chicken and bison were available with around a half-dozen different types of preparation. My companion's cheeseburger had a generous piece of cheddar on top, while my blacked burger was finished with cajun spices and topped with tzatziki sauce. The home-cut fries that accompanied the burgers were an enjoyable side.
Overall, a very nice establishment that promotes local craft breweries. The real ales will give me a reason to stop by on any future trips to or through Guelph.
1,922 characters
The Woolwich Arrow in Guelph, ON, Canada
Place rating:
80%
out of
100
with
10
ratings