Silver Cloud Bar & Grill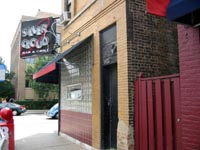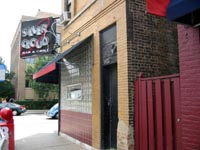 Bar, Eatery
1700 N Damen Ave
Chicago
,
Illinois
, 60647-5509
United States
// CLOSED //
Notes:
Recent ratings and reviews.
Ratings by jrallen34:
Reviewed by jrallen34 from Illinois
2.83
/5
rDev
-19.4%
vibe: 1.5 | quality: 3.5 | service: 3 | selection: 2.5 | food: 2.5
This place is a couple blocks from me and I've stopped in a few times, but its just not a place I enjoy. The best part is nice sidewalk seating during the summer. The inside is very boring and has some uncomfortable booths. The service is ok, but they know nothing about beer. The selection of beer is pretty boring. Stuff you can get anywhere and the place itself has no redeeming quality to make you visit again. The menu is really weak, not one thing on there makes me want to try it. Skip this place and head to Northside, Cans or Piece.
Mar 19, 2011
More User Ratings:

Reviewed by emerge077 from Illinois
3.45
/5
rDev
-1.7%
vibe: 4 | quality: 3.5 | service: 3.5 | selection: 3 | food: 3.75
RIP 2014
Word has it the owner closed the place unceremoniously after 20 years and didn't tell the employees. It was always a cool early 90s time capsule, will be sad to see it go but maybe it was time.

12-2011:
You go to Silver Cloud for the retro atmosphere, beer has never really been a main draw, but you can find some overlooked gems on occasion. Since 1994 it has been a Wicker Park fixture, before the influx of out-of-state yuppie douche and tidal wave of mall stores. It has a cozy, retro 1940's diner vibe, with a somewhat creative and unpretentious "comfort food" menu. If you want to see what Wicker Park was like when Liz Phair lived here, Silver Cloud is the place.

12-08-2007
Stopped in after work to try the new Kalamazoo Amber on tap. I've passed by here countless times, and never really gave it a second thought. In the summer, there is always a crowd outside having lunch on the patio, so the food must be pretty popular. The atmosphere of the place is comfortable, low lighting, with lots of wood, vintage tile floors, and pressed tin ceiling tiles. There was also winter holiday decor on my visit, and the place had a "just waxed" cleanliness about it. There were some retro touches giving it a supper club feel, though a far cry from the Double RR Diner or Great Northern in Twin Peaks...

Beer-wise, the place is certainly a step up from many other average bars, but their selection is pretty lacking. 20 bottles, nothing very interesting at all. They had Fat Tire and Delirium, most area bars have those at the minimum. There were around 8 taps on when I went, there were a couple GLBC, GI Matilda, Rogue, and the Kalamazoo Amber as well. The Kalamazoo Amber was tasty and served in a pint glass. Tasted fresh as could be. It wasn't crowded, but the bartenders were caught up in conversation, which slowed service down some.

With so many other beer destinations in close proximity, it makes it hard for me to ever want to intentionally drink here. I may come back for a meal sometime if someone else wants to go. On a side note, Olivia's Market next door is a great little spot to get craft beer, soup & sandwich to go, or pick up a few local/organic products.
Dec 08, 2007
Reviewed by PudTinkler from New Jersey
2.46
/5
rDev
-29.9%
vibe: 3.5 | quality: 2 | service: 2 | selection: 3
Clearly, it's local competition puts this place on the low end of the ladder. They get high marks for effort, but as a beer bar, they SHOULD make it a priority to keep the taps clean. On my visit, it was apparent they did not, as I got a skunky beer. Hey, it happens, but the server seemed mildly annoyed when I told her it was skunky. She poured herself one from the same tap and said it tasted "fine" to her. Well, OK, whatever. She was nice enough to replace it for me, so I won't hammer her for that. We waited a long time just to GET the beers, so that's where the low-service mark comes in.

Maybe 8 beers on tap, all regional...which is good. The place didn't seem real eager for customers though. Given the proximity of other, better bars, I doubt they'll have to worry too much.
Aug 07, 2007
Reviewed by DaveFL1976 from Florida
3.78
/5
rDev
+7.7%
vibe: 3 | quality: 4 | service: 4 | selection: 3.5 | food: 4
Worth checking out if you're in the mood for some food and a good beer. It's a unique, Zagat-rated food menu with odd items such as S'mores and sloppy joes listed. I had the hummus dip and it was quite tasty. The beer consists of 12 microbrew taps and 22 bottles (1/2 micro, 1/2 macro). I had a Honker Ale and a Kalamazoo Stout. For the Scotch-lovers, the bar has a wide selection of 10-22 year old single malts. Worth a visit, but if you're just going for beer, don't miss the Map Room a few blocks away.
Aug 21, 2006

Reviewed by beerinator from Illinois
3.95
/5
rDev
+12.5%
vibe: 4 | quality: 4 | service: 4 | selection: 4 | food: 3.5
Silver Cloud is a fine place to visit. Don't get me wrong, but it's so close to Map Room and Piece that I rarely find the urge to make it here. The atmosphere is fine, the bar is long enough, and there is food (which there isn't normally at the local Map Room).

The quality and selection is better than most of Chicago's bars. Usually 6 or more regional craft selections available on tap, and more in bottles. The bartenders are good, and when I've visited the smoke level is low.

The service is what you would expect. The bar has never been really busy when I've been here, but the food is good and worth the time.

Basically, without getting too deep here, if you are in the area and you're on foot, you should stop in. But if you are driving by here to get to the map room and you're not hungry, I don't see the point. I'm definitely going to be back here, but to be honest without being rude; if you are in the area and you're into great beer selection you should be going to the Map Room.

Disclaimer: This is a good place to visit and I will review it as such. It's just that it's proximity to two great beer places keeps me from giving it a superb numerical review. If Silver Cloud was placed in some other small town, it would be a great place to have a beer, but as it is I can't give it much better than I have given it.
Feb 11, 2006

Reviewed by woodychandler from Pennsylvania
4.6
/5
rDev
+31.1%
vibe: 5 | quality: 4.5 | service: 4.5 | selection: 4.5 | food: 5
Where to start? First off, I cannot believe that I am the first to review this place. It all started in early August 2003 as I was vaguely waiting for a Cubs broadcast on WGN, while sitting in my TV room in PA. WGN News at Noon is wrapping up and they are doing a short local piece to end the telecast about a Bucktown businesswoman whose sister is opening a boutique catty-corner to her place. The woman comes on (and not to be a pig) and now they have my attention. Her name is Cy Riley (great Irish name) and her sister owns Daffodil Hill. They cut to an interior of the Silver Cloud and I thought that they had brought up footage from "Twin Peaks"! I mean, the place is wild! I decided that since I was stopping in CHI on my way to St. Louis in a week, I would make The Silver Cloud part of my journey. It is now a must-see for me any time that I am in the area, with Piece B. C. just a few blocks away on North Ave. and The Map Room a few more blocks in the other direction. I am always approached by Cy who says that I look familiar, which leads me to wonder about her patrons if she can't pick me out in a crowd. ;=)

Like I said, this place is right out of a David Lynch dream. The back of the bar is polished wood, oval glass mirrors, and back-lit wavy glass, right out of the Art Deco period. They have a long bar with a black bakelite top offset with brown wood. They (and really, it's Cy, since she is much more than a simple proprietress) keep small white candles in clear glass jars burning on the bar in the evenings to really up the ambiance.

The space is dominated by a row of restaurant-style booths to your left upon entering. The bar will be just past those, on the right. Proceeding further aft is the more typical table-and-chair restaurant seating. There are eclectic paintings by local artists adorning the walls back here (and the artwork is for sale, BTW). They have a silver/aluminum-painted pressed-tin ceiling and the bevelled glass in the windows is right out of the 1950's. The lighting is very dim and a planets and stars theme dominates the room. You should be especially sure to take note of the red lampshades with the tassels. The music coming out of the miniature speakers only enhances the ambiance, with New Age, Lounge, and other spacey instrumentals as the picks.

Okay, now for my justification for adding this establishment: How does a dozen, that's twelve (12) taps sound, with absolutely NO BMC macros? Yup, that's the case, here. 3 Bell's; 2 Sierra Nevada; 1 Goose Island; 1 Great Lakes; 1 Summit; 1 Anchor; 1 Three Floyd's; 1 Lakefront; and 1 Woodchuck Cider on my last visit. Twenty (20) more bottles, with only seven (7) of them being macros/common imports. They also boast a "Big Bottle Menu" of 750 ml bottles and feature a special on Mondays. Check their website. Yow!

While you are on the website, do NOT let me forget to tell you about the food. It is all comfort food, like my late Grummy Kirsch used to make: heaping portions of pot roast; chicken pot pie; meatloaf; mac & cheese; tuna melt sammiches; sloppy joes, on and on. You get the idea.

Finally, should you need to use the lavatory, just ask for Robert Mitchum or Rita Hayworth and tell 'em Woody sent you.

Okay, quick review. Stop in, say hi to Cy, drink some good beer, have a soothing meal, check out the enticing waitstaff, dig some wild tunes, close your eyes and make believe you're an extra on "Twin Peaks" and feel right at home at The Silver Cloud. BTW, they also offer valet parking!
Aug 19, 2005
Silver Cloud Bar & Grill in Chicago, IL
Place rating:
3.51
out of
5
with
8
ratings