Central Market - North Lamar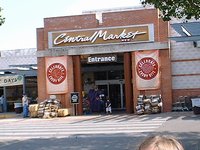 PLACE INFO
Type:
Store
4001 N Lamar Blvd
Austin
,
Texas
, 78756-3733
United States
(512) 206-1000 |
map
centralmarket.com
Notes:
No notes at this time.
Added by BeerAdvocate
Reviews: 21 | Ratings: 42
4.25
/5
rDev
+5.2%
The review below this one states: "The place reminded me of a less flashy Whole Foods with a slightly smaller selection." And that surprises me, because I went to both a Whole Foods (the one across from North By Northwest Brewpub) and this Central Market, and Central Market had a markedly superior selection. Lots of good options from DFH, Stone, New Belgium, Bear Republic, Unibroue, Great Divide, etc. etc. Where the Whole Foods only had one or two options from most of those breweries, Central Market had four, five, six or more. There is another WF south on Lamar which I didn't make it to. No idea if it's much better than the one off Capitol of Texas Highway.
In addition to a huge cooler with both singles and six packs there were quite a few beers interspersed on the wine shelves, and case displays piled up over quite a bit of real estate. And it was a nice touch to have a separate cooler section just for local brews.
There was no employee monitoring the beer area offering assistance, so I didn't have any experience with service, good or bad.
I didn't hit a lot of places in town, but the prices here seemed to be about on par for the area.
Note that this place is huge, with lots of stuff to interest a spouse who doesn't care much about beer, which is a nice plus for me.
1,292 characters

4.15
/5
rDev
+2.7%
The usual disclaimer: a perfect 5.0 on selection not because it's the best you're going to find anywhere, but if it's available in Texas there's a 97-98% chance you can get it at Central Market. Both Austin locations have a similar selection, so there is little reason other than proximity to choose one over the other. Both have cafes with outdoor seating and bands on the weekend. Central Market itself is owned by HEB and centrally located in Austin, although in the last few years it's branched out to the San Antonio, Houston, and Dallas areas. Those who have Whole Foods in their neighborhood (none too coincidentally also headquartered in Austin) will pretty much know what to expect. The main difference is probably in the beer selection. Prior to the Austin Whole Foods relocating to it's new, much larger, World HQ building in March the selection they had was maybe one-fourth of CM's at best. Even at the new World HQ the selection is not quite as large as CM's, although there are a few meads stocked by WF that are not available at CM. Central Market is constantly battling it out with the Whip In and Grapevine Market for beer supremacy in Austin, so it never hurts to hit all three. If I could afford the gourmet food prices I'd do all my grocery shopping there as well.
1,294 characters

4.08
/5
rDev
+1%
vibe: 3.5 | quality: 4 | service: 4 | selection: 4.5
Another good place in Austin to get craft beers.
As for atmosphere, it's in a grocery store, I prefer a quite place where I can chose my beer patiently, but what can I expect. Was surprised to see the amount of beer available especially 22oz bombers. Most grocery stores seem to stock up heavily on 4 and 6-packs with only a few big bottles. Prices I thought were also very fair, especially on a recent release, Life & Limb. They were only charging $8.99 when I have seen it going as high as $12.99 elsewhere.
Overall experience I felt was better than Whole Foods downtown, and will be going here again in the near future.
624 characters
4.15
/5
rDev
+2.7%
In town for ACL, my Austinite sister-in-law & husband needed to go grocery shopping and I read about this place here.
The place reminded me of a less flashy Whole Foods with a slightly smaller selection.
The place was clean and the service was prompt. I mentioned to the clerk that I was from out of town and he suggested some beers; most I have tried but he did point out the Pine Belt 16 oz. cans. Pine Belt turned out to be an outstanding beer.
The place was affordable and average priced. If I lived in Austin I am sure I would hit this place up every couple weeks or so (as I do with Whole Foods in Columbus).
618 characters

3.7
/5
rDev
-8.4%
Well I stopped in because of a tip from a few fellow BA's and I have to say I wasn't at all disappointed. They had a great selection although some of the areas seemed really disorganized but I could still easily find everything I wanted.
The staff seemed to do their best to avoid me which was kinda annoying but when someone finally talked to me he seemed like he knew his stuff.
Central markets prices were also pretty competitive and I found some stuff that was long gone from the other stores and aside from most of the staff trying to dodge me it was a pretty good experience, if I'm downtown and wanting to pick up some beer this will be my first stop.
Note: I like that the beer is right next to the cheese section, makes it super easy to grab a beer and pair it with some cheese.
792 characters
4.2
/5
rDev
+4%
Central Market North has an excellent beer selection (micros and imports). Most of it is available as singles, though sometimes you have to hunt through the mixed up "miscellaneous 12oz singles" section at the far end of the refrigerated aisle. I've heard that some locations of CM don't let you break sixes. I've broken sixes and paid for them at this location without hassle, but I don't know their official stand on it, so you might want to be discreet.
CM North is my second-most visited beer store in Austin (I probably go there once every two months). On any given day, I'd say the selection is almost as good as Grapevine. In fact, once or twice, I think I've found a seasonal at CM after Grapevine had sold out.
I have not had many encounters with the staff. The few times I've asked questions, they seem to be a little out of their element. (Anecdote: they recently had the Avery Ten, but not the White Rascal. When I asked about it, the guy said he didn't know anything about WR. When I said Central Market San Antonio had it, he said: "oh yeah, that's right, I think we're getting some in... check next week". I bought it at Grapevine the next day).
For me, Central Market gets the vote for "Best place to buy beer when you need fresh produce too". An excellent store.
(Footnote: the parking lot tends to get crazy, especially on weekends when the seniors from small-town Texas show up in their tour buses).
1,431 characters
4.05
/5
rDev
+0.2%
I have shoppped central market for years and for the most part they have provided one of the best selection of beer i have observed in Austin or Houston Texas. I realize they are operating in other states at this time so I at least wanted to make note of the two stores I know of. For the lmited stores in these two towns they truely provide some of the best alternatives to some of the best beer you can find. Having researched and found some disappointing results I can truley say both of these locations provide some of the best variety I can find in these areas.
566 characters
4.35
/5
rDev
+7.7%
Central Market is an upscale grocery store with a very nice beer selection. It is my regular beer (and food) stop as I live in close proximity to the N. Lamar location. The Grapevine is widely regarded as the best beer store in Austin, but I just don't see it. The beer selection and prices are essentially the same at both places. I would recommend going to whichever store is closer to you.
selection - Caveat: I've only lived in Texas for about 5 months now. That said, I believe that if it's available in Texas it's available at CM. Good sized beer selection, and they get all the seasonals. One interesting note about CM is that they don't sell any of the crappy American Macro Lagers. There's no Budweiser, Coors, Miller, Natural, Busch or anything like that. First store I've ever seen do this. Pretty nice import selection as well, with a good number of Belgians, Germans, and English beers. They also sell Unibroue from the Great White North.
service - I only occasionally see employees in the beer selection, but then I never need any help picking out beer, either. There are enough employees around that if you somehow needed help you would probably get it quickly.
Edit: I am updating my review to point out an all-too-frequent problem with Central Market. Parking can be *insane*, especially on weekends. It's not horribly crowded inside on these days, but the general lack of available parking spots is very annoying. Come here at your own risk during the afternoon.
1,488 characters

4
/5
rDev
-1%
one of the best beer spots to hit in Austin. much better selection and sometimes price than any Specs or other grocery store in the area.
during my last short trip there, the 'beer guy' was walking around and helped two other people make their selections. i didn't need any help, but he was there anyway, and he kept a good distance once i told him i didn't need help. this is a big plus, as i have been literally followed or watched by (i can only assume bored) beer managers before. from what i overheard, however, he was very helpful to the other customers and knew what he was talking about.
selection is one of the best in town. they have a ton of seasonals (even some that Whip In didn't have). i saw no bud, miller, or coors, which was somewhat surprising. there were a few beers there that i haven't seen anywhere else in town like DFH Fort and a full line up of Stone. they even have a Texas beers section at the front, which i like, because i like to support local breweries. this is where they keep the Saint Arnold, Shiner, Real Ale, Independence, and a few others.
prices are average, and they have a mix six option for a flat $1.99 a beer, which is an overcharge for some beers in my opinion (my girl loves drifter pale ale and wanderlust cream ale), is quite a deal for other beers like Stone and DFH. i guess it all evens out at the register, though.
1,369 characters
5
/5
rDev
+23.8%
Yes this is the best grocery store in Texas. It definately has the best beer selection I have been able to find in Austin, and Austin has always afforded me the best beer selection in the state. There is probably another place that has a better selection, but I haven't found it. If you know where it is, please let me know. There is an HEB grocery store (same parent company) north off of IH35 near Round Rock that is almost as impressive. At Central Market I have often called ahead and received the count of what was available on their beer shelves and had them hold it for me if the stock was low. They are also willing to place special orders for me. There always seemed someone in the beer section to help me out. And if your into wine, the selection is impressive.
779 characters
5
/5
rDev
+23.8%
The absolute best place to buy beer in the area.They recently opened one in plano,tx and it has the best selection in the metroplex. The staff is very knowledgable and the prices cant be beat. I've yet to find a store that sells paulaner for $5.99 and Sam Adams for under $6.00. If there is a central market in your area I highly suggest you visit it.
351 characters
Central Market - North Lamar in Austin, TX
4.04
out of
5
based on
42
ratings.