North End Market, The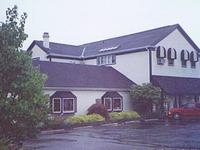 PLACE INFO
Type:
Bar, Beer-to-go
7542 Darrow Road
Hudson
,
Ohio
, 44236
United States
(330) 656-1238 |
map
northendwinefoodfun.com
Notes:
No notes at this time.
Added by amstelcat on 08-25-2005
Ratings: 9 | Reviews: 8
Reviews by PBRstreetgang:
4.5
/5
rDev
+3.9%
Situated just north of the "First and Main" shopping district, and an excellent place to stop for a late lunch or wine tasting. They also have an excellent list of Wine and Cheese. There is dinner seating in the back but the true appeal of stopping here is being able to sit at the bar upfront, and shop for beer at the same time by glancing over your left shoulder.
Cooler doors filled with many rare and top notch beers from all over the world sit in front of the entrance. While the selection is not immense, it does offer a well-rounded array of lesser-known imports, including some specialty Belgian ales that afficianados would appreciate. The standard micros are there, as well as plenty of beer geek eye candy. And of course the local brands like Thirsty Dog, Hoppin' Frog, and Buckeye Brewing are all represented. A few dry shelves and displays hold the obligatory Unibroue, Chimay, and other requiste beers to satisfy the casual craft beer enthusiast but not scare him away. But what really got my attention was the choice of interesting beers that are hard to find yet universally sought-after, and almost none of the big-name craft brews gauranteed to move or boisterous extreme beer that just fills the shelf.
Even the tap handles were out of the ordinary; no macros for sure, but no familar breweries were to be found either(save for the ubiquotous Great Lakes). The list of bottled beer was again short but sweet in what seems the standard for this place. Steve really knows his beer, but he also knows pairings; in fact when I ordered my first beer, he helped me pick-out a good cheese and even pulled out some artisinal stuff from the back he thought might go better with my drink; on the house. Sadly, the kitchen is only open after 5pm, but I intend to go back for dinner soon just to talk-up the owner on what a cool place he's running.
1,862 characters
More User Reviews:

4.63
/5
rDev
+6.9%
vibe: 4 | quality: 4.5 | service: 4.5 | selection: 5 | food: 5
Mostly a wine bar/restaurant, the North End has a bar up front where you walk in with a few tables and a good size cooler of beer ranging from bud to mostly craft brews and imports. The selection is pretty good and changes during the seasons. The bar has several beers on tap, which never include an Inbev/Miller/etc product. These beers change almost every week and with the seasons. The price for beer is fair.
The restaurant food is a bit pricey, but very good. This also changes at certain times of the year. At the bar they have a few other items, with daily specials posted on a board. The pub pretzel is very good and goes with any beer if you ask me.
A good place to go for a nice meal with the lady friend or to stop by for a good beer if you want a place that isn't as busy as a place like the Winking Lizard, another area eatery with many beers on tap.
863 characters

4.28
/5
rDev
-1.2%
vibe: 4 | quality: 4 | service: 5 | selection: 4
I give this place lots of love these days. I thought I had reviewed it previously, but alas, I haven't. So here goes.
It's a fairly small joint on the beer side - bigger on the wine side. Maybe 6 or so 4 person tables on the beer side though. Enough room, since it never gets too awfully crowded. The first thing you see when you come in is the small bar with 8 rotating taps, 4 or so of which are usually pretty eclectic.
They also have a big cooler wall with a pretty solid selection of 6ers and bombers with a pretty wide variety. Nothing you can't get elsewhere, but it's nice to have such a good selection centralized to one place, without a bunch of crappy beers mixed in.
Off to the right they have a cooler full of singles. Prices are a little inflated, but not unreasonably so, considering that you can buy and drink them on site.
Service is fantastic. It's a small joint, so there isn't always someone there to greet you when you walk in. However someone always tracks you down and they have always been able to discuss anything beer related with me. If you have homebrewing questions, ask Wyatt - dude knows his stuff and even recommended multiple books and authors for me to check out.
Didn't try the food but the menu is a bit on the pricier and fancier side. It fits because I think most people eating here are there for the wines and not for the beer.
GO HERE! That's all I can say. Keep up the good work, guys.
1,434 characters

3.7
/5
rDev
-14.5%
Well I was on my way home from getting some BA Blackout Stout and was in the area and have been wanting to check this place out.
Its a nice little location in Hudson. Decent amount of parking out front. You walk in and there is a small bar to your right (I've seen bigger bars in peoples basements)
In front of you is 5 or 6 coolers with a limited but decent selection. Don't forget to look to your right for the cooler with the singles.
Selection was good but too small for me to go out of my way for. I'd say maybe 50 beers or so. They had Flying Dog, DFH, Great Lakes, Troegs, Weyerbacher to name a few. Singles selection was fair, I've seen smaller. They have about 6 tap handles with some quality brew, nothing out of the ordinary though. The two guys working were friendly and asked if we were looking for something but once they knew we were fine they went on with their own business.
Overall this is a nice shop. I just kind of glanced to the other side with the wine and it looked pretty big but left the beer side lacking. If I still lived in that area I would be happy to have this place around, but I won't be going out of my way to go back. All in all nice place and I'm glad I got to check it out, but it still left me wanting...
1,246 characters
4.7
/5
rDev
+8.5%
although its listed as a beer store here, north end started as a wine store, experimented by adding some deli cases and has now settled on being a combination beer/wine store that also maintains a kitchen that serves very good food. Has both a wine bar and a beer bar with 6? Taps or so. Taps rotate and are usually interesting. Right now I've been digging on the koningshoeven quad they are pouring. The cooler space isn't huge but again, usually interesting. The beer guys there are true beer geeks.
Closed on Sun and Mon
525 characters
4.15
/5
rDev
-4.2%
I stopped in looking for some Hoppin' Frog and found a good supply along with some other good local beers, like Barrel House and plenty of Great Lakes.
When you walk in the front door you walk into the beer area with a little tasting bar and the cashier. There are only about 5 doors of coolers with another door behind the cashier. There is a small display of warm beer in the middle of the room. The back area of the building is a restaurant or tasting. The beer guy is very nice and knowledgeable.
This is a great little beer store and I think it will be improving as time goes by. It is really close to the toll road which makes it a great stop for local Ohio brews.
678 characters
5
/5
rDev
+15.5%
Since the last reivew of this store ownership has changed. It has been under new ownership since June/July of 2006. I went to this store for the first time today. It has a wide selection of Micro brews. It may not look like alot when you first see it but it is the selection that counts. This store has some beer that I've not seen in the Party Source in KY or in 101 Bottles or Riverside. After spoking with the owner, Steven, for about ten minutes it was easy to see that he knew what he was talking about. He is extremely knowedgeable and friendly. He also stated that he makes it a point to try and stock his store with some of the harder to find beers/more exotic beers. The Northend Market is by far the best experience that I've had inside a Beer store so far.
The store also has a new beer tasting bar, I believe it was put within the last few months.
863 characters

4
/5
rDev
-7.6%
The North End Market is on the main route from the north into Hudson. It bills itself as a wine/beer/cheese shop and does a pretty good job with all three. Not a huge amount of area devoted to beer but what it's got is of high quality- Stone, Great Lakes, Anderson Valley, Dogfishhead, Bells, Brooklyn, Victory, and a smattering of Germans and Belgians. It has mini displays of Unibroue and Chimay also. Five of it's six coolers are devoted to micros with macros being a hidden afterthought. They also have a wine bar that does a pretty good business. Scott the owner is helpful and has done wine/beer tastings in the past to benefit our local Humane Society. Worth a stop in to support a local guy.
699 characters
North End Market, The in Hudson, OH
4.33
out of
5
based on
9
ratings.