Williams Ceilidh (Premium Scottish Lager)
| Williams Brothers Brewing Company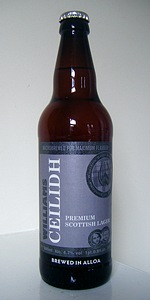 BEER INFO
Brewed by:
Williams Brothers Brewing Company
Scotland
,
United Kingdom
williamsbrosbrew.com
Style:
Euro Pale Lager
Alcohol by volume (ABV):
4.70%
Availability:
Rotating
Notes / Commercial Description:
No notes at this time.
Added by wl0307 on 08-27-2009
Reviews: 10 | Ratings: 16
3.55
/5
rDev
-8.3%
look: 3.5 | smell: 3.5 | taste: 3.5 | feel: 4 | overall: 3.5
Purchased at the Sainsbury's supermarket, this ale seems to be a new product by the Williams Bros. Coming in a 500ml brown bottle, filtered; BB NOV 2010, served chilled in a straight imperial pint glass. NOTE: the "gathering" of ingredients from around the world includes Czech and American hops, Belgian pilsener malts, German yeast, and Scottish water...
A: pale golden with faint haze and very mild carbonation, low coming with an off-white foamy head that gradually settles to a thin blanket to last throughout the drink.
S: very mixed and reasonably pleasant, the nose is led by a sharp dustiness of a clean lager bier and the contrast b/w clean lemony sourness and rather intense semi-stinky sweet malts; a swirl brings up a really fine and clean aroma of lager malts to mingle with light honey-ish aroma, grassy hops and fine-floral hops. For a lagerbier it's quite colourful on the nose, not like one's mass-produced crap, but
T: the healthily effervescent foretaste is not unlike a light-bodied Czech pils, thanks to the lightly honey-ish and nutty edge of malts, I take it; the swallow is ensued by a mixed aftertaste - floral AND grassy hops and light spiciness, while unusual bitter elements likely endowed by American hops linger in the end along with a faintly powdery touch.
M&D: pretty soothing on the carbonation on top of a sound body, while not for a second does this beer taste thin or watery. A quite mixed lagerbier this is, less malty and lighter-bodied than a Czech pale lager, but more aromatic and heavier than a German pils. An interesting, eclectic, and quaffable beer this is.
1,614 characters
3.6
/5
rDev
-7%
look: 3.5 | smell: 3.5 | taste: 3.5 | feel: 3.5 | overall: 4
Appearance: Crystal clear, and the nice golden colour of a pilsener. The head is white and froathy, with a moderate level of carbonation.
Aroma: Lots of fresh grassy hops, with a twist of orange. A subtle warming maltiness hidden under the hops.
Taste: Sharp perfumy hops come through first, with lots of floral flavours. Lots of bitterness for a lager but nicely balanced with a slight syrupy sweetness.
Mouthfeel: Light, crisp and fresh. Lots of carbonation.
Drinkability: A nice interesting lager, much more flavour than you get with most lager. I could easily see myself drinking a few of these in a night.
618 characters

3.92
/5
rDev
+1.3%
look: 3.5 | smell: 4 | taste: 4 | feel: 3.5 | overall: 4
A: Hazy golden pour with reddish notes. The white head is thick and creamy. Slow dissipation leaves decent lacings.
S: Sweet malt and citric notes. Neat and clean.
T: Nice sweetness to the malt. The hops range from bitter to floral. Well balanced. Citric notes and faint dark dried fruits.
M: Light bodied and rich carbonated. Aftertase is a bit too short, but holds nice bitterness.
O: This is much higher quality than most beers found in this style. This is clearly a craft-beer.
485 characters
3.98
/5
rDev
+2.8%
look: 4 | smell: 3.5 | taste: 4 | feel: 4 | overall: 4.5
Forms a dome head, which settles slowly. Leaves good semi-ring lace on the glass. Clear broth with a deep straw color.
Pale malted barley smell up front. The hop is relatively muted but present. I describe this as a clean, crisp smell.
The. Hop is far more present in the taste, but this is after a strawberry, mildly sweet, grain flavor. Attractive. The swallow and aftertaste is bitter but in a moderate way. The body is quite full for this style of lager. Good carbonation.
The true test is if I wish I. Had more than one bottle--on this one, I would like a six pack.
575 characters
4
/5
rDev
+3.4%
look: 4 | smell: 4 | taste: 4 | feel: 4 | overall: 4
330ml bottle bought from GapWines, Belfast...
Poured a crystal clear nice light golden colour... White head poured tight, thick and foamy then faded slowly to light covering. Quite a lot of large carbonation bubbles shoot to the surface... some patchy lacing...
Aroma - Floral and grassy hops, lots of tart fruit (citrus, grapefruit, light pear), some light graininess, earthy tobacco notes, light basil herbal notes, some talcum powder, faint honey sweetness, traces of cooked veg...
Taste - Quite a lot of citrus and grassy hops, quite earthy, bready malts, tart fruits (mainly grapefruits, some sour apples), some honey, definite herbal notes, salty traces, peppery...
Feel - Light and crisp... Light body... Very refreshing and drinkable - very sessionable
Overall - A good, clean, crisp and very drinkable lager.... recommended...
840 characters
4
/5
rDev
+3.4%
look: 4 | smell: 4 | taste: 4 | feel: 4 | overall: 4
500ml bottle
Lovely white head and proper lager smell. A nice clear pale yellow colour. Good carbonation, but not excessive. Tasty with nice long aftertaste. Really a very good lager, and another excellent effort from Williams Bros. Could easily drink a few more of these.
273 characters

4.03
/5
rDev
+4.1%
look: 4.5 | smell: 4 | taste: 4 | feel: 4 | overall: 4
A 330ml bottle with a BB of Sept 2013. Purchased at Booths supermarket. The label says it's matured for 90 days - sounds promising!
Poured into a tulip pint glass. A light straw colour with faint haze and medium carbonation. Yields a decent head of creamy white foam that lasts for a few minutes before subsiding. Aroma of sweet grainy malt with notes of floral hops: dry, grassy, peppery and delicious. There's a hint of something almost like mint in the background. Lovely.
Tastes of light malt with a subtle hoppy character and a dry finish. Notes of grain, grassy floral hops and a hint of yeast. Slightly sweet, with a dry finish and a mildly spicy quality. A very subtle bitterness upon swallowing. Mouthfeel is smooth, dry and tingly, with great body for the style. Aftertaste of grassy aromatic hops and grainy malt.
What a fantastic lager! This is great; really tasty and goes down only too easily. The mix of grainy malt and restrained aromatic hops are perfectly blended and achieve a depth of flavour that macro lagers only dream of. A quality brew - grab one if you have the chance.
1,098 characters
4.04
/5
rDev
+4.4%
look: 3 | smell: 4 | taste: 4.5 | feel: 3 | overall: 4
I had this stuff unfiltered straight from the tanks at the brewery in Feb 2010. I love it.
Ive had this stuff in bottle and if I get around to it I will review the bottle too. However I want to talk about the stuff I had straight from the lagering tanks.
It was one of the best cask lagers I have had, period. It poured a lovely straw German Pils colour but with a slightly darker look to it.
The smell was lemony and very fresh. Much fresher than a usual skunky mass produced lager.
Taste- It was fantastic. A very well balanced micro lager. None of the off puting features of a mass produced lager here. Just fresh ingredients slipping down your throat. Did I say it tasted fresh?
This was kinda like a cross between a German Pils and A Czech Pilsener but better!
770 characters
4.07
/5
rDev
+5.2%
look: 3.5 | smell: 4 | taste: 4 | feel: 4 | overall: 4.5
Brown 500ml bottle, best before Dec 2010, poured into a huge 'Judas' glass (I don't own a lager glass) on December 10th 2010.
The brew is a deep golden/amber hue, a lot darker than most lagers/pilsners/Dorts/etc.
The aroma was of grains, but grains soaked in caramel and light molasses. A wee hint of citrus within the smells also.
This is one of the best Lagers I've come across, flavoursome, hearty and interesting. Fairly sweet in the taste, but full bodied also, something rarely said about this style (or any lager based brew, by me at least).
My sweet tooth might help to explain my high scores, but this is well worth finding and trying, trust me!
658 characters
4.25
/5
rDev
+9.8%
look: 3.5 | smell: 3.5 | taste: 4.5 | feel: 4 | overall: 5
500 mL brown bottle poured into a pint glass.
A: yellow, slightly amber, very slight cloudiness, 1-finger head of nearly-white foam, minimal lacing
S: sweet and floral
T: tastes a LOT like a pilsener due to the malts used (I'd almost argue this IS a pilsener rather than a pale lager), sweet pea and lentil, floral and sweet--there is NO bitterness to this beer at all, although as the beer warms a very minor bitterness appears; no aftertaste
M: extra smooth with moderate carbonation--you feel it, but it's not too much by any means
D: this is perhaps the most drinkable beer I've ever tried--no bitter aftertaste whatsoever, incredibly smooth, and moderate ABV @ 4.7. This beer is dangerous!
699 characters
Williams Ceilidh (Premium Scottish Lager) from Williams Brothers Brewing Company
3.87
out of
5
based on
16
ratings.