Fraoch Vintage Cask Collaberation No. 22
| Williams Brothers Brewing Company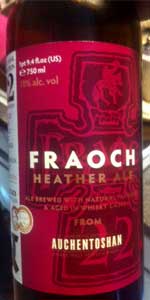 BEER INFO
Brewed by:
Williams Brothers Brewing Company
Scotland
,
United Kingdom
williamsbrosbrew.com
Style:
Scottish Gruit / Ancient Herbed Ale
Alcohol by volume (ABV):
11.00%
Availability:
Limited (brewed once)
Notes / Commercial Description:
No notes at this time.
Added by oberon on 01-14-2013
This beer is retired; no longer brewed.
Reviews: 14 | Ratings: 49
4.09
/5
rDev
-2.2%
look: 3 | smell: 4 | taste: 4.25 | feel: 4 | overall: 4.25
Bottle I brought to share at Retsinis' tasting.
Bottled August 2011. Best before 2022. Bottle no. 01384/12000.
Pours a hazy orange-brown with a foamy tan head that settles to wisps of film on top of the beer. Small dots of lace slowly drip into the remaining beer on the drink down. Smell is of malt, grain, honey, and herb aromas. Taste is much the same with honey, herb, and Scotch flavors on the finish. There is a mild amount of wood bitterness on the palate with each sip. This beer has a lower level of carbonation with a slightly crisp and sticky mouthfeel. Overall, this is a very good beer with a nice Scotch barrel aging that comes through slightly better in the taste in my opinion.
695 characters

4.43
/5
rDev
+6%
look: 3.75 | smell: 4.5 | taste: 4.5 | feel: 4.25 | overall: 4.5
This poured out as a nice clear golden color with a white head on top. The lacing and retention is minimal. The smell of the beer is big with whiskey notes, really nice amount of floral notes and sweetness as well. The taste of the beer has a dominant whiskey flavor followed up with the heather. Really nice tasting beer. Could drink a lot of this one. The mouthfeel is smooth yet nicely carbonated. Overall this was really good. Definitely worth trying if you can find it cheap enough.
487 characters
3.5
/5
rDev
-16.3%
look: 3.5 | smell: 3.5 | taste: 3.5 | feel: 3.5 | overall: 3.5
Bottle: Poured a hazy dirty dark beige color ale with a dirty brown color head with OK retention and not much lacing. Aroma of smoky peats notes with singular grainy malt notes. Taste is also a mix of smoky undertones with light peat and wet leather notes is singular. Light Sherry notes were also perceptible with an herbal finish. Body is about average with medium carbonation. Singular beer that I am glad I tried but not sure I would go back to this again.
460 characters

4.31
/5
rDev
+3.1%
look: 4.25 | smell: 4.5 | taste: 4.25 | feel: 4.25 | overall: 4.25
Bottle number#2599 of 12,000."Heather Ale matuered in single malt whisky,ex sherry casks from the Auchentoshan Distlillery" per bottle label.Poured into my Isle of Arran tumbler a somewhat dull lighter amber shade with an impressinve thick white head that settled very slowly.Aromas are nutty with alot of vanilla tinged whiskey,the complexity of the cask brings out some smokey peat that lingers.Whiskey is predominant on the palate with its smoke and vanilla tones,the peat really lingers for awhile,there is some caramel and raisin as well underneath.This is a sipping gem,yeah the whiskey is the flavor that stands out most over the actual ale but it's pretty damn good.
674 characters

4.67
/5
rDev
+11.7%
look: 4.75 | smell: 4.5 | taste: 4.75 | feel: 4.5 | overall: 4.75
Had this with friends, so just some scribbled notes and grades. Also, maybe a bit after too much "tasting".
no. 06977 of 12000 bottles; sweet ripe dark fruit (raisin, figs, plums); slight cherry from the barrel; honey, caramel; also nice woody, oaky and smoky notes, with a nice clear whisky; spices (some vanilla) are floral and somewhat strong, the bitterness is mild; a really complex beer
393 characters
3.86
/5
rDev
-7.7%
look: 3.5 | smell: 3.75 | taste: 4 | feel: 4 | overall: 3.75
This is quite a strong beer in that it gives a firm punch of flavor coated with whiskey tones and a mild sense of vanilla (very mild). It's a bit one-dimensional really. There isn't much room for any other character to show through, though I do get some nice slightly noticeable heather ale character. Very smooth feel. A real sipper. I wouldn't mind it toned down a good bit and more of the subtleties showing through, but it works well.
438 characters
4.75
/5
rDev
+13.6%
look: 4.25 | smell: 4.75 | taste: 4.75 | feel: 4.5 | overall: 5
Poured from the bottle into a Dogfish Head Ale glass. Bottle 4389 of 12,000.
Real crystal clear brassy and deep red bronze color, this looks like Birra Etrusca from Dogfish Head but darker. Makes a finger somewhat creamy tan head but it disappears rather normally, but always leaves a 2mm collar on the glass. Nice rising carbonation mixture of some fast and slow, but not a lot. Very nice looking.
Real impressive nose. Honey sweetness comes out with floral and earthy perfume like tones. Lots of toasty whiskey oak, and lots of butter. Smokey. Grass component brings the earth like scotch peat mixing with a nice herbal character. Real mouthwatering. Return view as it warms up are even more magnifying, with hints of cob smoked bacon. Stellar stuff.
Palate hits with a wonderful mix of flavors. Light bodied scotch whiskey, smokey with hints of honey and floral components. Great herbal mixture of citrus orange warmth like a nice herbal tea. Hints of marmalade. Super light palate with just enough carbonation to make it playful. Lots of meaty smoked bacon comes out, with lots of toasty oak. Clean finish and with a hint of wet depth and not too drying, but with woody character.
I can't get enough of this, and I am not even a Scotch fan, this stuff is just killer and wonderful.
1,289 characters

4.26
/5
rDev
+1.9%
look: 3.5 | smell: 4.25 | taste: 4.25 | feel: 4.25 | overall: 4.5
Fraoch Vintage Cask Collaboration No. 22 doesn't look especially 'fresh' after its time ageing in Auchentoshan barrels and subsequent 5 years spent in the bottle (brewed in August 2011, bottle #6058 of 12,000 is being consumed October 2016). Still, despite the cloudiness and lack of carbonation, a pleasant peachy hue persists.
The aroma showcases the full triad: floral heather, peaty Scotch whiskey and caramelly barleywine. It is a very complimentary blend that actually has a lot of overlap; the perfume of the heather has an almost berry-like quality while both the malts and ex-sherry casks offer an abundance of dried fruit flavours. The beer's age also emphasizes fruitiness.
Included in this wonderful compote are raisins, pears, apples, oranges, apricot, dates, strawberries and rhubarb... all tasting as though they were either boiled in sugar and spice like a chutney, dried and macerated in fortified wine, or blended with whiskey and made into a marmalade. It's a beer you'll want to spread on toast!
Auchentoshan is triple-distilled and known for making lighter, softer, more "drinkable" whiskeys - that's probably why I didn't particularly care for their 12 year or Triple Wood expressions. But I'm happy to report their Scotch (or at least its barrels) lends itself very well to this recipe; the heather, bogmyrtle and ginger really accentuate its subtle peat and wood spice.
Not to mention, English Barleywine is arguably the best customer for either a Scotch or Sherry barrel base (let alone a Scotch aged in Sherry barrels). Its chewy, honeyed maltiness, warming alcohol and rich, marmalade-like and dried fruit flavours make it an innate match for an experiment like this (Fraoch's trademark floral heather and mossy myrtle notes only help).
I'm always tempted to dismiss Williams Brothers products as kitschy and marketing driven but every time I drink their beers I'm reminded just how darn good they are. And an offering like Fraoch Vintage Cask Collaboration No. 22 really speaks to their integrity. This is a distinctive, exceptionally well-made and highly memorable ale. I'm glad I bought two!
2,131 characters

3.7
/5
rDev
-11.5%
look: 3.25 | smell: 3.75 | taste: 3.75 | feel: 3.5 | overall: 3.75
750ml Bottle from the Ottawa LCBO for $14 or so
Appearance - Clear light brown colour with a small size frothy off-white coloured head. There is a low amount of carbonation showing and there is some faint lacing. The head lasted for around 3-4 minutes before it was gone.
Smell - Malts, caramel, peat, wood
Taste & Mouth - There is a below average amount of carbonation and I can taste malts, caramel and vanilla. There is also some burnt notes, wood, and an earthy/peaty flavour.
Overall - Lots of scotch type flavour going on, and overall a very interesting beer. A good beer to share or drink over a couple of night due to the format. Worth a try once, especially if you like scotch.
690 characters

4.2
/5
rDev
+0.5%
look: 3.75 | smell: 4.25 | taste: 4.25 | feel: 4 | overall: 4.25
750ml bottle poured into tulip 15/11/15, big thanks to liamt07 for sending me the bottle, Aug,2011, #9975 of 12000
A lots of sediment in what would otherwise be a clear amber body, a fast falling finger of foam leaves no lace
S right off the bat I get smokey tequila, call me crazy but It's impossible to shake, honey, some floral notes, mild peat, lots of herbal notes, butterscotch, some wood, a fair bit going on and although I like it its hard to wrap my head around
T some hard to place over-ripe fruit, mellow scotch, spicy and herbal, much like the nose I like it but its hard to grasp, perhaps not knowing what some of the ingredients are has something to do with it
M leaning towards full, just enough bubbles to give it some life, the booze is scary concealed, this stuff drinks way too easy for 11%, strange herbal, floral, earthy finish
O I'm struggling to think of something similar, lots of unfamiliar things going on lets just say its unique
What a strange but enjoyable brew, its mellowed right out at this point and everything kinda works, the barrel plays a big part and has some things going for it I can't recall encountering before, worth a try for sure
1,187 characters
4.5
/5
rDev
+7.7%
look: 4.5 | smell: 4.5 | taste: 4.5 | feel: 4.5 | overall: 4.5
L: Beer is brilliant amber with a thin film for a head. S: I get some herbs and vanilla on the nose but the herbs are not strong. T: The palate starts with a herby flavor and then malt really comes through with the heather flavor coming to the forefront on the end. Brown sugar in the middle with some vanilla. Not a lot of whiskey flavor. F: Medium to medium full body O: A very mellow, well rounded beer.
407 characters
4.19
/5
rDev
+0.2%
look: 4 | smell: 3.75 | taste: 4.5 | feel: 4 | overall: 4.25
Serving glass: Poured from bottle into Snifter.
Appearance: Deep golden color with thin head.
Smell: Milder than expected. Mostly fruity with some barrel notes.
Taste: Hard to express my feelings on this. At first I just found it cloyingly sweet, with strong notes of overripe fruits. However, once I got used to the sweetness, I began to notice the Scotch characteristics, from the light smoke to the oak to the sherry notes. Light notes of heather toward the finish.
Feel: Medium bodied (I expected fuller), moderately low carbonation. A little Barleywine-like. I wish it was drier on the finish but I became accustomed to it.
Overall: A shock to the system due to the sweetness, but truly a unique beer.
711 characters

4.72
/5
rDev
+12.9%
look: 4.5 | smell: 5 | taste: 4.75 | feel: 4 | overall: 4.75
750ml bottle split three ways.
Deep golden honey appearance, crystal clear, thin white head. Good legs, no lacing.
Aroma is all oak, floral spice, booze, noted of underlying sweet toffee and bready grain.
Palate starts off sweet and smooth. Huge toffee and floral spice mid palate, followed by a berry character and finishes with oak, alcohol heat, slight peat smoke. Taste lingers for minutes and a drying mouthfeel.
This is the most unique beer I have ever had & quite a pleasant surprise! Freaking awesome stuff.
519 characters
3.96
/5
rDev
-5.3%
look: 3.75 | smell: 4 | taste: 4 | feel: 3.75 | overall: 4
This beer was a pleasant surprise. At $15 for a 22ounce bomber, it certainly did not come cheap. Pours with very little head, but in an oval glass, there is continual carbonation. Golden color, tastes were sweet sherry, scotchy, some woody notes, figs, and vanilla. Super easy drinking at 11 percent, but a sipper to be savored and enjoyed. Cheers!!
349 characters
Fraoch Vintage Cask Collaberation No. 22 from Williams Brothers Brewing Company
4.18
out of
5
based on
49
ratings.