Dugges / Stillwater The Tropic Sunrise
| Dugges Ale- & Porterbryggeri AB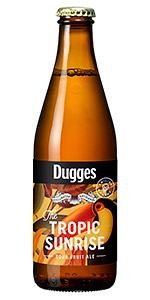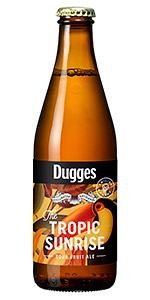 BEER INFO
Brewed by:
Dugges Ale- & Porterbryggeri AB
Sweden
dugges.se
Style:
Berliner Weisse
Alcohol by volume (ABV):
4.50%
Availability:
Limited (brewed once)
Notes / Commercial Description:
A collaboration with Stillwater Artisanal. Brewed with Lactobacillus, flavoured with mango, raspberries and pineapple.
This beer is retired; no longer brewed.
Reviews: 13 | Ratings: 49

3.51
/5
rDev
-10.9%
look: 3.75 | smell: 4 | taste: 3.25 | feel: 3.25 | overall: 3.5
I have come to the CANclusion that I really need to CANduct back-and-forth reviews between the Eradication of The Bottle Backlog here at Chez Woody & The CANQuest (tm) or I am going to get nowhere, fast. I just completed a brewery CANned horizontal with St. Benjamin, so it is time for a Dugges horizontal,
From the bottle: "Tropic Sunrise is our second Tropic-collabo with Stillwater Artisanal. We brewed this sour ale with lactobacillus and let it ferment with mango, pineapple and raspberry. Pinkish hue, rosy glow!"
A Pop! of the cap & I was off & running, Well, gently pouring the beer into an awaiting glass, anyway. Once it was sufficiently decanted, I performed a vigorous in-glass swirl to raise a finger of foamy, rocky, bone-white head with low retention, quickly returning to wisps. Color was solid Amber (SRM = > 7, < 9) with NE-quality clarity. Nose held the great promise of truth in advertising - mango was prevalent, but I could easily perceive the tartness of raspberry & sweetness of pineapple. Mouthfeel was thin-to-medium, not watery, but not much beyond it, either. The taste was tart, especially thanks to the easily discernible raspberry, but since "tart" is NOT synonymous with "sour" & I was not getting the sour bite in my jaw, I have to dun them accordingly. The taste had a sweet, perfume-y quality, especially of raspberry accompanied with pineapple, underlain by mango. It was quite fruity & quite tart, but "sour"? No! Finish was dry, tart & puckering, but it was not "sour". Sorry.
1,517 characters

4.2
/5
rDev
+6.6%
look: 3.75 | smell: 4.25 | taste: 4.25 | feel: 4 | overall: 4.25
Bottle.
A: Lots of mango, moderate berries, light pineapple with a moderately light sourness.
A: Orange yellow color, pretty hazy with a thinnish white head that quickly recedes into the glass and makes a fine ring.
T: Lots of mango, moderate raspberries, and light pineapple, followed by a clean moderate sourness that lingers through the finish.
M: Light bodied with moderately light carbonation,
O: Excellent; the beer has a great tropical, berry aroma that nicely complement's the beer's lingering sourness. Could use a little more carbonation, but all in all very tasty and easy to drink.
598 characters

4.28
/5
rDev
+8.6%
look: 3.5 | smell: 4.25 | taste: 4.5 | feel: 4 | overall: 4.25
330 ml bottle, bottle cap has a best by date of 14-06-2018 printed on it. Served in a MadTree Teku, the beer pours a slightly hazy golden/orange color with about a half inch off-white head. Head retention and lacing are both decent. Aroma is nice and fruity, the brew smells like mango, raspberry, tropical fruit and a bit of grainy malt. I think the taste is pretty much just like the aroma, it's mostly fruity and the sweet and tart fruity flavors are well balanced. Mouthfeel/body is light, it's smooth and easy to drink with moderate carbonation. My only complaint about this beer is that the bottle is too little! I'd love to see this in 6 packs. If you like fruity and sweet/tart ales, don't pass up this one! $4.99 a bottle.
740 characters

4.06
/5
rDev
+3%
look: 4 | smell: 4.25 | taste: 4 | feel: 4 | overall: 4
From a 330 ml bottle, pours a peachy colour with pretty much no lacing just a ring.
Aroma mangoes, pineapple, peach, juicy.
Taste tropical fruits a lot going on here very fruity and refreshing a hint of sourness but not bad.
224 characters

4.07
/5
rDev
+3.3%
look: 3.75 | smell: 4.25 | taste: 4 | feel: 4.25 | overall: 4
Hazy orange color capped with a slender head of loose bubbly foam. Smell is straight fruit salad...ripe mango, berries, pineapple juice, peaches, and graham cracker crust. Fruit dominated flavor as well with mango and stone fruit sweetness mixing with a raspberry acidity and white gummy bears. Crisp, slick, and light bodied with some pucker from the lacto. As with Tropic Punch/Thunder, this one is kind of hard to rate as a beer. It's a delicious beverage for sure and that's probably all that really matters.
517 characters

4.67
/5
rDev
+18.5%
look: 4 | smell: 5 | taste: 4.75 | feel: 4.25 | overall: 4.5
330mL bottle from Sprayberry Bottle Shop (Marietta, GA). 4.99. Bottled 6/14/16. Served in a Barrel and Barley teku.
Pours a hazy pale orange yellow with a half finger cap of white froth. The head settles to a thin veneer and modest band around the edges, leaving very little lacing.
Smells fruity and delicious. Berries, pineapple and mango galore. I can't stop myself from returning often to enjoy this magnificent aroma.
Flavor starts with a sour barrage of tart raspberry purée. There's an underlying sour wheat malt that can't hide layers of tropical mango and pineapple. Tastes amazing and goes down incredibly fast.
Light body with peppy carbonation. That delicious sour tropical fruit continues in the dry finish.
Another outstanding Stillwater/ Dugges collaboration. So well done that I wish they were priced to buy and enjoy regularly.
855 characters
4.44
/5
rDev
+12.7%
look: 4.25 | smell: 4.5 | taste: 4.5 | feel: 4 | overall: 4.5
Poured into a Wicked Weed snifter. Bottle cap says 14-06-2018.
A- Pours a hazy light amber color with a 1/4 inch white head that doesn't retain long before becoming a thin ring around the edge of the glass and some faint wisps of surface foam. Resilient lacing leaves small clots behind.
S- Vibrant aroma of juicy pineapple, peach and grapefruit.
T- Tastes like a mixed drink you would find in the Virgin Islands. Mango nectar, guava and papaya juiciness all with a light tartness. Sweet with some moderate acidity. Peach pit aftertaste.
M- Prickly and a bit dry with medium carbonation and a light body.
O- I feel like the Tropic Punch has a bit more tartness and complexity but this is still along the same lines and certainly just as enjoyable.
757 characters
3.01
/5
rDev
-23.6%
look: 3.25 | smell: 2.75 | taste: 3 | feel: 3.5 | overall: 3
This one pours a golden yellow, with a small head, and no lacing.
Smells like pineapple juice, tart apple juice, a little bit of raspberry, it's just so juicy, like a fruit laden cocktail. Is it beer?
I suppose this tastes good, but it literally tastes like *slightly* tart fruit juice. I'm not sure I'd be able to identify this as beer, as it's not very sour, doesn't have any beer qualities, and just tastes really sugary. Not a big fan.
This is lighter bodied, with a very juicy mouthfeel. Doesn't drink like it's beer.
I liked Tropic Punch, this just crossed the line between juice and beer for me. It tasted good, because I like juice, but it was just off putting, you know?
683 characters

4.55
/5
rDev
+15.5%
look: 4.25 | smell: 4.25 | taste: 5 | feel: 3.75 | overall: 4.5
smells like blue Hawaiian Punch, yet looks like a regular beer with a pink aura. Tastes like sour mangos and apples upfront. then leaves a heavy berry flavor in your mouth. It's a light easy going sour with a lot of flavor going on, it leaves your mouth dry and chalky, however it's great, I don't understand why everyone is hating on it.
338 characters
4
/5
rDev
+1.5%
look: 4 | smell: 4 | taste: 4 | feel: 4 | overall: 4
Two brewers who know something about souring come together over a collaboration brew that celebrates the clean lactic tartness of Berliner weisse but with an exotic tropical fruit twist.
Dugges and Stillwater Ales' Tropic Sunrise pours a rusty goldenrod with a rolling aroma of pineapple, mango, berry, lemon and apple. A brief wafer-thin sweetness is modestly confection-like with sour apple candy resonating soundly on the initial palate.
As the sweetness quickly dissolves, its the tropical fruit, natural lemon-like acidity and berry additions that give the middle palate the roundness of piña colada but with the distinct tanginess of margarita. Crabapple, lime, sour green grape and gooseberry frame a tightening sour taste with even a hint of coconut and suntan lotion seeming not too deep in the recesses.
Finishing bright, light and refreshing, the strong acidity strips the thirst from the palate with ease. Right at home on the beach, the ale's tropical whimsy gives the entire session a sunny disposition. Trailing sourness is greeted with a balsa and burlap earthiness with a clean citrus closure.
1,114 characters
3.04
/5
rDev
-22.8%
look: 3 | smell: 3.25 | taste: 3 | feel: 2.75 | overall: 3
The beer is unclear and is in a yellow color.
The little foam that comes is white and has small bubbles.
The foam disappear almost before you had time to pour.
The scent is filled with fruits and a little sweetness.
Mango, peach, passion fruit, some banana and vanilla.
Quite fresh sweetness that is poorly positioned.
The taste is tropical with a sweet acidity.
Mango, peach, passion fruit, vanilla, banana, a little sour raspberry.
The taste is slightly to the cider direction, where vanilla is like a thin cloud that becomes a little difficult to place.
The taste is good, but a little fuzzy with certain tones that are difficult to place and the beer feels not quite the full balance.
Medium body, healthy minor sour notes
Good carbonic acid, fruit sweetness with vanilla
It feels a little semi-soft and not fully balanced in flavors.
838 characters
2.91
/5
rDev
-26.1%
look: 3 | smell: 2.5 | taste: 3 | feel: 3.75 | overall: 2.75
The colour is gold with a tint of pink; the liquid is almost clear. The two finger head disappears quickly with a fizzing sound. No lacing.
The smell is sweet and loaded with exotic fruits – mango, bananas, pineapple-vanilla-cream drinks and a touch of orange juice. Some tartness in the background and sour yoghurt-notes. The sweetness is thick and dense.
The taste is tart-sweet; the thick sweetness dominates. Fruit candy, powdered milk. Some sour raspberries and orange peel. Medium body. The aftertaste got lingering sour flavours, mixed sweet exotic fruits and some lemons. The finish is short with metallic sourness in the dense sweetness.
The carbonation is medium strong; the mid-sized bubbles are long-lived. The liquid is semi-smooth.
There is an odd off-flavour that reminds of powdered milk and fruit jelly in this one. The worse of the Dugges sour fruit ales so far.
887 characters

3.75
/5
rDev
-4.8%
look: 3.75 | smell: 3.75 | taste: 3.75 | feel: 3.75 | overall: 3.75
Slightly hazy peach color with a white head that fizzes away quickly. Aroma has sweet tropical fruits like mango, peach, passionfruit and also others I couldn't name. Taste is also really fruit forward and tart, like sour tropical fruit candy. Light and effervescent body. Really nice and refreshing sour fruit ale.
315 characters
Dugges / Stillwater The Tropic Sunrise from Dugges Ale- & Porterbryggeri AB
Beer rating:
3.94
out of
5
with
49
ratings