Idjit!
| Dugges Ale- & Porterbryggeri AB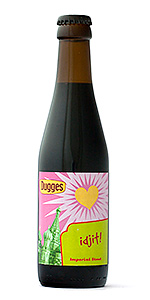 BEER INFO
Brewed by:
Dugges Ale- & Porterbryggeri AB
Sweden
dugges.se
Style:
Russian Imperial Stout
Alcohol by volume (ABV):
9.50%
Availability:
Rotating
Notes / Commercial Description:
No notes at this time.
Added by bark on 01-30-2007
Reviews: 36 | Ratings: 90
3.95
/5
rDev
-0.8%
look: 4 | smell: 4 | taste: 4 | feel: 4.5 | overall: 3.5
A: Dark brown, half a finger of tan head that is quickly receding. Lacing is very nice, very tight bubbles.
S: Huge roast, burnt rubber nose. Dark malts shine. Tobacco and molasses. Very nice for an Imp Stout.
T: Very dark roasty malts, some smoke. Milk chocolate, coffee grounds.
M: Medium body with some nice crispness, alcohol twang at the end.
O: Solid, compared to the 1/2 Idjit this is very nice. Roast isn't big enough, comes out too sweet.
452 characters

4.32
/5
rDev
+8.5%
look: 4 | smell: 4.5 | taste: 4.5 | feel: 4 | overall: 4
A: Poured from a bottle to a pint glass. Had a jet black color and a thick texture. There was a half inch of foamy, fairly long-lasting head. No real lacing to speak of.
S: A big aroma of coffee, malt, and chocolate as well.
T: Tasted of roasted malt, coffee, chocolate, maybe a little vanilla, and a burnt quality, too. This is a complex and interesting flavor. Not quite as robust as most RISs, but very tasty.
M: A good amount of carbonation with an overly slick finish. Full-bodied.
O: This is a solidly made, very enjoyable and drinkable stout.
553 characters
4.05
/5
rDev
+1.8%
look: 4 | smell: 4 | taste: 4 | feel: 4.5 | overall: 4
Picked up a bottle of this at Julio's. Really nice price on this bottle.
A - Poured into my Duvel tulip a rich oily black that had a nice creamy one finger head of mocha that faded quickly to leave a nice halo and wisps.
S - Rather typical RIS aromas. Good roasted malts, dark chocolate, and something else. A little deeper. Like someone said maybe some coconut.
T - Wow, yep, a nice RIS here. Good roasted malts and deep chocolate. That other flavor is still there. Its something I cant really put my finger on, somethign I'm not used to in RIS or any other beers. I think this could be the coconut others have mentioned. Its just a roasted nutty type flavour.
M - Wonderful mouthfeel here. Super smooth and creamy. The ABV is a bit noticeable still though.
O - A solid offering from a swedish brewery. A really good RIS for under $10 a bottle. Glad I tried this one.
873 characters
4.05
/5
rDev
+1.8%
look: 4 | smell: 4 | taste: 4 | feel: 4.5 | overall: 4
A: The beer is jet black in color and poured with a few tan bubbles on the surface that faded away, leaving only a thin ring of bubbles around the edge of the glass.
S: There are moderately strong sweet aromas of dark, roasted malts in the nose.
T: The taste is similar to the smell and has a slight amount of sweetness along with flavors of roasted malts.
M: It feels full-bodied, rich and somewhat smooth on the palate with a light to moderate amount of carbonation.
O: Considering its strength, the beer is rather easy to drink because the alcohol is well hidden from the taste.
581 characters

3.95
/5
rDev
-0.8%
look: 4 | smell: 4 | taste: 4 | feel: 3.5 | overall: 4
500ml bottle.
Pours dark murky chocolate brown out of the bottle and setlles in almost black with a small tan head that leaves some bubbly residue around the edges.
Aroma is sweet but roasty. It's got chocolate, vanilla and especially coconut on the sweet side which is balanced with lightly roasted chocolate malts.
Taste mirrors the aroma and is sweeter than I was expecting with that same coconut character coming out up front. The roasted malts form the backbone but it's fairly subtle. The finish is dry and almost chalky with bakers chocolate and charred malts.
The mouthfeel is creamy and smooth but probably a little lighter in feel than a world class impy stout. Kinda watery for the style.
This is a solid impy stout but lacks the depth and heft to be great. Still, it's tasty.
792 characters

4.03
/5
rDev
+1.3%
look: 4.5 | smell: 4 | taste: 4 | feel: 4 | overall: 4
A beer for MNF.
A - I love the 25 cl bottles because you can just dump them super aggressively into the glass. Black beer, viscous, with a brown head that bubbled up and faded to an impressively tight ring.
S - Lots of roast, some sweet molasses, dark chocolate, dry toast. There is a bit more alcohol burn in this than I was expecting.
T - Lots of char and roast, with some sweetness from a bit of yeast, chocolate, and molasses.
M - Carbonation was prickley, fuller bodied, kind of a burnt/dry finish.
O - Nice beer, actually about the right size for one person. Lots of roast and char, but it's got good flavor and I drank it happily.
643 characters

4.27
/5
rDev
+7.3%
look: 4 | smell: 4.5 | taste: 4 | feel: 4.5 | overall: 4.5
Look: Deep purple with lighter purple hues at the top and bottom. No head
Smell: Amazing coffee aroma which is accompanied by some oak vanilla and chocolate
Taste: Kind of a funky roasted malt taste that transitions into a backend that is loaded with chocolate and just a ever so slight hint of vanilla
Mouthfeel: Very full bodied with a velvety smoothness to it and low carbonation
Overall: Very pleased with this beer. The only thing for me that doesn't make this an excellent beer is that initial funk on the flavor. Apart from that this beer is damn near as good as a RIS gets
584 characters

4.22
/5
rDev
+6%
look: 4 | smell: 4.5 | taste: 4 | feel: 4 | overall: 4.5
I think I got this from bosse - thanks dude. Served in a Darkness snifter.
A - A quarter-finger of tan foam settles to a thick collar and wispy partial cap. Good retention and spotty lace. Black body with some reddish-brown hints to it. Some obvious bubbles adhere to the sides of the glass.
S - Huge roast character, smoked malts, light peat, molasses, dark chocolate, burnt toast, light anise, and a hint of alcohol.
T - Taste is more char and roast, with some burnt bread and yeast character. Roasted grains, cocoa, and surprisingly little bitterness for something so roasty and smokey.
M - Surprisingly active carbonation, medium-full body, chewy texture, with minimal alcohol warmth.
D - The 25cl bottle was tragically too little for the three of us. I hope this gets distributed to North America in the future instead of 1/2 Idjit. Delicious stuff.
859 characters

4
/5
rDev
+0.5%
look: 4 | smell: 4 | taste: 4 | feel: 4 | overall: 4
A: Pour is pitch black with a dark brown thick head that slowly sinks into nice lacings.
S: Heavy roasted sweet malt. Lots of chocolate notes and some bitterness from hops. Strong black coffee.
T: The malt is roasted, and very sweet - almost syrupy and vineous at the same time. Bitter hops and rich chocolate.
M: Medium long bitter aftertaste. Body is full and carbonation moderate.
D: A nice beer that takes some time to sip. Enjoyable.
444 characters

4.1
/5
rDev
+3%
look: 4 | smell: 4 | taste: 4 | feel: 4 | overall: 4.5
Bottle. Tiny little bottle courtesy of s fellow traded in Sweden. Poured into a tulip glass a dark brown color with a dark tan head that collars around the glass. Dark chocolate, molasses, Graham cracker, and slight booze round out the nose. Sweet start with some leather, nice roasty bitterness in the end. Medium /heavy mouhfeel. Very nicely balanced. Ends with a slight lingering roastiness. Very easy drinking.
414 characters
4.2
/5
rDev
+5.5%
look: 4 | smell: 4 | taste: 4.5 | feel: 4 | overall: 4
Big thanks to SeaBass for the share. A: Pours a rich deep black nice tight mocha head. S: Very bold roasted aromas with strong notes of raw cocoa, and a hint of hershey syrup. T: Roasty goodness with loads and loads of rich cocoa. Subtle milk chocolate notes with a hint of dark fruit and a touch of smoke. M: Lighter in body, smooth, tasty as hell.
349 characters
Idjit! from Dugges Ale- & Porterbryggeri AB
3.98
out of
5
based on
90
ratings.