Oldgott

Minipivovar U Medvídků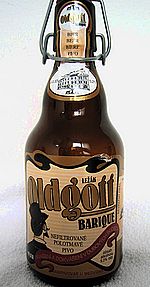 Write a Review
Beer Geek Stats:
| Print Shelf Talker
Style:

ABV:

5.2%

Score:

Avg:

3.61

| pDev:

16.07%

Reviews:

15

Ratings:

From:

Avail:

Year-round

Wants

Gots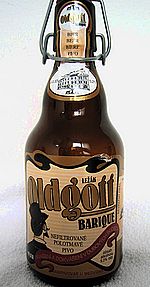 Notes:

4.08
/5
rDev
+13%
look: 4.5 | smell: 4 | taste: 4 | feel: 4 | overall: 4.25
This is a mixed beer, half pale and half dark lezák. It is very low on carbonation, feels in texture close to a stout but the taste of course is completely different. The dark lezák part was aged in rum barrels so it adds quite nice bourbon-like quality to the beer but it is well balanced with the pale lager. An easy to drink, enjoyable semi-dark lager with a clear taste. Recommended once in Prague!
404 characters
3.93
/5
rDev
+8.9%
look: 3.75 | smell: 3.75 | taste: 4 | feel: 4 | overall: 4
Minipivovar U Medvídků "Oldgott"
on tap @ Minipivovar U Medvídků, ,5l for 50-Kč
Notes: Russet brown body beneath a frothy tan head. Good head retention and lacing. Aroma suggests caramel malts with moderate grassy, floral and spicy hops. The flavor is kind of like a schwarzbier, but without as much dark malt, and fuller, more malty and sweetish. Mild dark fruitiness. Balanced bitterness. Finishes dry with residual earthiness and spice. Medium bodied and creamy smooth.
478 characters

2.84
/5
rDev
-21.3%
look: 3.25 | smell: 3 | taste: 2.75 | feel: 2.75 | overall: 2.75
33cl brown glass swingtop bottle purchased at U Medvidku about an hour ago. Served into a dimpled mug at me friend's gaff in Prague, Czech Republic. Expectations are above average. Served cold. The label is nice. 13 degrees plato. 5.2% ABV. BB: 10/09/14. "Oldgott Barique."
Side-poured with standard vigor as no carbonation issues are anticipated.
No bubble show forms as it's poured.
HEAD: None. Some thin grey bubbles rise to the surface and quickly dissipate. No lacing sticks to the sides of the glass.
BODY: Dark amber with copper hues. Tranlucent. Nontransparent. Clean; no yeast particulate or hop sediment is visible. Average vibrance.
Appears undercarbonated, though there was definitely a carbonation pop when I popped the swingtop.
It looks pretty standard. Not unique or special. I'm optimistic.
AROMA: Amber malts, notes of bread, caramel, toffee, and a kiss of oak. Also some faint vanilla. It leans a bit more towards English styles than I was anticipating, but the oak notes in particular are lovely and get me excited to try this. Overall, it's a pleasant aroma of mild strength.
No yeast or alcohol is detectable.
For a while I was thinking it smelled a biteen like marshmallow, but then I figured that was just toffee. I realized later it's actually heavy diacetyl manifested in the form of butterscotch aromatics.
TASTE: Amber malts, caramel, toffee, hints of bread, and lovely vanilla notes - which complement the subtle (or perhaps subdued) hint of oak wonderfully. That said, it's ultimately rather simple. And there's some rampant fucking butterscotch/diacetyl going on here. I do think it's well balanced, and the build is interesting and cohesive. But it's not a gestalt or intricate brew, and while it boasts some notable subtlety for the style, I can't say it's great. I do like it. Flavour duration, intensity, and depth are all average. It's on the sweeter side.
TEXTURE: Surprisingly dry, actually. I wouldn't call it refreshing. Slightly sticky and syrupy. Smooth. Carbonation is off, but it's hard to discern in which direction. Overall presence on the palate is decent. This texture suits the taste generally, but doesn't feel custom-tailored specifically to it.
OVERALL: The oak piqued my interest, but it isn't enough to elevate this beer much beyond the usual Eastern Europe amber lager shlock out there. I'm glad I tried it once, but the diacetyl off-notes need adjusting, and the oak needs to be more prominent. Not at all a world class beer, but for the price you could do far worse. I wouldn't recommend it to friends and I wouldn't buy another, but I do think the brewers are actually grasping for something here, not just marketing crap to tourists. Drinkable yet forgettable. Meh.
C
2,741 characters
4.14
/5
rDev
+14.7%
look: 4.25 | smell: 4 | taste: 4.25 | feel: 3.75 | overall: 4.25
Diane and I stopped into the U Med brewpub on our first night in Prague, 01OCT13, for food and drinks. She went with a dark Budvar, while I started with this. I eventually had three 0.33l bottles in the course of the eve, at 50CZK each (about $2.80 currently).
The stubby little swing-top opened with a resounding "pop", then into the tulip it went. It was a clear, deep copper bier, with a thin, fine off-white head and good lacing. Nose had lots of caramel and a touch of toffee. Though the body was a bit less than medium,it was pretty smooth going down.
It had a really nice caramel lean to it, along with more toffee. Good sweetness layered the palate, along with some oaky action and some earthy hops, which lingered nicely, rounded things out. I rather enjoyed this one (along with a tasty pork, garlic and fries meal). Prosit!
4.15/5  rDev +15%
look: 4.25 | smell: 4 | taste: 4.25 | feel: 3.75 | overall: 4.25
1598
928 characters

4.15
/5
rDev
+15%
look: 4.5 | smell: 4.5 | taste: 4 | feel: 4 | overall: 4
U Medvidku Oldgott 13 Barique
Served in Oldgott mug at U Medvidku mini-brewery. Perhaps due to higher temperature, almost all of the beers, including a Budvar, were very foamy from the tap and took several minutes of fill/settle/fill to get ready to serve.
4.5 Near clear semi-dark (amber) lager with abundant tan head. Head adds to creamy feel and leaves exceptional lacing. Served at about 50-55 F.
Aroma: very appealing malty aroma with significant hops and hints of spices and
Taste largely follows aroma but hops are more prominent almost from the start and dominate the lasting finish. Likewise, the taste starts bitter-sweet but finishes a light-medium bitter
M – medium-light body; medium carbonation. Body excellent, and creamy, while head lasts: not uncommon in Czech lagers.
O – a fine polotmavy lager. Worth seeking out.
847 characters

4
/5
rDev
+10.8%
look: 4 | smell: 4 | taste: 4 | feel: 4 | overall: 4
appearance: deep dark brown, lackig had retention
smell: some oak, sublte vanilla
taste: danm good dark lager, love the oak flavors
mouthfeel: medium bodied, good carbonation, not over done
drinkability: way better than their imperial lager. well done dark czech lager with some oak flavors
294 characters
3.6
/5
rDev
-0.3%
look: 3.5 | smell: 3.5 | taste: 4 | feel: 3.5 | overall: 3
Bottle at U Medvídků, Prague, Czech Republic
A: The beer is hazy amber in color and poured with a two finger high off white head.
S: There are earthy and woody aromas in the nose.
T: The overall taste has flavors of malt and oak; the oak barrels used in the lagering process are also very apparent in the finish. There is a slight amount of sweetness.
M: It feels medium-bodied on the palate and has a moderate amount of carbonation.
D: The beer is a slow sipper but it definitely is unique.
494 characters
2.35
/5
rDev
-34.9%
look: 4.5 | smell: 2 | taste: 2 | feel: 4 | overall: 2
uh, really wanted to rate this beer better, but believe it's suffering from lack of diacetyl rest. The killer butterscotch is here. Other regards it's pretty good: poured with a large foamy, frothy, fluffy, off white head that lasts a while and some lace. Color is a slightly hazy medium amber. Aroma is BUTTERSCOTCH, malt an thas it. Flavor and finish are like aroma; no getting around it. Body and carbonation were good. Luckily I have a Budvar to wash it down with. Don't know why they do this as they have another beer, the 1466 which is really quite good. This one sleeps with the fishes. And I'm being generous as this error is so easily correctible.
656 characters
3.68
/5
rDev
+1.9%
look: 4 | smell: 3.5 | taste: 3.5 | feel: 4 | overall: 4
on-tap at the brewpub
coaster notes. This is not a euro dark lager - more of an amber or vienna lager
appearance: served in a quality .5L mug, amber-mahogany body, light beige cream
smell: apple, grain, caramel, doughy
taste: another nice czech lager - caramel malts, bready, toasted grain, red apple
mouthfeel: smooth and coating
drinkability: good
355 characters
2.45
/5
rDev
-32.1%
look: 3.5 | smell: 3.5 | taste: 2 | feel: 2 | overall: 2
Brown flip-top bottle containing 33cl of beer, freshness date of 30th April 2009, drank 20th July 2009. Bought at the brew-pub it was made in purely to review on here.
Hope the beer stands up to being a little under-fresh.
It is nearly midnight and I've been in the garden all day grafting, my garden looks a picture and I'm thirsty, this is the beer I've choosen to quench my thirst! Slotted into the fridge early evening, so the review is of a cooled rather than cold Oldgott.
Poured in one, into my huge 'Judas' tulip glass. The bottle opened with a resounding crack and poured a cloudy orange, dirty dull amber colour. On top of the body sat a full, well formed white foaming head. The head did fall away, but lacing and some foam was still there at the end.
Aroma is Belgian to my nose, a sweet and sour mix with yeast and spices trying to grab your nasal hairs.
Sour, like a lambic, is it off or should it taste like this? I think the vinegar fly might have got in my bottle.
Only 5.2%ABV, but the sourness masks even that lowly strenght, strange, wierd and not very friendly in my opinion.
Not what I was expecting, reasons? Maybe the date, maybe the bottle is off, maybe not cold enough, maybe I should have poured it more sedately, but this beer was a let down (and not cheap, even at its brewpub).
1,315 characters

3.8
/5
rDev
+5.3%
look: 3 | smell: 3 | taste: 4 | feel: 4 | overall: 4.5
A nice beer, there is also a light, that was in a small brewpub in old prague. Good flavor and the brewer, who I met was very proud of his offerings. I bought a bottle of the stronger stuff but was unable to try this one in a bottle. Would recommend trying if you can find it.
276 characters
4.32
/5
rDev
+19.7%
look: 3.5 | smell: 4 | taste: 4.5 | feel: 4.5 | overall: 4.5
Cloudy, darker amber beer that leaves light lace. The head is fair and it settles a little too quickly.
Semi-sweet chocolate malt aroma with subtle floral hop in the background.
This is a smooth and well-blended beer. It could pass as an ESB. Mild darker malt lends flavor to the standard pilsner/golden grains. The hop finish really makes this beer. Full bodied (particularly against other Czech lagers) with moderate carbonation.
Flavor wise, this is a great beer.
469 characters
3.85
/5
rDev
+6.6%
look: 4 | smell: 4 | taste: 4 | feel: 3.5 | overall: 3.5
I tasted this beer on my recent trip to Prague, when I visited the U Medviku MiniPivovar-Restaurant-Hotel-Museum-Shop.
It pours a nice deep dark-brown color with nice head that last for long time.
Smells hoppy, spicy, and sweet.
It tastes malty and very sweet with caramel and marshmallows. It feels a little creamy but nothing extraordinary. You can have a lot of this beer without getting tired, excellent for this bar because the beer keeps flowing until you decide otherwise.
It is a very good beer from this minipivovar, if you go to U Medvidku please try it with some food from there.
602 characters
4.12
/5
rDev
+14.1%
look: 3.5 | smell: 4 | taste: 4 | feel: 4.5 | overall: 4.5
Had this beer at the restaurant U Medvídků, as in the same complex where the minibrewery "Dům Piva" (House of Beers), is situated (grabbed another bottle for take-away and consumed it at my hotel the following night...simply too tasty to refuse). The minibrewery is the smallest in the Czech Republic, and is said to be an exact replica of the old Pilsner Urquell brewery in Pilsen, which used oak casks and oak vessels for primary fermentation as well as beer ageing, but a luxury now long gone. The beer, Old Gott (Lezak Barique, or "oak-barrel aged lager"), is the sole product based on the same brewing techniques as used by the old Pilsner Urquell, with a twist of ingredients. IMO, this is a bloody good beer sitting in between the styles of Vienna red lager and Pilsner, worth seeking out~~
A: in my souvenir Pivovarsky Dum's 300ml weissbier glass, it pours a reddish-brown to orangey-copper hue, coming smoothly in carbonation, with a minimalist off-white beer head. Looking quite soft.
S: mild scent of vanilla and oak-barrel, fine brown sugar, plus slightly bitter caramel aroma... overall a very settled nose on top of a bed of refreshing, biscuity note of Pilsner lager malts and lightly spicy hop aroma.
T: soft palate of caramel malts(?) reminiscent of light caramel, slightly bitter-sweet taste like oak-aged red wine, followed by a soft, dark-fruity finish; the lingering aftertaste reveals more settled bitterness along with peppery hops, with a lightly tart fruity kickback.
M&D: silky-smooth mouthfeel with a clean finish, the beer has a medium body and medium-full flavour, not terribly complex but extremely soothing, due to the silky, soft texture similar to some oak-aged wine as provided by long oak-ageing process. I wish I'd have brought two more bottles with me back to Britain... Recommended!!
1,838 characters
3.88
/5
rDev
+7.5%
look: 4 | smell: 3.5 | taste: 4 | feel: 4 | overall: 4
Brown color, with a very creamy, very beautiful, beige head.
Malty smell, with wood, dark malts. And a light sour cherry.
Good taste, with a malty start. Here again some frutiness, sour cherry, and then a good woody note. Longstanding.
Creamy mouthfeel, with vanilla notes, too.
Again wood in the aftertaste.
Very drinkable.
324 characters
Oldgott from Minipivovar U Medvídků
Beer rating:
81
out of
100
with
38
ratings