The Maxwell's Plum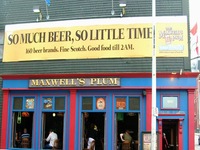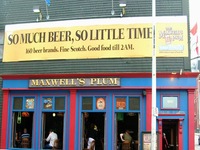 PLACE INFO
Type:
Bar, Eatery
1600 Grafton St
Halifax
,
Nova Scotia
, B3J 2C2
Canada
(902) 423-5090 |
map
themaxwellsplum.com
Notes:
No notes at this time.
Added by wvrich on 09-17-2005
PLACE STATS
Reviews:

12

Ratings:

pDev:

12.12%
HISTOGRAM
View: Place Reviews
Ratings: 15 | Reviews: 12
3.88
/5
rDev
+6.9%
vibe: 3.75 | quality: 3.75 | service: 3.75 | selection: 4.25 | food: 3.75

3.79
/5
rDev
+4.4%
vibe: 3.5 | quality: 3.75 | service: 3.75 | selection: 4
I stopped in here on the way back to my hotel. I was drawn in by the giant sign on the side of the building advertising 60 taps. Lots of craft on tap as advertised. 6 Propeller taps, 6 Pumphouse, 6 Rickards, Some Spring house and Garrison as well. Bring wooden feel with a dozen seats around the bar penninsula with 20 or so tables strewn about. I had a 4 beer sampler and was pleased. I didn't eat here but the plates flying by smelled wonderful. I would stop here again if in the area.
487 characters

3.73
/5
rDev
+2.8%
vibe: 3 | quality: 4 | service: 3 | selection: 4.5 | food: 3.5
I was told this was a must visit because they have over 60 taps. In downtown Halifax it was easy to find and the inside was just another bar with plenty of young folks enjoying some brews. Our server knew very little about beer but she kept our glasses full at least. I must admit I was very impressed with the beer list both taps and bottles even some stuff I've never heard of and in Canada that doesn't happen that often. I had a pitcher of Pumphouse IPA and it was one of the biggest surprises of my trip. We only had mussels to eat but they were quite tasty. My jug was only 10$ and everything was priced pretty fair but I'm from Calgary and everything out East is pretty cheap compared to what I'm used to. I would go back here for the beer menu alone so I recommend you stop in for a beer if in the area.
811 characters

2.55
/5
rDev
-29.8%
vibe: 3 | quality: 2 | service: 2 | selection: 4 | food: 1.5
Been here a number of times, not by choice mind you. I've decided to review it. This it collectively over many visits.
The place looks like a typical bar, dimly lit with a projector playing the current sports game. Nice outdoor patio. Bathrooms were retrofitted into the place, a number of skinny stairs, narrow uneven floors brings you there. Not my kind of place to be.
Only once have I gotten a waitress that was 'kind' (er apathetic) and most others never seemed to be enjoying the work there and disliked questions. Not happy about that. Ice cold mugs are given, but that doesn't bother me much as you can get a non frozen one if you ask.
The selection is quite grand. As the sign (large banner hanging on the outside wall) says: "60 beers on tap". Yeah, huge selection with most being macro. They have Garison's DIPA and Mclausin's Oatmeal stout which keep me content when I go for a beer or two. Other than that, there is a selection of bottled beer, some good (DDC) , some bad. The one thing I did like, was every Friday Garrison makes a firkin of some new beer. I've never come late enough to see this tapped out, then trying them, I see (taste) why.
The cost of the beers are outrageous too. Any half decent beer will cost you an arm and a leg, any good beer will cost you a small child. They have some deals like a 80 oz brewtender for a reasonable price, but the beer to go in it is not.
The food is worse than pathetic. Collectively (from a number of people at the table), I ordered a steak that contained a ton of fat, under cooked and cold. The sliders (5 burgers for 5$) were terrible, their breakfast is not so good. Honestly, pub food is not difficult to make properly, but it happens.
The thing that gets people to buy their food i the deals they have. Half priced appetizers, half price this and that, it seems like a good investment at the time.
Overall, it's not a place I enjoy going to, but I still end up there from time to time because others enjoy the brewtenders.
2,004 characters

3.25
/5
rDev
-10.5%
vibe: 3 | quality: 3 | service: 4 | selection: 3 | food: 3
Well to start off, I was not overly impressed with this place.
After spending over a week in Halifax and some of the outlying harbor towns, I'd been to many places to compare this too. This was the final place I visited before heading back to our cottage in Indian Harbor for the final voyage home.
The sign was blatent and what got us there in the first place. 60 beers on tap! The first question that entered my head, was what beers are on tap? The local list was ok, but sub-par compared to other places I'd visited. Garrison Imperial pale, which was served ice cold, not to happy with that. Also served into a super thick mug. It siad 12 oz pour, but it seemed a bit shy of 12 ounces.
Which is somthing they could probably improve on. The only option was 12 ounce, pitcher and the giant thing that looked like a blender. I was really hoping to get a pint.
We sat on the patio, ample seating for several tables. Inside was the typical bar scene, wood furnishings, ugly green walls, tv's all over. The bathrooms were upstairs, through a narrow hall and up eneven steep stairs. Not a place you would want to visit when tipsy. Although the bathrooms were clean, a bit cramped though for the amount of people here. 2 urinals and one stall.
Service was good, the waitress came back repeatedly to check on us. She seemed to have empty glass radar.
Food was decent, typical bar food. A bit greasy though, it seemed like everything was doused in grease.
I can think of many other places to visit other then this one. If you like cheap watered down beers with 50 ontap to choose from, or smirnoff ice in all flavors. Then this one is for you. I'd say there was less then 10 micro locals ontap.
1,695 characters
4.25
/5
rDev
+17.1%
vibe: 4 | quality: 4 | service: 4.5 | selection: 4.5 | food: 4
We were wandering around Halifax after getting of the boat looking for a place to eat and grab a pint or two, when my wife turned and said to me "Does that sign say 60 Taps". Like manna from heaven. We walked in and it had a nice English pub feel. Dark wood, a centralized bar, and high tables. We sat down and saw that they had an all day happy hour up till 7pm and since it was 2pm it made it all that much better. Since it was early the place was almost dead. Maybe 3 other tables and a couple guys at the bar. Our waitress was very responsive since they were pretty dead. Right when our pints were about to kick, she was bringing another one over. The food was pretty good and relatively cheap. We split the Poutine (gravy, cheese curds, and fries) and a grilled cheese sandwich and both were very good. The selection of the place was very good. I don't know whether it was the fact that we weren't from that area, but they had several breweries on tap that I had never seen before. It seemed like they had several locals and not that many big macros. The downsides were that they had a couple big TV's and they were turned up, which was a bit annoying. The other was that the beer was pricey. I think we paid 3.99 (a dollar off each pint) per 12oz pour, and we were at happy hour. They have these big clunky mugs that make you feel like you're picking up 16 but only getting 12. Other than that, it was a very good outing and would plan on coming back if I ever make it back to Halifax.
1,491 characters
4.25
/5
rDev
+17.1%
vibe: 4 | quality: 4 | service: 4 | selection: 5 | food: 4
First time visitor to Halifax; impressed with this place, with over 60 taps.
Always good to see lots of local brews, with Garrison, Propeller, and Pump House well represented.
Be sure to have the Garrison Imperial Pale Ale
( waitress warned we it was very hoppy, would be a terrible shock for a Keith's drinker)
Beer $ 3.95 for a mug during day, with various specials. Fairly expensive other times.
They have the 80 oz Beer Dispenser for a good price ( good for groups )
Food specials every day, incl $6 fish & chips on Friday, very tasty
2-burger platter for $7, $4 mussels
Busy place, with flat screen TVs for sports.
Highly recommend if you're visiting Halifax
663 characters
3.95
/5
rDev
+8.8%
vibe: 3.5 | quality: 4 | service: 4 | selection: 4 | food: 4
Editing my review, as I've been here many times and the overall impression has certainly improved.
The atmosphere is quite Halifax faux-english pubbish here. Plenty of dark wood on the bar and the tables/chairs, some odd light fixtures that don't quite fit any particular decor, and sports on large screen tvs. It's a little confused, but it's not ugly.
The beers on tap run the gamut from local micros to macro swill to imported. The imports are nothing special, big-name quasi-macros of varying quality, but the local offerings are solid. The beer is served in hefty mugs that look big, but only hold 12oz. If you come early enough on a week day, they only cost $3.95, which isn't bad. Otherwise, you have to pay almost $6.
Service was sketchy a few times I went - even when quiet they weren't always concerned about our well-being - but other times the service has been excellent; attentive staff, will answer questions, and if they don't know the answer will ask someone who does. Quite pleasant, even the times they were generally inattentive.
The selection on tap is better than most places in Halifax, at least as far as quantity goes, but the 60 on-tap is quite padded by the large number of macros (Molson, Moosehead, Labatt's, BMC, etc). They have some locals, though, and during the off-hour "happier hours" they are decently priced.
The food is mostly pub food, and they deep-fry quite well. The food is served hot and fresh, and they have a few items that are quite substantial. The burger platter actually has two burgers on it - and when it's only $5 during the week (before 5), that's a damn good deal. Don't come here looking for gourmet, just solid pub fare to help wash the beer down.
The value of this place depends somewhat on the time of day - evening and weekends it's a little pricey if you want a few pints. During the middle of the day, though, it's quite fair.
1,893 characters
3.18
/5
rDev
-12.4%
vibe: 2.5 | quality: 2.5 | service: 3.5 | selection: 4 | food: 3
The largest draught selection in Halifax, by virtue of lack of competition. They serve everything in deceptively chunky mugs whose volume I generously estimate at 12oz. For these they charge you somewhere in the neighbourhood of $6 - I can't remember precisely what it was last I went, but I assume it'll be another quarter higher next time I'm lured in. The food is good, and less ludicrously priced - they used to serve a good two-burger platter for $5, although they've raised that price too. Also, there are no more free peanuts. Why do I bother?
Well, because I can get St. Ambroise Oatmeal Stout there. It has a fair sampling of Propeller, Garrison, Pumphouse, and McAuslan products, in addition to an unusually wide selection of macro domestics and imports.
This place has been declining. At this point, I'd save it for a one-beer lunch or perhaps a sampler tray. And when you need your Oatmeal Stout fix, go to Premier and pick it up for a quarter the price.
968 characters
3.91
/5
rDev
+7.7%
vibe: 3.5 | quality: 3.5 | service: 4 | selection: 4.5
Visited here during a recent trip to the province and while not completely proficient in knowledge of Halifax's pub scene, I will at least say that Maxwell's Plum has the most taps I have seen in Nova Scotia (Regional BAs may know better). Located a few steps downhill from the Citadel, which we visited prior, Maxwell's Plum is a pseudo English pub having a large bar area, with several tables and high tops and a floor covered in peanut shells, the aforementioned legume being obtained non-gratis. Anyway, they have at least 60 taps and a very extensive bottle selections that cover Canada and Europe. For those not familiar with
drinking in Nova Scotia: beware the HST tax - about 20% extra. Not a bad place to quaff when in Halifax. A couple of rounds along with a few Stan Roger tunes and you're ready for a night on the town.
832 characters
3.68
/5
rDev
+1.4%
vibe: 4.5 | quality: 3.5 | service: 3 | selection: 4.5 | food: 3
The atmosphere is really quite nice, carpeting and dark wood all over and piles of taps around the main bar. Lots of cans and bottles on display in cases, and a well divided floorspace which gives this place a much more intimate feel than a bar of this size would usually have. The TVs are a bit unfortunate, all over the place and quite large, but you can ignore them if you put your mind to it. Generally speaking, everything is of reasonably good quality, but they served my first beer in a frosted mug, which rather lowered my opinion of them. If you're going to advertise your beer selection you ought at least to know how to serve it. They don't have much in the way of glassware either: everything comes in a mug. They've got a bit of a reputation for poor service, but I went at a fairly slow time and found the servers pretty pleasant, and everything came pretty quickly. Selection is quite good, though it's mostly InBev affiliates and local micros. I'd appreciate a wider selection of imports, especially some top-notch English ones, as they are calling themselves an English Pub, but with 4 beers on tap from Propeller, 5 each from Garrison and the Pump House, and 6 from McAuslan I can't really be too put out about it either. Food is pub grub, but it's well made and tasty, so no complaints from me. Prices were pretty good, especially for local beer.
Not the sort of place I'd recommend for someone looking to get the Halifax bar scene on a visit, but if you're trying to get a good variety of Maritime and Quebec micros it's the place to go. Make sure to ask for a non-frosted mug though.
1,608 characters
3.08
/5
rDev
-15.2%
vibe: 4 | quality: 3 | service: 1 | selection: 4.5 | food: 4
It's atmosphere is good for what it is. It's not a leisure pub, it's a sports bar basically. I like it because you can have loud conversations without disturbing anyone, and it's not too loud that you can acutally have a conversation. It's ideal for a medium sized group of people. Free peanuts, and you just throw the shells where you want. TV's with the game on, and VLT's if you're interested in that garbage.
Beer and food are usually of good quality, but often the cheap steaks are pretty bad.
The service is known for being bad. Sometimes it's ok, but often it's slow. I've been there a few times and waited up to 45 mins before being served, food isn't that slow, but expect to wait a while for a drink re-fill on a busy night. Also, the staff can be a bit sarcastic and are often uninformed about the beer.
Food selection is typical pub fare, but it has a great beer selection. Best selection in Halifax, with over 60 beers on tap I believe. You can get a large selection of the standard imports, with a few surprises in there too. Most Halifax micros and Pump House from New Brunswick.
Food is good, and they have many specials.
I recommend this place, it's a good place for a meal with friends or to start off the night.
EDITED 2/12/07 TO ADD:
Have been here a few times since the original review. The service is getting worse. Slow to take orders, slow to bring orders, often they screw them up, or just plain forget to place them. I often get brought the wrong beer, or receive the wrong bill.
Mandrake pointed to the glassware, yes it's terrible. Not only do they serve exclusively in heavy annoying mugs, they're often cracked! They also cannot pour beer properly, most times you can a 1/4 inch head.
I've adjusted my review accordingly.
1,781 characters
3.45
/5
rDev
-5%
vibe: 3.5 | quality: 3.5 | service: 3 | selection: 4 | food: 3
A very average pub in every way except for the selection of beers, which is huge. I can't remember how taps but it must be near 50 and although there is a lot of macro stuff there is also a good number of Europeans (mostly Brit), micros and local stuff. The three I tasted were in good shape but this will always be an issue with this many taps. The food is very average, typical pub grub at decent prices. Good location only a few blocks from the waterfront and from the Keith's Brewery if you take the tour.
509 characters
The Maxwell's Plum in Halifax, NS, Canada
Place rating:
3.63
out of
5
with
15
ratings