Dismiss Notice
Extreme Beer Fest:Los Angeles
Join us December 9th in Los Angeles for the ultimate throwdown of craft beer creativity!
Learn more...
Werewolf (Green Label)
| Rinkuškiai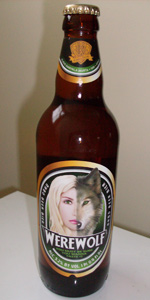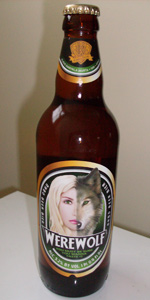 BEER INFO
Brewed by:
Rinkuškiai
Lithuania
rinkuskiai.lt
Style:
Euro Pale Lager
Alcohol by volume (ABV):
5.20%
Availability:
Year-round
Notes / Commercial Description:
No notes at this time.
Added by BuckeyeNation on 05-30-2008
HISTOGRAM
Ratings: 15 | Reviews: 14

1.85
/5
rDev
-35.5%
look: 2 | smell: 2 | taste: 1.5 | feel: 2.5 | overall: 2
Not a big fan of this brew. I felt that it was entirely too sweet. Not sure why but it just gave off this flavor that wasn't pleasing to me. The bottle looked cool which is why I bought it. The brew itself
Was a typical yellowish gold and not much of a hop flavor or aroma. I just wasn't able to enjoy this I actually dumped the last of it down the drain.
355 characters
2.33
/5
rDev
-18.8%
look: 3.5 | smell: 3 | taste: 2 | feel: 2 | overall: 2
Note: I had to add the (Green Label) to the name because my review wouldn't go through otherwise. Probably because the site wouldn't accept two identically named beers from the same brewery.
Simple amber that is clear and bright. What? No fine (or not so fine) floaters? Maybe I actually got a relatively fresh Euro pale lager for once. The eggshell colored cap looks pretty decent too. Texture is fine, as is persistence and lace. Not bad at all.
Considering the style and the country of origin, the aroma is surprisingly... uh... okay. The beer smells of untoasted grain and a modest amount of hops that don't smell grassy enough to be Saaz (but probably are). No nastiness and no alcohol.
The slow slide in scores continues. Werewolf tastes more bland than it smells. Part of it is the mouthfeel, but the quality of the ingredients appears to be lacking; unless advanced age is playing a role. Again, though, it doesn't look, smell or taste past its prime. It tastes like it never had a prime.
The flavor profile is reminiscent of the water used to soak grain, with an understated hop bitterness and a faint hint of alcohol. I'm finding less and less to like as the ounces pass, and have no choice but to drop the taste score one more slot. Since I usually reserve 2.0s for beer that is borderline nasty, that seems fair in this case.
The mouthfeel is both watery and slightly oily, an off-putting combination if there ever was one. A serious shortage of bubbles doesn't help. A decent mouthfeel might have dragged the drinkability score up with it.
R.A.D. must have liked the name and the label (they are pretty cool) because they used them on two of their offerings. The only difference is that red is used for the higher-ABV dark lager and green is used for this pale lager. Bottom line: you shouldn't judge a book by its cover and you shouldn't judge a beer by its label. Below the bottom line: avoid the Werewolf.
1,928 characters

2.68
/5
rDev
-6.6%
look: 2.5 | smell: 2 | taste: 3 | feel: 2.5 | overall: 3
Pours a three finger white head that fades quickly leaving no lace. Crystal clear amber color. Malty/grassy nose. Light carbonation and light-medium bodied. Flavor is more malt than hops, sweet, clean but boring lager. $4.00 for a 500ml bottle from Tully's Beer & Wine Wells, Me.
279 characters
2.52
/5
rDev
-12.2%
look: 2.5 | smell: 3 | taste: 2.5 | feel: 2.5 | overall: 2
Got this bottle a couple of weeks ago at Surdyk's in Minneapolis. Poured a decent white head which quickly all but disappeared and no lace. Color is a clear light to medium amber. Aroma wasn't bad: malty and hoppy in a standard world beer sort of way. Flavor was much sweet and hops weren't much present. Was a little taste of honey. Body was ok and carbonation was a little spritzy. Finish was mostly sweet with a touch of bitterness. Not a lot here. Forgettable.
464 characters
2
/5
rDev
-30.3%
look: 2 | smell: 2 | taste: 2 | feel: 2 | overall: 2
pours clear golden yellow with no head
smells of grainy cereal malts
taste is like the nose sweet cereal grains no hops
mouthfeel is way to heavy for the style and there was very little carbonation
drinkability not good - a very boring brew and i will not be buying this again
280 characters
3.18
/5
rDev
+10.8%
look: 3.5 | smell: 3 | taste: 3 | feel: 3.5 | overall: 3.5
16.9 oz brown bottle bought at Sal's Liquors in Elmhurst. Poured into my SA perfect pint glass, the beer is light gold with a slight chill haze. The white head collapsed quickly.
The beer has a grainy aroma. Maybe a hint of pear if I stretch.
The taste is also grainy with light floral notes. There is a hint of pepper and a bit of cracker. It is mild but has no off or odd tastes. Not sure how old it is, maybe better closer to the source and when fresher.
The mouth is a bit above average with some slight slickness. The carbonation is strong.
Lithuania is on my bucket list along with its Baltic neighbors of Latvia and Estonia. I hope to re-sample when I'm there.
672 characters

3.72
/5
rDev
+29.6%
look: 3 | smell: 3.5 | taste: 4 | feel: 4 | overall: 3.5
I was trepidatious after the unpleasant red-label Werewolf but figured that I'd give this a go anyway and was pleasantly surprised to find it to be a very good, solid "Euro Pale Lager." It's by far the best of the three beers from this brewer that I had, in my opinion.
Deep gold, it has a medium-big off-white head steadily shrinking to a ring and leaving no real lace.
Aroma is grain, somewhat corn-leaning, lightly toasty-raisiny grain, some herbal hop and honey, faint toasty bread crust, some mineral. It is good and pleasant if a bit thin and rough.
Taste is nice, lightly caramelly-raisiny toasty grain sweetness with light herbal and grassy hop zestiness and bitterness underneath. It has a nice feel and is a very good pale-lager character, highly drinkable.
770 characters
2.66
/5
rDev
-7.3%
look: 4 | smell: 3 | taste: 2.5 | feel: 2 | overall: 2.5
Out of the bottle this crazy Lithuanian brew (bought in Topsham, Maine?!) was a slightly pale golden color with a huge, three finger head of yellow-tinted foam. The retention of the cap was pretty good and it left little lily-pads of foam after that broke down. Moderate lacing. The aroma was dry, very grainy, slightly musty and spicy. I liked the flavors better than their brown label of the same name; the first note was lemony and citric followed by some washed-out malt and graininess that then goes a little sour/off at the end. Those damn Euro-Lagers, they always look so much better than they taste. The body was medium/light and a little watery and oily. Not a good combo. Was it bad? No. Would I buy it again? No.
723 characters


3.6
/5
rDev
+25.4%
look: 3.5 | smell: 3.5 | taste: 3.5 | feel: 3.5 | overall: 4
Not bad. Nice to know that people in Lithuania have a better standard lager than US macro's.
A= golden, nice white head, plenty of lacing initially.
S= plenty of sweet malts, light hops florals.
T= sparkling, with sweet barley malts, a nice but not overpowering hops bitterness, decent carbonation but not overdone or belchy.
M= malt sweetness, decent bitterness, clean.
D= very drinkable if it's what is served in session. Not one that I'd seek out but definitely a decent Euro Pale Lager and thankfully no corn or rice.
526 characters

2.32
/5
rDev
-19.2%
look: 2 | smell: 2.5 | taste: 2.5 | feel: 2 | overall: 2
The aroma is sweet and malty with a floral hop and a hint of lighter fluid (strange for a 5.2%). The appearance is pale gold with a thin head. The flavor is like the aroma but thankfully very weak. The palate is watery. I am quite sure I don't want to taste it again.
267 characters
3.18
/5
rDev
+10.8%
look: 3.5 | smell: 3 | taste: 3 | feel: 3.5 | overall: 3.5
Bottle split into pint glasses
Pours a golden straw color with a cloudy 2 finger head on top. Some retention lines the glass. Smells really sweet with sugar and some malts. Also the skunk euro smell lingers the nose. Taste is mediocre at best. Plenty of malts, not much hops and a soapy finish. Plenty of sweetness also on the palate. Mouthfeel is thin bodied. Overall this is alright. Not my style of brew but has some good characteristics to it.
448 characters
3.33
/5
rDev
+16%
look: 3.5 | smell: 3 | taste: 3 | feel: 4 | overall: 4
Snagged a bottle at the Bramwell Oktoberfest and waited until Halloween to crack it open ('cause the werewolf, get it?). Anyway, pours clear gold with fluffy, foamy head. Smell is corn-like eurolager, not that special but not offensive.
Taste is that of a slightly metalic eurolager. St. Pauli Girl or Becks or what have you. Nothing special, either.
Pretty good, crisp mouthfeel and solidly drinkable. Fours for both.
There's absolutely nothing to write home about vis-a-vis this beer. If you like St. Pauli, etc. and want to branch out to eastern Europe, give it a shot. If you're not a fan already, not really worth your time.
632 characters

3.28
/5
rDev
+14.3%
look: 3.5 | smell: 3 | taste: 3 | feel: 3.5 | overall: 4
Poured from a 16.9oz brown bottle.
Pours a golden yellow color with a nice big head, decent retention. Some nice lacing too.
Aroma is a bit sweet. Grainy with malts and barley coming through with some hop aroma as well. Some very very faint citrus like aromas.
Taste is malty and grainy with some mild sweetness. Some slight hop bitterness is there but is fairly mild. Mouthfeel is decent, drinkability is pretty good. This is pretty typical of a Euro lager, nothing special.
I really like the bottle label too.
517 characters
2.93
/5
rDev
+2.1%
look: 3.5 | smell: 3 | taste: 3 | feel: 3 | overall: 2.5
A: Poured clear with a nice thick white head that disappeared quickly.
Smell: Sweet, but nothing that stands out.
Taste: Sweet with a little bit of hops
Moutherfeel: Clean with an ok amount of carbonation.
Drinkability: It's ok, but nothing crazy.
This beer is just average. This is something I would share with friends if I had on hand, but I don't know if I would recommend it.
I am kind of shocked to have found this beer in Mississippi.
448 characters
Werewolf (Green Label) from Rinkuškiai
Beer rating:
2.87
out of
5
with
15
ratings