Lobster Lovers Beer (Blue Label)
| Rinkuškiai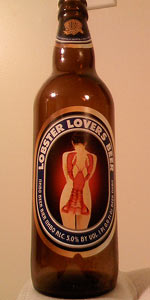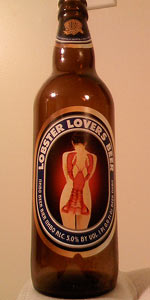 BEER INFO
Brewed by:
Rinkuškiai
Lithuania
rinkuskiai.lt
Style:
Euro Pale Lager
Alcohol by volume (ABV):
5.20%
Availability:
Year-round
Notes / Commercial Description:
No notes at this time.
Added by lordofthewiens on 09-03-2008
HISTOGRAM
Ratings: 12 | Reviews: 8
None found.
More User Reviews:

3
/5
rDev
+7.5%
look: 3 | smell: 3 | taste: 3 | feel: 3 | overall: 3
I was at Tully's last week and spied this beer as well as Werewolf. Dawn's daughter said I should give this a try. This is the 5% ABV version; there's also a 9.5% ABV. I was told that most people who tried the higher alcohol version didn't like it (include me in this group), but more people who tried this one said it tasted better. From my experience, I doubt that.
The first thing I noted was that, while there were dates on the label, they were all blank. It seems to me if they brewery is going to the trouble of dating the beer, they ought to actually do so.
Anyway, the beer was a clear yellow color, with a thin white oil slick-looking head. It had a sweet grainy aroma. The taste was a faint sweetness, spicy finish. Very macro-like. Not a particulary enjoyable beer.
782 characters
2.3
/5
rDev
-17.6%
look: 3 | smell: 3 | taste: 2 | feel: 2 | overall: 2
pours bright clear golden yellow with 1/2 finger head that fades to nothing
smells of corn and some grains some booze
tastes of sweet watery corn a little grain decent bitterness but the aftertaste is awful
mouthfeel is light watery with very little carbonation
drinkability is not good since i did not even finish half the bottle
336 characters
2.03
/5
rDev
-27.2%
look: 2.5 | smell: 2 | taste: 2 | feel: 2 | overall: 2
A: Pours a clear, bright pale amber color. The white head is modestly tall, with a frothy, somewhat dense texture. Retention is middling, although there is decent lacing left along the glass.
S: Some nondescript, sweet graininess is accompanied by an odd, almost fruit punchy fruity twang. Hints of alcohol, caramel, and cooked vegetables.
T: A sugary/caramel sweetness along with some mild grainy maltiness. The same odd fruity character is present, along with something that seems vaguely smoky. The mildest flash of hops makes an appearance, but contributes little. Hints of cooked vegetables and alcohol fade into the finish.
M: Medium bodied, with lightish carbonation. Gets a touch sticky actually, due to the lack of carbonation. A weird, coating aftertaste that is a little unpleasant.
D: Unlike my favorite product from Lithuania (Zydrunas Ilgauskas), this beer does not do much to endear itself to me. A rough, overly sweet, alcoholic beer for 5% abv. Aside from the wonderful art on the label, this is a beer that you can pass on without losing sleep.
1,069 characters

2.81
/5
rDev
+0.7%
look: 3 | smell: 2 | taste: 3 | feel: 2.5 | overall: 3.5
Pours a three finger white head that fades quickly leaving traces of lace. Crystal clear, pale amber color. Not much of any nose. Light carbonation and light bodied. Flavor is light malt, sweet caramel finish. Suitable as a lawnmower beer - no need to reorder this one. $4.00 for a 500ml bottle from Tully's Beer & Wine Wells, Me.
330 characters
3.51
/5
rDev
+25.8%
look: 3 | smell: 4.5 | taste: 3.5 | feel: 3.5 | overall: 2.5
A: bright yellow color crystal clear with lots of carbonation bubbling but strangely little head during a hard pour and no lacing.
S: the yeast gives off a sweet banana smell that mixed nicely with citrus and light malt aromas.
T: it has a good taste but it doesn't linger for very long. The banana comes back out in the taste but milder than the smell. There is also some weird chemical taste that I cannot place except to say it tastes like it could clean a toilet.
M/D: the brew felt really watery with a light bitter feel. The drinkability is ok at first I thought that is was pretty good until through trial I found out that you have to let each sip breath before drinking or else the taste is slightly off.
712 characters
4.99
/5
rDev
+78.9%
look: 4.75 | smell: 5 | taste: 5 | feel: 5 | overall: 5

2.7
/5
rDev
-3.2%
look: 2 | smell: 2 | taste: 3 | feel: 3 | overall: 3
Picked this one up at Green's Beverage Warehouse in Columbia SC.
Appearance - Poured thin and yellow/gold with about 1 inch of head. After settling, this beer exactly resembles drawn butter... Lobster anyone??
Smell - very little scent. slight grains.
Taste - dry and sweet with the smallest hint of smoke flavoring.
Mouthfeel - thin, but expected. sweetness lingers on back of tongue for a bit.
Drinkability - was good for a cool down after a hot day but that's about it. maybe there is some sort of magic that is unlocked when paired with lobster?...yeah maybe next time...
581 characters
2.5
/5
rDev
-10.4%
look: 2.5 | smell: 2.5 | taste: 2.5 | feel: 2.5 | overall: 2.5
Lobster Lover's Beer? Ya, well, maybe. However, I love lobster an this isn't the first beer I'd think of to accompany by a long shot. Poured wth a small, white head that mostly faded fast and no lace. Color is a very clear medium yellow. Aroma is malt, hop, leather, bark, earth, and funk. Flavor's similar. Body's a bit chalky and ok carbonation. Finish is short and unremarkable. Session beer if your choices are very limited.
428 characters

3.18
/5
rDev
+14%
look: 3.5 | smell: 3 | taste: 3 | feel: 3.5 | overall: 3.5
Yet another oddity from Lithuania found in Maine. Out of a bottle this beer was a golden yellow color with a snow white head. The retention was decent, the lacing pretty good. The aroma was juts like the other beers this company produces, macro grain mash with a slight malty sweetness and hints of peat smoke. The flavors were exactly the same, dry grains, some corn mash, light sweetness and smoke in the background. The body was medium/light, the mouthfeel semi-smooth and the carbonation light. Sort of like Coors. Only Lithuanian. And with a cool tattooed woman with a lobster on her back on the bottle. But she was the best part in my opinion.
649 characters

Lobster Lovers Beer (Blue Label) from Rinkuškiai
Beer rating:
2.79
out of
5
with
12
ratings