Flag Spéciale Bière De Luxe
| Société Des Brasseries De L'Ouest Africain (S.O.B.O.A.)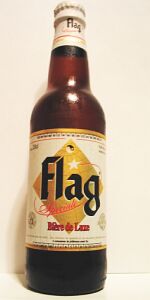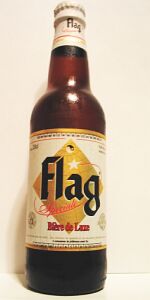 BEER INFO
Brewed by:
Société Des Brasseries De L'Ouest Africain (S.O.B.O.A.)
Senegal
Style:
Euro Pale Lager
Alcohol by volume (ABV):
5.20%
Availability:
Year-round
Notes / Commercial Description:
No notes at this time.
Added by Imbiber on 10-06-2005
HISTOGRAM
Ratings: 13 | Reviews: 9
Reviews by BoitSansSoif:

2.23
/5
rDev
-14.6%
look: 3 | smell: 2.5 | taste: 2 | feel: 2.5 | overall: 2
A-Clear yellow-light gold with little head that doesn't stick around long.
S-Faint malt, corn?
T-Sourness throughout, light malt, adjuncts, faint hops in finish.
M-Sourness gives slightly puckery mouthfeel, carbonation is moderate, bit more body than usual for this style. Balanced between malt and hops.
O-Strange beer...it's drinkable, but I'm not crazy about it.
369 characters
More User Reviews:
3.52
/5
rDev
+34.9%
look: 3 | smell: 3.5 | taste: 3.5 | feel: 4 | overall: 3.5
Brought home by a friend (thanks Jennifer!) from a trip to Africa. 33cl brown bottle with a best before date of Nov. 05.
Golden in colour, slightly hazy, little head but average carbonation (not too much thankfully). Aroma is a whiff of maize and a hint of mustiness. Flavour is unexpectedly smooth with a mild hoppiness and a slight butteriness, with an increased bitterness towards the finish - which is surprisingly prominent but slightly rough. Carbonation levels are about right without getting in the way of taste.
Not what I was expecting at all - I'm pleasantly surprised by this unusual African offering.
619 characters
2.66
/5
rDev
+1.9%
look: 3 | smell: 2 | taste: 2.5 | feel: 3 | overall: 3.5
Euro pale lager, this beer has an interesting pale yellow hue, with a nice amount of carbonation and head. I would say that this beer is closest to a miller light or a bud light. This is a slightly maltier beer and is a good social beer, because you wont be thinking about it to much and you can concentrate on the conversation. Nothing special, but it serves it's purpose and can be found in large bottles. This is one of the few beers you can actually find at any bar. Flag has and ABV of 5.2% and is a good bet at any local bar.
531 characters
1.88
/5
rDev
-28%
look: 2 | smell: 1.5 | taste: 2 | feel: 2 | overall: 2
My preferred beer while living in West Africa. Preferred only in the sense that there were two beers available, and Castel is horrible.
Flag is not much better. It pours extremely carbonated in a really standard African-yellowy lager color. Tastes best extremely cold and paired with some spicy hot food (like deep fried plantains).
People joke that it tastes distinctly like formaldehyde, but I'm not sure how those people know what formaldehyde tastes like. I guess you get some sort of chemical-ish taste, but the overwhelming sensation is just over-carbonation, a little heavy, boring lager.
I guess there is a bit of romanticism in importing a beer from West Africa to taste discriminately, but side-by-side with any other lager, this is going to lose. Drink for the novelty only.
789 characters

2.24
/5
rDev
-14.2%
look: 2 | smell: 3 | taste: 1.5 | feel: 2 | overall: 3
I poured a normal 12oz bottle into a euro beer glass (25 cl) and it came out...yellow. Just pale yellow like a budweiser or something on that level. It had a nice white head that disapated completely in about 30 seconds. No lacing, lumping, anything at all for that matter. No head retention of any kind.
It smells okay actually, not really that bad. It smells malty, and a bit yeasty, no outstanding smells.
I have mixed opinions about the taste. On one hand it had some nice malty sweetness, and a few pleasant earthy flavors, mostly grains, some sourness too. On the other hand, it had hints of cardboard. Well, not even hints of it. It tasted like I was chewing on a cardboard box.
The mouthfeel was halfway decent, but nothing out of the ordinary. A little thicker than one would think, but still kind of watery.
You can put back a few of these fairly easily on a hot day, but a nice SNPA would be infinantly better.
937 characters

2.69
/5
rDev
+3.1%
look: 3.5 | smell: 2.5 | taste: 2.75 | feel: 2.75 | overall: 2.5
The hardest part about rating this beer is deciding if it's better or worse than I thought it was. I say that because it's sort of an unusual beer, especially compared to Castel lager which is the other of the 2 totally ubiquitous West African beers. See, compared to Castel, it has a lot more flavor, but it's hard to decide if that flavor is better. A bit more corn, significantly more hops, and some odd stale bready thing is what's going on in the taste and smell, but whether those flavors are better or worse than no flavor at all (a la Castel) is, to this day (years after writing my tasting notes) still up in the air. The best way to drink this beer, if you're drinking several that day, is to switch back and forth between this and Castel so that both taste better than the other by comparison. So by virtue of being, if nothing else, more interesting than the alternative, I'll rate it slightly higher. However, if there's anything else to drink, anything at all, I'd skip the Flag. Unless you're on a Peace Corps salary, in which case, for $1 a beer, this is usually the best deal.
1,100 characters
2.45
/5
rDev
-6.1%
look: 2 | smell: 2 | taste: 2.5 | feel: 2.5 | overall: 3
A: Pours a light golden color with a small head that fades fast with no real lacing.
S: Mild aroma of malt and grain with a hint of sweetness.
T: Flavor of some malt and grain with a mild bitterness and a dry finish.
F: Light body and smooth.
O: Seems to be the local beer of choice in Dakar. Not as bad as expected. Goes best with a hot afternoon.
352 characters
2.25
/5
rDev
-13.8%
look: 2 | smell: 2 | taste: 2.5 | feel: 2.5 | overall: 2
Light yellow, maybe straw color. Looks a bit thin. Pours very effervescent, white bubbles, then nothing for a head afterward. Not much odor at all. Perhaps some very light sweet malt aroma.
The effervescence stays after the head dies down and produces a dry sensation on the palate. The flavor is very unusual...over a very light malt base there's something that can only be described as buttered popcorn. No joke, there must be just the right balance of butyric acid and corn malt. Otherwise, no hops to be found other than a general bitterness in the finish. Not all that drinkable due to the effervescence and the general weird flavor combination.
Though interesting, I don't think I will be getting this one again. Worth a try for that movie house flavor, but just one try.
779 characters
2.33
/5
rDev
-10.7%
look: 2 | smell: 2 | taste: 2.75 | feel: 1.75 | overall: 2.25
3.44
/5
rDev
+31.8%
look: 2.75 | smell: 3 | taste: 4 | feel: 2 | overall: 3.75
My favorite West African beer. While that may not be the highest bar, it's a consistently refreshing drink which served me well in half-abandoned Burkina Faso abodes. It carries a crispness, maybe too much of one. But it doesn't taste like a headache, and sometimes that's way more than half the battle.
303 characters
Flag Spéciale Bière De Luxe from Société Des Brasseries De L'Ouest Africain (S.O.B.O.A.)
Beer rating:
2.61
out of
5
with
13
ratings