Brau Union Soproni 1895
| Brau Union Hungária Sörgyárak / Soprony Brewery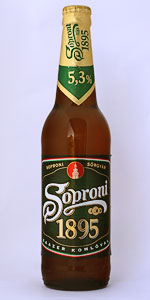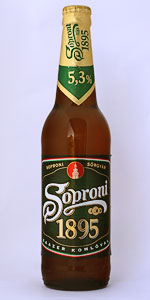 BEER INFO
Brewed by:
Brau Union Hungária Sörgyárak / Soprony Brewery
Hungary
heinekenhungaria.hu
Style:
European Pale Lager
Alcohol by volume (ABV):
5.30%
Availability:
Year-round
Notes / Commercial Description:
No notes at this time.
Added by bark on 07-12-2006
HISTOGRAM
Ratings: 11 | Reviews: 6
Reviews by RodneyFarva:
3.47
/5
rDev
+5.8%
look: 3 | smell: 3.5 | taste: 3.5 | feel: 3.5 | overall: 3.5
500ml bottle poured into a pilsener glass
a: clear golden yellow, two finger white head, lots of carbonation bubbles
s: a light floral grassiness, hay, some light maltiness, little hops
t: very light maltiness, smooth and crisp, high carbonation, grassiness
o: a good bit better than what I was expecting; on a hot day in Budapest this was refreshing and a step above the other mass-produced lagers
402 characters
More User Reviews:

3.36
/5
rDev
+2.4%
look: 3 | smell: 3.25 | taste: 3.5 | feel: 3.5 | overall: 3.25
Used to be my favorite from the Hungarian scene a long long time ago and perhaps still is. Although such impressions are always relative and come about in comparison to something else - and at that time certainly there were almost only not-that-high quality beers in Hungary or else had to rely on the cheap and crappy imported German/Austrian Lagers. In such a scenario, Soproni 1895 felt simply outstanding.
Although nothing more than a Euro lager too itself, it comes with a bit rounder, maltier body than its counterparts, somewhat more (Saaz) hopped and with a bit higher ABV. Just enough to make a difference among corny and thin lagers.
Hungary has never been known for its beers, rather its wine production so one might easily say "beggars can't be choosers" but back in those times it was good to have a choice and be satisfied with it. Even now if I happen to come across a bottle of this, I can still drink it and enjoy it enough to say it out loud that it isn't bad at all.
985 characters


3.02
/5
rDev
-7.9%
look: 3.75 | smell: 3 | taste: 3 | feel: 2.75 | overall: 3
Can shared by Dan tonight, thanks for the opportunity.
Brilliantly clear deep golden color huge white head. Light sulfur a bit of bready pilsner malt. Decent beer, better than I expected.
188 characters
3.4
/5
rDev
+3.7%
look: 4 | smell: 4 | taste: 3 | feel: 3 | overall: 3.5
Deep and very clear golden color, nice and stable head which remains for a while in half-centimeter thickness, lots of carbonation bubbles visible; decent lacing.
Smell is grainy malty with bread with significant herbal hops felt. Taste is somewhat similar, the bitterness fast disappears leaving strange and mix in the aftertaste - feels like metallic soap with yeast.
Good medium carbonation, it looked and smelled better than it tasted.
441 characters

2.77
/5
rDev
-15.5%
look: 3 | smell: 2.75 | taste: 2.75 | feel: 2.75 | overall: 2.75
Got it from Hungary, can 0,5 l
A - Darker pale, almost amber color, white foam, few minutes lasting.
S - Pale lager aroma, malt and some fruits.
T/M - Highly carbonated. More malts in it then usual for EPL. Bitter finish.
O - Really nothing special.
251 characters
3.5
/5
rDev
+6.7%
look: 4 | smell: 4 | taste: 3 | feel: 4 | overall: 3.5
This is the premium version of the Soproni brand.
The colour is pale golden yellow; the finger thick uneven head is white and airy. Lots of lacing.
The robust smell very malty and somewhat bitter with lots of dough, bread and some alcohol.
The taste is overall bitter with quite strong bread-y malt. There is a dough-like flavour that some might call "skunky", but I think it gives the beer a good body and a "base note". The aftertaste is sadly dominated by lots of alcohol. The bitterness is almost gone, apart from some metallic notes. There are also some fruity/meaty notes in the finish.
The carbonation is average. Small bubbles.
Hungarian lagers should be, IMHO, light and gulapble. This one tries to be much more, but in the end it becomes just unbalanced.
788 characters

3.26
/5
rDev
-0.6%
look: 3.75 | smell: 3.25 | taste: 3.25 | feel: 3 | overall: 3.25
Brau Union Soproni 1895 from Brau Union Hungária Sörgyárak / Soprony Brewery
Beer rating:
3.28
out of
5
with
11
ratings