People's Republik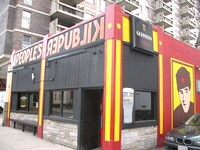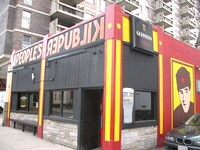 PLACE INFO
Type:
Bar
880 Massachusetts Ave.
Cambridge
,
Massachusetts
, 02138
United States
(617) 492-8632 |
map
peoplesrepublik.com
Notes:
No notes at this time.
Added by BeerAdvocate
PLACE STATS
Reviews:

9

Ratings:

pDev:

14.76%
HISTOGRAM
View: Place Reviews
Ratings: 14 | Reviews: 9
Reviews by bewareOFpenguin:
3
/5
rDev
-9.6%
vibe: 3 | quality: 3 | service: 3 | selection: 3
update: Thanksgiving
after my "bad" first trip, I decided to try it again. This time the barkeep gave me back my change. I was also in a pretty sour mood, so I was in no mood to take any crap. I sat at the bar, mistakely taking someone's stool. When he returned, it was civil, he even grabbed me another. I looked around. All these "angry" people were just your usual Cambridge transplant types, ready to protest at the drop of a hat. Take it from me, there is no "threatening" element in here. Don't be put off by the reviews, you can come in, enjoy a pint, and soak in the psuedo communist atmoshere, which on my second trip I found under done.
When I ordered my pint of Murphy's and the barkeep kept the $1 change from my $5, I knew things were amiss. She didn't even come back to me, too busy chatting up with her "friends", probably plotting some communist plot. This very dark place could easily pass for a bomb shelter in Soviet Russia. The decour is something out of an Ed Wood movie. Amusing, but not so the atmospere. The beer selection is your usual suspects. The Murphy's was nice. Lot's of angry looking people in here, not typical of Cambridge. I guess the revolution passed them by.
1,202 characters
More User Reviews:

3.18
/5
rDev
-4.2%
vibe: 3.25 | quality: 3.25 | service: 3 | selection: 3.25
2.85
/5
rDev
-14.2%
vibe: 3 | quality: 2.75 | service: 3 | selection: 2.75



3.79
/5
rDev
+14.2%
vibe: 4.5 | quality: 4 | service: 3.5 | selection: 3.5
Wanted to try this place forever, so when I went to visit friends in Boston they took me here. The bar is decked out with communist imagery that for political science geeks like ourselves was extremely comical. One bartender on duty played mostly music from his iPod, mostly punk music. Large bar with several tables around the circumference. Two dart boards were prominent on each opposite end of the bar. There were, I believe, 12 beers on tap, 6 on each side of the bar. I just had the Mayflower Porter that was on tap. Did notice a food menu but I did not try the food. The place is a comical hang out spot, for me at least, and I enjoyed the general atmosphere, decent selection of beers and a reasonable price beer for Cambridge.
735 characters

3.34
/5
rDev
+0.6%
vibe: 3.5 | quality: 3 | service: 3.5 | selection: 3.5
My wife and I had a few beers here on Saturday night with some friends. It's a unique bar to say the least. If you are into Communist era history and paraphernalia, then it's an interesting joint. Decent crowd, not packed and not overly noisy, but enough energy for a weekend. Service was good enough. Didn't have to wait too long at the bar to be noticed and served. Beer selection was a bit better than I was expecting. They had on tap: Lagunitas IPA, Mayflower Summer, Long Trail, three Harpoon, two Magic Hats plus the other usual suspects. I had pints of the Lagunitas and Mayflower, which all tasted fresh. While this bar is about a 5-7 minute walk from Central Sq, PR is not a bad place to hang out for a beer. Would be a good place to pop in for a pint, or a great place to add to a Cambridge pub crawl.
811 characters
2.79
/5
rDev
-16%
vibe: 3.5 | quality: 3 | service: 3 | selection: 2
I have found myself at the People's Republik a few time's when visiting friends in Cambridge. The vibe is pretty chill. The bros mentioned that it can be a pugnacious crew here around closing, but I have always found the crowd to be the type that sticks to themselves. The last time I went they were playing a Pearl Jam cd which was pretty cool. Darts is really the only thing to do here besides drink.
The beer selection seemed pretty weak to me. It consists of mostly craft beer, but none of it is very adventerous. There are Sams, Harpoons, a couple Magic Hats, Murphy's, and maybe a few others. The beer tastes fine freshness-wise.
There is just no draw for this bar. It isn't especially cheap, the beer selection isn't the best, and, while the vibe can be cool, there are dozens of places in Boston where I can find a smiliarly laid-back atmosphere.
860 characters

2.49
/5
rDev
-25%
vibe: 3.5 | quality: 2.5 | service: 2.5 | selection: 2
Big local scene going on in this proletariat bar, one of the last few non-gussied up guzzling joints in the Cambridge area, it seems. Never light inside, the red running lights along the centrally located bar make for an eerie glow on the ink-covered skin of the all-too-cool bartender. Fair amount of taps, with at least three Magic Hats on the last time I was there. Seemed like a great number of folks were hauling back on Red Stripe stubbies though, rather than the craft pap. Darts behind a defensive plexiglass wall, and a huge bomb dangling from the rafters. Good place to go and swill where, unless you are a regular, nobody will know your name, and more importantly, nobody will care.
693 characters
3.06
/5
rDev
-7.8%
vibe: 3.5 | quality: 3 | service: 3 | selection: 3
For the record, this is not an Irish bar (many think it is, but are wrong). This is a place to drink. Yeah, yeah ... what bar isn't? But seriously, this is a place to drink. If you come here for any other reason (like to hangout, dood!), turn around and go home. It's also one of the few places in the area open until 2am (look for the 1am-ish rush). The vibe? Dark, with good music and what is basically the ideal drinking atmosphere. I like it.
It's full of Central Square locals, although later in the evening you'll find amateur drinkers/the student crowd coming in for some booze and darts. All sorts can be found here. Just mind your P's and Q's when walking out or by when it closes. If it's a fight you want, this is the place to pick it. Loads of assholes can be found slipping in for a late, last minute, last call to put them over the edge.
Beer? You'll find the usual on-tap, with the occasional surprise. The Magic Hat Fat Angel is delicious here, as is the Guinness and even more so the Murphy's. Hmm ... about 20 beers or so total. A dozen or so taps; they just installed new beer towers, and the beer tastes very fresh! Service is good, so long as you can just chill and wait your turn.
Ever since the infamous Bow & Arrow closed, this has become one of my favourite local joints in the area to grab several pint with some friends, or some mid-afternoon darts with even more pints with some friends.
Oh, and they have a big-ass bomb above the seating next to the front bar. Oh freagin' cool is that?
1,527 characters

3.16
/5
rDev
-4.8%
vibe: 3 | quality: 3.5 | service: 3 | selection: 3
I used to visit this place regularly in its previous incarnation as Drumlin's back in the 80's. Back then it's claim to fame was that it stayed open until 2 am, and so there would be a parade of people heading here after other bars closed at 1 am. I don't think much has changed.
I stopped in recently just to confirm my impressions from earlier visits, and frankly, my impressions were confirmed. It is not a bad place, but there are many, many better places around. They have about 10 taps, including 2 ciders. Guinness, Murphy's, Sam Adam's Seasonal, etc. The only "out of the ordinary" beer on tap was Magic Hat Fat Angel. The bar is square-shaped with a formica top. There are 2 TVs suspended from the ceiling. There are several dart boards.
This is an OK place to stop if you are walking down Mass. Ave. on a bar crawl, but as a destination in itself, there are at least 4 other better Irish pubs within walking distance.
933 characters
3.5
/5
rDev
+5.4%
vibe: 3.5 | quality: 3.5 | service: 3.75 | selection: 3.25
This is one of those few place in the Boston area that are marked for a fight. Meaning I can see myself going there one night after a few beer somewhere else and getting into an altercation. This place is a melting pot of a complex row of crass characters. The staff has to keep an attitude and I don't blame them. As for the darts, music and aura … it is totally out there. The beer selection is decent though ends up to be the usual suspects. Supposedly there is a socialist theme to this place … its pretty much a shitty dive, but a decent one at that.
561 characters
3.79
/5
rDev
+14.2%
vibe: 4.5 | quality: 4 | service: 2.5 | selection: 4.5
A very interesting stop int the Cambridge bar circuit. A well-done Socialist theme (I hate to say them, but it is): signage, bombs, a giant, metal boot over the bar and so forth. A large, oval-esque bar with a few sectioned-off dart boards (and two others not so seperated). A farily big tap selectiona and a solid bottled selection. Czheckvar anyone? The service is decent for so few bartenders and such a big bar. However, this place gets mobbed after 1am, when other bars close and it remains open another hour, beer is severely hard to come by.
This bar is one of the reasons Central Square is one of my favorite places in the world. Well worth the effort. Go, drink drink. Cheers!
699 characters
People's Republik in Cambridge, MA
Place rating:
3.32
out of
5
with
14
ratings