Klášterní pivovar Strahov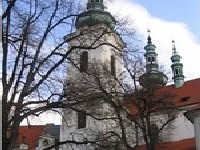 PLACE INFO
Type:
Brewery, Bar, Eatery
Strahovské nádvoří 301/10
Praha
, 118 00
Czech Republic
+420 233 353 155 |
map
klasterni-pivovar.cz
Notes:
No notes at this time.
Added by RocketWidget on 09-18-2005
Reviews: 15 | Ratings: 30
3.31
/5
rDev
-16.4%
vibe: 3.75 | quality: 4 | service: 2.75 | selection: 3 | food: 3
OK, some quick notes:
- The beer is not brewed by monks, just so you know. It's associated, but it's just a small, modern brewpub.
- You can take the tram up the hill and get off just after the castle to get there. The 22, and I think perhaps the 26 as well. The ride itself is worth it as it winds up the hill and can be entertaining. Buy your tickets at any Tabak shop. You can just get on without a ticket but if you get caught it's a large fine, not that I ever saw anyone checking.
- For your trip back you should walk down the street and steps past the castle overlooking the city. That's also worth the effort. The view is great on a clear day, and there are a lot of interesting shops on along the way. It's at least a small change from the tourist trap that old towne Prague is.
- The picture shown is not the brewery. When you enter the gate there's a path that leads to a restaurant on the right, the cloister in front of you, and the brewery is on the left just about 40 yards in.
- In the summer there's a small biergarten, and the restaurant should be open. But if you want to eat during the winter you'll need to make reservations as the brewery/bar only seats 40.
- Most of the staff do not speak English; or at least not that well.
- Service in Europe is generally abrupt. Do not expect smiles and hellos, simply have your order ready and make it clear and quick.
- Please do no tip unless the service was exceptional, especially at the bar! They may enjoy the money, but they certainly don't expect it. You may be laughed at behind your back, and if not you're still perpetuating the "stupid American with too much money" stereotype. That said...
It's a charming place with a biergarten (100 seats), a brewery/bar area (40 seats - smoking allowed), and a restaurant with 2 floors (220 seats).
The brewhouse is very small, somewhere around 7 U.S. bbls. Still, they're able to keep the beer flowing. IPA, dark lager, and amber lager are year-round, and you'll probably find two seasonals available. They're priced reasonably with a small .25L mug at about 35 Koruna ($1.75), and a larger .4L at 59 - 64 K (~$2.95-$3.15) depending on the beer. Being in Prague, I thought it was some of the best beer I had. On a more American scale I would rate it as if it had come from a "very good" brewpub.
The food is fairly basic Czech, and somewhat limited, although I can say that it's much better that what I'd had at some other places in Prague (and you will pay slightly more). Starters are in the 59 to 139 Kč range ($2.90-6.90) and include venison pate, sausages, and cheese and meat plates. Soup, of course is Beef Broth w/ Liverballs, Onion, or Goulash at 49 to 75 Kč ($2.40-3.80) and are your best choice financially - do not spring for the Goulash in a loaf of bread, it's not worth the extra $1.75. Main courses with meat or fish are roughly around 200 Kč ($10.00), so overall it's not that expensive.
It may look far on a map, but it's really not, and I think the trip to-and-from is worth making regardless of a visit to the brewery. Try to find time.
3,078 characters
3.46
/5
rDev
-12.6%
vibe: 3 | quality: 4 | service: 2.5 | selection: 4
Located next to the hill overlooking Prague, quite good location. We visited the pub on Saturday midday, it was rather full.
We certainly did not enjoy the service, it was rather Vienna style, coffee splashed when it was served and the waitress really did not care too much about us. So we did not leave any tip and the matter was settled.
Not so friendly service was outweighed by good beer, it seemed to me as some of the best beer I tried during my 4 day stay in Czech Republic. Fresh and delicous.
It was cold outside and we did not want to eat, but the food others had looked rather ok. Prices are high for the overall level of Czech pubs, but certainly below average if compared to most other European countries.
722 characters

3.54
/5
rDev
-10.6%
vibe: 3.75 | quality: 3.75 | service: 3.5 | selection: 3.25 | food: 3.5
A short (10 min or so walk from Prague Castle/St Vitus Cathedral ...which is awesome BTW). When you get to the monastery the main things are the library, the gardens, and this monastic-related brewpub. I admit I didn't make it to the library or the garden, but had a lovely time sipping suds and enjoying a salad here on the outdoor patio. The interior was also attractive with ample seating and copper brewing vessels brewing on the day we visited. The beers were an IPA with Amarillo and Cascade, a hefe weizen, a summer red with Mosaic and an experimental hop, an amber-marzen,and an unfiltered Munich dunkel. We had the red, hefe, and IPA, all were clean and tasty. The beer menu is in Czech and English, our server was friendly, handsome, and spoke English well. Their beers are called St Norbert's, and we didn't see them elsewhere. Small gift shop and beers can be purchasedto go. I really wanted a tshirt but they looked sort of Americanstyle and I'd have preferred something with Czech writing rather than English. Note this monastery brewpub is just steps from another bar/restaurant advertising craft beer that implies it is a microbrewery but isn't. (It's an ok place though with Matuska craft beer, a beautiful patio, and unhelpful service).
1,254 characters

3.73
/5
rDev
-5.8%
vibe: 4 | quality: 4 | service: 3.5 | selection: 3 | food: 5
I finally managed to find this place after climbing what seemed like an endless array of hills. I was fascinated by the reviews. All in all, this place has pretty good house beers. My girlfriend and I tried the amber, the dark, and the weizen - all pretty good. The service here was a bit slow, and the staff seemed indifferent at first, but it got better. The real reason to come here, I think, is the beer cuisine. I tried the sausage in dark beer sauce, the beer cheese with potato pancakes, and then a beer goulash - all seriously amazing. It's worth it to get away from the tourist crowds, somewhat. Check it out, no pun intended (Czech).
643 characters

3.75
/5
rDev
-5.3%
vibe: 4 | quality: 4.5 | service: 3.5 | selection: 3
Looks like there's two review listings for this one place so I'll pick the more popular one. I was lucky enough to get to the brewpub at the Strahov Monastery while on a visit to Prague. I wasn't sure what to expect, I was told that the beer was actually brewed somewhere else, that it was a tourist trap, etc. Anyway, we were told the view of the city was pretty nice and we did want to revisit the castle area as we had not gone into the cathedral the previous day. We took the streetcar out to the monastery for about $1.50 or so. It's an easy ride; about 20 minutes. The twin steepled church is easy to see from the castle hill and is an easy 15 minute uphill walk (we started at the monastery and walked down!). When we entered the monastery grounds, I could see signs for a restaurant off to the left. Going through the doorway into the outdoor courtyard, I could suddenly smell the spent grains. Success!
I actually stumbled onto the brewer, Thomas Matushka, who was sitting behind the kettles working on a laptop. I would have hoped to talk to him a bit but "he was busy brewing beer" and sorta blew me off; I guess too many nosey geeks show up looking for tours and such. I would also add that service in Czech restaurants seemed uniformly indifferent.
It's a very pleasant indoor/outdoor pub with a decent food selection (which we did not try) and reasonably priced. It's not the traditional brewery that was part of the monastery and looked very much like stuff I've seen stateside. I tried all three beers in .2 or .3 liter glasses and have included some of the info from the coaster that are available for sale. I love those literal style translations!
Special amber unfiltered beer G. 1053 5.3% in a maerzen style
This was a fairly mild beer, pretty to look at, and very drinkable.
Special dark unfiltered G. 1.057 5.5% brewed to be dryer and a bit more bitter than a Munich dark, includes caramel and roast malts
This was a delicious beer, roasty and full bodied. It had a wonderful head that really hung around and was just a great drinking beer.
Special light unfiltered light beer, easter [?], "for its low hop rates it sticks in liking by low-bitterness upholders"
This weizenbeer was outstanding, great clove and banana notes and creamy smooth. I really liked this one.
I think this is definitely worth a side trip from the castle.
2,362 characters
3.85
/5
rDev
-2.8%
vibe: 3.5 | quality: 4.5 | service: 3.5 | selection: 3.5 | food: 4
The Strahov Monastery is located about a kilometer from Prague Castle. There are very few things to see here (my excuse for dragging the family), but the beer is superior even by Czech standards. Luckily for me, the food was also good enough for the gang to ask to return.
In terms of atmosphere, there are some brew-pub style machinery to the side, but otherwise, it is simply a Czech style eatery with long benches and the expectation that you'll share tables with others when they are busy.
The menus have multiple pages and a relatively eclectic mix of foods (my daughter had rabbit, while I ate pork ribs). The soups were excellent.
I describe the service as effective and obligatory, just like every restaurant we went to. They are pleasant but not friendly. I could not tell whether this was the Czech personality or some sort of hangover from their Communism days.
Prices are slightly elevated for Prague standards but still a great deal when compared to the US.
975 characters
3.9
/5
rDev
-1.5%
vibe: 4 | quality: 4.5 | service: 4 | selection: 3 | food: 4
You've got to love a brewpub in a monastery. Good beers that were unique in Prague, seemed to have american influences. Good food and service. Expensive beers though, but you still can't complain compared to other cities. I saw a nun on the way up the hill (quite a walk by the way. from the metro station down by the river, but good views). The beer though; it's quite good. They have a dunkel and an amber lager that I think are year-round. I was there in December and they had their Christmas beer on tap, which was like like a cross between a doppelbock and a DIPA. I kid you not. It was awesome, and nothing like any other beer that I had in Prague. I was in the city for four days and made the stupid walk up the hill to Strahov twice. That should tell you how good this place is, especially considering there were only three beers.
838 characters
3.95
/5
rDev
-0.3%
vibe: 4.5 | quality: 4.5 | service: 3 | selection: 4 | food: 4
I am quite fond of the dark beer at the Cloister Restaurant and brewery, so I come back again and again. Sadly, I keep missing the brewery's single batch seasonals.
The restaurant is located within the grounds of the Strahov monastery, up on the hill past Prague castle and adjacent to Petrin Park. I usually hit it as a lunch spot if I'm in the area of the castle but have also had dinner there.
There are three eating areas, the patio, a small restaurant in the brewery and a larger room on the other side of the patio. I quite prefer the outdoor seating, but have also enjoyed a meal on the brewery side.
The service is average for Prague. The selection is 2-3 house brews and a line or two of a mass produced Czech beer (Budvar, I think).
The prices are in line with it's tourist friendly location, but are a bit high for Prague.
837 characters
4
/5
rDev
+1%
vibe: 4.5 | quality: 4.5 | service: 3 | selection: 4 | food: 4.5
My wife and I hiked up the hill to here twice, and it was well worth the effort, especially when your taste runs to something other than pilsners (which are terrific in the CR, but often the only choice).
The food was hearty and enjoyable; especially—as another reviewer pointed out—the beer-based dishes.
No problems with the waitstaff. If you're used to the "Hi, my name is..." style of service here in the states, you might find it somewhat impersonal, but keep in mind that English is a second tongue here. If you're not easily fluent in another language, it's hard to make small talk in it.
PS: If you're also a wine drinker, be sure to try Czech wines from Moravia. They're excellent, but rarely exported.
719 characters
4
/5
rDev
+1%
vibe: 4 | quality: 4 | service: 4 | selection: 4
other reviews seem to exaggerate the distance - its no more than 10 minutes past the castle, and the hill is nothing to be afraid of
we found this place after wandering through a few neighboring establishments and realizing they weren't quite right.
maybe i misunderstood, but this is a brewpub adjacent to a monastery, not one connected or within a monastery.
there was a pretty large outdoor terrace area and we snagged the last table. the interior was pretty cool with large kettles and cool decor, but it was a beautiful day so we kept outside
typical with other praha brewpubs, there were 5 or so taps. i tried the IPA (only one i saw in Praha, and actually quite nice), the dark, and the amber. Technically i just sipped my +1's amber, which i was thankful for because it wasnt that great
nice spot - the monastery wasnt as cool as i'd hoped, but you might as well wander over here from the castle. menu looked good but we didnt eat as i had some killer beer goulash at Mlejnice near the old town square for lunch
1,024 characters

4.06
/5
rDev
+2.5%
vibe: 4.5 | quality: 4 | service: 4 | selection: 4
We stumbled upon the Klašterní Pivovar while walking around after a trip to the Prague Castle, despite it being on the list of places we wanted to check out. Must have been fate. The brewpub is located on top of a hill next to a pretty monastery off Strahovské nádvoří. The entrance appears to be gated so unsure as to whether you can drive to it.
There is a small interior bar and a big patio, which is where we sat. The menus outline the brewing process which is pretty cool. On our visit there were only 3 of their beers on draught, including a special Easter beer. They also sell bottles to go. All of the beers were good.
Service was good on a weekend afternoon. Our server spoke a little English and was friendly.
We did not try any food on this visit.
Overall this place was probably our favorite beer spot because of the perfect weather, good beer and nice atmosphere. The fact that a group of monks came from the monastery next door for beers while we were there said it all. Definitely worth seeking out.
1,028 characters

4.45
/5
rDev
+12.4%
vibe: 4.75 | quality: 4.5 | service: 4.5 | selection: 4 | food: 5
Located at the top of a hill and just across from the monastery it offer a gorgeous sweeping view of Prague. If you have walked up the hill than you will certainly in within your rights to reward yourself with a beer here! The food is fantastic and is a classic representation of hearty eastern European and especially Czech meals. One of my favorite places in Prague to kill some time.
386 characters
4.45
/5
rDev
+12.4%
vibe: 4 | quality: 4.5 | service: 5 | selection: 4 | food: 4.5
I made a special point to visit this microbrewery; it was worth the effort. However, it being located on the grounds of Strahov Monastery, the effort was more of a pleasure. It consists of two sections: the brewery, on the left side of the courtyard, where the beer is actually brewed; it is a small room with a period interior that seats about 50 people. I visited this section. They serve a full and extensive menu and provide friendly and efficient service.
Across the courtyard (on the right as you enter) is St. Norbert's Restaurant, a larger, two-storied building that seats about 150 people. The courtyard has seating during the summer months.
The beer was exceptional. They serve both an amber and a dark. This is a must for beer lovers visiting Prague. A gateway to the left as you leave will take you out to a terrace overlooking Prague and down to Mala Strana. (This reveiw is also entered under "Klasterni Pivovar.")
935 characters
4.5
/5
rDev
+13.6%
vibe: 4 | quality: 4 | service: 5 | selection: 5 | food: 4
This bar/restaurant is separated into 2 parts. There is a smoking section only bar and a non-smoking section restaurant. I'm sure you can get food in the bar area as well since that seems to be the case throughout Prague but I can't attest to that personally since my wife and briefly ducked into the bar, smelled the smoke, and proceeded directly to the restaurant. This is one of the few micros in Prague that seems to brave the ale side of beer. As one person I met in Prague said, "We in Prague are very conservative about our beer and generally stick to lagers". This is not the case with this micro where ales are as common as lagers. Very good selection and brew some of the more bitter beers that I tasted in Prague.
730 characters
4.68
/5
rDev
+18.2%
vibe: 4.75 | quality: 4.75 | service: 4.75 | selection: 4.5
One of my favourite places in Prague, the atmosphere in the beer garden, surrounded by the old monastery is extremely enjoyable. It's been extremely hot days, so when we arrived, the moment we sat down we were already greeted with a bowl of cool water for our dog. The IPA was very refreshing, and the summer ale they have is very appropriate for the weather and ambiance.
372 characters
Klášterní pivovar Strahov in Praha, Czech Republic
3.95
out of
5
based on
83
ratings.