Doc's Cellar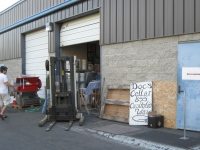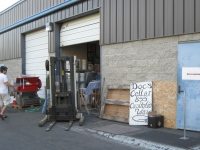 PLACE INFO
Type:
Homebrew
855 Capitolio Way
Ste 2
San Luis Obispo
,
California
, 93401-7175
United States
(805) 781-9974 |
map
docscellar.com
Notes:
No notes at this time.
Added by Zorro on 09-19-2005
Ratings: 7 | Reviews: 6
Reviews by bradford:
3.8
/5
rDev
-2.8%
This is the only homebrew store in the immediate area, so they have a bit of a monopoly on the market. They usually have what you need and the prices are fair I assume. Their premade recipes are okay but obviously geared toward the novice and bland tasted. The owner, George is a great guy and very helpful. Always eager to chat beer and help you with your needs. The other guy seems to think very highly of his skills and palate and tries to talk me out of pretty much every idea I come up with. I literally argued with him while picking up ingredients for a double IPA I had in mind to brew. The next time I went in and wanted to brew a double stout, I had to lie to him telling him I was brewing 2 different beers so I didn't have to hear his shit. He has told me on about every occassion about his homebrewing prowess, to the point I want to punch him in the neck.
A solid place for most homebrewing supplies, but if at all possible, ask for George for help
962 characters
More User Reviews:

3.28
/5
rDev
-16.1%
vibe: 3 | quality: 3 | service: 4 | selection: 3
4.45
/5
rDev
+13.8%
vibe: 3 | quality: 4.5 | service: 5 | selection: 4.5
They always have what I need, including good hints. Good service. The place is a bit disorganized, but the owners always know where everything is and can get it for you, which is all that really matters.
I'm glad they're here.
They have a wide selection of both beer and wine ingredients, and equipment. I've been going there for the last six months instead of using amazon or some other online supplier, and I'm glad to do it.
The prices are competitive with that anyway. I haven't done a scientific breakdown of the costs versus online, but I'm pretty sure they're the same as most everywhere else or at least competitive.
627 characters

4
/5
rDev
+2.3%
This has been my local home brew shop for the past year or so, and I now feel qualified to write a solid review for it.
Doc's Cellar is housed in a pair of garages in an industrial area of San Luis Obispo. The inside is high-ceiling and roomier than most home brew shops, though far from aesthetically pleasing (no biggie). Items are neatly organized and individually priced.
While the ingredient and equipment selections aren't extensive, Doc's carries everything a beginning home brewer would ever need. On the occasion that I don't find what I'm looking for, Conor or Brendan offer up quick and easy solutions that are typically more cost efficient anyway.
The guys at Doc's (George, Conor, Brendan, etc.) are all active members of the San Luis Obispo Brewers (SLOBs) home brewing club, and Doc's Cellar typically hosts the monthly meetings. Needless to say, all of the Doc's employees are very knowledgeable about home brewing. They've answered all of my questions thus far, and I love talking to them about anything craft beer-related.
If you live on the central coast and you're interested in home brewing, stop in and check this place out. As for all you out-of-towners, this probably isn't much different from your LHBS.
1,233 characters
4.35
/5
rDev
+11.3%
As mentioned previously, Doc's is the only place around here. The good thing is, It's an excellent place to buy supplies.
Their selection is not very fancy, but I have never asked for a malt they didn't have. Nor have I had any problems with the yeast; they have a broad range of liquid pitchables from White Labs, and I've never had a bad batch. The hops selection is also surprisingly good, given the look of the place (I was expecting the worst when I saw it was a warehouse), though they don't have everything. Everything seems pretty fresh.
The equipment is quality stuff, though selection is in-and-out due to their limited storage space.
The service is really the big thing here, though. They are very knowledgeable and good brewers in their own right. They explained the entire all-grain process to me when I expressed an interest in moving up from partial-mash. Brewing is a passion for these people. They'll even invite you to share a glass of their stuff.
Prices are reasonable, particularly considering the monopoly they have on brew shops in the area.
1,069 characters
4.2
/5
rDev
+7.4%
Since there is an absence of a homebrew shop here in Lancaster I have to hit homebrew shops whenever I travel. I went to college in SLO and go back to visit friends and family. I've been to Doc's on about 3 or 4 occasions and have always found what I needed.
The service is good. The guys there really know there stuff. They are helpful with recipe ideas and brewing techniques. I normally know exactly what I want before I get there so it's an easy transaction. You're not going to find exotic ingredients and supplies here, like Zorro said below, it's a meat and potatoes kind of place. Everything is fresh and haven't had a single problem. One of my first homebrews was their dry Irish stout kit that was excellent. Prices are reasonable, hours are kind of funky so make sure you check in advance before you go. I'll be swinging by tomorrow to pick up the ingredients for my homebrewing anniversary brew. Can't wait.
922 characters

3.3
/5
rDev
-15.6%
The Central Coast of California has many things but lots of home brew shops isn't one of them. There used to be another in Santa Maria but it went out of business.
Next closest home brew shop is 172 miles south so this is all we have.
This shop is located in an industrial park. From the outside it looks like a garage, and in fact there is a garage on the other side of it. Not any decor at all here this is as industrial a home brew shop as exists. Sometimes there is a huge dog out front but not today.
The only supplies here in bins or barrels is the liquid malt extracts. Every thing else is measured out and prepackaged so if you want 2 1/2 pounds of wheat DME you will have to buy 3, 1 pound bags or the 3 pound bag. Prices are fairly low, 3 Pounds of Pale DME is $9.95 and 8 oz of Iodophor for $5.49.
One problem you might have here is finding the item you are looking for, there are no aisles and unless you know where the item you are looking for is you will have to ask.
Another thing about the store is that it does seem to be more wine oriented than beer oriented. Not that strange really considering all the wineries in this area.
All the standard stuff is here but you won't find much in the way of special stuff this store is all meat and potatoes.
Then again this is a real operational store. More often than not they are mashing a wort just outside the door here. Also even when the store is closed some one is there working on their latest creation so you can call on a Sunday or bang on the door and you can buy whatever item you are in desperate need of or get a question answered.
Only problem I ever had here was one time I got some stale liquid malt extract so I only buy the dry stuff now.
1,739 characters
Doc's Cellar in San Luis Obispo, CA
Place rating:
0
out of
100
with
7
ratings