Falls Porter
| Falls Brewing Company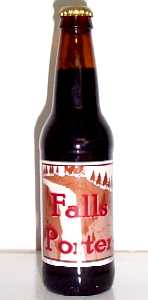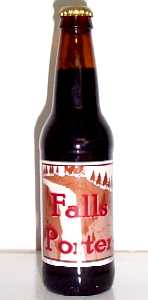 BEER INFO
Brewed by:
Falls Brewing Company
Wisconsin
,
United States
fallsbrewing.com
Style:
American Porter
Alcohol by volume (ABV):
not listed
Availability:
Year-round
Notes / Commercial Description:
No notes at this time.
Added by HopHeadKen on 09-21-2005
This beer is retired; no longer brewed.
HISTOGRAM
Ratings: 12 | Reviews: 12
Reviews by jayrod20:
3.67
/5
rDev
+37.5%
look: 3 | smell: 3.5 | taste: 4 | feel: 3.5 | overall: 3.5
A mediocre beer for a porter. Not nearly as creamy as I was hoping, but with the dark taste and rich flavor it is definitely worth trying. Personally as a stout and porter lover, this is something I could enjoy on a hot summer day because it is more refreshing than expected. Nice dark coffee flavors with a hint of molasseses with a full bodied head that will stick to the glass. It is so dark it is hard to see through but taste much lighter than it looks.
458 characters
More User Reviews:
2.25
/5
rDev
-15.7%
look: 3 | smell: 3 | taste: 2 | feel: 1.5 | overall: 2
Deep black magenta. Dull, thin off brown head. Burnt coffee makes up the bulk of the odor. Bone dry on the lips. Something is sour and ashy to it. Flavors are primarily overly roasted coffee and a citric quality that seems to grow out of the lye in the ash. Not good at all. To dry to be drinkable. Oddly sour, muddled, and uncomplex. There is almost potential here but it's just unfininished.
393 characters
2.48
/5
rDev
-7.1%
look: 4 | smell: 3.5 | taste: 2 | feel: 2 | overall: 2
Basically opaque black with tiny magenta glints. The head is a proud chocolate tan.
Roasted, java-dominated (along with chocolate and burnt breads) aroma with notions of maple and jellied fruits.
A dusty cocoa powder initiates it into the mouth, then things are sheared apart by the whirling tart buzzsaw. All citric acid and apple vinegar. Lurking, there are dark bread and raw, leafy hop notes, but the sourness decimates everything, which is a shame since there are some genuinely attractive porter qualities here. But in the end, it taste like someone squirted down your morning joe with concentrated lemon juice.
Flaccid in feel, with little bodily structure.
Not good.
681 characters
3.46
/5
rDev
+29.6%
look: 4 | smell: 3 | taste: 3.5 | feel: 3 | overall: 4
12 oz single from Riley's...Sometimes I really need a couple more singles to reach a total of 6, for the 10% discount...Thats how this baby found a home, that and a pretty nice label
appearance: pours a very dark brown, near black, with a nice deep brown head and slight lacing
smell: a blast of roasted coffee and chocolate powder dominate the unbalanced nose, clearly some sour fruit in the background
taste: theres definately some roastiness but the sour character pretty much dominates the tongue for me...sour fruit and sugar is dominant, some dry coffee and chocolate powder is in the background, a bit more hoppy than the norm
mouthfeel: hop tingle, pretty light bodied
drinkability: pretty drinkable
722 characters
2.58
/5
rDev
-3.4%
look: 3.5 | smell: 3 | taste: 2.5 | feel: 2.5 | overall: 2
Man, what a ghetto label. Falls Porter's bottle looks like some kid's seventh grade computer design project. The beer itself is blacker than usual for a porter, and has a huge, styrofoam-like tan head. Looks like the old Fox River. Smell is rather faint, combining mustiness and roastedness. Taste is extremely blah, very watery, only faintly roasted. Some moderate sourness does not help. Mouthfeel is overcarbonated.
The beer lives up to its label.
453 characters
3.4
/5
rDev
+27.3%
look: 4 | smell: 4 | taste: 3 | feel: 3 | overall: 3.5
This brewery wasn't in the database, so it must be small and new.
Oconto Falls Wisconsin is about 35 miles north of Green Bay, so don't look for it in any major distribution. I scored a sixpack at 'Triggs Cellar 70' in Wausau, WI.
I do not recall if they had any of the other offerings by this brewery, which lists on their six pack carrier the following:
Falls Pale Ale,
Falls Blonde Ale
Falls Nut Brown Ale,
Falls Porter and
Falls Seasonal
I entered this beer into the database as a Baltic Porter because it reminds me of the Sinebrychoff Porter from Finland that I recently reviewed.
This beer pours rich dark amber brown with a tan head that quickly dissapates to an island of fine bubbles and a ring around the edge of the glass; Smell is chocolate carmel with a taste that follows as carmel and chocolate vith a tart/sour finish that reminds me of the Sinebrychoff mentioned above.
Mouthfeel is thin; I was expecting more.
I suspect that there is a following for Porters with this tart sour hop bitterness aftertaste, but I do not favor it. Glad I tried it; and would like to try other offerings by this brewery.
1,137 characters
2.17
/5
rDev
-18.7%
look: 2.5 | smell: 3 | taste: 2 | feel: 1 | overall: 2
Poured a very inky black with a huge tan head. Huge. Still rising. I've only poured a quarter of the beer out and the head is at the top of the glass. While waiting for it to go down a bit, I watch 7-up like bubbles rise from the bottom of the glass, feeding the top. I very carely try to pour the rest. When I'm "done" pouring, there's actually foam stuck inside the bottle. I'm going to guess this is pretty carbonated.
You have to really dig for the smell, but once you get it, it's a very nice, deep dark caramel chocolate aroma.
It's practically impossible to catch any flavor here. The beer is foaming on my tongue, and a rush of banana peel tartness or apple cider vinegar makes this too sour. When I swallow, I create more foam, causing me to burp each time.
Another BA reviewed their Nut Brown and mentioned that the new brewer was still working the kinks out. No doubt. This reminds me of stories my grandpa told of his exploding home-made root beer in his basement.
I seriously, seriously doubt this is what they were aiming for.
1,053 characters
2.95
/5
rDev
+10.5%
look: 3 | smell: 3 | taste: 3 | feel: 2.5 | overall: 3
It pours a pitch black brew, with a small tan head.
Aroma is what you expect from the style, but relatively poor; chocolate and coffee are there, but you really have to dig your nose into it to get it.
Excessively carbonated and fizzy, it still manages to be rather thin, with the same tastes as suggested by the aroma, but again, poor. It is not the overpowering presence I like in porters.
Acceptable, but there are plenty of better alternatives.
452 characters
1.76
/5
rDev
-34.1%
look: 2.5 | smell: 1.5 | taste: 1.5 | feel: 2.5 | overall: 2
First off, Oconto Falls needs to hire somebody for their labeling.
As for the beer, pours a thin black liquid with a trace of head and no lacing. I'm starting to think I got bad bottles. Smells and tastes awful. Like old coffee poured into an ashtray. Again, as with the others I've tried from them, there is an unpleasant mineral aftertaste.
On second thought, forget about improving the labels, focus on the beers. As bad as my reviews were, I do see some promise and havn't written them off...yet.
504 characters
2.24
/5
rDev
-16.1%
look: 2 | smell: 3 | taste: 2 | feel: 2 | overall: 2
Dark brown but about 1/3 of the glass is filled with light cocoa colored head...not good...issues here with the carbonation.
Aroma isn't bad...some cocoa...some java...a little cigarette smoke..deeper in there is a 'spoiled milk' smell to it..
Lighter bodied....somewhat acidic....flavor mimics the nose for the most part...the cocoa notes are nice...the sour acidic finish is not nice.
This beer needs a lot of work....I've had worse but this cannot be recommended...
477 characters
1.76
/5
rDev
-34.1%
look: 3 | smell: 2 | taste: 1.5 | feel: 2 | overall: 1.5
Almost opaque. Charged up brown head. It's a little fizzy. Interesting odor of chocolate, coffee and sweaty armpits. Good except for that last part. The mouthfeel is gaseous. Too much CO2. Gives me too many burps. Soapy taste with some faint hints of chocolate, and oh yeah, that B.O. thing again. This is not good. Poorly made.
328 characters

3.32
/5
rDev
+24.3%
look: 3 | smell: 3.5 | taste: 3.5 | feel: 3 | overall: 3
I had this at the Great Northern beer festval in Eagle River, and bought some at Flanagan's to take home. This quacks like a pretty serious porter - it is inky black and has a nice roasty flavor, if you can keep it in your glass. My single bottle gushed out of the bottle (not when I opened it, but when I turned the bottle to pour it) with a very shallow, non-agressive pour into a pint glass. I got 99% head and 1% liquid. Granted the head was a nice tan mass of uniformly medium-sized bubbles, but I was still irritated...I'm drinking the rest of this one straight from the bottle.
Except for the over-carbonation, I thought this beer was not very complex but rather nice. I would recommend.
697 characters
Falls Porter from Falls Brewing Company
Beer rating:
2.67
out of
5
with
12
ratings