Falls Nut Brown
| Falls Brewing Company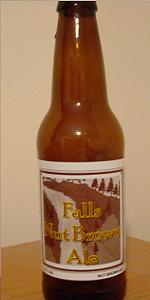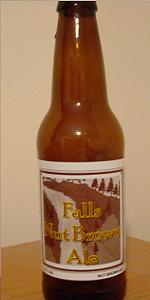 BEER INFO
Brewed by:
Falls Brewing Company
Wisconsin
,
United States
fallsbrewing.com
Style:
English Brown Ale
Alcohol by volume (ABV):
not listed
Availability:
Year-round
Notes / Commercial Description:
No notes at this time.
Added by tar on 01-08-2006
This beer is retired; no longer brewed.
Ratings: 9 | Reviews: 9
Reviews by jj21:
2.23
/5
rDev
-18.9%
look: 3 | smell: 2.5 | taste: 2 | feel: 2.5 | overall: 2
Hmmm...
Where to start. Looks decent enough. Little head that's gone in no time leaving no lacing. Smells sour. Not the good kind of sour, like bad food. Very off flavor to it throughout drinking it. As stated in other reviews, it's hard to put your finger on it. There's a mineral undertone to all their brews I've tasted so far. There are a lot of kinks for this young brewery to work out. Very unimpressive.
411 characters
More User Reviews:
3.37
/5
rDev
+22.5%
look: 3.5 | smell: 4 | taste: 3 | feel: 3 | overall: 3.5
12oz bottle purchased at Woodman's West and split with blackie
appearance: 6oz pour into a snifter, dark amber body, light beige foam with very little lacing
smell: roasted peanut, sweet malt, light chocolate, slightly woody
taste: ehh, its not bad but theres not a whole lot going on here...mildly nutty, light toasted malt, some light apple sweetness, touch woody
mouthfeel: a bit thin, high carbonation
drinkability: fine
439 characters
3.75
/5
rDev
+36.4%
look: 4 | smell: 4 | taste: 3.5 | feel: 3.5 | overall: 4
appearance: The pour produces a compact light khaki colored head that recedes to a thin layer. The beer is a clear chestnut brown in color.
smell: Pretty straightforward with nutty toasted malts, slight hints of milk chocolate, and a light English hop aroma.
mouthfeel: The carbonation is a high medium, and the body somewhat light.
taste: Nutty toasted malts and hints of biscuit on the tongue. Not too much else save for maybe a slight woody, nutshell type flavor. The hop flavor is low and nondescript, and the light bitterness cleans up the finish a little. Nothing special, but pretty solid at least.
drinkability: Easy to drink...simple but well done.
single bottle purchased at Woodman's and consumed in Madison
734 characters
1.54
/5
rDev
-44%
look: 3.5 | smell: 2 | taste: 1 | feel: 2.5 | overall: 1
As has been stated in a review of Fall's Pale, hopefully they are still working out the bugs at this relatively new brewery. A friend of mine brought this down from Wisconsin, and made the comment that he "didn't know what to think of it". No bottling dates or codes on the 6-pack holder or bottle. Opens with a hiss and pours a clear, ruby, dark brown, with a minimal off-white head which quickly vanishes to nothing but a bit of lace on the glass. The aroma is not particularly inviting, its familiar, but I can't quite place it (barbeque sauce???), a bit of vinegar with some hints of roastiness and possibly chocolate. Tasting clears up that familiar aroma, without any heat the flavor resembles a specialty hot sauce I've had in the past. Tart (vinegary) with some sweetness and a bit of smokiness. It actually gets worse with each taste. Thin watery body and not something I'll try again, in fact I couldn't even finish this one.
935 characters
3.9
/5
rDev
+41.8%
look: 4 | smell: 4 | taste: 4 | feel: 3 | overall: 4
12 ounce bottle. Falls Nut Brown Ale pours out a brownish color topped with a large, rocky head. This beer appears to have a high carbonation. Earthy malt aroma with a toasted nuttiness and a little smoke. Chocolate and nuts in the flavor. This beer has a spiciness that I'm not used to in a nut brown ale, but it works well. There is a slight tanginess in the finish. The only problem with this beer is the mouthfeel. It's too light, and the carbonation is much too high. Otherwise, this is a good nut brown ale.
513 characters
2.39
/5
rDev
-13.1%
look: 3 | smell: 4 | taste: 2 | feel: 1.5 | overall: 1.5
Pours a dark brown color with a medium head that fades quickly.
Smells like an earthy nut bread with a hint of creamy coffee.
Taste doesn't live up the aroma. I can't really distinguish any nutty flavor, mostly just coffee and a little bit of chocolate. It then proceeds to get quite tart and a little vinegary.
Mouthfeel is too carbonated and very thin. I'm also getting a alum coating on my teeth and mouth. Its similar to the feeling you'd get if you bite into a banana peel.
I think this beer went bad on the shelf. It was picked up at a store that BA's have warned has dusty bottles, and they're not refridgerated. I hate to rate this beer too low because of this. I'll have to come to edit this beer if I come across it again. But as it stands, I could barely finish this glass. It got worse as I got to the bottom.
834 characters

2.89
/5
rDev
+5.1%
look: 3 | smell: 4 | taste: 2.5 | feel: 2.5 | overall: 2.5
Poured into a pint glass this brew has a nice dark brown color with a thick tan head that lasted quite long. The smell of this beer is very nice with a thick coffee front and hints of chocolate and roasted almonds (very inviting). My first sip was disappointing. Te flavor is masked by a unnecessary carbonation that leaves a watery bitter taste in my mouth. For the complexity of this nose, the beer is quite watered down. Not exactly what I was expecting.
457 characters
2.64
/5
rDev
-4%
look: 4 | smell: 2.5 | taste: 2.5 | feel: 2 | overall: 3
The nut brown ale pours a dark brown with ruby highlights and a thing light tan head. The aroma has a low roasted quality and is a little nutty. The flavor has medium-low roasted notes, low caramel sweetness and a low hop bitterness with some metallic flavors. A little hop flavor shines through at the end along with the chocolate malt flavor, and then sourness hits, not so pleasant. The body is unexpectedly quite thin and as a consequence seems to have too much carbonation. Overall this was one of the more disappointing brews I've had in a while. The aroma was faint, flavor lacking and body thin. I haven't had other beers by this brewery. I hope the others are better.
678 characters

2.04
/5
rDev
-25.8%
look: 3 | smell: 1.5 | taste: 2 | feel: 1 | overall: 3
I found this to be a below average-yet-not-awful brown ale. It was a million times better than the Falls Fuggled Up IPA, which is the worst beer I've had in recent memory! Still, this is nothing to write home about. It does taste like other brown ales I've had, although it has lots of misplaced off-notes like sourness (not the good kind), staleness, and card-boardiness. Not good, and not recommended.
It poured a dark color with a medium tan head composed of variously sized bubbles. Aroma was slightly sweet and stale, and wasn't all that pleasant. Flavor was as I described above, although mouthfeel was lousy, with a ton of flatness up front that hits you before you taste the beer. As the beer warmed I got a very off and uncharacteristic sourness which I did not enjoy. I won't be having this again.
808 characters
Falls Nut Brown from Falls Brewing Company
Beer rating:
0
out of
100
with
9
ratings