Evening Star Cafe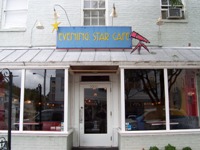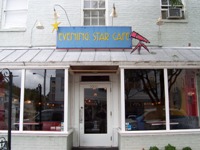 PLACE INFO
Type:
Bar, Eatery
2000 Mount Vernon Ave
Alexandria
,
Virginia
, 22301-1310
United States
(703) 549-5051 |
map
eveningstarcafe.net
Notes:
No notes at this time.
Added by hopsaplenty on 09-21-2005
Ratings: 12 | Reviews: 5
Reviews by Thorpe429:

3.76
/5
rDev
-5.8%
vibe: 4.5 | quality: 3.5 | service: 4 | selection: 3.5
Amyliz4 and I stopped into the Evening Star bar last night before heading over to Del Ray Pizzeria for dinner.
The atmosphere is quite nice, and has a slick combination of vintage and modern feels. The new keg-dispensing area is really nice -- three vintage GE refrigerators in orange, baby blue, and silver with taps coming out of the front. The insides serve to host bottles, with the kegs sitting in a keg room behind the fridges. Cool light fixtures made out of mason jars as well. A few flat screens behind the bar with sports programs on.
The selection and quality were pretty good. There were 15-20 taps with good selections of standard offerings from Founders, Bell's, Bear Republic, and Stone, plus some local offerings from Lost Rhino and Port City. Nothing out of this world, but a solid lineup of things I was more than happy to drink.
Service was quite good. The bartenders were friendly without being overly chatty, and did a good job keeping up with everyone's orders.
Overall, a good experience, and I'd certainly come back, especially with this place being so close to home. My only critique would be that the initial pours took quite a while as the kegs were foamy. I'd recommend priming the kegs earlier in the day so by 7 PM foam on the first pour isn't such an issue. Other than that, no complaints.
1,325 characters
More User Reviews:

3.75
/5
rDev
-6%
vibe: 3.75 | quality: 3.75 | service: 3.75 | selection: 3.75 | food: 3.75
4.2
/5
rDev
+5.3%
vibe: 4 | quality: 4.25 | service: 4.25 | selection: 4.25 | food: 4

4.36
/5
rDev
+9.3%
vibe: 3.75 | quality: 4.5 | service: 4 | selection: 4.75 | food: 4.5


3.43
/5
rDev
-14%
vibe: 4 | quality: 4 | service: 2.5 | selection: 3 | food: 4.5
I'm revising my post and downgrading its beer bar status. Their bottle selections is now dominated by Sol, Miller High Life, Bud, Bud Light, Amstel Light, and Heineken. I deeply, passionately hate these watery kinder-beers. It didn't used to be this way. They used to have better bottle selections. Fortunately, they still have good beers on tap: Delirium Tremons, Bells (forgot which one), Lagunitus, and a few other quality beers.
As for the place, it's in the back of a neighborhood restaurant with two floors. The real deal at Evening Star/Majestic Lounge is the wine. A wine store next door gives it a huge selection, but this isn't the place to talk wine. So as for beer, they always have a few good beers available on tap and in the bottle. The food is typically fairly good, although not as sharp as it was years ago.
I love Evening Star/Majestic Star Cafe but I'm a local and regular visitor. I go there because it's laid back, comfortable, and has good food. It's also nice to kick back on a comfy chair or couch upstairs. But, the beer selection is starting to go downhill.
1,087 characters
3.36
/5
rDev
-15.8%
vibe: 3.5 | quality: 3.5 | service: 3.5 | selection: 3
atmosphere: Visited the Majestic Lounge from around 12 to 2 am on a Friday night. The place is divided into an upstairs and downstairs, with different taps on each level. I spent my time in the cozy, lowly-lit downstairs at the bar. A couple couches sat in a corner, with high tables here and there. Various board games are available. Laid back place with what seemed like a mild clientele. Was not crowded by any means. Smoke can be a problem in the winter months when the doors remain shut.
quality: The Bell's Oberon seemed a touch off, but the Arrogant Bastard was right on. As an aside, I also had a great gin and tonic.
service: Nothing special, just bar service. Would most likely be a touch better for a local/regular, but it was perfectly fine.
selection: Not bad, but certainly nothing to rave about. A nice place convenient to the neighborhood, however. Taps of note were Bell's Oberon and Amber, as well as Arrogant Bastard and a Chimay. Some random bottles not worth mention were available. Also remember SNPA and Pilsner Urquell on tap. All served in a standard pint. I believe there were a few different taps upstairs. Sometimes they may be out of one beer or another. Bottles also available.
value: three pints and two mixed drinks came out to $40, whatever that means
1,288 characters
3.33
/5
rDev
-16.5%
vibe: 4 | quality: 3 | service: 3.5 | selection: 3 | food: 4
There's nothing wrong with this place, but on the other hand it's hardly anything spectacular. The place has a nice laid back vibe, and is quite cozy. I gather the place is divided between the main dining area on Mount Vernon St, and a cozy bar around the back (where we were). I think the very friendly and personable bar tender mentioned that there is an upstairs bar as well, with a few more tap handles. I can't recall what the explanation was, but he indicated it was closed the night we were there.
I can't really comment too much on the food, but my friend got some spicey chicken soup, which I tasted and was QUITE good. He also got a burger and fries, which I did not try, but it also looked pretty good.
OK, the food looked pretty good and this place has a nice atmosphere. The beer selection, I have to say, was not very impressive. They were out of the 60 minute IPA, but otherwise had the winter beer from Dominion still on, as well as the Victory Amber. There was also the the rhaspberry wheat from Oxford, Sierra Nevada Pale, Arrogant Bastard and Chimay. I think that was about it. I got the Chimay and pretty much had to be happy with that. Beer prices, like pretty much every place in the area, were $5 a pop. (and no, like Bilbo Baggins, they were not served in true pint glasses)
I don't know what else to say. I guess this is an OK place; the food was good and bar tender very friendly and personable. However, it would be nice to see a wider range of beers (it's winter and I've yet to see a porter, barleywine, strong ale or scotch ale on tap anywhere). I don't know. So far, every place I've gone to around here, my reaction is the same. "yeah, this is OK, but is this all they have?"
Sorry to be so critical, but in a place that is otherwise so affluent and varied, I guess I just expected the beer scene here would be a bit more interesting. Oh well..
1,888 characters
4.5
/5
rDev
+12.8%
vibe: 4 | quality: 4.5 | service: 4.5 | selection: 4.5 | food: 5
The Majestic Lounge is the back bar for the Evening Star Cafe, but don't let that fool you into thinking it was an afterthought. The beer selection is well thought with around 10 taps pouring a nice selection of quality domestic and international beers. They have been steadily increasing and improving their selections.
Current draft selections include Stone Arrogant Bastard, Victory Hop Devil, DFH Chicory Stout, Allagash White Ale, Chimay Cinq Cents, in addtional to standards such as Stella, New Castle Brown, Pilsener Urquell, and Bass.
Bottled selections number around 15, and include some nice finds such as Erdinger Dark Hefe, Rogue Morimoto Soba Ale, Stone Ruination IPA, Victory Golden Monkey, and Duvel.
The menu is diverse and includes lots of interesting appetizers and main courses. The specials reflect what is in season at the moment. Not quite enough vegetarian options for my taste, but there is something for everyone.
The lounge can get crowded with people waiting for dinner tables, but there are about 8 seats at the bar, and a handful of tall tables, sofas, and easy chairs to relax. Bartenders and servers are knowledgeable and easy going, and are able to make food/beer pairing suggestions if asked.
They have another bar upstairs which usually has live music (solo/duos), and a subset of the beer/food selections offered downstairs.
Definitely worth stopping by if you are in the neighborhood and looking for a slightly upscale location with beers and food to match.
1,511 characters
Evening Star Cafe in Alexandria, VA
Place rating:
75%
out of
100
with
12
ratings