Town Crier No. 2
| Hobsons Brewery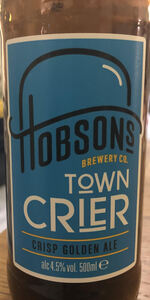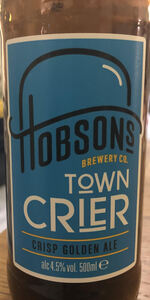 BEER INFO
Brewed by:
Hobsons Brewery
England
,
United Kingdom
hobsonsbrewery.co.uk
Style:
English Pale Ale
Alcohol by volume (ABV):
5.00%
Availability:
Year-round
Notes / Commercial Description:
No notes at this time.
Added by BlackHaddock on 09-01-2006
Ratings: 10 | Reviews: 8
Reviews by BlackHaddock:
2.85
/5
rDev
-18.6%
look: 3 | smell: 3 | taste: 3 | feel: 2.5 | overall: 2.5
3rd Bottle on my Shropshire Beer Review Evening, again a 'Bottle Conditioned Beer' and in a brown 500ml bottle. Best before Jan 2009, it was consummed in Jun 2008.
Poured into an 'Old speckled Hen' vase type pint glass.
The colour and look are just the same as the cask version, and the head is just as thin and wispy. Somehow it hasn't the same freshness appearance though.
Very little aroma, not the burst of hops and barley I hoped for.
OK, but it has lost the smoothness and sparkle the cask version has.
Disappointed to tell the truth, not a patch on the normal cask beer I know and love so much. The beer obviously likes to be drunk fresh and the conditioning of mine (in the bottle) has taken away some of the traits I like in the beer. This is a great shame, because any other BA will most likely only ever see/try this bottled version. Trust me, the cask 'Town Crier' is wonderful.
895 characters
More User Reviews:
3.06
/5
rDev
-12.6%
look: 3 | smell: 2 | taste: 3.5 | feel: 3.5 | overall: 3.25
Updated Review of Bottle-Conditioned beer. Pours clear gold with minimal head. Little aroma on the nose. Taste is lightly fruity, gently flavoured, gentle bitterness, reasonable sweetness. Mouthfeel: light bodied. Overall: a gently flavoured golden ale. Will appeal to lager fans. A beer that is alive in sensation and highly recommended.
338 characters

4.09
/5
rDev
+16.9%
look: 4.25 | smell: 4 | taste: 4.25 | feel: 3.75 | overall: 4
I am VERY excited to be drinking this one! When I was in Springfield, VA recently & I saw a bottle of No. 2 on the shelf at Total Wine & More, I snapped it up for today's horizontal. I had purchased it (No. 1 & No. 3) at Hunger-n-Thirst's bottle shop here in Lancaster, PA a while back & relegated them to the Bottle Backlog at Chez Woody until today. It was not out of malice aforethought, but a desire to find that elusive No. 2.
From the bottle: "No. 2 - Series 1"; " A BEER WITH A BIG VOICE ..."; "In the days of yore, only personages of standing could become a Town Crier. Being able to read was key but another characteristic was the ability to stand by your beliefs - unpopular announcements resulted in torrents of abuse from disgruntled by-standers,"; "Naturally conditioned[,] contains sediment"; "Style[:] Golden Straw[;] See[:] Straw[;] Smell[:] Subtle, Fruity[;] Taste[:] Light, Fruity[;] Bitter[:] 2.5/5[;] Sweet[:] 3/5".
I am so conflicted about these beers! On the one hand, I feel (slightly) guilty for having waited, but on the other hand, it seems as though the wait is paying dividends. The bottle came with a beautiful foil wrapper around both the neck & cap, so I carefully removed it to preserve it for a local artist who specializes in bottle cap art. Again, a gentle pour following the Pop! of the cap was in order since the label clearly showed the presence of sediment & so I did just that. I like to get a sufficient quantity decanted & then perform an in-glass swirl, in this case, raising just over a finger of foamy, bone-white head that quickly faded to wisps. Color was Golden-Amber (SRM = > 5, < 7) with NE-quality clarity & as testament to my pouring prowess, The Gelt Gang of Mammon, Croesus & Midas suddenly appeared to squabble amongst themselves for a taste. Nose was, indeed, subtle, at least compared to No. 1. This held a light biscuitiness along with an apricot/pear fruitiness. This should be interesting! Mouthfeel was thin-to-medium, not watery, but less present than with No. 1. The taste made me joyful for the fact that I had held out on opening the others. I kept hoping that it would come in at my local with no joy & to see it on the shelf during a recent foray ... priceless! The taste was very fruity, but not overpowering. I tasted pear, peach & apricot, which made for a light, pleasant drink. The malt was not as assertive as in No. 1, but it was still more biscuity than bready. The finish was semi-dry, kind of reminiscent of a white wine, but not in a tart way. Instead, it was the action of the yeast that created this light, fruity feeling that lingered. I wonder if there will still be any on the self on my next visit, whenever that may be ...
2,714 characters

2.53
/5
rDev
-27.7%
look: 3.5 | smell: 3 | taste: 2.5 | feel: 2 | overall: 2
Reviewed from notes. Poured from a bottle into a dinner glass.
A: Two finger head with moderately thick cream. Clear gold colour.
Sm: Light and pleasant: barley, hops, wheat. The usual suspects.
T: Very wheat filled open goes quickly to a limited-note body. Balanced but poorly built for this style. Almost watery (the kiss of death in my review methodology). Clean finish. A disgrace to Belgian style golds (that is what this advertises itself to be akin to).
Mf: Too smooth, too wet.
Dr: Never will have this again. Better "Belgian golds" can be had at this price range (and accurate advertising would help my expectations).
636 characters


4
/5
rDev
+14.3%
look: 4.5 | smell: 3.25 | taste: 4.25 | feel: 4 | overall: 4.25
500ml bottle into a nonic. Purchased at Bruisin' Ales in Asheville with a best before date of August 2015; 5% abv.
Pours a slightly hazy straw yellow with a thick an creamy one finger white head. The head retention is downright amazing for such a light beer. Huge staying power and great lacing to boot.
If there is one thing that is lacking on this beer it is the aroma. Not a lot to comment about here but there is sweet grain with just a slight hint of toast.
The flavor really is more impressive with sweet caramel and toffee along with a bit of cereal grain and floral hops. Bitterness is on the light side but plenty enough to counter the sweetness and it really lets the malt shine through. The mouthfeel has some substance with a drying and lingering bitterness.
Overall, this is a really great English bitter and a very tasty beer overall. Oh what I would give to have this out of a cask. I'm glad I was able to pick this up.
940 characters
3.73
/5
rDev
+6.6%
look: 4.25 | smell: 3.75 | taste: 3.5 | feel: 4.25 | overall: 3.75
Pint on cask at Black Swan, Telford, UK. Pours pale gold w/ small dense creamy head that lasts. Nose is lightly floral with light bread. Flavour is mildly fruity malt, but is a bit dull. Mouthfeel is creamy cask, and works well with this beer. Overall, just okay...probably wouldn't get again. Cask appears to be considerably better than bottle based on other reviews below.
378 characters


3.9
/5
rDev
+11.4%
look: 4 | smell: 4 | taste: 3.75 | feel: 4 | overall: 4
On draught in the Dean Swift pub near Butler's Wharf, London. Pours a clear, pale gold with no visible carbonation. One finger, creamy, white head reduces to a thick cap, leaving a wall of lacing. Has a floral and kafir lime nose. Spicy, citrus flavour with a herbal, bitter finish. Almost medicinal. Light body, dry, easy drinking. Very interesting golden ale with an excellent, persistent head and noticeable lime nose and herbal taste.
438 characters
3.38
/5
rDev
-3.4%
look: 3.5 | smell: 3 | taste: 3.5 | feel: 3.5 | overall: 3.5
Purchased in Shrewsbury, this bottle-conditioned ale comes in a 500ml brown bottle; BB 01/07/09, served cool in a straight imperial pint glass. According to the back label, the ingredients include Maris Otter pale ale malt, wheat, Hosbons yeast, Worcestershire Golding and Herefordshire Progress hops.
A: pours a dark golden with light haze, the thin layer of white cottony head lasts well, on top of constant flows of fine carbonation.
S: very clean and light on the nose, featuring plenty of orangey-citric Golding hops, a touch of hays, a sharp edge of nectar, and rather light-bodied pale ale malts. Juicy and fruity, well-integrated on the aroma, but not quite complex for the same reason.
T: Maris Otter makes itself shown from the beginning, accompanied by a free flow of slowly-intensifying hay-ish bitterness with Golding's citric-tartness, (unknown) spices and also salty bitterness of yeasts wrapped in the middle. Lingeringly bitter in the end, quite chewy and even a tad dry, inviting for the next sip...
M&D: clean on the palate, light-bodied, with very well-controlled fine carbonation, showing every good sign of decent bottle-conditioning. For a golden bitter this is not a bad attempt at all and also nicely conditioned in the bottle, although the overall flavour profile falls a bit short of the "delicious category" and the yeasty influence does make itself known throughout the drink.
Note: Unlike BlackHaddock the previous reviewer, I have no experience of the Cask version to compare this bottle with, but I think the overall condition still makes it a successful bottle-conditioned ale by the current standard of British small/micro breweries.
1,669 characters
Town Crier No. 2 from Hobsons Brewery
Beer rating:
40%
out of
100
with
10
ratings