Granite City Food & Brewery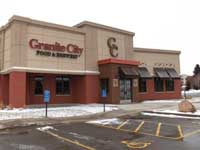 PLACE INFO
Type:
Brewery, Eatery
3330 Pilot Knob Road
Eagan
,
Minnesota
, 55121
United States
(651) 452-4600 |
map
gcfb.net
Notes:
No notes at this time.
Added by tavernjef on 09-25-2005
Ratings: 14 | Reviews: 8
Reviews by garymuchow:
3.75
/5
rDev
+8.1%
vibe: 4 | quality: 4 | service: 3.5 | selection: 3.5 | food: 4
Attended for lunch. I've attended this place previously under another name and ownership. The stone atmosphere is attractive, but also has a cool to cold presence (as well as cold temperature - which isn't always nice in MN in winter - or in this case a spring snowstorm). Nonetheless, it's open and fairly spacious. Bar is small. Menu is fairly broad and my food was good. Five beers available (under their patented - I believe - system for brewing). Bit of delay in service, for unknown reasons at a not particularly busy time, but attentive enough once given. I didn't ask much about the beer I ordered, but the info given was accurate. Prices seem a touch high, or maybe I just don't go out enough or am cheap, buy it wasn't ridiculous.
Overall I enjoyed the meal and I would attend again.
Thanks for lunch, Stephen.
820 characters
More User Reviews:

3.33
/5
rDev
-4%
vibe: 3.25 | quality: 3 | service: 4 | selection: 3 | food: 3.5
2.88
/5
rDev
-17%
vibe: 3 | quality: 2 | service: 3.5 | selection: 3.25



3.68
/5
rDev
+6.1%
vibe: 3 | quality: 3.5 | service: 4 | selection: 3.5 | food: 4.5
A real big restaurant that I've been to several times. While initially it was one of my favorite places to grab a craft beer on-tap (even have a growler to fill there), I've become quite bored with their beer selection. Most of it is pretty bland for a beer enthusiast like myself. Although, I'd recommend getting a Mug Club card just for the large, and less expensive, glass of beer. Would really love to see them make an Imperial IPA or have a more rotating micro-brew selection.
The food is very good and the service isn't bad at all. But the food can get a tad pricey for what it is. Also beware that this place is always packed full on weekend nights. Be sure to call ahead to get seated quickly when you arrive.
If you've never been to Granite City before then get their flight of beers and let that decide if it's worth returning.
839 characters

2.4
/5
rDev
-30.8%
vibe: 3 | quality: 2.5 | service: 2 | selection: 2 | food: 3.5
Stopped her for dinner on a Sunday evening. The place was realtivley empty. The deocr and atmosphere was basic but tasteful and really clean.
The beer was a tastless and was a step above medicore homebrew.
Service was non existant. The place was empty yet service was still slow at best.
The beer choices limited to five house made brews all of which were bland and uninspired.
The food was decent and came out rather quickly but a bit pricey. I would go back for the food but not for the beer.
501 characters
3.53
/5
rDev
+1.7%
vibe: 3 | quality: 3 | service: 4.5 | selection: 3 | food: 4.5
As brew pubs go, this one leaves a bit to be desired. However, for a good value and very drinkable beer, it's top notch.
The atmosphere is about the same as you might expect at any chain restaurant. It's very clean and well lit, with a professional and uniformed wait staff. You'll get no surprises, it's as steady as a Holiday Inn.
The quality of the beer is somewhat less than average, when compared to the typical brew pub. However, it's far above the fare at your typical neighborhood hangout. This is the ideal pub for introducing macro-swill drinkers to something much better.
The service is quite good and the wait staff is very attentive (at this location. I've been to others that are not so much.)
The selection of beer is limited to 4 regular brews: Dry Irish Stout, Bock, IPA, and a pale lager that is WAY better than the usual macro brew. There is usually one seasonal on tap, as well. They also stock a few bottled beers.
The food is very good.
Granite City's real claim to fame is the Mug Club. When you buy in (cheap), you get to attend 6 seasonal tapping parties, with free dinner and door prizes, and you get the 25oz taps for a buck less than the cost of non-member pints.
1,197 characters
3.75
/5
rDev
+8.1%
vibe: 4 | quality: 4 | service: 4 | selection: 3 | food: 4
Nice and cozy atmosphere. Dimly lit which makes the place comfortable and somewhat private feeling. Large bar and dining areas. Typical restaraunt service. Nice wait staff. Friendly and helpful. They have about five of their brews on hand. Decent beers, nothing great. Food here is really good. Pretty large menu and prices are fair. My wife enjoys their beer and food as well. This is about as good as it gets for a brewpub/restaraunt in the suburbs. Overall, a good place for a dining/beer experience.
503 characters

3.83
/5
rDev
+10.4%
vibe: 4 | quality: 4.5 | service: 3.5 | selection: 3 | food: 4.5
I went here on a recommendation from one of my friends, and I would say I was not disappointed. It has a relaxed atmosphere with lots of space. There are tables, booths and a bar to sit at where you can enjoy your drink. The service is pretty good sometimes a bit slow though. Granite City does not have the largest selection but they have some pretty good beers, with the mug club or an AHA membership you can get a 25oz mug for the normal price. I think the food there is wonderful; I have enjoyed everything I have tired there and would recommend trying new things. Over all a nice place to get some great food and a good brew.
630 characters
3.83
/5
rDev
+10.4%
vibe: 3 | quality: 4 | service: 4.5 | selection: 3 | food: 4.5
I went here based on the reccomendation that they have great food. And I found out just that! The food here was very good and good service to match. The beer...well the beer was moderate. The styles and offerings were fairly standards for chain brewpubs and I was not overly impressed.
I think that if they focused on more unique styles of beer to match their food. This place would be a wonderful joint to grab a pint and plate of food. The atmosphere was nice though and I was able to watch the Twins game.
510 characters
3.48
/5
rDev
+0.3%
vibe: 4 | quality: 3.5 | service: 3 | selection: 3.5 | food: 4
Very easy to find location, right off of pilot knob road. This is my third Granite City location, but this one had the best interior. Very clean and new looking, a lot fo the decor was done in stone or hardwood. Lighting was a little dark. Service was very fast, I was in and out in about 25 mintues. The food was good, as usual, I had a bison burger, garlic mashed potatos, and a Poor Richard's Ale, totalling about $13 before tip. The beer selection was pretty much the same as the other locations, except they had the aforementioned Poor Richard's. It was good. I like granite city better than the old Hops chain brewpubs, but they are falling into the same rut that Hops did, uninspired/unadventerous selection of beers, uneducated and relatively beer-ignorant wait staff.
776 characters
Granite City Food & Brewery in Eagan, MN
3.33
out of
5
based on
1,339
ratings.