Piazza Discepoli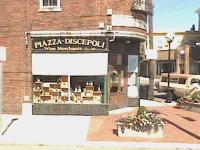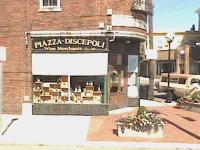 Store
5872 Cheviot Road
Cincinnati
,
Ohio
, 45247
United States
(513) 923-1300 |
map
piazzadiscepoli.com
Notes: Formerly located at:
5901 Hamilton Avenue
Cincinnati, OH 45224
Reviews by nlmartin:

nlmartin from Ohio
4.35
/5
rDev
+9%
Over the last several months I have come to do business with this store. The store is primarly a wine store, I will add a very good wine store. It has a few cheese and deli items available, all of which are very nice.
I stopped here out of curiosity. The signs on the entrance of the store where for good beers. The signs included Victory brewing, Hop Devil and Burning Lakes. I stopped on a whim. Man I am glad that I did.
This store had an ok selection of imports. Chimay, Duval, Khonegsghoven, ect A nice German section Spaten Optimator, Frankinhieser, Schniederwiese ect. But also had a good selction of domestic micro beers, founders, dominion, avery, great lakes ect. Very good selection over all. Any where from a conservative 60 - 100 beers are available. The staff is knowledgeble about both beer and wine. They are very willing to order special orders. The price is not bad given the variety of beer that is available in store or for order. I have done business with this company for the last three months and look forward to several more months.
Sep 29, 2005
More User Reviews:


Briken from Washington
3.43
/5
rDev
-14%
vibe: 4 | quality: 3.5 | service: 3.5 | selection: 3
From an out-of-town west coast beer drinker:
I visited this shop because of it's proximity to where I was visiting and I was having a hell of a time finding anything good around (I'm used to going to the grocery store and getting a better selection than this area!). Unfortunately, I was a little disappointed. There is a decent 6 and 4 pack collection of good breweries in the area but you can't buy any singles which is really what I was looking for since I didn't have much time left. I was also looking for whatever bombers or other big bottles he might have but there wasn't much in that respect either. I now understand I might be a bit spoiled and it certainly did have some of the breweries and so might be a good stop if you're in the area and the service did want to be helpful although they definitely are predominantly a wine store.
Jun 28, 2011

LucienDeRubempre from New Jersey
4.5
/5
rDev
+12.8%
Great little place, small inventory but what they've got is quality. Focus on American craft with East coast, West coast and Midwest offerings, competitive prices on all and the turnover is high so the brews are fresh. Founders, Bells, Bruery, DFH, Avery, etc etc, a few imports too, Chimay, Celebrator, lots of wine if you're into that sort of thing. Make sure you chat with the owner, he's very knowledgeable and friendly. Great to have a local establishment on the West Side to hook me up with all my fav brews.
Also that picture is totally not applicable. I don't know if they moved or what, but now they're in a strip mall next to Kenny's Sports Bar, ironically.
May 26, 2010

harkjohnny from Ohio
4.3
/5
rDev
+7.8%
QUA-LI-TY!
for a wine merchant they sure have a great selection of craft beer. I like that they seem to have something different every time I shop there. Good selection ranges from Belgian 750ml bottles to 6packs from the bigger crafts like Stone, Rogue, Avery, Brooklyn and others. I also appreciate that they carry local stuff like Barrelhouse and Great Lakes. Also nice is that they keep some of the product in the cooler and some on shelves so you can decide which works for you.
Also, their service is top-notch; friendly and helpful.
This is for the White Oak location.
Feb 09, 2008
mikesgroove from South Carolina
4.15
/5
rDev
+4%
This was a really cool little store to stop into. I really did not know what to expect as I pulled in as it looked to me to be a really high end wine store, but I saw people saying that they had a quality selection as well so I thought I should take a look, and I am glad I did as their selection was really wonderful. Very nice people here who were very eager to help, even though I did not need much. Found lots of stuff from Great Lakes, and Barrelhouse, some Goose Island, Avery, Stone, DFH, Rogue, Southern Tier, and many more. Very nice selection of imports as well. Overall the prices seemed just a touch higher then like Hyde Park, but not terrible in any way. I would definitely stop in here again as not only did they have an outstanding selection but they really seemed like cool people as well.
Jan 30, 2008
mattgert from Ohio
4.15
/5
rDev
+4%
Piazza Discepoli Wine Merchants is a gem. Our family has done business with Guy since he opened. Beer selection is very good considering that it is a wine store with food items so there are space considerations. There is a 50/50 split of import and micro brews. Only a couple domestic macros are there (no Bud, Miller, Coors products in this store!) Examples represented: Stone, Avery, Bells, Victory, Great Lakes, Goose Island. He also carries four varieties of Barrelhouse. Seasonals are always represented too. Stop on in and see Guy Discepoli. He is always helpful and will special order items for you if needed.
Sep 30, 2006
FtownThrowDown from Ohio
3.75
/5
rDev
-6%
This is a nice compliment to the other retailers in my area. A couple rows of import and micro beers and some more in the cooler in the back. Primarily being a wine retailer, they do have their share of top of the line imports and micros. They do get in most of the special release beers. On my last stop, they had just received a case of the Stone 10th and the AleSmith Yulesmith. Plenty of Great Lakes representation never hurts as well. The help here is among the more knowledgeable people that I've spoken with. All in all, a nice place to visit.
Sep 15, 2006
Piazza Discepoli in Cincinnati, OH
Place rating:
3.99
out of
5
with
8
ratings