Hollerbach's Willow Tree Cafe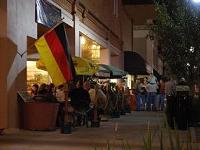 PLACE INFO
Type:
Bar, Eatery
205 E 1st St
Sanford
,
Florida
, 32771-1372
United States
(407) 321-2204 |
map
willowtreecafe.com
Notes:
No notes at this time.
Added by BeerAdvocate on 09-30-2005
Ratings: 9 | Reviews: 8
Reviews by jamiejohnson:

5
/5
rDev
+14.7%
vibe: 5 | quality: 5 | service: 5 | selection: 5 | food: 5
I'm lucky enough to live 8 miles away. I've been coming here regularly for 2 1/2 years drinking liters of excellent German beer. Theo the owner takes pride in his beer and his food. The crowd is mixed and lively. This has become one of my favorite beer destinations in the world. Clean taps and always fresh beer are the norm here. I personally sit in the bar area during the music evenings because it's so loud, but others love the festive atmosphere Now Gary the bar manager has worked a deal with the owner ..and there's a homebrew shop behind the bar! My mouth waters just thinking about a liter of Paulaner Hefe right now. Going out the door now....
654 characters
More User Reviews:
4.2
/5
rDev
-3.7%
vibe: 4.75 | quality: 4.5 | service: 3.5 | selection: 4 | food: 5

4.5
/5
rDev
+3.2%
vibe: 5 | quality: 5 | service: 4 | selection: 4 | food: 5
Wow, this place is extraordinarily fun. There is a polka band which sings German drinking songs all night and everyone is having a good time and singing along. You can also get 2 or 3 liter boots to drink with your buddies, the boot cannot be put down and you have to be standing while you drink it. They also have a couple of very good German beer selections on tap. The food is perfect for beer, sausages, wiener schnitzel and other German fare. If you don't have fun at this place then there is something wrong with you. The service is a tad slow, but just use this to drink more and enjoy the fun atmosphere.
612 characters

4.7
/5
rDev
+7.8%
vibe: 4.5 | quality: 5 | service: 4 | selection: 5 | food: 5
Had lunch here the first time on Saturday two weeks ago (May 22, 2010). Note that Hollerbach's has been on my list for over a year, so I showed up with much anticipation.
The entrance is adorned with an awning covering a sizable space filled with several round tables. A guy was there singing at the time for the outdoors folks. I chose to go inside---to get to the meat of the action :-)
The inside is split into two sections, a larger dining room and the bar which is maybe 1/4 the size of the dining area---still comfy though. The dining room has a small stage, and in front of it are tables placed in a fest hall manner---two or three long rows butted up together. There are also a number of round perimeter tables that seat four.
After being seated, we were promptly served by a nice gal with a smile (always nice). Let's get the food out of the way first and quickly. It was great! What else can I say? My favorite German fare is at Mr. Dunderbaks in Tampa. What I had here was actually better! So now I have two favorite places to eat German. The wursts, kraut, and red cabbage were fresh as fresh could be. If you have non-drinking friends, you can bring them here for the food only and they will leave very satisfied.
Now to the beer...
The first neat thing was that you can get your beer in .3, .5, or 1 liter containers. How great is that? If you are in a sampling mood you can order the small size (about 10 oz). If you want to play hard ball, go for the liter size.
Last year I found a 5L keg of Gaffel Koelsch for an office tasting, and it was a group favorite. Well, Hollerbach's has it on tap! Somebody correct me if I am wrong, but this is only place in the area I have found it. I was in beer heaven for a few minutes. My second beer was a Bitburger pilsner.
After eating, I went into the bar and viewed their layout. It's an all German affair---the taps are laid out in a non-typical manner, and I counted two ceramic towers branded with German brewer names. This place is serious about presentation.
This place screams out to German beer fans to hang at the bar for a session. I was unable to do that this time, but I shall do it very soon.
Awesome find.
2,186 characters
4.58
/5
rDev
+5%
vibe: 4.5 | quality: 5 | service: 4.5 | selection: 4 | food: 5
A blast! Great beer, great food, great polka -what more could you want in life. The #2 rated German beer hall in America, so you'd better like German food, German beer, live polka music and dancing, lots of cheering and toasting, and cozy close-quarters. Make a reservation or plan on waiting an hour for a table, and make sure you're there from 8:00-9:00 for the folk instruments. The staff is great, but service can be slow at times due to the large crowd. Just relax and drink more beer (they've expanded their tap selection to 10 or so). Jimmy and Ekhart are a great duo, and will keep you entertained for hours. Bring the kids, the old people, and everyone else you can. You and your beer-guzzlin' buddies can order a boot (3L draft) and test your manliness as the crowd cheers you on (it's the only place that even your wife will root for you to drink more beer). Theo -the owner- is a great guy, and you need to go out of your way to visit his little slice of Bavaria.
975 characters
5
/5
rDev
+14.7%
vibe: 5 | quality: 5 | service: 5 | selection: 5 | food: 5
This is a great German café! I was very surprised when I entered this restaurant. They have a few beers on tap and about 40 selections of bottled German imports. The food is very authentic and delicious! It is difficult to find good schnitzel around here and man do they have the selection. I didn't try any of their wine but they even have quite a selection of German wines to boot. What a great way to enjoy a pint of dopplebock and listen to the live entertainment. If you like German beers you are guaranteed to have a great time here.
540 characters
3.85
/5
rDev
-11.7%
vibe: 5 | quality: 4 | service: 4 | selection: 3 | food: 4
Now this is a fun spot! The atmosphere is what puts it over the top. Anywhere you can order a boot of beer has to be fun right? Das Boot! Anyways, lots of traditional German stuff going on here right in the heart of Sanford, FL. The owner runs around making sure everyone is OK. Had a sampler tray full of meets/cheeses/liverwurst/etc. The liverwurst was outstanding. On weekend evenings they have live music which gets the crowd going and plays plenty of traditional German drinking songs. It can tend to get pretty crowded here on the weekends as well so be careful. They have alot of your typical German beers both in bottles and on draft. Outside of German offerings there isn't too much but thats not why your here. You're here for the music, camaraderie, boots of beer and the all around good times. If this place were closer I'd be here all the time.
857 characters
4.45
/5
rDev
+2.1%
vibe: 4 | quality: 4.5 | service: 5 | selection: 4 | food: 4.5
I just stopped by this place a few days ago while down in the Orlando area. I dropped in for a quick lunch, but will be going back next time I'm in Orlando. In fact, next time I plan to go back and take advantage of the bigger German menu at dinner time as well as the singing/entertainment on a Thurs, Fri, Sat, or Sun night.
There were five draft beers and about 40 bottles available when I was there. The drafts were Gaffel Kolsch, Kostritzer Schwarz, Bittburger Pils, Paulaner Hefeweizen, and Paulaner Octoberfest. I got the feeling that the draft beers don't change, but I'm not sure. If the owner is reading this, then I would suggest regulary rotating some of the draft offerings. Notably, I would have at least one bock beer on draft at all times. If nothing else, Paulaner Salvator or Spaten Optimator would make good draft choices. Thankfully, the bottled selections were all German (except for Bud and Bud Light) and included numerous styles from Hefeweizen to Berliner Weisse and Pilsner to Doppelbock. However, I did notice some notable German beers were missing that I had seen in stores in Orlando. Some of the missing brews that come to mind are the (Bamberg) Schlenkerla Rauchbiers and strong bock beers like EKU 28, Kulmbacher Eisbock, and Aventinus Eisbock. I would also suggest adding the beers from Eggenberg, however they *are* from Austria and not Germany.
For lunch, I opted for weinerschnitzel with German potato salad and a side of red cabbage. All three were exceptional. I was told that the German owner uses his family recipes when cooking the food and making his own sausages, and he strives to serve only the freshest food possible. From what I tasted, I can believe it! I've only had one meal at this place so far, but I would say the food was certainly as good (and better in some cases) than the food I had in Germany. I definitely need to go back to try the sausages and other German dishes like sauerbraten and the smoked pork loin next time I'm down there. (Note: The bigger German dinner menu apparently is available starting at 5pm.)
The setting may not be the most "authentic" German restaurant you've seen, but it seems to make the most of what it's got. I certainly wouldn't hesitate to go back. In fact, I'll definitely be going back next time I'm down there and hope to chat with the owner. By the way, downtown Sanford offers a lot of other interesing shops and antique stores to peruse after visiting the Willow Tree.
All I have to say is, "Why didn't I know about the Willow Tree Cafe before now?" Oh yeah...this place was chosen as the favorite local German restaurant in 2006 according to the people in Orlando and also according to the Orlando Sentinel food critic. So what are you waiting for? Check it out.
2,764 characters

4.14
/5
rDev
-5%
vibe: 4 | quality: 4 | service: 5 | selection: 3.5
Right on 1st street in downtown Sanford with a German flag out front, this is a pretty easy place to find. It's split into a restaurant side and a bar side with a stage and more tables. The atmosphere is nice, kind of "German touristy" with lots of stuff on the walls and shelves. The bar has a nice (faux?) copper covering. Five German beers on tap and an OK selection in bottles, including some good ones from Ayinger. The bartender was extremely nice and helpful, and chatted with us about beer, food, rollercoasters, and Colorado, among other things.
The clientele of the place was interesting, with mostly locals (who clearly knew the bartender and each other, and some of whom were speaking German) but also some tourists and some families. It was a wednesday night so it was relatively quiet; I imagine it's very different when there's a band.
Overall it's a nice place, I'd like to come back and try the food sometime as it looked great.
949 characters
Hollerbach's Willow Tree Cafe in Sanford, FL
4.36
out of
5
based on
9
ratings.