Radler Bräu
| Paper City Brewery Co., Inc.
BA SCORE
74
okay
13
Reviews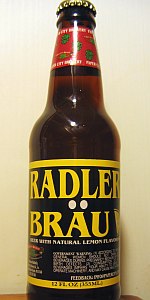 BEER INFO
Brewed by:
Paper City Brewery Co., Inc.
Massachusetts
,
United States
papercity.com
Style:
Fruit / Vegetable Beer
Alcohol by volume (ABV):
6.50%
Availability:
Rotating
Notes / Commercial Description:
No notes at this time.
Added by fitzy84 on 11-15-2008
Reviews: 13 | Ratings: 16
1.26
/5
rDev
-55.6%
look: 2.5 | smell: 1.5 | taste: 1 | feel: 1.5 | overall: 1
Carlsberg pils glass. Twins on the tube seeing how far they can stretch this good luck streak. Another one of Craig Sager's colorful suits bringing the pixels of my television to its proverbial knees. A beer hopefully just as... "interesting".
First whiff as I cracked the cap - spiked punch. Lemon, sour mix, lime, & orange too.
It takes less then half the 12oz bottle to fill the glass with eggshell foam. Somewhat active, though dusty, honey-colored body.
The smell mimics lemon-scented Pledge furniture polish. Lemon/lime juice, sour mix, a touch of caramel, & a big, big whiff of ammonia. .5 to the score just because I know it's safe & sanitized for everyday household use.
Taste absolutely revolting. Like slices of bread boiled in dishwashing soap. Lemon pepper Ms. Dash, lozenge candy, some odd ginger note, & soapy bitterness. The finish relents with a bland bread crust note.
It feels like there's some wheat in here. A bit syrupy initially. I can feel a decent, though lacking amount of carbonation, but I'm not swallowing any more of it.
Terrible.
1,068 characters

1.43
/5
rDev
-49.6%
look: 2 | smell: 1.5 | taste: 1.5 | feel: 1.5 | overall: 1
Got this as part of a Paper City mixed 12 pack. Of the hundreds of beers I've tried I've had my good share of bad ones, and of those I was able to at least get through one beer and avoid just pouring them down the drain. This beer gets the distinction of being one of the few drain pours in my life. I really couldn't even fathom drinking another sip after my first 2 attempts. Smell is very lemon-like... not like "beer with a touch of lemon" but straight up lemonade. Taste is very, very sour.. lip puckering sour. Again, taste is of watered down lemonade with some stale beer mixed in. Way too heavy on the lemon here and I'm not even sure this would classify as a beer. I gave my dad a sip (who usually likes anything) and he had to spit it out. This is without even knowing my reaction to it! I'll be giving the other 2 in my mixed 12 away and I'm hoping the rest of the beers are more tolerable.. I highly recommend to pass on this one.
942 characters

2.05
/5
rDev
-27.8%
look: 2 | smell: 2 | taste: 2 | feel: 1.5 | overall: 2.5
12 oz bottle from a mix 12-pack, poured into a glass. "Lemon" is just about all that can be said about this beer. The look is slightly lemony yellow light beer. It smells like lemon, and you guessed it, it tastes like lemon. Weak carbonation. It's like a lite beer with a couple shots of lemon juice and some extra sugar.
As beers go it's pretty bad, thus the rating. After a couple sips I considered drain pouring it and I have never done a drain pour. However, at that point I stopped expecting it to taste like a "beer" and just thought of it as malted lemon-flavored beverage it and it became more bearable. I could even see it being semi-refreshing on a hot day. It could could stand with the likes of Mike's Hard Lemonade, Bud Lime, Smirnoff Ice, Miller Chill, Twisted Tea, etc., not that that's much to brag about.
823 characters
2.28
/5
rDev
-19.7%
look: 3 | smell: 2.5 | taste: 2 | feel: 2 | overall: 2.5
A- Pale yellow color, semi-cloudy, thin white ring around the glass
S- Lemon juice, sugary, very sweet auroma
T- Lemon lime soda, syrup, sugary, metallic, hint of malts
M- Light body, low/medium carbonation, acidic, very sweet, watery finish
D- Not worth trying
I'm not really sure what this brewery was thinking when they released this beer. I've had an actual Radler while I was over in Germany and this beer tastes nothing like one.
440 characters

2.8
/5
rDev
-1.4%
look: 3 | smell: 3 | taste: 3 | feel: 2 | overall: 2.5
A very vigorous pour only musters a very large bubbled, quickly disappearing, half-finger thick, pale off-white colored head. The beer is a amber tinged, gold color that shows a touch of haze and a gold hue when held up to the light. The aroma smells of sweetened lemonade and stale, musty, macro-lager. The lemon note definitely dominates the aroma, and it is just a little too much to allow this to at least be refreshing smelling.
Only very faintly carbonated and it has only a light, grainy sweetness to it. What sweetness is here tends to linger on the palate in the finish as there really isn't any bitterness to balance things out here. This has a washed out / watered down lemon flavor to it that still manages to be the most distinguishable thing about the flavor. There seems to be a touch of astringency here, it is faint, but it is almost like the white pithy part of a lemon.
This could really use some carbonation, but even with that it would still not be very good. This doesn't even cut it as something refreshing to drink, which I was at least hoping to get when I cracked this bottle.
1,104 characters
3.3
/5
rDev
+16.2%
look: 3 | smell: 3 | taste: 3.5 | feel: 3 | overall: 3.5
A: Very clear appearance, pale straw color, poured with a nice 1cm foamy, pure white head that lasted reasonably well.
S: Definite aroma of freshly zested lemon, which seems to be the major player, but also some hints of the malt coming through as well. I will say, this beer had totally a totally different aroma and taste straight out of the fridge versus having warmed up a bit. Straight out of the fridge, I could only smell the lemon, and it was a pretty powerful aroma. As the beer warmed though, the strength of the lemon aroma subsided and blended a lot better with the malt. Not nearly as overpowering then.
T: Again, completely different fridge-cold versus warmed a bit. Out of the fridge, the lemon was almost overpowering, and it was pretty much like drinking lemonade. As the beer warmed, I could taste much more of the malt character, kinda bready, a little spicy toward the end. Lemon blended much better. Refreshing.
M: Mouthfeel was good, light body with not too much carbonation. Really smooth and easy to drink. Not much else to it other than that.
O: I think most of the negative reviewers here might've suffered from a beer that was just too cold, because mine was definitely more enjoyable as it warmed. I think it also helps to have an appreciation of what Radler is supposed to be. Radler is a style of beer from around Germany that's a mix of roughly 1:1 beer to lemonade. The story I was told was that it was first served during a bike race when, running out of beer, the vendors cut the beer with lemonade so they could keep serving. The bikers liked it so much that its name became associated with them (Radler = bicycler). That story could be completely wrong, but I like it still. So, it's meant to be lemony, lighter, and sweet to a degree. That being said, this example isn't as flavorful and complex as the real thing I've had while in Munich. The beer portion of it could be better, could have some more flavor to it. I remember the Radler I had tasted like it would be pretty good as beer alone, but was especially refreshing with the addition of the lemonade. Would I drink this on my porch on a hot summer day? Absolutely. It's pretty enjoyable as I sweat it out in my hot apartment. Do I think it could be a better representative of the style? Yeah.
2,291 characters

3.3
/5
rDev
+16.2%
look: 3.5 | smell: 3.5 | taste: 3 | feel: 3.5 | overall: 3.5
I will admit my novice level and say I was not sure how to classify this beer. But from what I researched, a "radler" is a typical lager mixed with lemonade. The drink was rather clear and somewhat watery looking but with a good gold color. Also, some nice lacing on the tip of the head. Aromas were strong with a pungent, lemon smell. Very metallic, acidic, citrus flavor. Might take some getting used too. Mouthfeel is crisp and complementary, however, making it enjoyable and light. Overall, not too bad.
507 characters
3.35
/5
rDev
+18%
look: 3 | smell: 3 | taste: 3.5 | feel: 3.5 | overall: 3.5
Golden colored beer with a rapidly fading head.Aroma is like concentrated lemon juice.Taste is lemon and malt.This is almost like bud light lime except of course with a lemon.Overall pretty decent and something I probably would buy again,especially on hot summer days!!
269 characters
3.44
/5
rDev
+21.1%
look: 3 | smell: 4 | taste: 3.5 | feel: 3 | overall: 3
Probably more of a fruit beer than Vienna Lager. My friends all compared it to Mike's Hard Lemonade. Pours golden, with a nice head to it. Smell is pure lemons, can't really pick up on too much else. Their point was made-this is lemonade with beer. Taste is very light. It has some light grains and with an aftertaste of lemons. Made from real lemons, but you'd think it's artificial since it's so in your face.
Actually a pretty refreshing summer beer. The lemons aren't too overpowering, and the drinkability is good, I wouldn't mind having a few of these again.
566 characters
3.77
/5
rDev
+32.7%
look: 3.5 | smell: 4 | taste: 3.5 | feel: 4 | overall: 4
12 oz bottle no freshness date visible.
Pours typical straw yellow lager color with a fast rising 2 finger had that falls fast and leaves almost no lacing.
I like this smell, the lemon scents are the real deal no fake smells coming from this flavored lager.
Taste is really decent i was expecting shit from all the other reviews. The taste is of first a nice lemon peel followed by a nice grain bill and a tinge of hops. slightly bitter finish. People giving this beer an F is unacceptable you people must be high to give this beer that bad of a review.
Nice bubbly carbonation really helps add to the flavor of this lager. slightly dry finish (which is great for hot summer nights).
Very good drinkability i could easily drink a few of these suckers in one night.
I live less then 5 mins from the brewery, these people are awesome they will let you help them bottle beer for a couple hours and give you a case of any of their beers, doesn't get any better then that!
973 characters

3.79
/5
rDev
+33.5%
look: 4.5 | smell: 3 | taste: 4 | feel: 4 | overall: 4
A : pour a transparent pale yellow with a pretty nice thick white head. very effervescent from the bottom. Looks much like a bud light but the head doesn't dissipate slowly, which is nice.
S : husky and sweet grains with a mellow lemon flavor on top. there is an odd musty hop that is super subdued throughout the aroma.
T : starts watery, then becomes sweet with a very little bit of light bready flavor. The lemon kicks in next, quick and hard, but does not cloy. It is not overly sweet like most radler (shandy) made in the US. As I continue the lemon becomes very mellow and not overwhelming. Refreshing as all hell. There is a tiny bit of hop just before the lemon kicks in to break up the flavors.
M : very bubbly, but makes for a refreshing and drinkable beer. No lingering qualities which means it was made well.
Despite the hate for American made radler, I can say that I respect this one. Well made to be a refreshing beer. People should note that this is a radler, and a high alcohol version of a radler (German radler brau tend to be around 3.5ish). If I am in the mood and don't want to make my own, this is far and away the best american radler I have had.
Want a real one? Head to Germany. My review will not take those into consideration as they are a different animal there, made differently. Nicely done paper city.
1,339 characters
3.8
/5
rDev
+33.8%
look: 4 | smell: 4 | taste: 4 | feel: 4 | overall: 3
Wow everyone is EXTREMELY harsh on this beer. Even a C rating is like...really?
A - Clear golden yellow with very little head. Wondering if age its age will affect flavor.
S - Very faint lemon smell with weak backbone. Why hate?
T - Very good "natural" lemon flavor yet not very tart as expect so it's not really as natural. Not too perfect but not terrible.
M - Slight tart yet refreshing. good
D - May have to try this again fresh. I really don't see why some would give the Samuel Adams Coastal Wheat a B and yet give this beer an F. In fact this beer has way more lemon flavor yet no wheat so it should at least be worth a C. I give it a B.
645 characters
4
/5
rDev
+40.8%
look: 4 | smell: 4 | taste: 4 | feel: 4 | overall: 4
Appearance: 1/2 inch head, high carbonation, gold in color, clear
Smell: ginger and lemon
Taste: ginger and lemon--both the rind and the fruit
Mouthfeel: sweet and spicy, high carbonation, light bodied
Overall: I can see how some might not like this, but I enjoyed the crispness and the spiciness of the ginger and the lemon. Not an everyday brew, but very refreshing and a great one for summer time parties.
412 characters
Radler Bräu from Paper City Brewery Co., Inc.
2.84
out of
5
based on
16
ratings.