Café de Hopduvel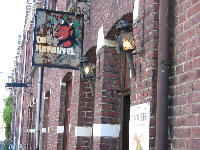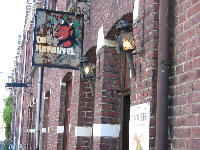 Bar, Eatery
Rokerelsstraat 10
Gent
, 9000
Belgium
// CLOSED //
Notes: Closed, but now reopened. Now closed again, 2/2011.
Reviews by TheLongBeachBum:
TheLongBeachBum from California
4.64
/5
rDev
+5.9%
vibe: 4.5 | quality: 4.5 | service: 4.5 | selection: 5
The Hop Devil, should be on your list of "must-do's" when in Ghent. It is a 30 minute walk at least from the centre though. Situated in a row of simple terrace houses, it transcends the laws of physics, for it is much bigger inside than it looks. A superb cosy multi-roomed interior with a smallish bar and a large garden at the back. I counted 146 beers on the list. The "wall of death", as the very friendly barman called it, in the garden, is a must for beer fans with many steel adverts from bygone Belgium breweries. Indeed, Breweriana is everywhere. When I was last there, I remember a couple of lunchtime beers with three friends turned into an impromptu all-day Gueuze session. The bartender (from Canada if I remember rightly) was just as enthustiastic about the many bottles he brought from the cellar from bygone lambic blenders as we were. It does food but we never got round to it. The "deceased" beers are expensive, are NOT on the beer list, you must convince the bar man of your credentials first. But where else can you drink an ancient beer. Ah!, (Blurred Hazy) Memories and Empty Wallets are made of this.
Aug 18, 2002
More User Reviews:

ggaughan from Pennsylvania
4.5
/5
rDev
+2.7%
vibe: 4.5 | quality: 4.5 | service: 4.5 | selection: 4.5 | food: 4.5
Another definite stop on our one day trip to Gent. This was our destination for dinner and some drinks. Although it was a bit of a walk from the main area of Gent, it was very easy and the canal basically guides you there which is cool.
Great atmosphere inside. Cool little bar to the left when you walk in. there are 2 or 3 different dining rooms so we headed to one and were sat right next to a cool old fireplace. Not burning at the time. I spent a few minutes checking out all the breweriana on the walls. Old breweries that are no longer open along with more recent beers. Really cool.
We had heard good things about the food and were not dissapointed. I had a Flemish stew with a nice side of frites and my wife had a shrimp meal which looked and tasted great.
We of course had some very nice Belgian beers with the meal including a flemish sour and an Orebier for me.
Overall a great night, food and beer paired so well. If you visit Gent, take the nice walk and enjoy a dinner and some drinks here.
May 17, 2008
Estarrio from Massachusetts
4.63
/5
rDev
+5.7%
vibe: 4.5 | quality: 4.5 | service: 4.5 | selection: 5 | food: 4.5
This is a must stop if you are in Ghent.
A nice tram ride and brisk stroll away from the tourist hub, the hop devil signage is a warm greeting to a great experience.
Lovely atmosphere, with an extensive glass selection, engaging artwork and even a mythological history behind the name. There is a nice outdoor section if the weather is cooperative.
All of the food looked amazing. We had the Flemish beef stew and it was one of the better meals that I had in Belgium. Very tasty indeed!
The beer selection is large and well thought out. We had a group of eight and were able to order and share a few rounds of quality brews that we had never tried before. The menu is large, well organized and engaging.
The wait staff was very accommodating to our larger group.
If you are in Ghent, do not miss the Hop Duvel! This may well be the beer highlight of the city.
Mar 05, 2007
EPICAC from Massachusetts
4.5
/5
rDev
+2.7%
vibe: 4.5 | quality: 4.5 | service: 4 | selection: 5
Atmosphere: The bar is dimly lit and fairly large. There's a small bar to the left as you enter, a room of seating to the right, and another room with lots of seating towards the back. There's an outside courtyard that's probably nice in warmer weather. The front room is decorated with an extensive collection of empty bottles and the walls of the back room are decorated with various beer signs. Aside from the decorations the place has the feel of a medieval house.
Quality and Selection: The selection was extensive, we could have stayed here all night trying new stuff. All of the beers that we had were in good condition.
Service: The bartender was friendly and made a few recommendations, though overall we had to flag him down when it was time for the next round.
Dec 13, 2006
gregorio from Colorado
4.68
/5
rDev
+6.8%
vibe: 5 | quality: 4.5 | service: 4.5 | selection: 5 | food: 4.5
This is one of my favorite places to have a beer in Belgium. They have a ton of beers to choose from – I understand over 125. A warm, rustic interior provides an old world feel but the beer garden is the real treat! Find a table deep within the enchanted forest and sit back and relax. I know some feel the service is slow but I discovered a European method - simply hold up your finger and get a head nod from the ever-attentive server. Don't just wait at your table for this person to stop by to check on you like a bunch of Americans.
Funny story about the great people that run this place: Our waiter accidentally bounced a Euro off the table into my mostly empty chalice of Chimay. I only had a tablespoon of beer left in the glass and our group found the accuracy of the bounce absolutely hilarious (we're easily entertained). Our waitperson had a contradictory reaction to this event and was very concerned about ending my beer experience prematurely. He brought me a new full Chimay at no charge. Cheers to a real beer aficionado.
I recommend ordering the local specialties on the menu. It amazes me when tourists come all the way to Belgium and order spaghetti. I usually order the Flemish beef stew, which is 100% beef (who needs veggies) in a rich sauce usually made from a good beer like Chimay. This is sometimes accompanied with a side of frites with mayo. The last time I was there I complemented this with a La Chouffe, an Affligem Dubbel and a Floreffe Bruin – HOOCHY MAMA! – I'm in heaven!
Oct 09, 2006
DaveFL1976 from Florida
4.58
/5
rDev
+4.6%
vibe: 5 | quality: 5 | service: 3.5 | selection: 5 | food: 4.5
Thank you, Beer Advocate!
A fantastic find (although a bit hard to find).
Here's how you get there:
Get to Gent, and follow signs to St. Peiters Station. Park across the street. Try to find out where to park without getting a ticket (we didn't figure out that part and ended up getting a parking ticket - all written in German - that we promptly dismissed once we got back to the car).
Anyways, go over to the train station and see the guy in the little yellow ticket box and give him a Euro or two and ask how to get to the Hopduvel. He'll tell you to get on the 21 or 22 tram, take it 3 stops, then walk down the street, in the same direction that the tram's heading, and look down the streets on the right hand side. You'll find it.
Once you're there, you'll find an awesome, little, homey, cozy bar with one of the best outside beer gardens you've ever seen.
I had a Westy 8 and Spaghetti Bolonese (both were really great). My wife had a Geuze and an Apple Strudel (both were really great).
You need to go to this place.
Jul 12, 2006
jasonm from Pennsylvania
4
/5
rDev
-8.7%
vibe: 4 | quality: 4 | service: 3.5 | selection: 4.5
A little tricky to find as its located on a narrow side street outside the center of town. Fronted by a narrow looking row house that opens up into a decent-sized interior and wonderful outdoor patio area (which was just about full on this warm summer evening). Chock full of Belgian breweriana. Also check out the display case full of beer glasses (with the monster sized Orval chalice).
Extensive beer menu, sorted by region. Included some smaller offerings that I hadnt noticed at other locations (Hanssons Gueze and Sarafijn).
Service was a bit slow even with 3 servers working. Atmosphere was good with a mixed range of clientle, including tourist and locale, young and old, starting off the evening or winding down.
Jul 05, 2006
schemb from Massachusetts
3.93
/5
rDev
-10.3%
vibe: 4.5 | quality: 4 | service: 3.5 | selection: 4 | food: 4
One of our favorite beer bars in Belgium. A bit hard to find but worth it especially on a sunny day in warm weather. The beer garden is beautiful with fairly private little nooks in the greenery.
Good selection and prices, I had the awesome and uniquely hop flavored Poppering Hommel Bier on tap for the first time here. Also the Westmalles, I think a total of seven taps. Service was friendly but a bit slow, one guy making an orbit of ~ 12 tables. Decent Croq Monseur sandwich. The inside looked pretty cool but was closed for seating on this June day. Everybody seemed to be having a nice time here. A nice belgian family took our table as we left and sent thier ~9 year old daughter running after us with our left behind Camra guide, yup a friendly place.
Sep 07, 2005

Gueuzedude from Arizona
4.33
/5
rDev
-1.1%
vibe: 4.5 | quality: 4.5 | service: 4 | selection: 4.5 | food: 4
Well this place was a bit difficult for me to find, especially given the confused directions that where in my 'Good beer guide to Belgium'. I eventually found the establishment, and was glad that I did.
The café stocks about 150 of the better beer that you can find in the beer wharehouse of the same name, in fact it stocks some that you cannot find in the warehouse. The interior has quite the comfortable feel to it. The place is all done in dark aging wood. The café is a bit on the dark side, and quite a bit bigger than it looks upon first entrance. A host of old tin advertising signs of now defunct Belgian breweries decorates the Hopduvel, very cool, I wish that I had some. I sampled a Hanssens Oude Gueuze (which was absolutely wonderful), a Rodenbach Grand Cru, and a Westvleteren 8. All of these were very good and well cared for.
Nov 20, 2003
Popsinc from Canada
4.63
/5
rDev
+5.7%
vibe: 4.5 | quality: 4.5 | service: 4.5 | selection: 5 | food: 4.5
Another dark, woody & warm feeling Belgian beer bar. There is a small seating area when you first walk in just off the main bar and then through a doorway you will find a very large room w/ peaked ceiling and dark wooden beams. The walls are covered with old beer pictures and just outside is a nice little patio. A great looking place.
The beer menu is exceptional, somewhere around 200 beers. This is where the bartender suggested and introduced me to Hanssen's Gueze, yet another world class beer. Also highly recommended is the Gluhkriek Liefman's if you're into hot beers.
We also had the chance to eat here and while we didn't stray far from the norm....spaghetti...the food was great and the portions were generous.
The nicest part about this bar is that it is far from the centre of Ghent and therefore very NON-touristy. A short walk from Sint-Peters train station, it's a real treat if you can get there.
Very highly recommended.
Oct 29, 2003
saltydog from New York
4.28
/5
rDev
-2.3%
vibe: 4 | quality: 4.5 | service: 4 | selection: 4.5 | food: 4
Very attractive bar; brick and wood look. Nice statue of the hopdevil made from branches. Playing country music. Very nice back room, in a beerhall style, with rows of tables, many beer signs, plaster walls, tile floor, arched ceiling with wooden beams, fireplace. Add to this a very good selection of beers, from the great Hopduvel warehouse a few blocks away, and it is not wonder this bar has become so famous, though at the cost of its once-extensive vintage beer selection.
Oct 19, 2003
wbthink from New York
4.05
/5
rDev
-7.5%
vibe: 4.5 | quality: 4 | service: 4 | selection: 4 | food: 4
This place is somewhat of an institution in Gent. Beer geeks have descended on this cafe in masses over the years. The Hopduvel used to have a larger vintage selection, which unfortunately is now somewhat depleted. Located in quiet area, away from the centrum, it is more of an effort to visit, but well worth it. I have always enjoyed viewing the beer memorabilia and the over the fireplace "Hop Devil". I have had interesting food here, including a spicy pumpkin soup. Also, it is well worth the time to check out the nearby Hopduvel warehouse to buy bottles for the trip home.
I've loaded up a trunk or two full of biers here!
Oct 18, 2003
Romabrew from Denmark
4.04
/5
rDev
-7.8%
vibe: 3 | quality: 4.5 | service: 3 | selection: 5
As you come in the short bar is located to your left and behind is the kitchen, There is a large room which leads to a larger indoor/outdoor room looking on the garden area, I think they had the heat on full blast the whole time I was there, We first sat in the indoor part and I was scunshed up in a tiny chair at a tiny table. But as soon a group left from the outdoor?indoor room I grabbed a big round table with lots of space. I was finnally satisfied to have a drink. I had a lot of choices. I started with the La Choffe draft, then moved to the bottle to see the difference. I tried lots of others and some I like d and some I disliked, I did like the free cheese.
I was talking to the Bartender after returning from the bathroom and saw the greatest site in a while, There was a sixpack undrank of Hop Devil from Victory with a couple coasters and a long handwritten message. I asked about and the bartender just srugged it off saying oh some American left that there for them to have.
My only complaint about the palce is the heat, I thought I was in hell. Get it "hell" Devil
Jan 22, 2003

Todd from California
4.55
/5
rDev
+3.9%
vibe: 5 | quality: 4.5 | service: 4.5 | selection: 4.5 | food: 4.5
From my trip in 2000 ...
The Hop Devil Cafe is a bit off the beaten path, but well worth the brisk walk. Amazing vibe going on with a small front pub-like bar and a back dining area with plenty of nooks & crannies -- cozy and warm. They also have a back garden where you can dine.
By the time I got here I was starving, so I ordered one of their specialties. Varkens (pork) lapje meteen van sausje (with sauce of) witbier, witloof (a white Belgian vegetable, cross between and onion and a potato) aardappel wafelrjes (potato waffles). Amazing, and only 325 BF.
A couple next to me was curious about my interest in beer, and the husband, introduced me to Horgaarden Grand Cru. I also had a Quintine Blond and a Kasteel bier (Gouden Triple D'or). Well over 125 beers to select from, which is not as many as some of the major beer bars (but a lot for me!), but everything else about this place made up for it, tenfold.
If you are in Ghent, you *have* to visit this place ... oh, and buy yourself a print or t-shirt of their wood-cut-style "hop devil." I didn't and I regret it everyday.
Oct 04, 2002
Café de Hopduvel in Gent, Belgium
Place rating:
4.38
out of
5
with
14
ratings