Murphy's Restaurant And Pub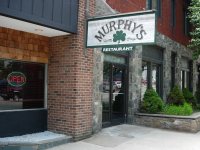 PLACE INFO
Type:
Bar, Eatery
747 W. King Street
Boone
,
North Carolina
, 28607
United States
(828) 264-5117 |
map
Notes:
No notes at this time.
Added by SaCkErZ9 on 10-01-2005
Ratings: 10 | Reviews: 7
Reviews by wcudwight:
3.35
/5
rDev
+8.1%
vibe: 2.5 | quality: 3 | service: 4 | selection: 3.5
This place was crowded and smokey. Also kind of dingy looking. All the people in the bar looked local and I didn't see anyone that looked like a college kid. Decent tap selection.I remember seeing 60 min but there was much more. About 20 taps total. I had the Anchor Steam Beer. Service was good considering the crowd. I really appreciated the bartender as she was working her ass off. I watched her for a while in amazement. I would try again but this was on a Sun afternoon and it still was crowded. Next time I might try the resturant out as it is non smoking. I would recommend Boone Saloon over this place.
611 characters
More User Reviews:

2.84
/5
rDev
-8.4%
vibe: 3.5 | quality: 2.75 | service: 3 | selection: 2.5


2.08
/5
rDev
-32.9%
vibe: 3.5 | quality: 2 | service: 1.5 | selection: 2 | food: 2.5
The bar experience at this restaurant is something that every beer drinker needs to enjoy at least once in his/her life. And not because it's a great bar, but because it's such a terrible bar.
Murphy's beer selection is laughable. Mostly domestic lagers, with a couple imports. A few bottles to choose from, if you like Coors Light, Miller Light, or Bud Light, that is. Draft beer usually comes in a warm glass and is either skunked or flat. I don't think this bar ever cleans their draft lines, as two different beers had the same sour, skunky flavor.
The service is something out-of-this-world. It's unbelievably bad. If you're lucky enough to get a bartenders attention, you will then end up waiting on your beer while the local regulars at the corner of the bar get theirs first. Was there on New Year's Eve and waited literally 30 minutes to get three beers and my tab closed. One of the biggest scumbag bartenders, Steve, upon seeing half a dozen thirsty customers wave at him to get his attention, literally waves back and gives us all a shit-eating grin, like, "We're slow, so what?"
Almost anything you ask a bartender at Murphy's seems to offend them. Thy're cocky, but terrible. They openly complain about low tips to customers. The owner is usually at the corner of the bar getting drunk on free wine and making uncomfortable racist jokes toward his African American bartender (who is actually one of the few good employees at Murphy's) No one moves with any sense of speed or efficiency. They don't try to get to the customers that have been waiting the longest, but will instead serve just whoever happens to be closer to them. If you're an attractive female, you will be promptly attended to, but since the ratio of men to women is usually 10:1, you're gonna just have to get used to waiting if you're a regular guy.
There are a few decent bartenders at Murphy's, but if it's any guy with facial hair, you better start kissing his ass as soon as you walk in or you're in for a real bummer of a night. These guys just don't care. They're burnt out and not interested in impressing anyone with their "service".
I should warn you to stay out of this bar at all costs, but the whole Murphy's Bar Experience is something everyone should have at least once it their lives.
2,287 characters
2.84
/5
rDev
-8.4%
vibe: 3 | quality: 2.5 | service: 3 | selection: 3
Definitely not the greatest place I have ever visited now that's for sure. Murphy's seemed like an all right place if I was twenty years older and a smoker, but this was just a little small for me. Selection was decent enough, did not notice anything tasting off, but I defiantly could have had better in other places. There was a decent selection of the locals and some Great Divide and Rogue, but nothing spectacular. Prices were about average and I did not try the food. I much preferred the Boone Saloon to here, and probably will not be going back, but hey at least I tried and I have been to much worse places in my life. If everything was closed it would not be terrible and at least there is usually something decent here to drink.
741 characters
3.08
/5
rDev
-0.6%
vibe: 2.5 | quality: 3 | service: 3 | selection: 3.5
This place can be fun if you're going to a show or something of that nature, otherwise I don't personally enjoy it. Usually smokey and crowded. There is a left side with the bar area that is pretty narrow with tables to the right. A dividing wall separates that room from a pool room with 3 or 4 tables. The selection is comparable to Boone Saloon but they don't seem to rotate it quite as often. I've also been there drinking something like Highland Outmeal Stout from a plastic cup, which wasn't too pleastant. Never had the courage to try the food here so I can't tell you what to expect if you do. As I said before, if you're coming here for a show this wouldn't be a bad spot. A nice back porch is probably my favorite thing about his place. I can come here once in a while but you'll probably have to drag me out.
819 characters
2.1
/5
rDev
-32.3%
vibe: 2 | quality: 2 | service: 2 | selection: 2 | food: 3
Updated (1/29/07) -- Murphy's has been experiencing some problems with their tap lines. Almost every pint I've ordered recently has had some off flavorings, in particular their Rogue Dead Guy line. I also attempted to drink a Highland Oatmeal Porter last weekend with similar results. The flavor of both beers was weak, with a acidic taste that completely overpowers their true flavors. This is not a one-time occurence. Over the last six months, I've been to the bar four or five times and entered the same exact problems. I believe these beers to be either: 1) infected, 2) infected AND old. I've stopped going to Murphy's and will not return.
645 characters
3.28
/5
rDev
+5.8%
vibe: 3 | quality: 3 | service: 4 | selection: 3
This place is divided up into a resturant side and a bar side. We sat on the bar side. The bartender was very busy but we were waited on promptly. The service was good. they had several taps, your typical macros and Dogfish Head 60 Min. among others. There were several big screen tv's and on one side of the bar were some pool tables. This place is pretty small. If I was in town, I may go to this bar again but it seems it could get a little loud in here. Overall, a decent place to get a brew. There was also a small stage in front.
535 characters
3.68
/5
rDev
+18.7%
vibe: 3 | quality: 3.5 | service: 3 | selection: 4.5 | food: 4.5
Perhaps it is the whole Boone hippie thing but again, the service is the only thing lacking in this pub (see Mellow Mushroom of Boone for more on the hippie thing).
As one walks in, to the right is the bar and smoking and drinking area and to the left is the family nonsmoking area. Three or four arcade machines and pool tables are scattered about the bar area with about 20 seats at the bar. 4 tall 6 seater tables and several booths dart the area as well. The family side is just booths and not much else.
20 beers on tap including dogfish head 90 min IPA, purple haze, harp, guiness, smithwicks, stella artois, duck rabbit, blue moon, yuengling, newcaslte, bass, rogue dead guy, highland, anchor steam sierra nevada PA, and sweetwater 420. Equally large selection of bottled beers.
Since I visited during lunch, I was unable to sample the beers, but the food was great. The hamburger with pineapple, bacon, swiss, and teriyaki sauce is definitely worth trying and only 5 dollars. When the waitress was there, service was ok but not good.
Cheap food and drink specials during the week. Thirsty Thursdays have $2 drafts if I am not mistaken. Not too bad. My next trip to Boone I will have to visit in the evening hours.
1,233 characters
Murphy's Restaurant And Pub in Boone, NC
3.1
out of
5
based on
10
ratings.