De Trollenkelder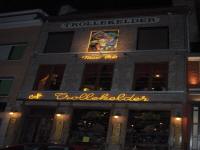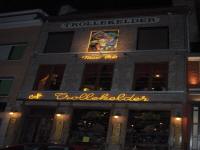 Bar
Bij Sint-Jacobs 17
Gent
, 9000
Belgium
+32 9 223 76 96 |
map
detrollekelder.be
Notes:
ct1 from Virginia
4.5
/5
rDev
+6.6%
My husband and I visited De Trollenkelder about a week ago (August, 2014). Our stop there was towards the end of our visit to Belgium and we were a bit road weary. However, the beer list was very extensive and we were able to taste some beers that we hadn't been able to find in other pubs. We tried Cantillon Geueze and the Westvleteren. Both were wonderful, the decor was great with antique mugs hanging from the rafters, stone walls, and low ceilings. We found the staff to be friendly and helpful…. overall a very enjoyable way to spend an hour or two.
Aug 17, 2014
Jackofallbrews from Minnesota
4.36
/5
rDev
+3.3%
vibe: 4.5 | quality: 4.5 | service: 3.75 | selection: 4.75
This was yet another small and ancient pub in a land of such, but stands out for their décor and impressive beer list. They actually have a newspaper style beer list that includes history and taxonomy of trolls, beer reviews and interviews, something that I would love to see at our beer bars here in the states! We ended up sitting on the street, trading sips of many fine beers that afternoon, with frizzy haired trolls looking down upon us from the windows above. I first tried one of the few tap beers: the bright and somewhat hoppy Easter beer from Chouffe called Soleil. That one was pretty good, but I had to finish with a Cantillon Geueze...because it was there!
May 22, 2014
benfons from Belgium
3.93
/5
rDev
-6.9%
vibe: 4.5 | quality: 4 | service: 3 | selection: 4.5
Cosy place with pretty big selection, most of the time correct but nothing more than that. Sometimes impolite, you need some luck with the bartenders mood.
One of the bigger cards of Gent, A bit pricey, except for "het bier van de maand" (beer of the month), which is two for the price of one, and are normally pretty good beers.
Bar food is typically Belgian: some cheese and salami,...
Good, but not great bar. In the evenings it is full pretty fast. And it has smokers and non smokers zones.
Jan 27, 2011

ViveLaChouffe from Georgia
3.49
/5
rDev
-17.3%
vibe: 4.5 | quality: 3.5 | service: 2 | selection: 4.5
Visited 10/2008
The next bar on the list was De Trollekelder, a bar full of, as you may have guessed, statues, carvings and paintings of trolls and the like. Lots of wood in the bar, very atmospheric and offered nice views of a cathedral from the window seat we occupied.
Only one problem; even though the bar opened at 16:00, the barkeep did not seem thrilled to see us coming through the door at 16:05. I think he was annoyed because he was not expecting customers until later in the afternoon. He did not throw us out but was curt while we ordered the house blonde ale and then took our beer menus away.
The beer was not impressive either.
The beer menu was quite extensive but we didn't see any point in staying where we were not wanted. We paid for our beers and moved on to the Market Square.
May 27, 2010
DaPeculierDane from Wisconsin
4.5
/5
rDev
+6.6%
vibe: 4.5 | quality: 4.5 | service: 4.5 | selection: 4.5
Visited: 8-21-08
A warm and inviting two leveled wooden bar with quaint candlelit tables perfect for intimate conversation, and as we observed...sometimes more. Hops are draped here and there and above the door and on the walls are hideous little paintings of trolls. I especially like the sign indicating the directions to the restroom - A particularly rough looking troll standing in the buff pissing in a pot. Most interesting were the other patrons in the bar. The Trollekelder was full of gorgeous women, including an attractive young lesbian couple who was anything but shy about PDA. Is Troll code for Lip-stick lesbian in Flemish?
Selection features about 130-150 beers specializing in local, regional, and troll related beers. Lambics and Trappists are also featured. We ordered an Orval and a Rocheforte 6 followed by Troll Brune and Blonde, house beers that were different from the Trolls beer so commonly found on tap in Belgium. Next came De Cam Geuze and an Amber from Quintine.
Service was flawless, a true A+. Our server was genuinely friendly and interested in our beer journey. He told us about his dream to drive a red Mustang convertible from New York to LA and we exchanged contact information. I had actually only planned to stop into Trollekelder for 1 beer but it was just such a pleasure chatting with our server and the other employees in the bar that we stayed and stayed and stayed. They all knew their beer too. By the time we finally left to catch dinner, the hour had passed 10:45 PM. Thankfully our server gave us directions to a nearby establishment popular with the locals that was known to stay open late. It was a great tip and there I found the best Flemish beef stew of our whole trip.
The Trollekelder was a wonderful experience, especially when compared to maltreatment we received at De Dulle Griet. Highly recommended.
Nov 29, 2009
BlackHaddock from England
3.73
/5
rDev
-11.6%
vibe: 4 | quality: 4 | service: 3 | selection: 4
The front window is full of Trolls, big and small, cute and grumpy, bald and hairy, but once inside they seem to be a little sparser. Split into three and a half levels, wooden floors apart from the stone celler, you are watched by Trolls while you drink.
The place wasn't too busy so we could choose our seats, we sat near the window at first but the breeze from the main door when anyone came or went forced us down into the celler, the upstairs being closed off apart from visiting the toilets up there.
Barman was pleasant enough, he didn't come and find us, so we re-ordered at the bar and carried them down ourselves, no problem, no tip!
Not the largest beer list in Gent, but a nice enough bar and well worth finding, especially if you like those awful Troll dolls.
Jan 22, 2009

ggaughan from Pennsylvania
4.22
/5
rDev 0%
vibe: 4.5 | quality: 4.5 | service: 4 | selection: 4
This was our last stop of the night, a long night. We got here after midnight and in a downpour. Thank god we were able to find the last table on the 2nd floor.
Another cool bar in Gent with a cool atmosphere. Although the trolls in the front window were a bit odd, they had a certain charm to them.
Very nice bottle selection. My wife had a Duchesse to start and I had a Barbar. After taking in the scenses for awhile I had another beer or 2 including a house beer for the Trollekelder. If it was not at the end of the night, we would have stayed longer as this was a cool place and nice selection.
May 17, 2008
jasonm from Pennsylvania
4.34
/5
rDev
+2.8%
vibe: 4.5 | quality: 4 | service: 4.5 | selection: 4.5
I was on a mission while exploring the medieval center of Gent to find this place. Located near the Grasmarkt and Sint Jakobs church, its definitely worth a stop.
As others have stated, the atmosphere is troll-themed and borderline kitschy, but it pulls it off. Arriving around 4pm, I was the only one in the bar so I grabbed a table on the first floor with a nice view of the street outside.
Beer selection is excellent, including some drafts that I hadnt seen elsewhere such as their house Trollebier, Westmalle Double, and Barbar (one of only two places in Flanders to have it on draft according to the bartender).
I struck up a conversation with Ourijn, the bartender, about several beer related subjects. Upon seeing my review notes, he even asked if I would review his own beer for him. Upon leaving, he helped out with directions to the Hopduvel Cafe.
I would have loved to have been able to spend more time here.
Jul 05, 2006
Goldorak from Canada
4.43
/5
rDev
+5%
vibe: 5 | quality: 4.5 | service: 4 | selection: 4.5
We had a late dinner, and my girlfriend was dead tired. I begged her to go have one last Beer before heading back to the hotel. She agreed, but was visibly not too thrilled. We stepped inside Den Trollekelder and she was the first one to say "Wow, I'm glad we came here!" The bar is beautiful, we took the stairs and sat near the window. Candle-light, dried hops on the ceilings, brick, wood, classical music...We're not "troll lovers" by any means, but even though they're everywhere in this bar, it just fits in just right, just subdued enough if you don't care to look. There isn't a bar in north america who could pull this off and not pass off as either tacky or pretentious. It was the perfect place to kick back and have a good Beer. And that's exactly what I did.
Selection is very good, all the trappists are there, including draft Westmalle dubbel, and my choice for the evening, Westy 12. I don't know if it was the ambiance, the freshness of the Beer or the jetlag/adrenaline rollercoaster of the trip, but it was a whole lot better than the ones I've had here.
Even though the place was filling up slowly, the atmosphere stayed remarkably quiet, and the waitstaff had it under control.
I'm glad I convinced my girlfriend to stop, once we got there she didn't want to leave!
Sep 28, 2004
wbthink from New York
4.56
/5
rDev
+8.1%
vibe: 5 | quality: 4.5 | service: 4.5 | selection: 4.5
Trollekelder has lots of personality, and a great bier list. This multi-level cafe is chock full of trolls, a copper bar, friendly staff, and classical music, which make for an enjoyable drink or two, or three... They have candles everywhere to add to the scary "troll" look + a neat downstairs catacomb area. Conveniently located near the markt, it's easy to find. If you like surpises (and whiskey), head through the door at the back of the men's room into a connecting little bar that is actually accessable from around the block. This little bar is whiskey, vodka, and genever focused, so beware.
Oct 18, 2003
saltydog from New York
4.4
/5
rDev
+4.3%
vibe: 5 | quality: 4 | service: 5 | selection: 4
This bar is very conveniently located in the square near the St. Jacobs Church, a few doors down from Dulle Gruit. The front area with the trolls is very goofy, but when you enter, you find this is very atmospheric and classy place, with candles and classical music. Bar is made of copper, with a troll image on it. The bartender there every day have been there pours a great glass, and has an outstanding memory...he remember my name without prompting when I returned for the first time in a year, having only visited a couple of times before. A good, though not huge, selection of beers adds to a great evening. And for a little variety, you can also go to the other place down the street.
Oct 15, 2003
TheLongBeachBum from California
4.58
/5
rDev
+8.5%
vibe: 4 | quality: 4.5 | service: 5 | selection: 4.5
Den Trollekelder is in the square by the St. Jacobs Church. You can't miss it.... if you stand outside, and do not feel the many pairs of eyes staring at you from the Wide-Eyed Troll Puppets & Dolls, of all shapes and sizes, in the front window - you are not outside the Troll Cellar!!!. Quite small but very cosy and friendly - the service is always first rate. If you don't know what you want? - they will do their best to steer you in the right direction. The bar is small, draped in Hop vines. It has two floors, I prefer the lower one, always dark with candles on the tables - but this adds to the ambience and cozyness. On my last visit I tallied nearly 150 beers, including the excellent Hanssens for Gueuze monsters and many Abbey beers including the relatively rare ones from Westvleteren. Stays open late and can get full very quickly.
Aug 18, 2002
De Trollenkelder in Gent, Belgium
Place rating:
4.22
out of
5
with
25
ratings