Gordon Biersch Brewery & Restaurant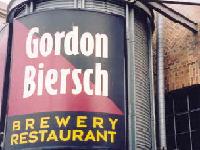 PLACE INFO
Type:
Brewery, Bar, Eatery
7861 Tysons Corner Ctr
McLean
,
Virginia
, 22102-4515
United States
(703) 388-5454 |
map
gordonbiersch.com
Notes:
No notes at this time.
Added by ManekiNeko on 10-03-2005
Reviews: 14 | Ratings: 21

3.85
/5
rDev
+6.6%
vibe: 3.25 | quality: 3.75 | service: 4.25 | selection: 3.75 | food: 4
Great place to visit when you need to be at the mall. Servers are almost always top notch, food is good and of course they don't serve BMC. Never had an extreme beer from GB, but always decent and to style.
206 characters

4.58
/5
rDev
+26.9%
vibe: 4.25 | quality: 4.75 | service: 4.5 | selection: 4.5 | food: 4.75
Love GB beers and the garlic fries keep me coming back every time I am near any of their locations. I really like this place and have never been disappointed.
158 characters

3.73
/5
rDev
+3.3%
vibe: 4 | quality: 3.5 | service: 4 | selection: 3.5 | food: 4
The Tysons Mall is one of our favorite hangs and will continue to be so. The great thing about this place is that one can come here, drink some brews, eat some pretty good food, then hit a movie, which is only a few steps away.
Atmosphere and Quality: If you come to the Tyson's Mall on Friday or Saturday, you're crazy. Sure, this place is really nice and very filled with the rich. Because I'm a movie buff, this place is VERY nicely located.
Service: Great overall. Never had any problems here.
Selection: Decent beer, German style, fine to my mind.
Food: The fries are to die for. Get those!
Value: Considering it's in the same complex as a movie theater, I'd gladly spend that $$ again.
O: Good drinking hang, amazing location.
738 characters
3.48
/5
rDev
-3.6%
vibe: 3 | quality: 3 | service: 4.5 | selection: 3 | food: 4
A book signing at Barnes & Noble required that I make a very rare trip to Tyson's Corner Center, a massive shopping center located amid the soulless sprawl of Northern Virginia just outside Washington, DC. Opposite the Level 1 entrance to the bookstore, Gordon Biersch beckoned. Ah! A brewpub in a mall! How quaint. Not really; actually, having a Gordon Biersch in Rockville, Maryland (See My Review) had negated any reason to visit … until now. So, why not stop in for a few schwarzbiers, since I am here anyway.
The venue is L-shaped; upon entering the L's corner, you see the large, dimly-lit, bar to the right; if you head straight, up a few stairs, you are in the vertical segment of the "L," which is the main dining room, where there several rows of comfy booths. On your right is the open kitchen; straight ahead, at the top of the "L" are located the restrooms and the glistening brewing tanks. There is also a "patio" where you can sit outside and gape at the crap-laden shoppers as they stumble past. Intimate it is not.
If you have been to a Gordon Biersch, then you know of the beer selection: a light helles style, a marzen, a wheat, a Czech pilsner, the aforementioned dark lager and a seasonal – this was not available at the time of my visit, but was told to expect a Belgian saisson. Yes, indeed. GB beers are fresh and adequate if somewhat over carbonated. The menu was the usual array of appetizers, burgers, wraps, salads and entrees – and those garlic fries that will render any palate numb. (I enjoyed an undercooked kobe cheeseburger.)
The service was very good: my beer was always replaced and the water glass always replenished. All in all, and despite the horrible location within a terrible locale, this was not a bad experience at all. I got beered, burgered and went home. Would I return to this specific location? No. It's in a mall!
By the way it was ten years ago today that I first became a Beer Advocate. [Applause and Cheers] Thank you!
2,002 characters

3.1
/5
rDev
-14.1%
vibe: 3 | quality: 3.5 | service: 3 | selection: 3 | food: 2.5
Situated right in the Tysons Corner mall. I am not a big fan of brewpubs inside malls - reminds of airport pubs. But, again it is nice to drink craft beers while waiting on the missus while she shops or while you wait for your flight. However, I feel GB has become too large to the point where it isn't an unique pub to obtain quality craft beer. Service here is subpar - most likely because of how busy this place can get (hello, its a shopping mall with guaranteed foot traffic). There is an "oustide/indoor" patio, if that makes any sense which is kind of cool for people watching or when hanging out with a large group of people. Food is once again just average just like their beer flight.
694 characters
2.05
/5
rDev
-43.2%
vibe: 2 | quality: 3 | service: 1 | selection: 2
I stop into the location in DC quite a bit after hockey games, so figured this one would be okay while waiting for some friends to show up. The service at the bar was, for me, horrible. The bartender was the rudest I've met, and took forever to come over to me both the first time and when I was finished (in an empty bar). The beer is Gordon Biersch - a couple solid brews, but nothing to write home about. I haven't been back, but in passing by a few times, I've never seen it as packed as some of the other reviews, so the atmosphere was fine.
546 characters
3.3
/5
rDev
-8.6%
vibe: 3.5 | quality: 3.5 | service: 3.5 | selection: 2.5 | food: 4
I've been to Gordon Biersch a couple of times now, and I haven't been terribly impressed. The food is good but nothing special, the service is mediocre, the atmosphere tries a little too hard, and the beer selection is somewhat disappointing. I can understand that it's supposed to be a German style restaurant, so their beer selection is all Germans. But they're simply not good. Microbreweries should take more pride in their beers, but for Gordon Biersch, it definitely seems like an afterthought. You can skip this place.
525 characters
3.98
/5
rDev
+10.2%
vibe: 4.5 | quality: 5 | service: 3.5 | selection: 3 | food: 4
I stopped in Gordon Biersch after a day of shopping with the girlfriend at Tyson's Corner. I've heard many good things about Mr. Biersch, his styles of beer, and the precision control of the brewing process. I must say that actions do speak louder than words when it comes to this beer. From the minute you put the mug to your lips to take a sip you know that somebody behind the scenes really cares about this brew. The exceptional quality of each beer is imminent and the hard work really pays off. The only down side is that since the restaurant is located in NOVA don't expect any happy hour/good deals when you get there....
629 characters
3.45
/5
rDev
-4.4%
vibe: 2 | quality: 4 | service: 4 | selection: 3 | food: 3
Brewpub in a high-profile suburban mall! Service was good, beer selection is two dimensional, but very good quality within its limited range. Crowd is well - the kind of people you might expect to actually want to spend an evening drinking in a mall. The atmosphere is...the mall, as in the whole place is open to it. The perfect environment however for those lacking the imagination and daring to spend their free time in an actual neighborhood or town instead of a sprawling retail complex. Lots of guys drunkenly hitting on girls, and a few jock casualties actually walking around staring down admiringly at their intentionally puffed out chests. Wow. My one visit will not be repeated. I am glad though that this place drains off extra meat heads that would otherwise be hanging out at - and ruining - cooler places.
820 characters

3.63
/5
rDev
+0.6%
vibe: 3 | quality: 3.5 | service: 4 | selection: 3.5 | food: 4
Recently stopped here with the wife after a morning of shopping at the Tyson's Corner Center. The place was fairly busy during lunch time on a Saturday but we found a seat fairly easily in the bar area. Atmosphere was what you would expect from a brew-chain like this. Meaning fairly average. The brewing area is off to the back behind glass but besides that and some random beer signs on the walls, you'd be hard pressed to know what they did here. I feigned ignorance to our server as to what the place was all about, so that she could give her spiel on the beer. Not too bad. She directed us towards the Golden Export, if we were used to BM/C. She was fairly prompt and courteous with the service during our visit, so no complaints there.
In the beer department, they offered up six selections of the German variety. The Golden Export, Hefe, Czech Lager, Marzen, Schwarzbier, and a Seasonal, the Autumnfest. I went with the Autumnfest and it wasn't bad. Nothing too stellar in the taste department but it was fresh and crisp and cold and helped quench my thirst. We split a crab and artichoke dip for lunch and it was a good sized portion for two people and quite good. Both food and beer prices were reasonable and about on par with what you would spend at a similar type of brew-chain.
All in all it's not a stellar beer drinking venue but if your thirsty for a cold one and some decent food during a cramped, crowded day at the mall, you could certainly do much worse. I personally wish every mall had a place like this attached to it when such occasions arise.
1,571 characters
3.8
/5
rDev
+5.3%
vibe: 3.5 | quality: 3.5 | service: 4 | selection: 4 | food: 4
This Place Is set inside the newly renovated section of the tysons mall. Its a great place to stop into if you are shopping and want a dinner. Their own brew selection is good, not great. I enjoyed their sampler which allows you to try them all and decide for yourself which you like. The menu also does a great job of describing the different beers, without overloading a novice with too much info that would just go in one ear and out the other. The food is also good, though not great either. The price can get up there if you try a few beers and stay for dinner. Its a fun place to stop into and they have a bar area as well. Its definatly worth a stop by, especially if your in the mood for a brew pub.
707 characters
3.68
/5
rDev
+1.9%
vibe: 4 | quality: 4 | service: 3 | selection: 3.5 | food: 4.5
Nice place. Nice big high marble ceilings. Big beautiful brewery to your left and a nice bar to your right. This site used to actually be The Bank of the District of Columbia.
The place is very dependalbe in my opinion. The beer is good and the food is even better. Just thinking about those garlic fries.... But any case I would highly recommend this to anybody. My favorite beer of there's is the Hefewiezen which was one of the best I have ever had.
The service is alright I've been there at times when the barkeep will keep your beer glass filled but others that didn't. I have been there at different times of day, sometimes for lunch othere for dinner but still.
The varitiy of brews that they have isn't all that great. Hefewiezens, Pilsners, and Lagers are they main ones but they have others as well. One thing though is that they have only German style brews which falls under the Reinheitsgebot... which if anybody doesn't realize is completely organinc. Another cool thing is that they have a service that you get a "Sampler Pack" which is the five main beers they brew year round in shot glasses for you... it's free.
They food is amazing. I love everything on there menu. Especially during Oktoberfest where they make this best German food in America.
This place can get a little pricey if you stick with the main entrees and get lots of beer but a great place to visit if your in DC.
1,413 characters

3.88
/5
rDev
+7.5%
vibe: 3.5 | quality: 4 | service: 3 | selection: 4.5 | food: 4.5
I had the good fortune of unknowingly showing up here on the release day of their 2006 Oktoberfest. I was in town on business, did a Beerfly search and BOOM! I'm staying only minutes from this place! I'd been to the Atlanta location a few years back and was pleasantly surprised back then, but I was not exactly a BA at that point.
For a Tuesday night, the place was a mob-scene. We had to wait an hour to get a table, and there was absolutley NO room in the bar area to wait. We spent the time at the Barnes & Noble next door. When we finally did get seated it took at least ten minutes for the server to acknowledge our prescence.
Anyway, I asked about a sampler of theier beers (which I assumed I was going to pay for), and what I got was a complimentary 2 oz. of 6 different beers. The server described each in a very rehearsed manner that suggested I needn't ask him any further questions about them.
All of the beers were worthy in my opinion. I didn't take notes and pretty much don't even remember any characteristics about them, but none were disappointing. I had the Golden Export, Hefeweizen, Czech Lager, Marzen (my fav, and also the fav of the server), Schwarzbier, and the Oktoberfest. I then ordered a pint of the Marzen with my dinner
Dinner was fantastic all around. I was the only one drinking beer (my colleagues are not drinkers) but everyone in my group complimented me on my choice of restaurants for dinner. As part of the Oktoberfest celebration, our server's name happened to be chosen out of a hat and he had his choice of tables to award a prize to. He chose ours and I got a giant mug with GB on it, and an Oktoberfest 2006 long sleeve T-shirt!
All in all, a pleasant experience, I will return on my next trip to McLean!
1,764 characters
3.6
/5
rDev
-0.3%
vibe: 3 | quality: 4 | service: 3.5 | selection: 3.5 | food: 3.5
This GB is located in a part of the Tysons Corner Center (the original, not the Tysons Galleria, aka Tysons II) that was recently renovated and expanded. There's a new movie theater here, a couple of new restaurants, and this new GB.
It is pretty much your standard GB with what I call California-style cuisine for food and well made, clean lagers for beer. They have a standard set of brews, plus one rotating seasonal, which at the time I was there was the Winter Bock. Unfortunately they were out of this one, so I settled on the Marzen. They also had the Export, a Hefe, and Pils and a couple of others on draft.
Service was pretty much average, the guy who was helping us was trying very hard, didn't fully understand the beer selection, but thats ok I guess. I had a pizza with chicken, gorgonzola cheese and a few other toppings and it was pretty good. The wife had a caesar salad with grilled chicken that she said was very good.
This place is pretty new and its clear they are still working out a few kinks as far as training the wait staff, running the kitchen smoothly, etc. But overall another good spoke in the GB chain with extremely well made lager. If you're in the Tysons area and looking for fresh brew, this is about the only place to go, so enjoy.
1,276 characters
Gordon Biersch Brewery & Restaurant in McLean, VA
3.7
out of
5
based on
3,449
ratings.