Ramirez Liquor & Kegs Delivery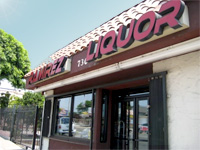 PLACE INFO
Type:
Store
736 S Soto St
Los Angeles
,
California
, 90023-1321
United States
(323) 261-2915 |
map
ramirezliquor.com
Notes:
No notes at this time.
Added by phan542921 on 10-03-2005
Reviews: 14 | Ratings: 28
4.3
/5
rDev
+6.4%
vibe: 4 | quality: 4.5 | service: 4 | selection: 4.5
This is one of the best stores in the city and it's sort of a hidden gem. The neighborhood is East L.A. which is getting more and more re-gentrified daily. It is a very mixed population and no longer the "bad neighborhood" of years past.
This place has one of the best selections of tequila anywhere...period! Bottles go from modest to many hundreds of dollars and there are, literally, hundreds of different bottles.
In speaking with the owner (the son...Alex) who took over from his mother he got into beer by accident. Now, he prides himself on his knowledge and his never ceasing efforts to provide more and more diverse choices. He's doing a great job.
Stop in. No, it doesn't have the biggest selection in town but it's a great selection and you almost always find something that you've been looking to try. Also, every now and then you can find an older bottle for a real treat.
Good place.
Oct 8, 2011 addition: Alex is really growing the place. More and more selections are coming in of high quality. Today, Cantillon bottles on the shelves!
★
1,057 characters
4.03
/5
rDev
-0.2%
vibe: 4 | quality: 4.5 | service: 3 | selection: 4.5
I visited Ramirez after a bottle share last weekend. It's in a slightly sketchy area and I got asked for money both leaving and going back to my car. The outside looks like any other liquor store but inside it's actually nice. Most of their beer is in coolers but there is a good amount sitting on shelves as well. Service is average at best. The selection is pretty great, including some out of market beers and things I have never seen anywhere else. Prices are reasonable but some of the out of market stuff was a bit pricey ($8 for a 12 oz. bottle). Definitely worth a stop if you are in the area.
★
601 characters

4.44
/5
rDev
+9.9%
vibe: 4 | quality: 4.5 | service: 4.25 | selection: 4.75
I wouldn't have visited this place had it not been for BA reviews. Like what others have said, from the outside, it looks like any other ordinary liquor store. However, once you enter, you'll see the tremendous selection of tequila they carry behind the counter on the wall. That's the first eye catcher.
Then, when you proceed towards the back of the store you'll see 19 coolers full of BMC, craft, and imports. However, the hidden gems are generally found sitting on metal shelves in front of the coolers. Although they are not refrigerated, they are stored away from sunlight. I've gotten my share of Founders, Duck-Rabbit, Central Waters, and Bell's brews from the shelves. In California, you know they are not easy to find anymore, even at those so-called specialty shops. Since they are out-of-market beers, they will be marked up. However, I welcome the choice to try these beers, even at a premium. If I'm only interested in one bottle to try out, it's much more convenient to buy at Ramirez than to trade for it. If I like it, then I'll definitely trade to acquire more.
The other day, I was perusing the metal shelves when Alex came by and introduced himself. We chatted for awhile, and I continued my search. Few minutes later, he came out with some stuff from Bell's and asked if any of them interested me. One of the bottle was Two Hearted Ale which I haven't had yet, so I grabbed that one with a smile, and thanked him.
I've been to local Total Wine, Walnut Liquorette, etc., but I seem to find the really good stuff (by California standards) here. Last time, I bought a bottle of Founders Breakfast Stout which was really tasty.
I try to visit Ramirez Liquor once or twice a month, and it's always a treat because you never know if they're going to have something special that day.
They will be opening another store in Pico Rivera soon. Alex told me they will have more beer and a better selection there since they will have more interior space. Can't wait to visit the new store.
★
2,002 characters
3.6
/5
rDev
-10.9%
Visited on 02/25/08.
Dodgy Boyle Heights neighborhood. Ambiance was typical liquor store, with displays of impossibly hot chicks enticing one to buy this or that liquor. Pretty good selection of craft beers, though nothing like the rare (to the west coast) beers found at Walnut Liquorette or Lone Hill Liquor.
One staff member was enthusiastically discussing Stone Beers (I think) with a customer in Spanish. They also have Stone T shirts for sale for $15.00 each. I couldn't find one I liked in a size I could wear, though. Oh, well...
I picked up a couple of bottles: one I had never seen before and one I hadn't seen in at least a year.
Overall, probably not worth the trip unless you're within a few blocks of the place. I'd rather drive 30+ miles to Walnut or Glendora than 8 miles here. Still, you can do a LOT worse on almost any corner in the greater LA area.
★
875 characters
4
/5
rDev
-1%
vibe: 4 | quality: 4 | service: 3.5 | selection: 4.5
Whoa. I mean, whoa.
From the outside, Ramirez Liquor looks like the kind of place where you'd just find caguamas of Sol, cans of Steel Reserve, and five-year old beef jerky sticks.
When you get inside, however, it's an entirely different world. To your left a towering wall, twenty feet by thirty feet, every inch filled with Tequila. Bottles from 15 dollars to 300, if you can name it, they'll have it. Worth a visit just to see some of the absolutely gorgeous hand-painted bottles.
You're here for the beer, though.
On the right hand side, wrapping around the joint, is case after case of excellent beer, specializing in Belgian and German producers. Every thing is kept cold, and the beers I've bought so far have been in tip-top condition.
More importantly, I've been drinking craft beer for the better part of 9 years, and I hadn't even heard of half of what I found in here. A treasure trove. The great part is how casually fantastic bottles are thrown in there -- a Pliny the Elder over here, a Mikkeller Beer Geek Breakfast over there. My only complaint is that the bottles aren't organized very well, so you'll have to do some hunting. Still, you'll want to take your time in here -- think of it like a fantastic old vinyl store.
Prices are a bit high (and bottle prices are not marked), which is a pain. Compounding the problem, service is fairly disinterested, so it takes a while to get things sorted out.
Even so, this is certainly worth a trip. You may think you've drank them all but you haven't been here yet. As a bonus, Carnitas Michoacan #3, across the street, has some of the best asada in the city. Get the quesadilla.
Let me put it to you this way. This store introduced me to the best beer I've drank all year ( http://beeradvocate.com/beer/profile/23495/36378/?ba=ithacabaron ), one that changed how I think about the style.
A run-down deli, in Boyle Heights, providing revelations about Berliner Weiss?
I love LA.
★
1,951 characters

3.39
/5
rDev
-16.1%
vibe: 3.5 | quality: 4 | service: 2 | selection: 4
Been here 3 or 4 times. Little convenience store that has good liqour and craft beer. The beers here are a good selection, many German and Belgian imports that I cant find elsewhere in LA. I question how long some of their beers have been sitting in their coolers, though. Some of their beer is pricier than elsewhere in the city, sometime 2-3$ more expensive, but at least they get some of the rarer stuff that you cant find anyplace. I found Pliny the Elder here first before they had it anyplace else. My complaints are that the beer there could have been in the cooler for years for all I know and also they have some security guards there that are kinds shady and its also in a somewhat shady neighborhood, so be weary.
★
724 characters
4.15
/5
rDev
+2.7%
This is probably the best beer store east of downtown LA. I remember this was just a regular lotto ticket and beef jerkey store in boyle heights and it has been totally transformed into a high class liquor store with a lot of spirits and top notch beer. You'll find all the big names of California beer including Alesmith, Stone as well as Abt 12 four packs, 750ml Belgians. I'm tough to please on selection but they did have five or six coolers of thoughtfully selected beers. The young guy behind the counter even told me to tell him if I wanted him to order something because he like to please and drink new beers. Hell they had Hopdevil!
★
641 characters
3.94
/5
rDev
-2.5%
vibe: 3.5 | quality: 4 | service: 3.5 | selection: 4.5
Came down on a recent trip to San Diego, stopped by this place for a little break and to see what I could find.
Going past the MASSIVE amounts of tequila (seriously, bring your tequila friends here for their fix), head to the back coolers - lots of different beers to be found here. I was looking for some Hangar 24 for a friend and found it right away. Also able to pick up some Stone IRS, saving myself the trip down Citracado Way. Beyond that, took a lot of restraint not to buy much more. Several beer giants are represented here - Port, DFH, Stone, Mikkeller, Avery, Allagash, etc.
Wish the service was a little better, but the cashier was helpful and recommended some good food in the area as well. Friendly people, well worth a stop
★
741 characters
4.7
/5
rDev
+16.3%
vibe: 5 | quality: 4.5 | service: 5 | selection: 4.5
Been going here for about a year now, but was extra impressed this morning so I figured I put up a review.
Ramirez is hidden right outside of downtown LA. From the outside it looks like your average downtown liquor store, but once you get inside the run really begins. Behind the counter are hardwood shelving units that look like they're from an old library - complete with sliding ladder. They're filled with various types of liquor ranging from glass rifles of tequila to other high end spirits.
I first started going to Ramirez for their keg selection, which is pretty good, especially for 5 gallons. They're also willing to order kegs for you if you let them know in advance.
Bottle wise, they've got a pretty killer selection. There are about 8 coolers or beers as well as a couple shelving units in the middle of the store. What really impressed me was the guys that work there. They've always been really friendly and are down to sit and talk about beers. I told them I've been looking for Beatification and they were happy strike up a conversation about it.
Pricing here isn't too bad either. I've been to a number of other liquor stores that are charging more than what I know I can get at Ramirez. I've found some great beers here and will continue to be a regular customer.
★
1,291 characters

5
/5
rDev
+23.8%
vibe: 5 | quality: 5 | service: 5 | selection: 5
This place is fantastic! It's in a gritty part of east Los Angeles, and I probably wouldn't have stopped here if I hadn't heard of the place. Looks like an average place in a seedy neighborhood, park in the alley. Walk in and there are fine wooden shelfs stocked to the ceilings with scotch, brandy, whiskey, tequila, cognac and all kinds of other liqour ranging from crap, to extremely fine.
The beer... THE BEER! They have about 15 coolers liked with every manner of craft an imported beer, with regular BMC stuff and malternatives mixed in a pretty unorganized manner. Spend time looking, because there is a lot!
The beer guy, Alex is very friendly and helpful, and when I asked if the had it he went to the back and brought me two bottles of Pliny the elder! Then he noticed the taddy Porter I was also buying and asked if I had tried the samuel smith chocolate stout (which I had NOT). I've wanted to try this for a while but had not seen it.
Overall very well stocked and knowledgable, helpful friendly service and a nice clean store.
When a bum outside asked me for change (which I didn't have) I said sorry man, you need a beer? He said he did and I gave him one of the ten fidy that I bought. He was ecstatic!
★
1,223 characters

4.86
/5
rDev
+20.3%
vibe: 5 | quality: 5 | service: 5 | selection: 4.5
This place is a gem hidden in a very unlikely spot. Anyone traveling through downtown should just hop off the freeway and check this place out. Got there at 0730 this morning and was greeted by the ever cheerful and enthusiastic Alex. The place is loaded with tequila and beer. Great selection of hard to find beer. Most things that need to be in the refer are. There doesn't seem to be any reason to the way things are layed out other by brewery, but this makes you look that much harder and it makes it more fun for me. I find stuff here that I cant get elsewhere.
Price may be something like what you would expect from a place like a local liquor store selling high end craft, but what you don't always get in those stores and certainly not in the big chains is Alex and his brother who are very into craft beer and want to teach and learn. From the moment you walk in the store they are there to help and show you something that just came in. No snobs and no crap. They got my business.
★
992 characters

4.35
/5
rDev
+7.7%
These other reviews are ancient... And it's due for an update.
I stopped into Ramirez Liquor for the first time today, and all I can say is TEQUILA!!! This place is known for its VAST (100-300+ bottles) tequila selection. They have it on 3 walls of the store, floor to ceiling it's a masterpiece of bottle display. I was in awe.
Enough about the tequila, this is a beer site and needs a proper beer filled review.
This place has about 13-16 fridge doors dedicated to beer, and again these are filled to the brim. 6 packs are placed 2 bottles outward not the typical 3 bottles, so they can SQUEEZE more cases into the fridges. There is no rhyme or reason to the placement also; it's randomly just thrown in cheap import next to Firestone next to Budweiser next to Victory. This makes it a little harder to find exactly what you're looking for, but also makes it a fun scavenger hunt. They have bombers next to 4/6 packs, and 12oz next to anything they can fit it next to.
As for selection, it's pretty impressive for being dedicated Tequila. They have a vast selection of California craft beer. I saw the following but not limited to; Stone, Firestone, Russian River (Pliny & B. Pig), Port/LA, Victory, Avery, Allagash, DFH, Sierra Nevada, etc. Not only was the American Craft beer well represented but the Imports were also in full effect, stuff from Asia, South America, and Europe. They also had some 3L bottles that weren't extremely overpriced.
This isn't a Red Carpet, but the selection is very comparable. If you're in the area and looking for something decent, this place is worth a try. Thankfully because I live in downtown it's just over the LA River for me, a quick 5-10 minute drive, whereas I have to plan a trip to Red Carpet.
★
1,745 characters
1.48
/5
rDev
-63.4%
vibe: 1.5 | quality: 1 | service: 1 | selection: 2.5
This store was a dissapointment. The lay out is very cramped and the security guard makes you feel very uncomfortable with a "hurry up and buy" attitude. With that said had I not felt the over bearing feeling to leave the establishment I could of took my time and realize the ipa I purchased was 7 months old so that just shows they don't rotate their inventory so u might buy some very old product. How can 7month old be considered "quality"? How can the atmosphere be good when I didn't feel welcome? Get over yourself, your not the only rodeo in town
★
553 characters
4.71
/5
rDev
+16.6%
vibe: 4 | quality: 4.5 | service: 5 | selection: 5
This place is great!!!! Iove going here for my beer needs. Now they are on face book and it's made it easier to check if they have something on stock. They are also on twitter. This is great great because they post new items or limited items they got for the day. I have asked online if they carried a particular beer and they responded pretty quickly.
They carry all sorts of beer and liquor. It's known to get a little crammed in there and parking can be a pain. I would suggest to get there early to beat the rush.Otherwise it's a jen hidden in Boyle heights!
★
564 characters
Ramirez Liquor & Kegs Delivery in Los Angeles, CA
4.04
out of
5
based on
28
ratings.