Vanilla Porter
| Dry Dock Brewing Co.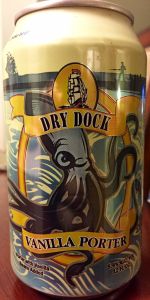 BEER INFO
Brewed by:
Dry Dock Brewing Co.
Colorado
,
United States
drydockbrewing.com
Style:
American Porter
Alcohol by volume (ABV):
5.40%
Availability:
Year-round
Notes / Commercial Description:
No notes at this time.
Added by ONovoMexicano on 11-20-2013
Reviews: 8 | Ratings: 78

4.12
/5
rDev
+1.7%
look: 4.25 | smell: 4 | taste: 4.25 | feel: 4 | overall: 4
22 oz. Bomber
Pours a very nice dark brown color, with some very nice carbonation, with a very nice thick/creamy one-finger light tan head, which leaves some nice sticky lacing behind. The nose is malty, with some vanilla sweetness. The taste is pretty nice, malty, nice vanilla note, sweet. Medium body. Overall, a pretty tasty brew.
335 characters

3.89
/5
rDev
-4%
look: 4.25 | smell: 4 | taste: 3.75 | feel: 3.75 | overall: 4
A 22-oz. bomber purchased in Boulder, Colorado three weeks ago. Cracked at my house in Albuquerque.
A- Engine oil black, well-carbonated, opaque, khaki-colored head that's pillowy, frothy and persistent
S- chocolate, vanilla, roasty, malty, hints of coffee
T- vanilla, coffee, subtle smokiness, roasted malt, brown sugar, sweetness
M- Smooth, creamy but slightly light-bodied, lingering sweetness
Overall, a tasty porter with a well-balanced flavor profile and mix of characteristics. I enjoyed this.
505 characters

3.96
/5
rDev
-2.2%
look: 3.75 | smell: 4 | taste: 4 | feel: 3.75 | overall: 4
A: poured into a pint glass to a black beer with some ruby hilights and a half finger of dense tan head that retains well and leaves minimal lacing
S: smells of vanilla and chocolate with a little roast malt but the nose is mostly dominated by vanilla
T: taste is vanilla and roasted malt with some chocolate. swallow is roasted malt, chocolate and vanilla
M: lighter side of medium on the palate with slightly prickly carbonation and a refreshing finish
O: Overall this beer has great flavors and balance. this bottle isn't the freshest but it still has a good bit of vanilla flavor. It's definitely enjoyable and a good representation for the style.
659 characters

4.17
/5
rDev
+3%
look: 4.25 | smell: 4 | taste: 4.25 | feel: 4 | overall: 4.25
This vanilla porter was really good. I had it on tap at the tasting room, as opposed to other Dry Dock beers I've reviewed that all came in cans as part of a sampler pack. Maybe that made a little bit of difference, I don't know, but I liked the overall flavor of this beer better than their others. I'd get this one again.
326 characters

3.81
/5
rDev
-5.9%
look: 3.75 | smell: 4 | taste: 3.75 | feel: 3.75 | overall: 3.75
Poured from a can into a glass, dark opaque brown. Smells of vanilla and malt, tastes of vanilla, a bit of coffee, chocolate, burnt toast. Sweet but not cloyingly so. Light feel, refreshing carbonation, overall really good.
230 characters

4.45
/5
rDev
+9.9%
look: 4 | smell: 4 | taste: 4.75 | feel: 5 | overall: 4.25
L: Black as sin with a sweet chocalaty hue. Lacings on the side and the foam remains as a warm blanket on this nectar of Aphrodite.
S: Roasted malts, chocolate, vanilla and plums.
T: It starts of the same as the smell. The vanilla is more apparent in the taste. There is also a subtle acidity and some sweet liqourice. Aftertaste is of chocolate.
F: Creamy yet not too heavy. It tenderly caresses the palate as it makes it's way towards the throat. Carbonation is apparent but not overwhelming. Kind of hits the spot perfectly for what a porter should offer.
Ov: Very drinkable and unexpecedly complex beer considering the abv. A well crafted brew with a perfect balance that makes it stand out a bit from the overfilled ocean that is todays choice of craft beers.
771 characters

4
/5
rDev
-1.2%
Smooth nose, no over the top up front smoky overkill, nice mild vanilla. Middle offers just a touch more smoke but it fades quickly. Little more vanilla lingers as it goes down with a slight tinge of carbonation on back of tongue. Best vanilla porter I've had.
263 characters

4.01
/5
rDev
-1%
look: 4 | smell: 3.5 | taste: 4.25 | feel: 3.75 | overall: 4.25
This is without a doubt one of my favorite dark beers that I've discovered since moving to Colorado. The Vanilla Beans really shine without being overwhelmingly sweet. I'm typically a hoppy beer drinker, but I enjoy this beer just about every weekend.
253 characters
Vanilla Porter from Dry Dock Brewing Co.
4.05
out of
5
based on
78
ratings.