Wee Heavy
| Dry Dock Brewing Co.
BA SCORE
84
good
12
Reviews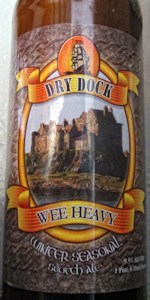 BEER INFO
Brewed by:
Dry Dock Brewing Co.
Colorado
,
United States
drydockbrewing.com
Style:
Scotch Ale / Wee Heavy
Alcohol by volume (ABV):
9.50%
Availability:
Fall
Notes / Commercial Description:
No notes at this time.
Added by Tolann on 03-03-2008
Reviews: 12 | Ratings: 41

3.18
/5
rDev
-15%
look: 4 | smell: 3.5 | taste: 2.5 | feel: 4 | overall: 3.5
Pours dark brown with some reddish hues and a small tan head that fades into a wisp. A few more lively bubbles than I'm used to seeing in this style.
Smells of toffee and caramel. Lots of sweet malts and no real hop presence or alcohol presence which is surprising given the ABV.
Lots of toffee and caramel in the flavor too. Starts off with a pretty robust bittersweet chocolate. Again very few hops. Finishes sticky with caramel sweetness on the back of the tongue. Good up front flavors, but the finish is too sweet.
Medium bodied with just about medium carbonation despite the bubbles in the pour.
Eh it's ok, but too sweet and probably not something I'll look to get again.
★
682 characters

3.38
/5
rDev
-9.6%
look: 3.5 | smell: 3 | taste: 3.5 | feel: 3.5 | overall: 3.5
1 pint 6 fl oz brown glass bottle with standard pressure cap served into a Guinness stem-goblet in me gaff in high altitude Castle Rock, Colorado. Reviewed live.
Served refrigerator cold. Side-poured with standard vigor as no carbonation issues are anticipated.
A: Pours a one finger head of beige-light khaki colour, nice cream, nice thickness, and good retention. Body colour is a rich caramel-mahogany. No yeast particles are visible. No bubble show.
Sm: Rich malts, caramel, delightful amber and biscuit malts, and toasted character. Sweet. An above average strength aroma.
T: Sweet and malty, with hints of cherry fruit esters from the minimal hops. Balanced and enjoyable, if less complex than anticipated. No yeast character. No alcohol comes through. Residual sweetness blends well with the caramalt. A tasty beer.
Mf: Smooth. Wet. Fairly thick. Good carbonation. Complements the flavour profile well.
Dr: Very drinkable for the high ABV. I'd definitely have it again (preferably on draught). Another great offering from Dry Dock.
High B-
---
I checked in on the same bottle (recapped) seven months later. Here are some additional notes for the curious (none of which affect the above review):
Still pours an impressive 2.5 finger wide head in me EKU 28 stem-snifter. Unique pink-khaki colour. Somewhat fizzy. Thin, with no creaminess. Body colour is an opaque dark brown.
Aroma is of dark fruits - surprising for a wee heavy. Oxidation seems to have actually done this beer well. I'm shocked. Toasty malts, biscuit malt, caramalts. Brown sugar. Sherry. No yeast character or booze is detectable.
Dark fruit - plum, fig, maybe prune. Caramalt, brown malts, biscuit malt. Some dark cherry. Hazelnut. Hints of fig. Perhaps a vague hint of molasses. I don't get any yeasty or hoppy notes at all. No alcohol comes through either. Light buried cinnamon and nutmeg. Maybe even some allspice.
Mouthfeel is smooth and wet. Still has good carbonation in spite of being recapped. Suits the flavour profile well.
Very drinkable and enjoyable - shockingly so. Hides its ABV well.
Recommended for cellaring, much to my surprise. I stored this recapped bottle at about 65-70 for 7 months (by accident), and it still came out good. I'd probably still give it a high B- with age on it. I didn't expect that result.
★
2,333 characters

3.38
/5
rDev
-9.6%
look: 4 | smell: 3.5 | taste: 3.5 | feel: 3.5 | overall: 2.75
Holy highland sheep dip! This is a stumblingly big, sticky sweet "wee" heavy. Just a little of the old sod in the aroma with a hint of iodine. Deep reddish amber in the tulip with a thin mustache of foam. The sprightly mouthfeel is what makes this glowering malty mess drinkable.
Vast depths of sweet malt with that slightly smoky roasted flavor. A little bitterness in the aftertaste. All the varieties of sweetness, let me count the ways-- burnt sugar, Sugar Daddy, Aunt Jemima syrup, wild buckwheat honey, and a touch of pecan caramel roll. My teeth hurt.
From the 22 oz bottle bought at the Aurora brewery in 2012. This seems to have lasted well, like fruit bottled in honey.
★
681 characters
3.46
/5
rDev
-7.5%
look: 2.5 | smell: 3.25 | taste: 3.75 | feel: 3.25 | overall: 3.5
Got this one from SteveO, cheers! Love me some wee heavys (usually)
Pours an effervescent crimson with a sliver of cream colored head. Stays effervescent, no head retention or lacing
S: Plummyness & boozeyness that fades over time
T: Plummyness & jammyness, dryness & woody hops. A little bit of toffee, dryness, leafy hops & a touch of tea tannins, faint peattyness, plus a bit of figgyness. Finishes dry, figgy with woody hop note, brown sugar & a modicum of peattyness
MF: Slight body, even slighter carbonation, nice warming sensation
Enjoyable, not a great wee heavy, but a decent example of the style. Only got better as it warmed, but still fell flat a bit
★
668 characters
3.53
/5
rDev
-5.6%
look: 4 | smell: 3.5 | taste: 3.5 | feel: 3.5 | overall: 3.5
See, if you're the kinda guy or gal who walks around asking, "Can I get some extra malt with this?", then this is your beer. Caught somewhere between the malty taste and texture of both Wee Heavy and Dopplebock- this beer will satisfy the cravings for all of you malt-mouths.
It's about the darkest of browns before hitting black, the beer exhibits an opqgue clarity that only makes sense through its onyx-like sheen. The ale is capped with a sandy-tan blanket of foam that's dense, creamy, and frothy. Firm retention and random spotty lace sing praises to the beer's malty character.
Its sweet nose is lead with molasses, brown sugar, bold toast, light coffee and chocolate. With really no hop notes of mention, the aromas rely on sheer malt complexity to carry its balance. A mild tinge of alcohol, grapey fruit, and peppery spice offers complexities but from alcohol alone. Warming a bit, the earthen character of peat begins to rise but never seems smoky.
Rich malt taste easily mimics that of aroma- molasses, brown sugar, and toast char lead the way while richer tastes of earthen peat allow for mild cigar taste to emit. Spicy flavors of peppercorn, allspice, and cinnamon makes the alcohol flavors seem that of spiced rum. Lightly bog-like in its taste the beer timidly challenges the taste of phenol pepper, smoke, and earth in the way that authentic versions do. But as a sweeter ale- the beer is quite delicious.
Full bodied for sure, the beer retains a ton of malty sweetness that's slow to dissolve on the mouth. It linger indefinitely- making this beer much more of a savory sipper than a drinking ale. Warm, sweet, and malty-sweet in its finish; some could say that the beer cloys and impedes drinkability- I say sure, but it does so wonderfully so.
Dry Dock's Wee Heavy certainly favors the malty sweet character, but its lackluster earth, peat, and smoky phenolic character makes in nearly indistinguishable from Dopplebock (even though the beer exceeded the strength and flavor for either styles). Regardless, the beer is tasty, sweet, and savory. But I'm sorry Dry Dock- despite your claims on the label, I cannot recommend haggis with this ale- or any ale, or any lager, or anything else. It's ok to retire this ugly dish.
★
2,247 characters

3.66
/5
rDev
-2.1%
look: 4.5 | smell: 3.5 | taste: 3.5 | feel: 3.5 | overall: 4
22oz into a pint
A - Pours a full color of brown with some ruby and amber highlights. Off white head formation, very little, only a film.
S - Hefty malts on the nose, caramel, toffee, and perhaps a little bit of peat. Alcohol and hops aren't present.
T - Starts off malty and sweet, toffee, caramel, a little bit of chocolate and a hint of nuts. mid-stream the peaty smokey flavors sneak in. Finishes sweet with a little bit of alcohol warmth.
M - Full bodied beer and a very light carbonation. Sticky, thick and full coating.
O/D - A good beer for cooler months and not the start of summer, heavy and thick. A bit filling, full of alcohol.
★
646 characters
3.8
/5
rDev
+1.6%
look: 4 | smell: 4 | taste: 3.75 | feel: 3.5 | overall: 3.75
Pours a dark toffee/wood color, very thick and attractive, a pretty thin head but it looks very nice.
Smells of bananas, vanilla, peat, some nuttiness, sweet alcohol, maybe some wood. Smells great.
Taste is also good but a little less complex and a little less good. Vanilla and nuts again, some faint peat and wood, finishes with a yeasty character. You can taste the booze, and overall this is concentrated on the malty flavors and really isn't that smoky which is a plus for me as smokiness is what usually turns me off from scotch ales.
Carbonation is very good, mouthfeel is thick and a little syrupy, booze is noticeable though.
Overall a very good scotch ale/wee heavy, definitely focused on the things I like in the style and downplays the things I don't, making this one of the more enjoyable examples I've had.
7.5/10
★
832 characters
3.82
/5
rDev
+2.1%
look: 3 | smell: 3.5 | taste: 4 | feel: 4 | overall: 4
Pours a nice, reddish dark amber color but leaves only a thin, light tan head on top, no lacing or rings left on the glass.
Aroma is promising: rich malt with hints of caramel and toffee. No noticeable hop aroma.
Taste and mouthfeel shine through. Nice, heavy body with wonderful glass-smooth feel. Taste is a splendid mixture of caramel and toffee, ripe dark fruit (dates, figs, etc.), with an assertive yet relatively soft-hitting alcohol taste, all wrapped inside a nice hop bitterness.
The initial appearance and aroma didn't promise much, but the taste really hit home. A very good effort and probably won't disappoint fans of this style.
★
646 characters
3.82
/5
rDev
+2.1%
look: 3.5 | smell: 4 | taste: 4 | feel: 3.5 | overall: 3.5
good not great this one. it pours a solid redish brown color, thick and dirty looking, not much light passing and a short white head. the nose is a little peaty, smokey, and decaying, lots of alcohol, and a caramel or red malt sweetness. very autumnal. the flavor is pretty subtle really, i am used to in your face kind of scotch ales, but this one isnt like that. its earthy and malt driven, a little sweet, a little smokey, and very strong. flavors come together well, but this doesnt wow me for some reason. feel is fine, if a bit filling. of course it is, but even moreso than expected, its got a lot of weight on it, even for the style. overall a good big beer from dry dock, im glad they are bottling some new stuff, but this isnt even close to their best work.
★
767 characters

3.88
/5
rDev
+3.7%
look: 3.75 | smell: 3.75 | taste: 4 | feel: 4 | overall: 3.75
Thank you JMBSH
22 oz bottle poured into a snifter
A- A very dark brown with a two finger off-white head.
S- Sweet, caramel malts, brown sugar, molasses, toffee, dark fruits, vanilla.
T- Dark fruits, molasses, caramel, vanilla, toffee, some earth hops in the finish, touch of alcohol.
M- Full body, smooth, low carbonation.
O- A tasty beer. Sweet, good balance. Very happy I got to try. My first beer from Dry Dock and I would like to try more from them.
★
459 characters

3.93
/5
rDev
+5.1%
look: 3.75 | smell: 3.75 | taste: 4 | feel: 4 | overall: 4
Having previously abandoned all other beers to embrace Trippel as the nirvana of all things brewed with grain, I've been converted to Dry Dock's Wee Heavy (no pun intended).
This beer is all about the Malt and yeast, which is yummy from the first quaff til the last slurp. Yummy, malty goodness that satisfies the pallet and leaves the consumer satisfied with high ABV and carmelly yummy sweetness - but with enough hopppines to remind us that this is beer and not caramel ice cream topping.
Highly reccomemded.
★
513 characters

4.42
/5
rDev
+18.2%
look: 4 | smell: 4.5 | taste: 4.5 | feel: 4 | overall: 4.5
Such a great beer from a great brewery! I love Dry Dock and will recommend it any time.
A- Dark and kind of a brownish-red hue. Not a lot of head and pretty white. Pretty clear/
S- Great caramel smell. Lots of smell to it, but not overpowering. A little bit smokey/peaty.
T- Great rounded peaty, sweet and caramel. The flavor hits you hard then gentiley fades away. Very good for the style. I don't know how to really describe every thing I'm tasting, but this tastes like a wee heavy
M- Light to medium. Not too much carbonation. Doesn't make you burpy and doesn't feel dead or flat. I little warm aftertaste, but it's not a boozy warming.
D- So good. I'm glad I have a growler of it. I'll have no problem finishing the growler (with my DH helping me, of course). Hope this stays on tap for a while.
★
816 characters
Wee Heavy from Dry Dock Brewing Co.
3.74
out of
5
based on
41
ratings.