Paragon Apricot Blonde
| Dry Dock Brewing Co.
BA SCORE
84
good
14
Reviews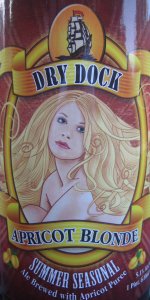 BEER INFO
Brewed by:
Dry Dock Brewing Co.
Colorado
,
United States
drydockbrewing.com
Style:
Fruit / Vegetable Beer
Alcohol by volume (ABV):
5.30%
Availability:
Year-round
Notes / Commercial Description:
No notes at this time.
Added by emmasdad on 04-17-2010
Reviews: 14 | Ratings: 45

5
/5
rDev
+34.8%
look: 5 | smell: 5 | taste: 5 | feel: 5 | overall: 5
wow. let me start off by saying....wow. this is a perfect example of a fruit beer, i am NOT an apricot fan, or a fruity beer fan for that matter . thanks to my coworker Libby and her boyfriend for picking this up on their trip to Colorado to see the "string cheese incident" and for SHARING it despite its unbelievable goodness!...its more than i would have done ! ;)
appearance: Beautiful golden color and extreamly UNFILTERED, "brewed with apricot puree"...NO KIDDING! soooo hazy with little floatees floating around in their fabulous fashion... in thee words of "Modest Mouse".... FLOAT ON! 3/4th inch white fluffy head that dissipates very quickly.
smell: nothing but apricot, based only off the smell u'd think this one would be a fruit bomb, where you taste nothing but apricot, but its not. Like walking threw a apricot orchid if such a thing exist...
taste: perfectly balanced! not overpoweringly apricotty as you would assume from the smell. in fact the smell is really where the apricot stops and lends itself to the balanced flavor of this beer, this gem is all about balance, no hops or malts apparent but the apricot is in the forefront but again not overpowering AT ALL. amazing!
mouthfeel: so smooth, low carbination which i absoloutly love!! and easy to drink.
overall: i said it twice and i'll say it again, wow! perfect.
1,343 characters
4.12
/5
rDev
+11.1%
look: 4 | smell: 4.5 | taste: 4 | feel: 4 | overall: 4
Pours a cloudy, golden color, with a nice white head. Huge aroma of freshly picked apricots. One of the better fruit beer aromas out there. On the palate, a nice sweet malt base is beautifully accented by loads of fresh, juicy apricot flavor. A wonderful fruit beer, and a great candidate for summer drinking.
309 characters

4
/5
rDev
+7.8%
look: 4 | smell: 4 | taste: 4 | feel: 4 | overall: 4
12 oz. Can
Pours a pretty nice orangy color, nice carbonation, with a pretty nice one-finger off-white head, which leaves some sticky lacing behind. The nose is malty, with some apricot. The taste is malty, with some apricot.Medium body. Overall, a pretty tasty brew.
268 characters
3.92
/5
rDev
+5.7%
look: 4 | smell: 3.75 | taste: 4 | feel: 3.75 | overall: 4
Nice subtle apricot aroma, and some sweet malty notes. Subtle apricot flavor, with a nice malt backbone - pretty tasty beer, and super refreshing on a hot day.
159 characters
3.92
/5
rDev
+5.7%
look: 3.5 | smell: 4 | taste: 4 | feel: 3.5 | overall: 4
From the 22 oz. bottle. Sampled on September 5, 2012.
The pour was a moderately heady golden copper with a fading head that leaves some lacing.
The aroma is mainly apricot fruit and sweet pale malts. It almost has a honey scent with a little yeast playing in the background.
The body is creamy and light. The texture is much like honey.
The taste also brings out the boldness of apricot with a more toned down sweet malt character a low bitterness that does not linger. Very refreshing for a warm Colorado day.
515 characters

3.89
/5
rDev
+4.9%
look: 3.5 | smell: 4.5 | taste: 3.5 | feel: 4 | overall: 4
bottle sent to me by boatshoes, thanks. Served in a DFH snifter.
Beer is amber, hazy, big white head, low retention, no lacing, moderate carbonation.
Aroma is big apricot, strong, a little grainy, smells good.
This beer really pulls it off. Strong fruit, nice apricot, great body, simple. Mild aftertaste, I'm not going to tell you it is great but it is a fine, drinkable ale. I'd have it again.
398 characters
3.79
/5
rDev
+2.2%
look: 3.5 | smell: 4.5 | taste: 3.5 | feel: 3 | overall: 4
22oz bomber into pint glass
A – Nearly white head disappeared quickly, no lacing, hazy golden orange amber gives a nice appearance 3.5
S – A really good apricot scent dominates its aroma you pour your glass 4.5
T – Apricot takes the lead on the flavor but there are sweet bread and grains now also. Slight bitterness. A fruit beer I enjoyed and would seek out again for a summertime event. 3.5
M – Light in mouth feel and body to slake that summer thirst. I would like more carbonation. 3
O – Fits the Apricot Blonde name very well. A great summertime brew and the best fruit beer I've had. I would like to take this to the next backyard event I go to, as I believe it would be received very well. Not sure where the "Paragon" is coming from, my bomber is just labeled "Dry Dock Apricot Blonde" 4
808 characters

3.7
/5
rDev
-0.3%
look: 3.5 | smell: 4 | taste: 3.5 | feel: 3.75 | overall: 3.75
Light orange, hazy shade of summer, good half inch head, off white, standard lace/retention.
Aroma was legit apricot, best aspect of the beer.
More apricot, takes on a bitter yield, high carbonation, light body, light residual sugars. A solid choice on a summer day or evening. Apricot is far and away the most noticeable thing about it.
344 characters
3.66
/5
rDev
-1.3%
look: 3.75 | smell: 4 | taste: 3.5 | feel: 3.75 | overall: 3.5
On tap at Falling Rock. Cloudy orangish pour, mostly white head on it, about .3" in depth. Average lacing, retention etc. . .
Aroma was nice, apricot firmly planted under the nose. A bready apricot experience.
Taste, more apricot, not quite as nice as the aroma, but still above average. Bitterness is there, seemingly not derived from the hops. Relatively light body in the mouthfeel. Apricot hanging around, the beer definitely delivers the apricot here. Its sweet, but not excessive with it. Carbonation is high.
I think it delivers as an apricot ale just as much as anything that isn't wild or whatnot (its far from being as good as Cascade's Apricot). Would recommend for people who like fruit beers.
710 characters
3.58
/5
rDev
-3.5%
look: 4 | smell: 3.5 | taste: 3.5 | feel: 4 | overall: 3.5
Thanks to holden303 for sending me this one as part of the N00B BIF 6!
Pours a murky light orange with a 1 inch puffy white head that settles to a small cap. There are some random chunks of dark sediment that settle to the bottom of the beer. Smell is pretty much only of apricots and maybe some peach aromas. Taste is of apricots/peaches, some malt, and some butter-like flavors. This beer has a crisp mouthfeel with a good level of carbonation. Overall, this is a pretty good beer but the smells and flavors don't mesh together too well. This is still a worthy beer to try and I am glad I got the chance to do so.
616 characters
3.44
/5
rDev
-7.3%
look: 3.5 | smell: 4.5 | taste: 3 | feel: 2.5 | overall: 3.5
Thanks to holden303 for this one
Poured from bomber into Duvel tulip
Pours semi-cloudy burnt orange with one finger creamy head. Medium level of carbonation
Wow, the nose on this is all fresh apricots, a trace amount of sourness with some breadiness in the background.
Taste is very fruity with noticable carbonation, not much actual beer taste here
The mouthfeel is this beers weakpoint, it's very thin and almost tea-like, I was hoping for a fuller body to go with the fruitiness
The aroma was the best part of this beer, it was not bad by any means but could have been much better with a bit more body IMHO.
615 characters

3.4
/5
rDev
-8.4%
look: 3 | smell: 3.5 | taste: 3.5 | feel: 3.25 | overall: 3.25
A – Pours a hazy bright orange with a thin white head that fades quickly and leaves little lacing.
S – Quite sweet, huge fresh apricot, little to nothing else.
T – Not as powerful apricot here, nice light wheat notes and slightly bitter.
M – Easy to drink, carbonated nicely, perhaps a bit thin.
O – Huge apricot on the nose, drinks more though like a standard wheat beer with a bit more sweetness to it. Not bad.
428 characters
2.52
/5
rDev
-32.1%
look: 3.5 | smell: 4 | taste: 2 | feel: 1.5 | overall: 2
12 oz can. Pours hazy golden orange with a thin fine white head that goes to a thin dusting and leaves a little lacing.
The aroma is sweet apricots. Simple, but nice.
The flavor is sweet but musty apricots and kind of champagne-like. The mouthfeel is a bit thin and watery with some spritzy carbonation.
Overall, an OK but simple apricot ale. A bit too watery, and doesn't taste as good as it smells.
403 characters

2.33
/5
rDev
-37.2%
look: 3.5 | smell: 3 | taste: 2 | feel: 2 | overall: 2
A: The head foams out of the bottle at a pretty ridiculous rate and the carbonation explodes out of the glass. Semi-hazy yellow pour with a big white head. 3.5
S: It smells a lot like apricot puree with a very small amount of wheat and yeast underneath. Not really anything special, just sweet and sort of artificial apricots. 3
T: The apricot is really strong and pretty over the top sweet...and there's not really anything else there. Too fake at points. 2
MF: The drinkability is really poor. I had trouble finishing the full bottle. Too sweet, overcabonated, and really light. 2
O: Pretty disappointed here. Don't know how it got so overcabonated. Not a big fan of the puree flavors at all, I much prefer beers made with fresh apricots. 2
746 characters
Paragon Apricot Blonde from Dry Dock Brewing Co.
3.71
out of
5
based on
45
ratings.