Hop Abomination
| Dry Dock Brewing Co.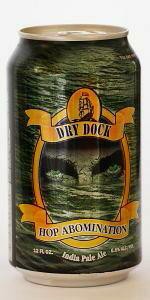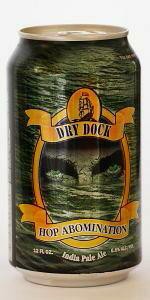 BEER INFO
Brewed by:
Dry Dock Brewing Co.
Colorado
,
United States
drydockbrewing.com
Style:
American IPA
Alcohol by volume (ABV):
6.50%
Availability:
Rotating
Notes / Commercial Description:
IBUs: 70
Added by Domingo on 06-03-2011
HISTOGRAM
Ratings: 230 | Reviews: 55

4.49
/5
rDev
+17.5%
look: 4 | smell: 5 | taste: 4.5 | feel: 3.5 | overall: 4.5
Bought this growler three days ago at the brewery. I am pretty sure that this version was 8.5% rather than 6.5%, but someone might have to verify that for me.
APPEARANCE: A thin, quarter-inch thick head capped the beer when poured from the growler and remained there seven minutes later after I cut up some prosciutto and sharp white cheddar to serve with crackers and my beer. That head didn't move. The beer itself is brilliant and orangei-ish gold with a smattering of bubbles slowly rising from the bottom. By the way, the lacing is outstanding. I must have some clean glassware!
SMELL: The aroma is delightfully floral. It is piney, smells like it will be a rich flavored and resinous beer as well. This is classic, delicious, big IPA smell.
TASTE: The nose does not let down the palate in this one. Some strong, sweet and floral aromas are up front while that resinous pine from the nose fills the middle of the sip. On the end, a gorgeous and fairly bitter grapefruit takes control leaving a nice set up for the sweetness of the next sip.
MOUTHFEEL: This is a big, full, bold DIPA with a slightly creamy feel that only lightly tickles the palate on the way down.
OVERALL: After tasting many of the Dry Dock offerings at the brewery last weekend, my girlfriend and I settled on the Hop Abomination as one of our two growler fills. In my opinion this was their finest current work of beer. Get it while you can, especially at $12 a growler.
1,455 characters
3.16
/5
rDev
-17.3%
look: 4 | smell: 3 | taste: 3 | feel: 4 | overall: 3
This was a Hop Abomination #3, not sure what differentiates it from #1 or #2. I had a quick sample of this and it seemed pretty good but when I got home and poured the growler I was a little disappointed. Nice orange color. Smells slightly hoppy, fruity but also like caramel? The taste had a distinct caramel and butter flavor layered over the hops and I just did not like it. It wasn't bad at all but I'll need to try this again just to verify that it is not a very good IPA. It sucks because I recently had a very fresh bottle of the DIPA and that was good.
560 characters
3.55
/5
rDev
-7.1%
look: 3.5 | smell: 3.5 | taste: 3.5 | feel: 4 | overall: 3.5
On tap at Hops and Pies poured a clear golden amber with a lasting amber head. Aromas of biscuit, skunk bud, orange, tropical fruit and a hint of pine. Palate was medium bodied and smooth with a dry finish. Flavors of biscuit, grapefruit, orange zest and light tropical fruit with a smooth dry lingering bitter grapefruit finish.
329 characters

4.04
/5
rDev
+5.8%
look: 3.5 | smell: 4.5 | taste: 4 | feel: 3.5 | overall: 4
Draft at the Rackhouse in Denver, CO.
Pours a cloudy golden orange color with lighter tangerine hues and a one finger white head that quickly settles into a lasting ring.  Sporadic lace left behind.  
Sweet citrus hop aroma that's slightly earthy and resinous, bursting with tropical and citrus fruit.  Hints of papaya, mango, pineapple, orange and lots of grapefruit.  Subtle pale grainy malt with hints of graham cracker and biscuit.
Medium bodied with a good balance of dry bitterness and sweet citrus/tropical fruit notes.  Subtle pine earthiness with lots of mango, tangerine, orange peel and grapefruit.  Grainy pale malt backbone provides good balance without overpowering the hops.  Very quaffable.
717 characters

4.07
/5
rDev
+6.5%
look: 4 | smell: 4.5 | taste: 4 | feel: 3.5 | overall: 4
This is from the taproom, although I've also had this at the Rackhouse Pub. Perhaps it might end up being a new regular item? The chalkboards in the taproom claim this has an insane 250K IBU's. I'm assuming this is either a joke or refers to the weird "theoretical" IBU count that can go to a million.
Oddly, the ABV's only 6.5%, so it's on the upper end of a normal IPA, but probably not strong enough to be a double. Fine by me!
Anyway – this one's is a shade or two lighter than copper. Head's a standard 1/4" sheen for a draft beer. Lace rings are there as you work your way down.
The flavor profile has huge pine and citrus rind notes throughout. Grapefruit is one of the primary notes, but there's also a hint of dank/cannabis flavor in the finish. That isn't my favorite flavor note, but it does work here and it never heads into "swampy" territory either. Not the most bitter beer I've ever had on the palate, but it's about as hop-centric as a beer can get. A little bit of malt creeps in here and there, but it's really only there in tiny doses.
There isn't much heat on this at only 6.5% ABV, which makes it pretty drinkable…but not for the faint of heart or for anyone who isn't a serious hop lover. There isn't much of a malt base or booziness to hold the hops back, so they run wild. I've had this 3 times and I find that I drink the first 1/2 of the glass pretty quickly, but the last 1/2 lingers and becomes an inadvertent sipper.
I think this might be my favorite of the various hop monsters from Dry Dock. The hop blend works for me, and I like that it's a bit milder. Plus, even with the crazy amount of hops, it never really has any harshness.
1,713 characters
Hop Abomination from Dry Dock Brewing Co.
Beer rating:
3.82
out of
5
with
230
ratings