Le Cappuccino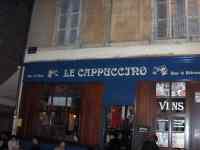 Recent ratings and reviews.
Reviewed by malmquna from France
4
/5
rDev
+7.5%
vibe: 4 | quality: 4 | service: 4 | selection: 4
Found this place through BA during a weekend trip to Dijon. It is situated a few minutes walk from the heart of the city, but certainly worth the stroll. Inside was decorated for Oktoberfest, with streamers across the cieling, etc. Small tables and longer tables accomodate both thirsty couples and thirsty groups.

The beer selection is ample for a couple of visits: six beers advertised on tap (Campus, Westmalle, Mandubienne, Spaten or Paulaner, and Hommel) and several bottles (Chimay, Poiluchette, Brugse Triple, Watou, Kasteel, Temeraire, Pater Lieven, Aventinus, and more for sure). Prices are very reasonable: on average 6 euros for 50cl bottles, 25cl tap beers are mostly all under 4 euros.

The service was unobtrusive but friendly. When we asked for local beers our order was greeted with a smile and an explanation of the Mandoubienne (see my review), which comes from just outside of Dijon.

They also appear to have food occasionally, and always have the local speciality cheese, epoisses, which seems to be paired with a large bottle of what they think goes best with it as a package deal.

If you are in Dijon and looking for a good beer or two, check out Le Cappucccino.
Oct 17, 2009
Reviewed by Goldorak from Canada (QC)
3.43
/5
rDev
-7.8%
vibe: 4 | quality: 3.5 | service: 3 | selection: 3.5
I was surprised that most of France closes down at 9pm, even in mid-sized cities like Dijon. We arrived a little late, and after taking care of the essential (finding a hotel room), we walked around the deserted streets on a Thursday night. My girlfriend was about to give me the "I told you so" speach when we finally found Berbisey street where apparently all the action is. Most restos, cafés and even stores were still open, catering to a mostly student crowd. After a great meal, we found Le Cappuccino on the end of the street.

Flags from all over the world were hung everywhere inside, and to my surprise a CD from a Québec band was being played! Sweet!
Long beerhall tables and a cramped little bar, with a few candles here and there. The waiter handed us the Beer menu which wasn't fantastic but above average for this country. At least they had a few local micros offered, some other French offerings, a few Belgians and Germans as well. I asked the waiter if they had any real gueuze (they only had Lindemans faro), the waiter went and checked the cellar and said they didn't have any. I should have asked if he had any other interesting goodies not on the menu but I was tired and thirsty. The place was ~80% packed, so service was pretty slow, though friendly. It helps to be from Québec, everybody seems to love my accent.

Toilets were a little freaky, but hey, this is France. The bathroom walls had signs with upcoming events, like gamers night, goth night and metal night. Awesome! They also have formal tastings and other activities. I recommend it to anyone in the area. Don't expect to be amazed by the Beer list, but expect a good time.
Oct 06, 2005
Le Cappuccino in Dijon, France
Place rating:
3.72
out of
5
with
2
ratings