Jasper Brewing Co. Brew Pub & Eatery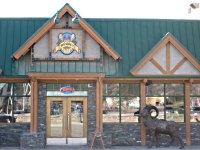 PLACE INFO
Type:
Brewery, Bar, Eatery
624 Connaught Dr
PO Box 458
Jasper
,
Alberta
, T0E 1E0
Canada
(780) 852-4111 |
map
jasperbrewingco.ca
Notes:
No notes at this time.
Added by BeerAdvocate on 10-04-2005
Reviews: 6 | Ratings: 14
Reviews by rdrummer:
4.05
/5
rDev
+8%
vibe: 4 | quality: 4 | service: 4.5 | selection: 3.5 | food: 4.5
I would never have ended up here except for a vacation trip that made Jasper the northern most town on our itinerary. It's location on Main Street in Jasper makes it very easy to find, and there is ample parking on the street and at lots across the street.
I had no preconceived notions since I had been disappointed in some of the local beer that I tried in Alberta, but this was a little nugget in a beautiful setting in the mountains.
The place has two rooms--one with the bar and a few tables and a separate dining area. I visited both rooms, and both are nice. The servers are knowledgable about the beer and food, especially the bartender that day. The brewing operation is downstairs so you have to make an appointment to visit or come on an open house. One of the brewery employees was sitting at the bar and was very friendly.
There were six beers on tap, including a blonde ale, a pils, a cream ale, the RockHopper IPA (my favorite), a nitro stout, and a raspberry ale. I tried them all in samples but had full pints of the stout and IPA. The selection was small but quite good.
I enjoyed the food as did my wife and my mother. They are small eaters and found things to share, and were accommodated with no problem. The fare is basically upscale bar food with the added touch of local game on the menu. This would be unusual in Philadelphia but is hardly worth mentioning in the Rockies in Alberta. All the food was fresh, good tasting, and prepared exactly to order.
I thought that the prices were really reasonable, and this was in July at the height of the tourist season. If I were ever to find myself in Jasper again (not likely), this would be my first stop.
1,689 characters
More User Reviews:
3.55
/5
rDev
-5.3%
vibe: 3.75 | quality: 3.75 | service: 4 | selection: 3 | food: 3
3.84
/5
rDev
+2.4%
vibe: 3.5 | quality: 3.75 | service: 4 | selection: 3.75 | food: 4.25

3.66
/5
rDev
-2.4%
vibe: 3.75 | quality: 3.75 | service: 3.75 | selection: 3.5 | food: 3.5
3.86
/5
rDev
+2.9%
vibe: 4 | quality: 3.75 | service: 4 | selection: 3.75 | food: 4
This is my favourite place to eat and drink, in my favourite mountain town. The beer is a bit hit and miss, though I do love the stout. The food and vibe are intertwined. This is a clearly a place that locals love to visit. It's more than a place to eat and drink. It's a place to exist when you have the good fortune to visit Jasper.
334 characters

3.26
/5
rDev
-13.1%
vibe: 3.5 | quality: 3.5 | service: 3 | selection: 3.25 | food: 3



3.79
/5
rDev
+1.1%
vibe: 4.5 | quality: 4 | service: 4 | selection: 3
Did a flight here and beers were ok to good with the star being the pilsner... I generally don't like pilsners so I don't know if that is a good thing but it was exceptionally smooth drinking beer. Did have a flavored beer or two I didn't care for but the place is an asset in this tourist town. Place was packed with people and the sun being out at 10:45 PM was a little eerie. Don't know if I will be in Jasper again, but I definitely will be there if I do.
459 characters
3.4
/5
rDev
-9.3%
vibe: 4 | quality: 2 | service: 4 | selection: 4 | food: 4
Their Beer is worse than Brewsters and Brewsters is terrible. We tried the Sampler to give this place a chance. All of the Beer were just plain terrible. Especially the Blueberry Beer it reminded me of Couch syrup i had as a kid the worst artificial blueberry flavour. I did not really see any locals there... mostly tourists and we were there int he off season, so what does that tell you? (they don;t like it i am sure) They also has some pumpkin spice beer gross! Only Come here for the Food which is ok but typical Jasper prices which are $3-$5 higher than Edmonton or Calgary
580 characters
4.21
/5
rDev
+12.3%
vibe: 3.5 | quality: 4 | service: 5 | selection: 4
(Visited July 3, 2008)
A nice little establishment right on Connaught as you roll into town. On this visit, the doors were open and it was quite inviting. During evening hours, light is low so the ambiance is nice. Wooden bar stools and tables in front of a cozy fireplace.
Six beers currently served - hefeweizen, pilsener, IPA, amber, red ale, and Irish stout. Standard offerings, and they can be purchased in a 'printed pint glass' sporting their logo for a somewhat reasonable price. (all beers are expensive in Canada, really - these are 6.50 for an 18oz pint, 4.50 for a 12oz. Printed glass alone is $10 (16 oz pint glass - In a tourist town, that's normal)... with a beer, it's $12 and you take the glass home - that's the way to go if anything.
Service is pleasant, bartender (David the night I went in) is informed and knows what is being served - that can't always be said! Nice guy, and appears to be popular with the local crowd - presumably for good reason. Nice location, worth checking out - just remember it's a tourist trap, and you're in for a little higher price than some places... they were kind enough to provide a brew on the house and pints were priced $1 less than listed.
1,200 characters

3.15
/5
rDev
-16%
vibe: 3.5 | quality: 2.5 | service: 4 | selection: 3 | food: 3
Jasper Brewing is right on the main street coming into town through Jasper National Park, an absolutely beautiful drive through Banff NP past the Columbia Ice Field. We asked how to get to the pub from a local shopkeeper, which responded with another recomendation for better food though she didn't know what the beer was like. The food was good, though was ate french fries since there wasn't anything else vegetarian on the menu. The sampler came with 5 or 6 oz pours of all six beers. The Honey Bear Ale and the Rockhopper IPA weren't good and I didn't finish the samples. The rest were ok with the 6060 Stout being easily the best, a good Irish Stout that still lacked a bit in the body. If you're interested in walking on a glacier, taking a magnificent drive in the Canandian Rockies, or hiking in the less crowded Jasper NP, a stop at Jasper Brewing is warranted, but I won't go too far out of the way just for the beer. But, if you want to be there anyway, it was a pleasant stop with lots of touristy stores and opportunities in the area.
A block north and a block west was Jasper Liquors which had a great beer selection in a walk in cooler. I meant to go in the Wine Cellar next door, but walked into the smaller one by accident and walked out with a case of beers.
1,279 characters
Jasper Brewing Co. Brew Pub & Eatery in Jasper, AB, Canada
3.68
out of
5
based on
84
ratings.