Dismiss Notice
Extreme Beer Fest:Los Angeles
Join us December 9th in Los Angeles for the ultimate throwdown of craft beer creativity!
Learn more...
Dismiss Notice
Otto's Oatmeal Stout
| III Dachshunds/City Lounge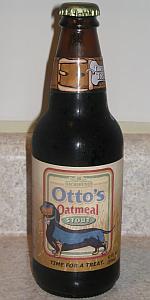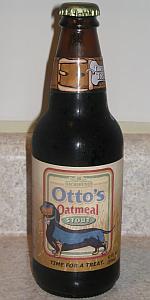 BEER INFO
Brewed by:
III Dachshunds/City Lounge
Wisconsin
,
United States
3dachshundsbeer.com
Style:
Oatmeal Stout
Alcohol by volume (ABV):
6.00%
Availability:
Year-round
Notes / Commercial Description:
No notes at this time.
Added by battlekow on 10-04-2005
HISTOGRAM
Ratings: 14 | Reviews: 13
Reviews by Winter:
3.76
/5
rDev
+5.6%
look: 4 | smell: 3 | taste: 4 | feel: 4 | overall: 4
On tap at the City Lounge in Cudahy, WI. Served black in color with a tan head. Light, yet roasty aroma of cocoa and dark chocolate malt. Mouthfeel is medium to full with ample carbonation and pleasant smoothness from the oatmeal. Nice roasted malt upfront. Flavors of dark chocolate, caramel and oatmeal toward the back. Finish doesn't linger but this is so smooth that you immediately want to take another sip to rekindle the flavor on your palate.
This is the first III Dachshunds beer that I tried and I'd have to say it's a really tasty and enjoyable oatmeal stout. I could drink this all night. Being the end of October though, I had to sample the Halloweener Pumpkin Ale and that was nicely done also. III Dachshunds comes up 2-for-2 on my first two tries of their beer. I'm looking forward to coming back to try some of the other offerings, in addition to their ciders.
879 characters
More User Reviews:
3.97
/5
rDev
+11.5%
look: 3.5 | smell: 4 | taste: 4 | feel: 4 | overall: 4
12oz bottle. I believe these are all newly bottled. Pours into my glass a solid black with dark brown around the edges. A half inch of bubbly tan head forms and quickly fades down. Aromas start with roasted, slightly smoky malt. Bitter chocolate, vanilla and dark fruits all play a part. Somewhat creamy as well. Solid.
First sip brings dark, roasted malt upfront with hints of smoke. Creamy, slickness moves in thanks to the oats. I get a touch of vanilla along with some chocolate as it moves down. Dark fruits on the way down as it finishes with a touch of bitterness. Solid oatmeal stout here.
Mouthfeel is medium bodied with a nice creaminess throughout. A little bit over carbonated for my tastes, but that's really my only complaint mouthfeel wise. Overall, I could easily sit down and drink a few of these, around a campfire it would be great. Good to see another bottled brew in Wiscosin, glad I picked up a single.
926 characters
3.6
/5
rDev
+1.1%
look: 4 | smell: 4 | taste: 3.5 | feel: 3 | overall: 3.5
Thanks to exiled for sharing this bottle.
The beer pours dark brown to black with a cream-colored head. The aroma is strong cream with some vanilla. The flavor is much of the same, with some roasted malt to go with a heavy cream. The mouthfeel is a little bit watery and the carbonation is low.
295 characters
3.35
/5
rDev
-5.9%
look: 3.5 | smell: 3.5 | taste: 3.5 | feel: 3 | overall: 3
(served in a tulip glass)
A- This beer opens with a might pssst from the carbonation but all the beer stays in the bottle. During the pour most of the glass is a light tan head which soon melts into a jet black body.
S- This beer has a rich roasted black malt aroma but not much depth or support after that.
T- This beer has a bright cidery flavor followed by a dark roasted malt flavor that finishes out the beer.
M- This beer has a light mouthfeel with a slight watery texture and a cola fizz in the finish.
D- The cidery flavor and the roasted black malt the the only real flavors and those are a bit clean from the thin body.
634 characters
3
/5
rDev
-15.7%
look: 3 | smell: 3 | taste: 3 | feel: 3 | overall: 3
12 oz bottle poured into a Sprecher nonic. No date or info on the bottle.
Thanks to Beerwolf77 for yet another new beer to try!
A - Clear on the pour but almost totally black in the glass. Dark brown hints around the edges. A low tan head forms with low retention and a little lace left over.
S - A tart blended fruit nose seems out of place instantly. Roasted malts fall behind with a light oat nose. Out of place and mundane, it's just bland.
T - Dark roasted malts with bitter chocolate and lightly roasted coffee. A light oaty hint with overall plain flavors. Nothing to see here.
M - Dry and bitter finish with a medium body and moderate carbonation sparkle. A bit thin feeling for an oatmeal stout.
D - Not bad but it definitely needs some work. It's fairly thin and bland as far as oatmeal stouts go.
813 characters
4.21
/5
rDev
+18.3%
look: 4.5 | smell: 3.5 | taste: 4.5 | feel: 4 | overall: 4.5
Note: this is the same beer as Stone Cellar's Oatmeal Stout.
On tap at the Landmark 1850, of which the man behind III Dachshunds beer is an owner. I first had Otto's at the Great Lakes Brewfest, and couldn't wait to try it again. It didn't disappoint the second time.
Otto's is a happily impenetrable black, capped by a small, tan head. Looks like a stout! It doesn't really smell like much, slightly roasted; fortunately, it doesn't skimp on taste. It's incredibly smooth, as a good oatmeal stout should be, with a giant roasted malt flavor. Coffee and chocolate are prominent. Mouthfeel is creamy and full, completing the easy-drinking profile of this excellent stout.
676 characters
3.92
/5
rDev
+10.1%
look: 4 | smell: 4.5 | taste: 3.5 | feel: 4 | overall: 4
The brew pub is just down the street from my house so to say I should sample more of there stuff is an understatement.
Poured into my glass the beer is dark brown bordering on black. with blood red edges when held to the light. The beige head reaches about a half inch before fading rather quick. Just a small remenent of lace is left behind.
The aroma is very nice. Rich black coffee and roasted smokie malt. Hints of chocolate and bitter hops are present as well.
The flavor is a bit more muted then the nose. All the same components are there just in less quantity. Black coffee and smoked malt. Heavy bitterness from the hops seems to take over after the initial malt kick.
Medium body with light carbonation.
Overall a decent oatmeal stout. I grew up with a dachshund as a kid and like him this beers bark is way stronger then it's bite. That's just fine in my book.
880 characters
3.87
/5
rDev
+8.7%
look: 3.5 | smell: 4 | taste: 4 | feel: 3 | overall: 4
Nice deep, dark color with a very small, tight cocoa colored head. Great aroma-a very mellow espresso/coffee tinge to it. Quite grainy and roasted smelling. Nutty sort of roasted flavor-again a mild coffee character. Somewhat of a chemical trace going on but it doesnt really detract. Very pleasant flavor overall. Body could use a boost. None of the silkiness I am used to in an oatmeal stout. Overall a very decent beer. Seems more of a robust porter to me but I enjoyed it anyway and would definately try again.
514 characters

3.5
/5
rDev
-1.7%
look: 3.5 | smell: 3.5 | taste: 3.5 | feel: 3.5 | overall: 3.5
Thanks goes out to beerwolf77 for this brew.
Pours a nice black color, nice carbonation, nice little fizzy tan head, with some sticky lacing left behind. The nose is malty, very slight toffee note, and caramel. The taste is slightly sweet, malty, with some toffe/caramel. Medium body. Drinkable, a tasty little brew, glad to have gotten a chance to try it.
357 characters
2.36
/5
rDev
-33.7%
look: 3.5 | smell: 2.5 | taste: 2 | feel: 1.5 | overall: 3
FIRST TRIAL: On tap at the Landmark 1850. Wow! I am very, very, very surprised that this beer was a silver medal winner at a past GABF. There simply wasn't much to it. The color was a nice black, but there was almost no head, almost no flavor, and it had a very watery mouthfeel. What little flavor there was, was slightly sweet and oatmeal-y, but there's almost none of the roasted maltiness that I enjoy in even the less extreme craft stouts. Maybe it was the glassware, maybe it was the taplines (I sometimes doubt the Landmark's diligence in these areas), but, it would be a struggle to recommend this beer. I almost want to try it again just to see if I've given it a bum rap.
681 characters


3.67
/5
rDev
+3.1%
look: 3.5 | smell: 4 | taste: 4 | feel: 3 | overall: 3
A- Nearly black with ruby highlights, half finger head.
S- Roasted grain with notes of bready sweetness.
T- Roasted malt flavors dominate atop some underlying bready sweetness. Earthy hop notes are evident at midpoint before transitioning into a somewhat dry finish.
M- Medium bodied, yet not as smooth as I'd expect from an oatmeal stout.
D- I prolly won't buy again.
Good by stout standards in general but mediocre by oatmeal stout standards.
449 characters
3.21
/5
rDev
-9.8%
look: 4 | smell: 3 | taste: 3 | feel: 3.5 | overall: 3.5
12 oz bottle poured into a nonic pint. pours opaque black with a finger of brown head that retains for a few minutes and leaves light lacings.
aroma is roasted, with a lightly grainy profile, and notes of cream and a bit of chocolate. little else in the nose.
taste is roasted and malty up front, with a nice smoothness. the brew shows notes of coffee and a touch of burnt malt upon finishing, making it more of a porter than a stout in profile. otherwise the brew is mildly pleasant and rich in profile.
mouthfeel is full bodied and smooth on the palate, with a thin finish of residual grain.
drinkability is decent, the brew could use a bit more richness and some hops to balance out the harshness of the roasted malt. otherwise it is a decently drinkable stout, without the dry quality one usually looks for out of the style.
832 characters
3.48
/5
rDev
-2.2%
look: 3.5 | smell: 3 | taste: 4 | feel: 2.5 | overall: 3.5
I enjoyed this beer from the comfort of my own living room with a nice pot roast. From the 12oz bottle to a standard pint glass.
Appearance: Pours a nice black color with a small off-white head that disappeared quickly.
Smell: Not much going on here. Slightly roasted malts.
Taste: Hints of coffee and chocolate but the malts dominate.
Mouthfeel: Too light-bodied for what I like in an oatmeal stout.
Drinkability: Easty to drink. Not my favorite oatmeal stout, but willing to try again.
492 characters
Otto's Oatmeal Stout from III Dachshunds/City Lounge
Beer rating:
3.56
out of
5
with
14
ratings