Ankle Biter
| III Dachshunds/City Lounge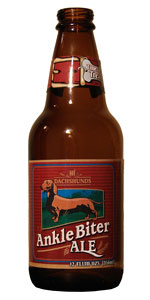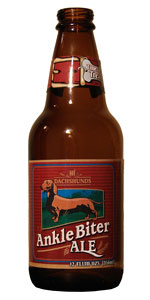 BEER INFO
Brewed by:
III Dachshunds/City Lounge
Wisconsin
,
United States
3dachshundsbeer.com
Style:
Altbier
Alcohol by volume (ABV):
5.20%
Availability:
Year-round
Notes / Commercial Description:
No notes at this time.
Added by granger10 on 08-09-2006
HISTOGRAM
Ratings: 10 | Reviews: 10
Reviews by granger10:
3.86
/5
rDev
+6.3%
look: 4 | smell: 3 | taste: 4 | feel: 4 | overall: 4.5
Not quite sure as to style but it reminded me of an Alt. Deep copper color with a steady foamy egg shell head. Kind of a sweet aroma but nothing too noteworthy. More of a generic caramel sweetness. Taste was better. Quite nutty from the yeast and with touches of malts and hops coming and going. Caramel base but fruity hoppiness and a touch of apple cinnamon bread. I really like the nutty quaities of this one. Incredibly smooth with enough character to make it interesting. Not the best alt ever but quite nice nonetheless.
526 characters
More User Reviews:
2.18
/5
rDev
-39.9%
look: 2.5 | smell: 2 | taste: 2 | feel: 2.5 | overall: 2.5
12 oz bottle poured into a Sierra Nevada imperial pint. No date or info.
Thanks to Beerwolf77 for this brewski.
A - A moderate pour gives off a thin white layer of foam. Moderate retention but no lace. The color is a hazy, dirty brown-caramel color.
S - The aroma is immediately noticeable as off. A bold whiff reveals diactyl potency that's got a buttery aroma and Acetaldehyde-like grape skins. Amber-like malts in the background with a tiny fruit hint but not much in the aroma of this beer is good at all.
T - The flavor is almost exactly like the aroma. Buttery and gross with grape skin tannins. Some toasted caramel malt and a mild fruity hint hide behind the off flavors.
M - Rather normal here but that grape skin thing imparts a touch of sourness to it. Otherwise it's moderately carbonated and smooth.
D - Drain pour. I don't know what went wrong here but the overly buttery thing just kills it. I'll need to have it on tap/fresh cause this just didn't seem right this go-around.
996 characters

3.08
/5
rDev
-15.2%
look: 3.5 | smell: 3 | taste: 3 | feel: 3.5 | overall: 3
Thanks again beerwolf77.
12oz bottle poured into SA perfect pint.
A- Pours a dark copper that has a slight haze to it. On initial pour, it yields a two finger head that recedes rather quickly and leaves no lacing.
S- A strong hint of pale malt and a little breadiness and not really much else.
T- Like the nose, some pale and crystal malts and just the slightest hint of a little smoke on the tail end. Heck, maybe even a little coffee in there as well.
M- Medium bodied with a good amount of carbonation. A nice tingling sensation on the sides of the tongue.
D- There is an underlying sweetness that gets to be a little too much after about half way through this one. I would have to say that one would be it for me.
722 characters
3.95
/5
rDev
+8.8%
look: 3.5 | smell: 3.5 | taste: 4 | feel: 4 | overall: 4.5
I packed one of these for a trade and decided I should probably review it for my personal records.
Poured into my pint glass the beer is a mostly clear brownish red color. The beige head is about two fingers high and leaves just a tiny bit of soapy lace.
The aroma is robust caramel malt. It has a slight buttery hint with touches of fruit and fresh cut flowers.
The flavor is toasted bread with hints of caramel, peaches, oranges, bubblegum and a strong nutty finish. As strange as it sounds all these flavors come together nicely. It tastes really good. I've had this on tap at the brewery and I don't remember it being this complex.
Medium body with a modest amount of carbonation. A touch dry.
Overall this is a very interesting beer. I'm glad I revisited it. This is my first time having it in the bottle and I will definitely be grabbing more. Especially since the brew pub is just up the road.
906 characters

3.88
/5
rDev
+6.9%
look: 4 | smell: 3.5 | taste: 4 | feel: 4 | overall: 4
Thanks goes out to beerwolf77 for this brew.
Pours a nice hazy golden brownish color, nice carbonation, nice little fizzy off-white head, with some sticky lacing left behind. The nose is malty, with a slight yeast note, slight spice, and caramel. The taste is sweet, slightly bitter, some yeast note, alittle spicy, and some caramel. Medium body. Drinkable, this is a very nice brew.
384 characters

3.53
/5
rDev
-2.8%
look: 4 | smell: 3.5 | taste: 3.5 | feel: 3.5 | overall: 3.5
A- Deep copper/amber, one finger head.
S- Very fragrantly fruity almost yogurt like.
T- Lots of caramel sweetness kept in check by just enough of a toasted character. Hopping is very mild and carries nicely through the finish.
M- Decent, a little fizzy.
D- If I went to City Lounge I'd prolly session this, otherwise I prolly won't buy again.
A very interesting take on an Altbier. Worth checking out.
406 characters

3.92
/5
rDev
+8%
look: 3.5 | smell: 4 | taste: 4 | feel: 3.5 | overall: 4
Lo and behold - my first Altbier.
Poured from a 12 oz., brown stubby bottle. No freshness dating.
Rusty amber in color, like maple syrup. No appreciable head or lacing.
Wonderfully complex aroma: prunes, raisins, cinnamon, chocolate and vanilla. Maybe even some popcorn. (Although, I put brewer's yeast on my popcorn. So maybe there's some of that going on.)
Caramel-based sweetness with touches of chocolate and vanilla.
A delicate fruitiness helps strike a balance between malt and hops.
Exceptionally smooth. Thin mouthfeel with medium carbonation. Highly sessionable. Its interesting character makes it a pleasure to review.
Go ahead. Take this puppy for a walk.
672 characters
3.97
/5
rDev
+9.4%
look: 3.5 | smell: 4 | taste: 4 | feel: 4 | overall: 4
12 oz bottle poured into a stange. pours a caramel brown color with a single finger of off white head that is reduced to a soapy rim after a minute or so.
aroma is of caramel malts mainly, with a base of light fruit. not much else for the nose.
taste is of mildly sweet caramel malts with a touch of chocolate and a hint of roasted malt. a smooth and somewhat nutty base rounds out the flavor profile, making this a solid alt.
mouthfeel is medium bodied with a smooth texture and a mellow finish of residual caramel. a bit sweet in the aftertaste.
drinkablility is good. it is no wonder this brew is the breweries most popular selection. mellow and flavorful, this is a solid alt. cheers!
692 characters
4.27
/5
rDev
+17.6%
look: 4 | smell: 4.5 | taste: 4 | feel: 4.5 | overall: 4.5
Appearance
Muddy brown orange body with a uniform haze to it. Shines a deep pumpkin orange when held up to the light. Two finger offwhite head.
Smell
First think that popped into my head was strawberry yogurt. Fruit, vanilla, caramel, chocolate and candy over a toasted bready grain malt. Wow does this smell great.
Taste
Matches up with the smell accordingly. Strawberry vanilla yogurt is the flavor I'm getting again, and it's not bad in this beer. Really odd but pleasant. Toasted grain with a substantial amount of toffee towards the finish. Bitterness is subtle but there in the background. A very well crafted beer, albeit a hair on the sweeter side of the balance.
Mouthfeel
Medium light body with healthy dose of carbonation. Perfect levels for this beer.
Drinkability/Overall Impression
This is pretty drinkable. Solid flavors that don't overwhelm although I'd like a smidge more hop presence. A great beer that with a good spring/autumn meal you could easily throw back a few.
991 characters
3.63
/5
rDev 0%
look: 4 | smell: 3.5 | taste: 3.5 | feel: 3.5 | overall: 4
On tap at the Landmark 1850 Inn in Milwaukee
Pours a pretty rust color with a nice solid head. Looks more like and APA than an alt, but it still looks good.
Smells of light fruit malt, plums and hints of ctirus, along with a dry, mild hop that I'll bet it is English.
Taste starts with a light hop, light malt. A lil' sweet, a 'lil bitter. The mildness of both serves to create a great balance, but it's a little, well, mild. Neither complex enough nor strong enough to really assert itself.
500 characters
Ankle Biter from III Dachshunds/City Lounge
Beer rating:
3.63
out of
5
with
10
ratings