Handlebar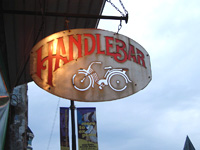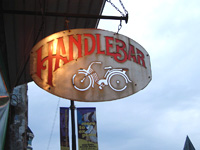 Bar, Eatery
2311 W North Ave
Chicago
,
Illinois
, 60647-5314
United States
(773) 384-9546 |
map
handlebarchicago.com
Notes: Monday - Thursday: 10am - 12am
Friday - Saturday: 10am - 2am
Sunday: 10am - 11pm
Recent ratings and reviews.
| Log in to view more ratings + sorting options.
Ratings by jrallen34:
Reviewed by jrallen34 from Illinois
3.68
/5
rDev
-5.2%
vibe: 4.5 | quality: 3 | service: 4.5 | selection: 3 | food: 4.5
This place is less than a half mile from me but it took me 2 years to discover it...The atmosphere is really cool, the epitome of what you would imagine a Wicker Park restaurant to be. Hipsteresque all the way around, bricks wall which I like, local artwork for sale, tons of character. The people and wait staff are all hipsters too. This place is pescatarian, mostly vegetarian, but 80% of the items can be made vegan. Not my style, but the food was really good, had some friend pickles and catfish tacos. The service was phenomenal, our food was out in less than five minutes...The beer is not much to write about, 8 drafts, about 30 bottles. The beers there are readily available craft, we had a Founders Porter and Gumballhead. Nothing remotely special.

If I was a vegan or vegetarian I would be all over this place; character, good food, fast and cheap. As I beer place I cannot recommend. I would not go here again despite enjoying my experience greatly.
Jan 09, 2011
More User Ratings:
Reviewed by htomsirveaux from Texas
3.58
/5
rDev
-7.7%
vibe: 3.5 | quality: 4 | service: 3.5 | selection: 3 | food: 4
Stopped in here for an early lunch on our way to ORD around 1030 on 30 Sep 2011.

Lots of posters in the entryway, artwork for sale, scuffed hardwood floors, three black birds nestled in a nook in the exposed brick wall, about a dozen tables, space for six at the bar. Rap was playing at a moderate volume. Mostly a vegetarian menu. Our group ordered breakfast burritos and the huevos diablos.

Beer menu is relatively limited, eight taps and about thirty or so bottles. Bells, Floyds and Dark Horse on tap.

Overall the food was decent but would not come back here just for the beer. Special thanks for non vegetarian coworkers sticking it out.
Sep 30, 2011
Reviewed by LoRezDave from Illinois
4.33
/5
rDev
+11.6%
vibe: 4 | quality: 4.5 | service: 4 | selection: 4.5 | food: 4.5
I should have reviewed this place long ago. I'm on of th anonymous guys that slips in for one or two beers once or twice a week.

This place is fantastic. Small-ish Chicago eatery and bar. Founded by an old brewer at Goose Island brewery there's always tasty beer on tap.

There's a raised eating area with terrific big windows opening on to North Avenue. The menu leans heavily toward vegetarian. And for people like myself (vegetarian friendly) there are plenty of options.

The bar area is small but can't be beat. Their taps change regularly and their bottle list healthy AND deep.

It's a bike-er bar/restaurant. Meaning bicycle. There's always a half dozen or more bikes out front. And the people inside are fun, relaxed, and enjoying good food and good drink!
Apr 17, 2009
Reviewed by Windigstadt from Illinois
3.83
/5
rDev
-1.3%
vibe: 4 | quality: 4.5 | service: 4 | selection: 2.5 | food: 4.5
Went there for the first time last weekend. The theme of the bar is bikers (by which I mean bicyclists, not motorcyclists) and they even have specials for bike couriers. It's definitely a younger artist/hipster crowd, though more authentic hipster than my-parents-bought-me-a-condo-in-Wicker-Park hipster. Our service was prompt, friendly, and very pierced.

But let's get to what you really care about... beer and food. While their list isn't huge, it's pretty impressive. A good mix of local brews and solid craft choices from across the country. The prices are reasonable, though no cheaper than most beer bars on the North Side. I wouldn't go here if I was looking for a particular seasonal or hard-to-find release, but any beer lover will easily find something to enjoy.

While you'll definitely find a beer to enjoy, I can't say the same about the entrees unless you're vegetarian/vegan. Don't get me wrong... I managed to find something that I (an avowed carnivore) really enjoyed--an excellent breakfast burrito with cheese, eggs, avocado, potatoes and fresh spinach. However, nothing else on the menu really appealed to me. I'm sure it's heaven for someone who doesn't like meat, but if seitan (wheat gluten) isn't going to cut it for you, you might want to grab a beer to go and head for somewhere else.

Overall, a solid place and one that I would definitely return to--just not for lunch/dinner. Now if it's breakfast and I'm hungry for a burrito... ;-)
Jan 31, 2009

Reviewed by emerge077 from Illinois
3.99
/5
rDev
+2.8%
vibe: 4.5 | quality: 4 | service: 4 | selection: 3.75 | food: 4
2013:
Since Josh Deth moved on to start Revolution, Handlebar has rested on it's laurels a bit. There is still a good menu, though the beer list seems a bit utilitarian these days. Would recommend for vegetarian fare in Wicker Park, but there are better places to drink nowadays.

06-16-2007 [4.2]
Not many reviews thus far, let me give a straight-up opinion. I've visited this place many times, and beer-wise, i'm usually satisfied.

Eight taps, always a 3 Floyds...on my latest visit, Alpha King ($4 special on Fridays). There is a 3F print hung toward the back, in the hallway. Also on tap, Goose Island rotating seasonal, Allagash White, Unibroue Blanche de Chambly, and PBR for the cool kids.

Food is exclusively vegetarian/pescatarian, with the addition of fish/seafood (there was also a scallops special). The catfish tacos were tasty with a tomatillo salsa. Be sure to order a side of the smoked Gouda mac & cheese. Try the black bean tostadas or spicy maduro dish. Also, check out the back patio, rather utilitarian with bicycle art flourishes. Hop bines snake along the side of the wooden fence, ripe with handfuls of sticky cones. We hung out for awhile, ordering several rounds. Service was good, considering the friday night crowd.

Bottle list features 10 seasonals/rotating "new arrivals" (not listed online) and 20 standbys. Unibroue, Hitachino, Pinkus Hefe, and Rodenbach Grand Cru were all available. Usually a Jolly Pumpkin is on the list. I've noticed that they add/subtract a beer or two almost every other week, which keeps things interesting. Their website is outdated, beer selection is way better than what's listed on the online menu.

This is a tried & true option in Wicker Park, and maybe the only other one after Piece (2007). Recommended if you're in the area, or happen to be a vegetarian/bicyclist beer geek. If you live in Wicker Park and complain about hipsters, maybe its time to move to the burbs, chief.
Jun 16, 2007
Reviewed by MrMcGibblets from Illinois
3.86
/5
rDev
-0.5%
vibe: 4 | quality: 4 | service: 4 | selection: 3.5
came too late on may 5th but still had some gumballhead at $4 a pint. even a couple of macro friends liked the "bubblegum" or "chewing gum" beer as one of the more inebriated in our party referred to it. this place is kinda small and narrow. interesting bicycle and beer themed decor. service was attentive and helpful. not a huge selection of beers but they do have some nice choices. they had about 6-8 taps, none of it crap, and even DFH 90 minute on tap (have never seen that before). too bad i was driving. also a decent selection of beers, steered towards belgians. they also had dreadnaught bombers here. the food looked very good and interesting, not your random chain crap, it looked creative. prices were good on the beer. non-smoking.
May 06, 2007
Handlebar in Chicago, IL
Place rating:
3.88
out of
5
with
14
ratings