Fokker Ale
| Azalea Coast Brewery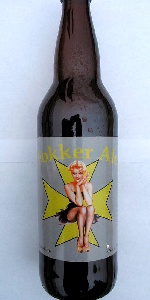 BEER INFO
Brewed by:
Azalea Coast Brewery
North Carolina
,
United States
Style:
Kölsch
Alcohol by volume (ABV):
5.40%
Availability:
Year-round
Notes / Commercial Description:
No notes at this time.
Added by BeerAdvocate on 10-09-2005
This beer is retired; no longer brewed.
Ratings: 7 | Reviews: 7
Reviews by brentk56:
3.91
/5
rDev
+24.1%
look: 4.5 | smell: 3.5 | taste: 4 | feel: 4 | overall: 4
Appearance: Arrives at the bar with a clear honey-colored body and a nice head; leaves copious amounts of lace as the pint is emptied
Smell: A touch fruity and grainy on the nose
Taste: Subtle fruity character with a clean finish and a touch of sweetness at the tip of the tongue
Mouthfeel: Light bodied with moderate carbonation
Drinkability: Refreshing; excellent effort from this new brewery
406 characters
More User Reviews:
3.68
/5
rDev
+16.8%
look: 3.5 | smell: 3 | taste: 4 | feel: 3.5 | overall: 4
Pours a crystal clear honey color with a large white head that disappears quickly to a light pond of lace on top.
Aroma of fresh cut grass and some lemon.
Grainy grassy flavor with some honey like sweetness. Nice lemon and herbal hoppiness that rounds out the flavor.
Light bodied beer meant to be enjoyed on a hot summer day. They should can this so it would fit in the cup holder on my John Deer.
399 characters

3.41
/5
rDev
+8.3%
look: 4 | smell: 3 | taste: 3.5 | feel: 3.5 | overall: 3.5
Poured a light copper hue with a one and a half finger creamy white head. There was good retention and lacing.
The smell featured a light grainy malt with some flowery hop.
The taste was upfront lemon zest with a soft doughy malt. Perhaps a bit too much sour lemon for my taste.
The mouthfeel was of average fullness with some residual tartness.
Overall a tasty ale. The tartness affects the drinkability a bit.
415 characters
2.9
/5
rDev
-7.9%
look: 3 | smell: 3 | taste: 2.5 | feel: 3 | overall: 3.5
I first encountered Azalea's brews while on vacation in the Outer Banks this past summer. Village Grocery, on the main highway in Avon, is a wonderful market that has an impressive selection of craft, imported, and American macro-lager beers. In fact, if you're south of Kill Devil Hills, you can't find a better selection. Now, it seems that Azalea's beers have ventured westward, as I saw this and their IPA at Sam's Quik Stop just last evening. I sampled the IPA over the summer, so it's Fokker's turn!
This one pours a nearly translucent medium-dark yellow. The head began mighty, but soon fizzled into a lean lacing of bubbles. Essences of light citrus fruit and mild grains are certainly present, but they're not very pronounced. The flavor is something of an enigma: I've had several kolsches, and they tend toward a light grape character with light malts and a nice, thick, biscuit-like finish with just the hint of hops before. Azalea's version is quite lemony, with a soapy flavor and a light malt background. The finish is concentrated on sweet grains and very little hops. That biscuity thing I mentioned is not really present.
Having said all that, it actually is very drinkable, with a decent body and a mild combination of all flavors. I believe this is a well-made beer, but the style is hardly recognizable.
1,326 characters

1.68
/5
rDev
-46.7%
look: 3 | smell: 2.5 | taste: 1 | feel: 2 | overall: 1.5
I bought a 5 gallon shell of this and was immediately not impressed. At first it was a bitter tasting ale, but not bad enough to not drink. But after a few sips I realized it was some of the worst aftertaste I've had in a while. To sum things up, I couldn't wait to finish off this keg so I could fill my kegerator with something else.
335 characters
3.33
/5
rDev
+5.7%
look: 3.5 | smell: 3 | taste: 3.5 | feel: 3 | overall: 3.5
Brew courtesy of the great one, limesmut via trade!
Hazy orange & amber, eggshell white head pops up and dies a bit quick.
Funny funk in the aroma, very different from any other Kolsch. Quaff is also very lemony along with a sturdy backbone of malty biscuit. Very unique brew, this one would work well mixed with some summer heat
331 characters
3.15
/5
rDev 0%
look: 3.5 | smell: 3.5 | taste: 3 | feel: 3 | overall: 3
22oz brown bottle with no freshness date. pours a hazy deep gold with a 2 finger head, decent longevity and good lace. A slight fruity malt smell mixed with a touch of grainyness and a subtle hop floralness. Upon tasting it has a very ale like fruityness with a hop flavor and bitterness thats a bit cloying. Not a bad beer but not a great one either. The hop aftertaste is just a bit too awkward.
397 characters
Fokker Ale from Azalea Coast Brewery
3.15
out of
5
based on
7
ratings.