Miner's Daughter Oatmeal Stout
| Mountain State Brewing Co.
BA SCORE
80
good
37
Reviews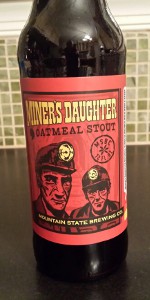 BEER INFO
Brewed by:
Mountain State Brewing Co.
West Virginia
,
United States
mountainstatebrewing.com
Style:
Oatmeal Stout
Alcohol by volume (ABV):
5.20%
Availability:
Year-round
Notes / Commercial Description:
Coal Black and creamy smooth, this beer holds a light tan head and is surprisingly light in body - so it won't fill you up.
Added by WVbeergeek on 03-22-2006
Reviews: 37 | Ratings: 143
3.88
/5
rDev
+12.1%
look: 4 | smell: 3.5 | taste: 4 | feel: 4 | overall: 4
The Miner's Daughter Oatmeal Stout pours very dark indeed, with an off white head. Aroma is of roasted malt and an almost lactic sweetness. In the taste, vanilla, some roasted malt and certainly oats all contributing to a rather sweet stout. A little bit of chocolate. Surprisingly light bodied for the style, and the oatmeal adds to the smooth silky finish. Definately the best beer I've had from Mountain State, I'd stick with this one.
438 characters

3.13
/5
rDev
-9.5%
look: 3.5 | smell: 3 | taste: 3 | feel: 3 | overall: 3.5
Reviewed from notes. Had during a stop during our drive through West Virginia.
Pours very dark with a slight tan head. The nose brings some slightly-roasted malt and a little bit of chocolate. The taste is mostly roast and doesn't bring too much else. A bit dry and overly bitter from the roast. Drinkability is good enough, but this is a bit one dimensional and doesn't hit the right spots.
392 characters

4.15
/5
rDev
+19.9%
look: 4 | smell: 4 | taste: 4 | feel: 4.5 | overall: 4.5
Appearance: black in color with a big 3" head that slowly falls to a thick surface foam. Some moderate lacing paints the glass.
Smell: roasted malt and softer chocolate tones are detectable.
Taste: roasted malt, dark chocolate, prunes, milder coffee tones, and some oat presence. Bitterness is mild.
Mouthfeel: medium bodied. Smooth from start to finish. Long lived aftertaste.
Drinkability: this beer was easy to drink and it hit the spot. A few can be easily had in a session.
482 characters
4.15
/5
rDev
+19.9%
look: 4 | smell: 4 | taste: 4.5 | feel: 4.5 | overall: 3.5
One of my top stouts so far. I've had it from several places but the brewpub in Thomas is the place to hit up for the best sampling of this brew.
A: Coal black, just like the name! Light brown head disappears quickly.
S: Strong coffee and hop odor with even a hint of smoke in there
T: I love coffee and the great coffee tones in this made my tastebuds dance with joy. Also chocolate and malts flowing together with a hint of smoke again. All flavors were very well-balanced.
M: Finishes more hoppy than expected. Feels very rich and thick in the mouth.
D: Very heavy, can't drink more than a couple before you get full. Its a wholesome beer, almost like you don't need to eat dinner, just grab one of these!
713 characters
4.3
/5
rDev
+24.3%
look: 4.5 | smell: 4.5 | taste: 4.5 | feel: 2.5 | overall: 4.5
Pours a black color with a thick frothy one and a half finger head that is tan in color. The head settles but gives way to some decent lacing. The aroma is of chocolate malts and oatmeal with a hint of coffee. The taste has a nice roasted malt backbone with notes of chocolate, sweet oats, and coffee present. Big flavor. The mouthfeel was moderately carbonated, but slightly over carbonated for the style. The drinkability is very high, other than the mouthfeel everything about this beer left you wanting more. The mouthfeel is also a minor thing with this taste.
565 characters

3.68
/5
rDev
+6.4%
look: 4 | smell: 3.5 | taste: 3.5 | feel: 4 | overall: 4
This came out a nice dark brown with a decent tan head. Lacing is evedent on the glass, and some pretty ruby hues show through when held to the light.
Aroma of dark roasted malts and lightly roasted coffee. Taste is roasty and smooth with a bit of hop bitterness. Really a nice creamy oatmeal stout. Nice feel and after two pints I could have continued drinking this for an entire session if I wasn't driving.
410 characters

3.75
/5
rDev
+8.4%
look: 4 | smell: 4 | taste: 3.5 | feel: 3.5 | overall: 4
Pored dark brown with a nice, tan head that left lacing upon the pint glass emptying.
Smells of roasted barley, black malts and carmalized grains and floral backdrop.
Taste was roasty, malts expounding into a bitter hoppiness at the finish.A tad harsh roastiness was also evident, but not at all unpleasant.
Mouthfeel was fairly solid.
335 characters

3.2
/5
rDev
-7.5%
look: 3 | smell: 3 | taste: 3.5 | feel: 2 | overall: 3.5
Growler from brewery. Pours a black with a very small light-brown head. Aroma is roasted malts, some chocolate, coffee, oatmeal and slightly nutty. Flavor is of coffee and oatmeal, but is fairly watery. Good beer, very drinkable but not a great stout.
251 characters

3.93
/5
rDev
+13.6%
look: 4 | smell: 3.5 | taste: 4 | feel: 3.5 | overall: 4.5
On-tap at the brewery, served in a Mason jar. (Gotta love WV!)
Pours coal-black with a nicely retained, rocky tan head. Decent lacing and head retention. Aroma was a decent blend on the oats and pale chocolate, plus some coffee and biscuity malts. Overall, I would've liked it to be a bit stronger.
The flavor was a very satisfying blend of creamy oats, cocoa, roasted malts and a hint of earthen hops. Very smooth mouthfeel, but a bit light body-wise (I blame the 6% ABV limit...), although this did make for an extremely drinkable oatmeal stout. I would definately have this again, and am kicking myself for not grabbing a growler of this in addition to the Almost Heaven Amber that I purchased.
699 characters

4.15
/5
rDev
+19.9%
look: 4 | smell: 4 | taste: 4.5 | feel: 3.5 | overall: 4
An excellent oatmeal stout! It has a wonderful dark appearance with an excellent rich aroma, with a very soft hint of the oatmeal they put into it. It pours great, leaving a nice head with very good lacing. The taste is great, a true oatmeal stout, unlike a lot of stouts that just have a slight hint of oatmeal, this one has a strong flavor, but not so much that it's overpowering. I tried a taste of it at the brewery and was impressed enough to bring a growler home, which went much too fast. Luckily, I can also find it locally here in Morgantown, WV, at Black Bear Burritos.
579 characters
2.05
/5
rDev
-40.8%
look: 2 | smell: 2 | taste: 2 | feel: 2.5 | overall: 2
Draft at Foxfire Grille, Snowshoe Mountain, WV. Has a fairly grapefruity hop aroma with a dash of roasted coffee thrown in. The body is dark brown to black and the finger sized tan head fades immediately. Fore is grapefruit and mild roast. Thin body. Sort of a black pale ale, but not a particuarly good pale ale....and a fairly crappy stout.
342 characters
4
/5
rDev
+15.6%
look: 4 | smell: 4 | taste: 4 | feel: 4 | overall: 4
From the taps of Black Bear Burritios in Morgantown, WV. Pint glass, dark brown, black color, good cocoa head, fair lacing, high carbonation.
Smells smoky as hell, with tosted malt and oats. Not a hop to be found, but if that's what I was looking for, I'd not be getting an Oatmeal Stout, now would I?
Crisp taste on palate. Smoke is present but doesn't dominate. Earthiness to the grains.
Good, dry mouthfeel, settling into a fullness as the beer develops on the palate. Drinkable is good. Could see getting another or two, easily.
Bottom line: the new guns in Dubbya-Vee have a good one to start with.This easilly hangs with the WVBC Oatmeal. Now, let's see them do something different for the Mountain State.
724 characters
Miner's Daughter Oatmeal Stout from Mountain State Brewing Co.
3.46
out of
5
based on
143
ratings.