Quaff Bros Jones IPA
| Mt. Carmel Brewing Company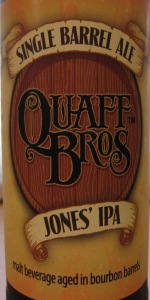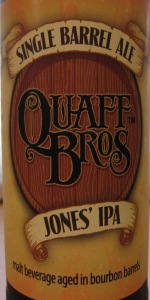 BEER INFO
Brewed by:
Mt. Carmel Brewing Company
Ohio
,
United States
mtcarmelbrewingcompany.com
Style:
American Strong Ale
Alcohol by volume (ABV):
7.50%
Availability:
Limited (brewed once)
Notes / Commercial Description:
No notes at this time.
Added by mwa423 on 01-05-2010
This beer is retired; no longer brewed.
HISTOGRAM
Ratings: 14 | Reviews: 13
Reviews by klewis:
3.97
/5
rDev
+5.9%
look: 3.5 | smell: 4 | taste: 4 | feel: 4 | overall: 4
A Party Source Exclusive
A: Pours a hazy copper with a modest, bubbly head. A slight halo of foam subsides around the glass but with no lacing.
S: Plenty of bourbon aroma, yet not overpowering. Lots of vanilla and oak.
T: Subtle bourbon taste with a heavy dose of vanilla. A bit of smoke touches the palate, and the hops stay mostly out of the way and let the sweetness of the bourbon and malt come through.
M: Medium-bodied with moderate carbonation. A mild tang lingers on the sides of the mouth.
D: I'm not sure if "IPA" is the right label for this beer (perhaps by style guidelines and ABV/IBU calculations, but not by taste), but its pretty good none the less. Much gentler than the Kentucky Bourbon Barrel Ale, yet it still delivers as advertised. I finding this quite nice.
785 characters
More User Reviews:

3.79
/5
rDev
+1.1%
look: 3 | smell: 4 | taste: 4 | feel: 3.5 | overall: 3.5
A: Not a bit of head despite an agressive pour. An nice, bronze/amber color.
S: Vanilla and whiskey come out right away. There's a hint of fruit/citrus, but the booze and vanilla are dominant.
T: It's very sweet and to me, the hoppy biterness is minimal. The malts really come through as well. Doesn't taste anything like an IPA to me. Booze and Vanilla are present, but not overdone.
M: Mild carbonation and clean finish. Minimal aftertaste.
D: I could definitely partake in two or three of these. Wouldn't want too many more after that. It's unique, but if I had to compare it, I would say the Kentucky Bourbon Barrell Ale is its closest relative.
Well done Party Source. Well done Mt. Carmel.
696 characters

4.1
/5
rDev
+9.3%
look: 4 | smell: 4 | taste: 4 | feel: 4 | overall: 4.5
12 ounce bottle. Served in a pint glass, the beer pours a hazy light brown color with about a half inch off-white head. The brew is sweet and malty, it smells like bourbon, coconut, oak and vanilla. I can't smell any hops at all, but I'm not complaining. The taste is pretty much the same as the aroma. The bourbon taste is noticable in the beer, but it's not quite as strong as I'd like it to be. Mouthfeel/body is medium, it's a bit coating and has moderate carbonation. Drinkability is pretty good, it's smooth and very easy to drink. For a bourbon barrel aged beer, I could drink a few of these at a time with no problem. I think it's a good overall brew, hopefully this will become a regular brew from Mt. Carmel. I'll make sure to pick up some more the next time I go to Party Source.
790 characters

3.8
/5
rDev
+1.3%
look: 3 | smell: 3 | taste: 4 | feel: 4 | overall: 4.5
A: Reddish brown in color with very little white head.
S: Sweet vanilla, oak and whiskey. Possibly some carmel notes as well. The bittle says IPA, the Smell says strong ale, as there is not a whole lot of hops to speak of.
T: There's the hops, but just a bit. Wow, you can really taste the dark charred oak in this thing, maybe it is just from some caramelization, but wow. Hits you with hops, then fades to sweet carmel and oak, with just a little bite from the alcohol. This really is quite a unique beer.
M: Thick and Syrupy, with good carbonation. This feels pretty thick.
D: An IPA this is not. If you like the taste of caramel and Oak, this one is for you. I think it is delicious, but perhaps not to style. Damn fine though. Easily the best thing that Mt. Caramel has done in a while. If judged as an IPA it fails. As a strong Ale, it's pretty good.
860 characters
4.25
/5
rDev
+13.3%
look: 4 | smell: 4 | taste: 4.5 | feel: 4.5 | overall: 4
From notes 12-23-09
Eye: Orangish copper with golden hues. This beer is extremely clear, carbonation is low. Head is a thin blanket over the beer but appears creamy.
Nose: Coconut and quite a bit of fruitiness. Upon first sniff I get banana esters...kinda like a banana creamsicle, now I'm getting more of bourbon barrel character. Alcohol is evident. Slight oakiness. Hops are hard to come by. Aroma is very potent. Carmelized tones. All in all quite a bit going on in the aroma here. All in all a very interesting nose. Hops don't come through too much, the barrel killed off much of the hop aroma, still a great smelling beer.
Tongue: Closer to the finish I get a very nice toffee-like vanilla-carmelized flavor...delicious. This is a very rich malty beer. Alcohol is noticeable on the palate and adds some sweetness of its own to mix in with the bourbon barrel sweetness and malt sweetness. At the same time alcohol also acts to help balance out the sweetness from said barrel and malt character to this beer. Hop bitterness is also here to help balance sweetness. Not much hop flavor has survived the barrel. This is one excellent brew! It sure beats the hell out of other local bourbon brews such as BBC Jefferson Reserve Stout, Kentucky Bourbon Barrel, and not so local-Schlafly Bourbon Ale. This is one that I really like.
Feel and Drinkability: Slick on the palate with low carbonation. Works well with the flavor profile letting the nuances come out without being scrubbed away by high levels of carbonaion. Warms as it goes down, again alcohol is noticeable. I think that this may be more than 7.5% (I think it went into the barrel at that abv). The more I drink on this beer the happier and happier I become with it. Definitely drink it at a warmer temperature. Body is medium. This is one that I'll have no trouble drinking the rest of or picking up again. For the price its well worth it, at $3.00 a single bottle it can't be beat.
1,952 characters
4.12
/5
rDev
+9.9%
look: 4 | smell: 4.5 | taste: 4 | feel: 4 | overall: 4
Pours a golden orange with lots of head. Very bourbon heavy on the nose. Lots of hops and a lot of oak coming through. Vanilla is one of the strongest scents. Tastes very bourbon heavy as well. Vanilla, oak, and some light hops. Well balanced. crisp and smooth. A solid beer
274 characters

3.57
/5
rDev
-4.8%
look: 3.5 | smell: 4 | taste: 3.5 | feel: 4 | overall: 3
It's a nice goldeny amber kind of color, but the head is a bit disappointing. There's also a whole bunch of suspended stuff that I would call sediment, except for the fact it it's not settling.
Smells good! Very clear bourbon smell, but it's not too much. There's a certain sugary sweetness to it as well. Struggling to find the hops in this "IPA."
It's got some things about it which really remind me a bit of a chocolate milkshake, which is surprising. The sweetness from the nose is back, with a little kick from the bourbon. This is a funny beer.
The mouthfeel is nice and thick (TWSS), and somewhat creamy. It's pleasant, for sure.
This beer is perhaps a bit too funny for me to want to drink it a lot. It's not bad, it's just odd.
740 characters

3.8
/5
rDev
+1.3%
look: 4 | smell: 4 | taste: 3.5 | feel: 4 | overall: 4
Poured into my Perfect Pint Glass, this beer is a clear copper/brown with a small head that lasts a bit longer than most of Mt. Carmel's brews but still disappears pretty quickly. Some small bubbles float up from the bottom. The nose is a bit of bourbon (more as it warms) along with a lot of sweetness and some vanilla and maple. I don't detect any hops though. I'm not sure why this is considered an IPA... I'm not getting much hop taste either. The beer took on a lot of flavor from the barrel it was aged in. The flavor is sweeter than the smell; it could use more hops to balance it out. Definitely let this one warm a bit before drinking, it helps everything come together better and makes for a more enjoyable, drinkable beer.
733 characters
3.38
/5
rDev
-9.9%
look: 3.5 | smell: 3 | taste: 3.5 | feel: 3.5 | overall: 3.5
A - Out of the bottle there was no head. Even with an aggressive pour there was nothing. The color is a very clear amber and quite attractive.
S - An overwhelming hit of whiskey and vanilla in the nose that is almost fruity and close to the juice of fruit concentrate.
T - The taste is far better without inhaling first, the whiskey and vanilla from the barrel hit first with a heavy hoppy hit to the tongue from the four types of hops.
M/D - Mouthfeel and drinkability are interesting. The mouthfeel is rich and full, but seems like it heeds a slightly heavier malt backbone to really stand out. The strong and overly sweet and fruity flavors impede the drinkability.
All-in-all, I am very excited to see Mt. Carmel to get into some more extreme stuff and this is not a bad start. It's listed on their website as an American Strong Ale despite it being named an IPA. I will certainly be picking up the next beer they put out because this is quite unique.
967 characters

4.17
/5
rDev
+11.2%
look: 3.5 | smell: 4 | taste: 4.5 | feel: 4 | overall: 4
Got this beer in a trade and am glad I got my hands on it!
Pours a brown/amber with little head and no lacing at all.
The smell is very sweet of caramel and slight sourness from oak. Not really any hops that I can pick up.
The taste is of chocolate, caramel, and a little oak and alcohol on the way down.
I must say I wouldnt really call this an IPA but none the less it is a pretty good brew and I think deserves better than a "B"
435 characters
3.69
/5
rDev
-1.6%
look: 3 | smell: 4 | taste: 3.5 | feel: 3.5 | overall: 4
poured into a snifter,thin white head.no lacing,nice amber hazy body.nose is somewhat fruity with bourbon/oak coming through.taste starts off fairly dry,a bit of caramel and bourbon in the finish,a bit of toastiness as well in the finish.just a bit of residual sweetness. overall pretty good,not much hop character. there are some other bourbon dominated ales i'd pick up before this,but it was worth a shot.
408 characters

3.65
/5
rDev
-2.7%
look: 3.5 | smell: 3.5 | taste: 3.5 | feel: 4 | overall: 4
My first beer from these guys, and really first bourbon barrelled IPA, that said, this was something unexpected. It pours a deep amber with faint head, smell was boozy bourbon throughout. Big vanilla, caramel flavors. The IPA kind of threw me, not much hops to balance it out, but still a good beer. This was quite drinkable for being +7%, good stuff.
351 characters
2.18
/5
rDev
-41.9%
look: 3 | smell: 2.5 | taste: 2 | feel: 2 | overall: 2
Reviewed on 3/29/2010. Bottle thanks to alexsdad06. Pours a murky light brown with a small ring of white head. Aroma of bourbon upfront and a background of caramel malt. Flavor of bourbon and sugary malt. It tastes weird and I can't put my finger on it. An odd creation and I can't say I'm a fan. Yuck.
302 characters
Quaff Bros Jones IPA from Mt. Carmel Brewing Company
Beer rating:
3.75
out of
5
with
14
ratings