Dismiss Notice
Quaff Bros Figgy Pudding
| Mt. Carmel Brewing Company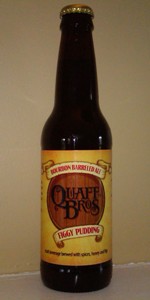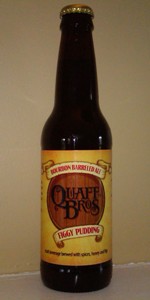 BEER INFO
Brewed by:
Mt. Carmel Brewing Company
Ohio
,
United States
mtcarmelbrewingcompany.com
Style:
Fruit and Field Beer
Alcohol by volume (ABV):
10.00%
Availability:
Limited (brewed once)
Notes / Commercial Description:
None provided.
This beer is retired; no longer brewed.
HISTOGRAM
Ratings: 14 | Reviews: 12
Reviews by Jade:

More User Reviews:

4.14
/5
rDev
+7.5%
look: 3.5 | smell: 4.5 | taste: 4 | feel: 4.5 | overall: 4
A: a deep ruby, mahogany with no head or lacing. Nice color here.
S: wow. Vanilla, bourbon, dark fruits, cinnamon and nutmeg. All very distinct and bold. Very well done.
T: spices hit you first and fade into vanilla bourbon notes at the middle. It's sweet, but not cloyingly so. Almost a vinious finish.
M: medium bodied and not as heavy as it looks. Pleasant aftertaste of red grapes and dark fruit. Very silky. I dig it.
O: really big fan of this beer. It would be perfect around the holidays, though would make a good night cap anytime. It gets tastier asmit sits, so take your time and sip away.
599 characters

4.07
/5
rDev
+5.7%
look: 4 | smell: 4.5 | taste: 4 | feel: 3.5 | overall: 4
A: Medium brown and slightly hazy. When held to the light it turns into a lovely red amber hue. The head is tan, creates some gentle lacing, and seems to stick around for a little bit. Looking pretty good.
S: Caramel notes upfront with oak. There is a nice overlying sweetness to it. Some wild honey notes, as well as some spices and a touch of earthiness. Bourbon notes in the finish.
T: Interesting. The flavor is lightly fruity, with nutty notes. The finish has a bit of oak flavor as well as a fairly noticeable bourbon accent. Caramel shines through in an otherwise fairly delicate brew.
M: Very thin on the mouthfeel, but not drying. The carbonation seems almost a tad low. It definitely leaves a slick feel in your mouth after the finish. I wish it had a little more chew to it.
O: This is a weird beast. The smell is reminiscent of a strong ale, or a English style barley wine, but the flavor is actually fairly delicate. The alcohol is fairly well hidden, this is something that could sneak up on you. The feel of this is very fruit beer, but it'll pack a hell of a punch considering the typical brews of this style.
1,133 characters

3.72
/5
rDev
-3.4%
look: 3.5 | smell: 4 | taste: 3.5 | feel: 3.5 | overall: 4
Thanks to phaleslu for the bottle. Served in a snifter.
Pours a very dark brown with a thin off-white head. Short retention and a thin collar without any real lacing. The nose carries a bit of light bourbon plus some dark fruits and a bit of chocolate. Medium body with a nice chocolate and bourbon component throughout. Chewy with low carbonation. Finish is a bit too bitter. Pretty tasty.
391 characters

3.77
/5
rDev
-2.1%
look: 4 | smell: 4.5 | taste: 3.5 | feel: 3.5 | overall: 3.5
A-Pours a dark murky brown...little to no head.
S-Liked the smell here...immediately picked up some spices...earthy smelling...got a lot of fig and bourbon scents as well. Very appealing.
T-Bourbon not as strong a flavor as I would have thought (or hoped for). While I could smell a nice presence of fig...I did not taste much...the spices did come through nicely. I did enjoy the taste.
M-Good...not a lot of carbonation which I enjoy for heavy beers. A smoothness that I really enjoyed.
D-I enjoyed the one I had...may could drink one or two more but not something I would keep going back to with other similiar styled options on hand. That said...I will pick up a couple more bottle when given the chance.
716 characters

3.7
/5
rDev
-3.9%
look: 4 | smell: 4 | taste: 3.5 | feel: 4 | overall: 3.5
This beer was chilled and served in a goblet.
A- The body of the beer is a rich scarlet amber coloration. One finger high creamy biege head. The lace clings to the side of the glass.
S- The aroma of the beer is all 4 Roses whiskey, peat, vanilla oak, cocoa, caramel, fig, dates, and other dark fruit, cinammon and caramon accompanied by bright citrus notes.
T- The whiskey flavor combines well with dark fruit spices, cinnamon via for whiskey notes knocked around by peat, citrus flavors and alcohol all via for dominance.
M- The body of the beer is full the carbonation is active and works well. The alcohol is a bit hot but not problematic. I tend to like my barrel aged beers a bit on the hot side.
O- A very solid barrel aged beer. Steady improvement the longer the beer sits in my glass. The beer should have been chilled much less. I am looking forward to the next in this series.
892 characters

3.8
/5
rDev
-1.3%
look: 4 | smell: 4 | taste: 3.5 | feel: 4 | overall: 4
Review is from notes taken on 4/6/2011 and poured from the bottle to a pint glass.
Appearance: Pour is a dark, murky brown and it starts with a 1/2 finger creamy tan head; body is dark and nearly opaque, but manages to show some faint chestnut highlights when held to the light; only a couple swaths of lacing are left behind.
Smell: Quite nice -- lots of dark and ripe to overripe fruits (full of the figs it was brewed with, possibly some dates -- a certain sweet nuttiness is there as well); sweet caramel malts with a touch of chocolate to them.
Taste: Not as good as the nose, and it comes across as a little weak, or faint; lots of the dark fruitiness that is mentioned in the nose, and there is definitely a sweet nuttiness as well (reminds me a bit of walnuts or pralines); a touch of caramel/butterscotch and the chocolate, but there is also a bit of a sweet vanilla aspect to it and bit of a warming flavor of bourbon from the time in the barrel. Not bad overall, but it could be a bit more robust and strong.
Mouthfeel: Body is of medium weight, and has full carbonation that is moderately strong; a thick and sticky mouthfeel is left behind, covering the whole mouth; the higher ABV leaves the gums feeling a little bit tingly and the belly is warm, especially in combination with the strong and full carbonation.
Overall: Not bad, bit of a surprise, really. Nice smell and decent flavors -- just a little weak; solid mouthfeel; big ABV would limit it just a bit, and I'd prefer to drink it on a cooler night (seems like a strange time of year for a release of this style and profile).
1,602 characters

3.97
/5
rDev
+3.1%
look: 4 | smell: 4.5 | taste: 3.5 | feel: 4.5 | overall: 4
Sent by nlmartin in the Blind Beers BIF, this was poured from a blind 12-ounce bottle into a tulip.
Dark matte brown in color, like the bark of a tree. A hold directly in front of a lightbulb allows some amber highlights to sneak through the murk at the edges. Atop sits a one-finger head of fluffy khaki foam that quickly fizzles away, leaving behind a good-sized ring.
I can't put my finger on the nose — it's at times sweet, at others roasty. I'll randomly pick up whiffs of rum-soaked bread pudding, butterscotch, milk chocolate, light roast coffee and toast with grape jam. It's actually fairly incredible, and I could sit here sniffing all night.
But the show must go on. The flavor doesn't deliver on the nose as I had hoped, though remnants of the good stuff I picked up there is apparent here as well. Raisin-flecked bread pudding is here again, as are hints of butterscotch, rum, figs, oaky vanilla and coffee beans. It would be a great flavor if all these notes weren't so subdued. It's like trying to listen to the radio at low volume.
Light carbonation prickles the tongue amidst a buttery medium body that fizzes up moderately as it moves about. The ABV — is it really 10 percent — is pretty much unnoticeable and smoothly hidden by the flavors. I demand a recount.
Mt. Carmel Quaff Bros. Figgy Pudding, a spiced holiday ale brewed with figs and aged in bourbon barrels. They got the name right on this one — the beer pretty much screams bread pudding. If the flavors here were just a bit more pronounced, this would be world-class stuff.
1,580 characters
3.87
/5
rDev
+0.5%
look: 3.5 | smell: 4 | taste: 4 | feel: 4 | overall: 3.5
Pours a dark maroon with almost no head. murky and cloudy... nothing special in all honesty. Smells spicy and fruity. Lots and lots of dark fruits on the nose. I can smell figs very strongly. The bourbon is fairly subtle on the nose and same on the tongue. Tastes strongly of figs and spice. Lots of great fruit flavours on the tongue. Thick and soldi on the tongue.. low carbonation which is good with a beer like this. Very drinkable for what it is
450 characters

3.25
/5
rDev
-15.6%
look: 4 | smell: 4 | taste: 2.5 | feel: 3.5 | overall: 3.5
Do you really expect there to be a bottling date on this?
Four Roses Bourbon barrels
A - pours a dark brown body, letting some red light through the edges, cloudy body, medium tan head settles to a heavy film and ring.
S - Dark fruity smells combine nicely with the bourbon oaky vanilla aromas.
T - Ugh...kind of a mess. Cola? Astringent vanilla? Metallic sweetness? Something's wrong here.
M - Fairly dry, smooth, medium body, a bit smaller that I'd expect for a 10% beer from bourbon barrels.
O (D) - eh...not that good. I guess the bourbon comes through and all, but it's just not a well done beer.
606 characters
3.45
/5
rDev
-10.4%
look: 3.5 | smell: 3.5 | taste: 3.5 | feel: 3 | overall: 3.5
12oz bottle poured into pint
This beer pours a muddy brown with off white head. Medium retention and lacing. There is a lot of spices in the nose but hard to pinpoint, definitely a nutty smell along with sweet bourbon. Taste was pretty good, very bourbony but not as sweet a bourbon as it could be (not sure if that makes sense). Other flavours include the nutmeg, cinnamon, honey and cloves. Mouthfeel could be thicker which would be more in line with a bourbon aged beer, but the ABV was hidden fairly well. A decent beer that wasn't overly difficult to drink, it just wasn't overly exciting.
595 characters
3.95
/5
rDev
+2.6%
look: 4 | smell: 4 | taste: 4 | feel: 3.5 | overall: 4
poured into a tulip, something like a deep crimson/brown sort of hue. decent head retention and lacing.
nose is dark fruit upfront, bit of bourbon and oak, touch of burnt sugar.
taste is dark fruit and carmelized sugar, bit of hot bourbon, finishes with a tannic finish. the spicing is very subtle, i get a hint of cinnamon but i'm not entirely sure, which is great.
mouthfeel is a touch thin, if anything i'd like a little bit more body on a beer this big.
overall this is a great beer, especially for the price. worth seeking out.
537 characters
4.2
/5
rDev
+9.1%
look: 4 | smell: 4 | taste: 4.5 | feel: 4 | overall: 4
A- 4 Pours a pretty dark caramel color that has little head and retention but leaves a micro-bubbly ring. There is silky wet lacing. It is just barely clear.
S- 4 Roasted malts, bourbon, a little bit of oak, and spices. There's a hint of the fig as well. I find that the bourbon is the most dominant but I can still distinguish the other aromas. I could go for more pungency because it is nice.
T- 4.5 The malt and bourbon combine nicely here as there is not as much of the fig or spice that I sensed from the aroma. They are present, though, especially as it warms, and just enough to balance this brew pretty well. Very good taste (note-it would favor you more if you generally enjoy bourbon).
M- 4 Just under medium in body, this has a nice carbonation level and isn't really all that heavy. Surprisingly light considering the bold flavor and style. It is still warming, however, which I like.
D- 4 I could definitely enjoy a few of these at a time, especially in a cozy winter setting. I was a bit late for that (early April), but there's no way this one was affected by the wait. It was very solid and I enjoyed its taste a lot. Got to try this first at the Cincy Winter Beerfest and was happy to see it bottled. A good one that I hope is continued.
1,258 characters
Quaff Bros Figgy Pudding from Mt. Carmel Brewing Company
Beer rating:
3.85
out of
5
with
14
ratings